Weinstein Company/Rainmaker Studios/Genius Products (November 25 2008), single disc, 76 mins plus supplements, 1.78:1 anamorphic widescreen, Dolby Digital 5.1, Rated PG, Retail: $19.98
Storyboard:
Some 45 years after Jerry Lewis gulped down the formula to switch him from brainy geek to swaggering ladies' man on his way to a box-office classic, his computer animated grandson is about to do the same thing for a new generation.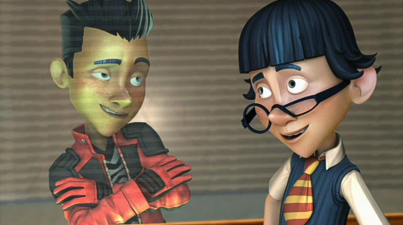 The Sweatbox Review:
Along with the cross-country money-grabbing antics of It's A Mad, Mad, Mad, Mad World (reimagined countless times over the years and most latterly as the almost as hilarious Rat Race), Jerry Lewis' 1963 original version of The Nutty Professor was one of the most watched and re-watched VHS tapes of my youth and in fact so worn out did they get that we'd wait until they came around on TV again so we could tape new recordings! The Nutty Professor was of course itself remade as a couple of vehicles for Eddie Murphy, but that pair of films threw out the charm of Lewis' freewheeling effort and resorted to just running with the brash, crude and fart-gag insipidness most expertly lampooned in the opening minutes of last summer's Tropic Thunder's Meet The Fatties parody.
With news that Murphy is apparently soon to jump back into the latex for Nutty Professor 3 (as well as another stint as Axel Foley for Beverley Hills Cop 4 – I didn't realise his career was so desperately on the skids!), Lewis himself has jumped out of nowhere to somewhat regain the franchise and present this update/remake/sequel to his original film. Going direct to video without any pre-release hype, and not much of a push on its disc debut either (it came out back in November 2009; we only got a review copy late December), this new Nutty Professor pretty much finds itself coming out of nowhere.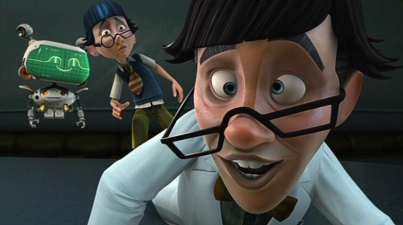 As said, Lewis' 1963 original was one of my most re-watched titles in the early days of home video and amongst his often juvenile fare it was one of the more sophisticated outings during his 1950s and 60s heyday. Boasting some honest wit, pure slapstick and a standout double turn from Lewis as the titular Professor Julius Kelp and his juiced up alter ego Buddy Love that even beats his role opposite Ed Wynn in Frank Tashlin's CinderFella, the 1963 Nutty is a bona fide comedy classic. Even for those immune to Lewis' brand of comedy, I'd suggest renting Paramount's excellent special edition disc for a slice of real nostalgic fun, a terrific family comedy with lashings of whatever was missing from the modern updates.
Extremely surprisingly, this latest addition to the series – a direct relation to the original that bypasses the Murphy films entirely – isn't the complete nightmare that many may well have expected, coming from the Weinstein company as it does. Sure the animation doesn't have the slickness or sheen of Pixar's best, but there's a genuine attempt to find a decent balance between style and budgetary constraints. Farmed out to Rainmaker Studios, the cartooning reminds, perhaps appropriately enough, of the Jimmy Neutron movie, a very caricatured approach to CGI but one that seems to mostly rise above the direct to video norm and here even reminds of Meet the Robinsons, albeit with that film's lack of budgetary polish.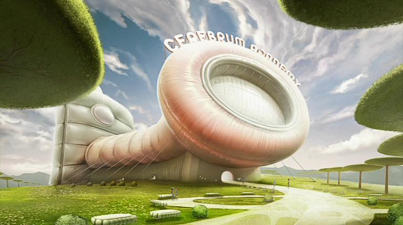 What really helps things along is Logan McPherson and Paul Taylor's direction – we even get some fun two-dimensional dream sequences that suggest the level of thought that has gone into the project. It's clear it's the brainchild of a handful of folks: Taylor also co-wrote the screenplay with Evan Spiliotopoulos, while McPherson handles editing duties and takes on multiple vocals, with voice legend Charlie Adler extracting the performances from the cast that are just exactly what the production requires. Less successful is the opening, which doesn't do a great job of setting up Julius Kelp's grandson Harold – the new protagonist for this outing – and could have done with a bigger bang and more clarity to set things in motion. But it's fun to hear Lewis again: reprising his role, he's not just relegated to a cameo and brings the same nerdy delivery to his character that those who know the 1963 film will remember. More slight is the script, the usual slosh about fitting in, believing in yourself and standing up to the school jocks to impress and win over the girl.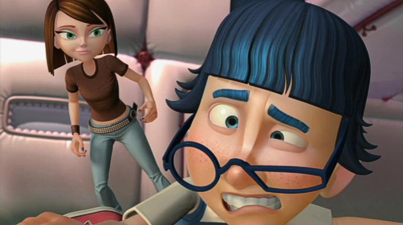 Apple of Harold's eye is Polly, not only the prettiest girl in school but seemingly the only girl in school (perhaps the crowd control unit found it tricky to render up a few extra female pixels given the budget)! Soon Kelp Jr has accidentally accessed his Grandpa's personal computer and the infamous love potion that caused all those problems for Kelp Sr way back when. Secret formula duly taken, the new Kelp's alter ego, "just Jack", dominates the class and Polly's affections (showing just how fickle a young girl's heart can be). His double life inevitably starts to play havoc with his real studies, of course, especially when Jack becomes the kind of bully that Harold is always having trouble with.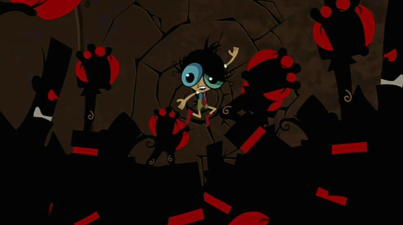 Chief among The Nutty Professor's problems is its story: it demands even a rudimentary knowledge of the original but, without a "2" or a tag in its title, it doesn't really set itself up as being one thing or the other. It's certainly some sort of follow up, though one that just seems to be content to retread the basic plot from first time around. The futuristic college aspect brings things down in age to where kids would probably be entertained for a while, but then they're more than likely not familiar enough with the original to know who Professor Kelp is or what his secret formula was invented for. Also slightly odd to me is a desire for a PG rating; a shot of Harold checking out Polly's shapely rear during a bike ride is a bit of otherwise harmless business, and there's nothing at all overtly sexual about it, but it just seemed more than a little randomly thrown in, and one or two minor trims here and there would have secured a more family friendly G rated endorsement.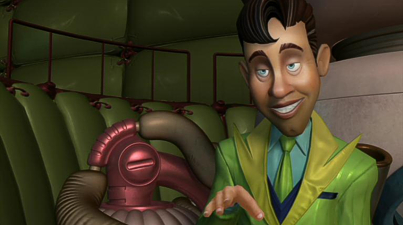 Better is the music score, which seems to almost never stop, though composer Mike Shields has fun playing with different styles for various sequences and somewhat overcomes the synthesised nature of the music, going for a jazzy 60s vibe for Lewis' scenes. At least it sounded synthesized: I was as surprised as anyone to find a number of real musicians listed in the rather spread out credits (the feature runs 71 minutes with a five minute scroll). The music is the kind of stuff that would feel high-end on a TV show, which is appropriate as this is most what this Nutty Professor most resembles: a very well produced feature length television special (I wouldn't be at all surprised to find a 26-part series in the offing after this). It's all a bit "hip and now" to really appeal to fans of the original film, covers no middle ground by not being as much of its own thing as it needs to be in order to appeal to newcomers, and ultimately is as inconsequential as it is harmless, mildly enjoyable stuff.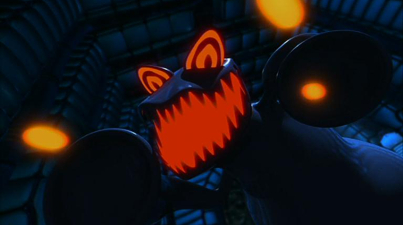 Of the voices, Drake Bell (who he?) seems to be making something of a niche for himself in these kinds of video premieres but acquits himself well enough in his dual role. It's also a treat for old school fans to hear an authentic Buddy Love again, though again his appearance here will confuse any that doesn't know Julius Kelp's own backstory. This new Nutty Professor is basically a dose of shiny CGI that adds little to the growing wealth of such fare, though as a boy's answer to the likes of Tinker Bell and the endless Barbie titles, kids may find the final giant robot versus Burton-esque dinosaur monster battle exciting enough in that noisy, what the heck is going on kind of way.
Is This Thing Loaded?
Rather remarkably considering the kind of title this is, we're treated to a couple of welcome bonus features! The disc predictably opens with previews for other Weinstein animated titles, including the sadly awful looking Jim Henson Company CG movie Unstable Fables: Tortoise Vs Hare, a Chicken Little clone, also with the voice of Drake Bell, presented letterboxed and offering about as much as one would probably ever want to see of this. Another letterboxed transfer, odd because the actual release was presented open matte, follows for The Reef, a not as bad as expected Shark Tale/Nemo combi that you'll find reviewed elsewhere on this site. An additional Sneak Peeks menu also offers up more unstable looking Unstable Fables: Three Pigs And A Baby and Goldilocks And The Three Bears, plus the sole Weinstein animated success story Hoodwinked.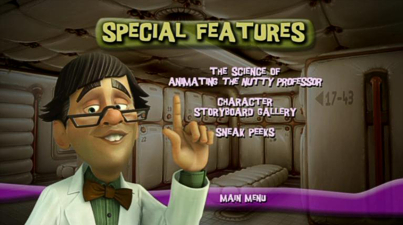 Unbelievably we also get a featurette to accompany the main feature, the first of which is The Science Of Animating The Nutty Professor (14:30). Here is where newcomers will find a bit of info on the original film, with executive producer Rick Mischel explaining that he was excited when the prospect of animating his favourite classic comedy came up. This is an unexpectedly good piece, speaking to all the main participants in the film including voice director Adler and, most fittingly, Lewis himself. The design choices and story angles are all touched on and explained with reasonable effectiveness, even if the goals haven't all been successfully achieved, though best is the generous peek into the sound studio.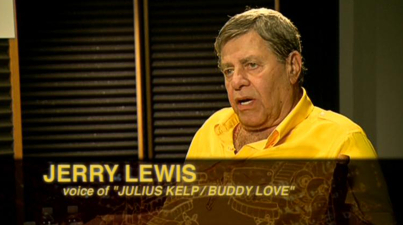 As with all these things, the original hand drawn caricatures that we are able to glimpse work so much better in delivering a more fully rounded, or three dimensional if you will, personality than the eventual computer models, so it's very nice to be able to view a Character Storyboard Gallery of the designs, from rough concepts to final color, for all the principle cast. My only gripe here would be to be able to zoom in for a close up on some of the images, but unexpected as it is, the inclusion of the 50-plus images here are most welcome.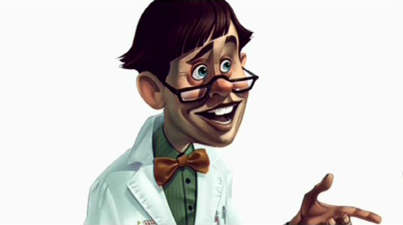 Case Study:
One can't say The Nutty Professor's sleeve will go unnoticed if it's staring at you from a store shelf! The packaging comes with a super-colorful and glossy slipcase which basically repeats the artwork underneath. Although the disc art gets it right, the back cover screws up the aspect ratio information (see below) but finds places for the all-important (and bought in) Film Advisory Board endorsement and a nameless quote from them on the back, though I wouldn't quite call the film "richly inventive and hilarious" myself even if it's better than average in this market.
Ink And Paint:
The cover promises a "Standard Version Preserving Its Original Aspect Ratio", which would normally indicate a 1.33.1 image as also listed in the press materials for this release. However, the back cover's stills would indicate a wider ratio, and it's a pleasant surprise to actually find an anamorphic 1.78.1 transfer of the feature preserving the original screen dimensions. I believe that a wider frame can bring an extra layer of instant production value to a project and while this won't disguise The Nutty Professor as a theatrical level feature, it does elevate it up to being just a bit more than a quick knock-off. As such the very good and clean image here shows off all the texturing perfectly, both the bad (the basic road textures) and the good (that Burton-esque dinosaur monster actually has some cool things going on within his almost all-black design).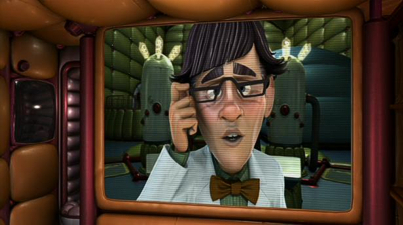 Scratch Tracks:
Loaded with a full 5.1 surround mix also helps The Nutty Professor rise above its lower budgeted origins and the disc reproduces this with all the pizzazz of a solidly decent, if nothing too special, soundtrack. Like the movie itself, it's inoffensive, and spots of fun here and there, and although the climax gets very cluttered and noisy, one never really feels fatigued. The high energy mix should keep the boys in the audience pumped up and ready to go racing on their bikes after the show. Subtitles have been added in Spanish and English for the Hearing Impaired.
Final Cut:
Although an easy target, it's hard to really come down hard and criticise The Nutty Professor as it's just a piece of harmless entertainment. I say this as a fan of the original movie, yes, but my judgement hasn't been clouded in any way towards wanting to promote this new outing. If it was a pile of junk I would have no hesitation in saying so, and also speaking as a fan of Lewis' 1963 film I was ready to jump all over it, but while it's certainly far from being an essential addition to anyone's library, it wasn't at all the calamity I might have been expecting. Again, the story does have its problems in working with the characters for those who haven't seen the original, but those who have may want to try a rental out of curiosity. For those still waiting to catch up, I wouldn't say a purchase was a necessity, but you could do worse than go for a rental of the 1963 and 2008 Nutty Professors and have yourself a double bill night in.
Animated Classic or Back To The Drawing Board?