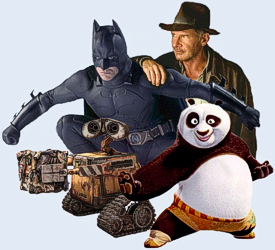 2008, eh? Who knew!? Looking back on the past twelve months, it must be admitted that it doesn't look to have gone down as a banner year, at least in terms of entertainment. In animation the Big Three proved what they can all do on a good day, with Fox/Blue Sky's Horton Hears A Who! starting us off in surprisingly good style, followed in the summer by DreamWorks/PDI's awesome Kung Fu Panda and Disney/Pixar's WALL-E. DreamWorks even managed to squeeze two out, proving what they can do on a bad day, too (the cumbersomely and nonsensically titled Madagascar: Escape 2 Africa). Disney bounced back with Bolt, the first of the new Mouse House films to really feel the hand of new chief John Lasseter, and even the independents made their mark with the long in the making, finally released Delgo, the celebrated documentary Waltz With Bashir, and $9.99 (both of which we were unable to have reviewed by the time this survey was being completed).
But where – especially in the rest of cinema – were the future classics? The Dark Knight may have cleaned up, but that was basically on the back of a dead man's performance and, as you'll see from the many disc reviews now popping up, the plodding nature is now being referenced more and more as the hype dies down (wait…The Joker's truck chase was really pulled off so he was caught, sent to prison where he could grab the guard and use his phone to activate the bomb he'd already placed inside the henchman in the next cell that would eliminate the guy who double crossed the mobsters? So Joker could…what? Now that's forward planning!). Indiana Jones? You can keep your crystal skulls, largely confirming old franchises should stay dead, and it was mildly amusing to note that, in their Paramount Stars holiday promotions, it was Raiders Of The Lost Ark that stood shoulder to shoulder with the Studio's line of contemporary classics. The inexplicable hit of the year Mamma Mia had a lot of people who should know better in a very expensive karaoke session (yes, Pierce Brosnan, we're pointing at you), though the sheer exuberant nature of Wanted provided some thrills and the real superhero surprise of the silly summer season was a solid showing in Iron Man.
On the home video disc front, DVD continued to plunder the depths for more obscurities and double (and triple!) dips, while Blu-ray truly emerged as the winner in the high definition wars thanks to Warner Bros. seeing sense on dropping their support of the moribund HD-DVD. This saw an influx of much requested movies start to trickle out on Sony's hi-def format but it might again be fair to say that these were mostly catalog titles that brought little or no new supplemental features to their packages than many had seen before, though top of the crop in terms of animation releases has to be the Disney trio of Sleeping Beauty, The Nightmare Before Christmas and WALL-E. You'll find those titles – and a whole heap more – in our annual listing below: Ben and Randall's picks of what good old regular DVD had to offer, plus other highlights and James' review of the theatrical year. You'll find live links to our archived original comments and don't forget that purchasing any titles through our Amazon links really does help support Animated Views and keeps the content coming – as usual there are some titles we're still hoping to catch up on, so some full reviews are forthcoming, with many more to come in 2009!
But now, join us for a look back on the good, the bad and…
---
---
Honorary Mentions
---
The Un-Mentionables: Worst Of 2008
We've perhaps suggested that 2008 wasn't the greatest year for animation on DVD, but there were a lot of authentically good releases even if few of them truly knocked out socks off. On the other end of the scale, however, there were also some genuinely sad spots on the schedules too. For various reasons, these are the ones that stood us as "must-avoids" to us: