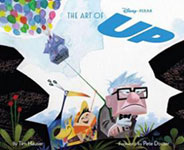 Jeremie Noyer drops by again today to bring us his review of the new book The Art Of Up, apparently a fitting tribute to the wonderful Pixar film. As Jeremie writes, the images perfectly capture the "simplexity" of the production design in Up. Read his review to see what he means.
After a flurry of DVD reviews the past 2 weeks, we're catching up again, and more reviews shall be coming shortly — including transforming heroes, cat and mouse games a la Chuck, and a review of a box set of an anime classic.
July is looking even better for DVD releases, including Shout's complete series releases of Transformers and G.I. Joe, each recently announced as website exclusives, not including sales at this year's San Diego Comic-Con. (Sadly, Animated News & Views staff will not be going this year. I just finally paid off last year's purchases!)
Finally, you'll want to stay tooned for Jeremie's latest interview. He's pulled off another great catch!! – Rand.