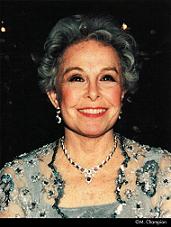 There's always something magical about meeting with a Disney Legend. That it's almost as if all those wonderful people who worked with Walt Disney had been touched by some kind of Pixie Dust and had kept something from Mickey's father, starting with his optimism and energy. Or is it because Walt had an innate sense of choosing the most extraordinary people to work with him?
Certainly, there's a little of both. And Marge Champion is one of these extraordinary people!
As her Disney Legend official biography elaborates, "Marjorie Celeste Belcher was born on September 2, 1919, in Los Angeles. She began dancing as a child under the instruction of her father, Ernest Belcher, a noted Hollywood ballet coach who trained Shirley Temple, Cyd Charisse, and Gwen Verdon. Marge was a ballet teacher at her father's studio by the time she was 12.
A short time later, she was approached with the seemingly preposterous notion of auditioning for a cartoon. "A talent scout came to my father's studio sometime in 1933," Marge said, "and chose three of us out of the class to audition for this."
She was the live-action reference model for the heroine of Disney's feature-length cartoon Snow White and the Seven Dwarfs (1937), performing dances, scenes, and special business so the animators could caricature her actions and make their princess as human as possible.
She later modeled for the Blue Fairy in Pinocchio, and Hyacinth Hippo in the "Dance of the Hours" segment of Fantasia (1940), a ballet parody that she also helped choreograph.
She appeared in Honor of the West and All Women Have Secrets (1939) under the name "Marjorie Bell", and became a legend in Hollywood with Gower Champion, whom she married in 1947. They went on to appear together in hit musical films including Show Boat (1951), Lovely to Look At (1952), Give a Girl a Break (1953), and Jupiter's Darling (1955), becoming the screen's most popular dance team since Astaire and Rogers.
The Champions also fixed their stardom through frequent television appearances including "The Red Skelton Show," "General Electric Theater," "The United States Steel Hour" "The Dinah Shore Chevy Show" and "Toast of the Town." The couple even starred in their own situation comedy, "The Marge and Gower Champion Show", which ran briefly in 1957. During their collaboration, Marge and Gower Champion also staged the dances for the Broadway musical revues Lend an Ear (1948) and Make a Wish (1951)."
But more than the legend and the star, what I will keep from this interview is the kindness and elegance of a lady who kindly accepted to share her fabulous memories with us. She was a model for Snow White, but she definitely is a model for all of us!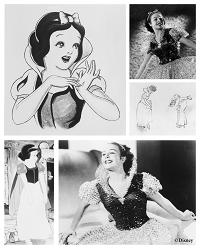 ---
Animated Views: How did you become Snow White?
Marge Champion: I think they had already interviewed something over 200 girls before I got chosen. It had never been done before. They've had sometimes someone who did a day or so before they decided that they really had to photograph it. And also, this was the first time that there was a full-length animated film. I didn't hear about it until I was 14 in September. Then I suddenly heard about it. The first meeting was when the three of us went over there, at Disney, from my father's school. Now, my father, Ernest Belcher (below), had a very large school in Los Angeles and he had also been one of the very first dance directors in motion picture, even before sound. He worked for Charlie Chaplin.
So, my father knew Mr. Disney professionally but they were not close friends or anything. He allowed me to go over because I had been learning to dance as I was about six or seven and he thought it might be a very good opportunity for me to have some experience that wasn't exactly me on the screen. He would never have me go into a motion picture until I graduated from high school. He didn't believe in that. But I did have experience in his ballets at the Hollywood Bowl and things like that and he knew that Mr. Disney was very reputable and that I'd be safe over there! The fathers in those days looked for safe places for their daughters, especially if they knew the industry!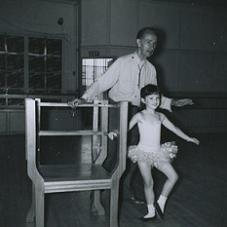 So, I arrived and they showed me storyboards. The animators and story people showed me the costumes and I went to work soon after that in September 1934. I didn't really realize, because nobody realized in those days, it was not just Walt Disney's folly. We were making a full-length motion picture. I had grown up on the Silly Symphonies, The Three Little Pigs and all of the Mickey Mouses, but none of us had any idea what a groundbreaking experience it would be until 1937 when it was released at the Carthay Circle Theater in December.
It was a nice experience that helped me get out of school one or two or three days a month, but I didn't have any idea of what a sensation it would be and how much it was going to save the studio from bankruptcy.
AV: What were you asked to do?
MC: They would show me the storyboards and I would get an idea of running through a forest because they hung a big clothes line across between two stands and hung ropes on it so that was forest where I had to run through to reach the Dwarfs' little house. It was very simple and crude, but lots of fun because I got to be very comfortable with whatever animator was having that part of the picture assigned to him. There was also a very wonderful director named Ham Luske, who oversaw much of this. It became an experiment that we all shared. Most of them were quite young but they were at least maybe ten years older than I was.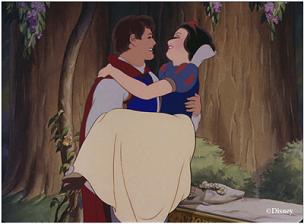 AV: How did you work with Louis Hightower, who embodied the Prince?
MC: He was indeed the Prince. He was my first dance partner. He had been trained by my father. His was an extensive role because I had to die before he came and woke me up! A couple of years later, we did a Broadway show together. Then he enlisted in the Army. I think it was 1941 or so and he was unfortunately killed. He and his brother and his sister all studied with my father. And then, there was the Witch whose name was Paul Godkin, who became a very well-known dancer with Agnes Mills and Jerry Robinson, the concert dancers in New York at that time. We also did a Broadway show together.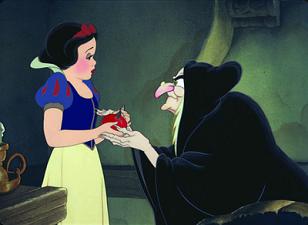 AV: Did you happen to meet Adriana Caselotti, the original voice of Snow White?
MC: She had really finished doing all of her scenes unless they invented a new song or something that they'd have to call her back for. Her father was a singing teacher and she had the right sort of voice for Snow White but she was not a dancer or an actress. So, they needed somebody to work to her playback. I didn't see much of her, because she had done almost all the recording before I came on the film. But I did feel comfortable working to her voice and even learning to lip sync. Because when she was singing Someday My Prince Will Come or whatever, I had to do really accurate synchronization with her voice, and I had to learn the lyrics and all of that. When it came just to the dancing, then I didn't have to worry about keeping my mouth on the right syllable.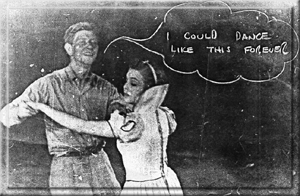 Marge Champion and Wilfred Jackson
AV: In regards to the dancing, do you remember any things you improvised that ended up in the final film?
MC: It was all improvisation. I didn't even know what the word meant but because my high school teacher at Hollywood High School knew that was going to audition there, he thought he'd better put me through some improvisation of picking daisies and doing all sort of foolishness that he thought it might include and get me over my reluctance to do anything in front of the football players and the people that were in the class. And that helped me a great deal and I learned what improvisation was. The people at Disney showed me what they wanted to see and sometimes they would want to see different angles, so that I had to do it over and over again, so that they could move the one camera around. I really did make up most of the stuff that I did and certainly it's all my hand and arched back, and all things that you see Snow White doing, I certainly did over and over again.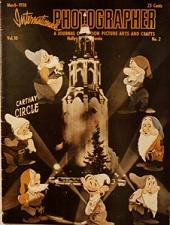 AV: What was the premiere of Snow White at the Carthay Circle Theater like for you?
MC: I was 17. It was on December 21st 1937 and I was up in the balcony because Uncle Walt – he told me to call him Uncle Walt because I was too young to call him Walt, like everybody else did – had the feeling that the audience would misunderstand perhaps the need of having a full reference model for every scene she was in, that maybe they would think they traced me. Which, of course, in a sense, they did. But they had the great privilege of not using every frame. It was up to the individual animators and directors which one they would or would not use. It was not all traced. It was a reference. But Walt didn't think that the audience would understand that. I was told early on that I would have no publicity about it.
Shirley Temple, who was the top movie star at the time and also a pupil of my father's, was the star of the evening. She had nothing to do with it, but I did know her and we became quite some friends when I would go to her house to demonstrate for my father when he was teaching her a little bit about ballet. I was astonished that night because it was the first time I had ever seen the whole thing put together. I had seen some portions of it, and it was just an accident that I had seen that. But when I saw the whole thing put together and heard the applause and saw the people crying when she passed away and all of that, it was amazing how that evening predicted that it would be a smash movie.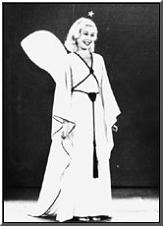 AV: Your collaboration with Disney didn't stop there.
MC: I worked on two other films after that. I worked on Pinocchio – the Blue Fairy – and Fantasia – the Dance of the Hours. By that time, I was very familiar with the whole things that we had sort of all invented together.
AV: Can you tell me about legendary animator Art Babbitt, who came to be your husband for a while?
MC: Art was on the film and he was responsible for the Wicked Queen, while Bill Tytla was in charge of the Witch part. He used to come with his camera down to the set and photograph me doing this and that, because, of course, he was one of the animators. Art was a very important man in my life only briefly – we were only married I think less than a year – but, because of him and living with him, after we were married, in his home as he always had an animator's set up so that he did a lot of animation at home after supper, I was able to understand much more about the technique of it. Because he and Bill Tytla were really the top animators at Disney at the time. So, I learned a lot more about that than I would have if I had just done the job. I got to witness all the things that he had to go through to create the lines and everything of the characters he was animating.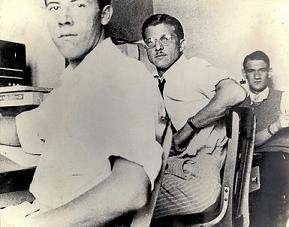 Art Babbitt (center) with Fred Moore and Larry Clemmons
AV: You mentioned Bill Tytla. I understand you became friendly with him and Adrienne Tytla. What are your memories of that couple?
MC: I was, of course, very young and there were several couples at Disney, but I got particularly close to Adrienne, his wife. Of course, they moved right after the Hawaiian event and World War II back to their farm in Connecticut and he went to work back there in New York. We'd only visit her on weekends. I became really close friends with Adrienne for the rest of her life. She taught me a lot of things about cooking. She did an extraordinary book about all of those times.
When I was auditioning for shows in New York, I would go up and visit them on weekends. I used her kitchen while she was cooking to kind of make up audition material for myself. She had a wonderful shop where she had made a huge collection of antiquities. At that time, in the late 30s/early 40s, there was still a depression on and you could buy extraordinary things from the different houses around the country. She really had fabulous taste. She had been a class model herself and that's where she and Bill had met. John Canemaker always says that Bill Tytla [below] was the most talented artist of all of them. And they were maybe ten years older than I was but they kind of adopted me. And again, I learned more about the drawing part of it than I would if I had just modeled.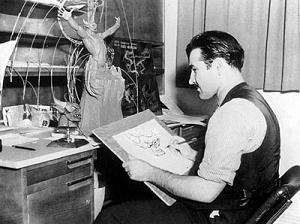 AV: What did you learn from Art Babbitt and Bill Tytla?
MC: I am not an artist myself. I have great difficulty in even making a line go where I want. But somehow, I have always been drawn to that. And to see the technique of how they had to go through frame by frame by frame, especially when there was more than one actor or bird or whatever it was on the film, I watched it. It was a very tedious technique, but what we call full animation is still being shown in The Princess and the Frog. It is just that it is larger than life but it has to have some – according to their theory – some degree of truthfulness underneath it. And how they reach that is very long and tedious.
AV: You began working on Fantasia just before Snow White was released. How different was that experience to you?
MC: I did a little bit of dance direction. I was doing the hippopotamus ballerina primarily, although I did several characters for the Dance of the Hours section. I was not the shape of the hippopotamus. They had other models for her shape but they were not dancers. So, I went to go The Goldwyn Follies and I saw a fabulous dancer named Vera Zorina, who was at that time married to George Balanchine. She came up out of a pool and did certain things and I thought that would be a wonderful idea for the hippopotamus. So, I went back to the studio and said: "you got to see this film". They actually did run the film and they actually thought it was a great idea for her entrance into that section of the sequence. There were elephants, too. And there were eleven other girls that I was allowed to bring over and have them throw balloons into the air so that they have a sense of that sequence where the elephants are throwing bubbles into air. It was really much more of a collaboration than I realized when I was that age.
AV: Louis Hightower modeled for Ali Gator, too. What was it like working with him again?
MC: Sometimes they had us wear bathing suits so that they could get the lines of our bodies. They showed us storyboards but whatever it was, we were allowed to improvise and give them something to work with.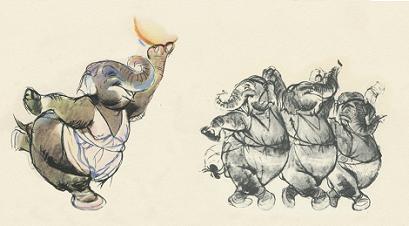 AV: One source says you also did some modeling for Mr. Stork in Dumbo. Is that true?
MC: I don't think I did anything on Dumbo, which is a film that I love. But you have to give to Mr. Disney credit for wanting to have all that dancing because it did enhance the films. There are kinds of things that all the characters did and I'm sure they had a model at least come in one or two days and do something for them. In Snow White, there was a comedian at the time, Billy Gilbert, who used to have all kinds of sneezes as a comedian. I knew him because he was married to my best friend's sister. So, I saw what he had done to enhance Sneezy. Just even one of the dwarfs, they'd have somebody in for two of three days. Sometimes, I even worked with a couple of them, but mostly I worked with the animators and the directors.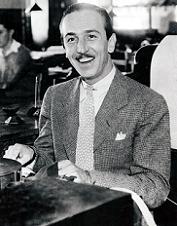 AV: How would you describe Walt Disney at this period in time?
MC: He was a very intense man. He didn't come down to the set very often because once he had told the animators and given them directions, he then let them go. This is why he got the top artists of the day to come and work for him, because he also turned them loosed until he had seen footage of what they were doing. So, I would imagine he was day and night watching either from his office or his home or somewhere all the things that were being done at that time at Disney Studio. He was very personally concerned with it, but I didn't see him on the set very often. I just knew from what they told me that he wanted things and they were trying to give it to him. He also got the best people because he really inspired them.
AV: Amazing for a young man in his early 30s!
MC: I think it was amazing but, you know, leadership in all new things takes a really gifted from somewhere person, and certainly he was one of them. I don't think there was anybody who had better taste in certain ways. Also, he came from Middle America. He didn't come from any of the elite or any of that sort of things and he was, I think, touched with a kind of genius.
---
The
Snow White and the Seven Dwarfs
: Diamond Edition
Blu-ray Disc is available to order now from Amazon.com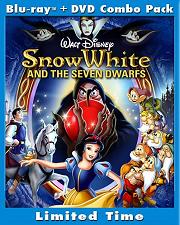 Win a signed Marge Champion photo and a copy of the Snow White And The
Seven Dwarfs Blu-ray Disc in our exclusive contest – click here to enter!
---
A million thanks to Marge Champion, Mindy Johnson, Doriane Iop, Jim Korkis and Didier Ghez