For me, as an entertainment and television junkie, Christmas specials are a big part of my holiday traditions. Some of my favorite memories from childhood involve Christmas specials that I enjoyed with my family as we celebrated the holiday. However when I think about it, impossible as it may seem at first, few of my favorite Christmas specials were produced by Disney. Sure, there was 1983's Mickey's Christmas Carol and there were certainly some good Winnie the Pooh Christmas specials, but none that made as much of a mark on my childhood as Rudolph the Red-Nose Reindeer, How the Grinch Stole Christmas, and A Charlie Brown Christmas.

Today, studios continue in their attempt to create the world's next Christmas classic, and Disney is no exception.
Prep & Landing
is the latest in a series of Christmas specials produced by major Hollywood animation studios in 2009. While the genre was long-neglected by major studios for most of the past decade, this all changed in 2007 when DreamWorks'
Shrek the Halls
made its debut to over 20 million viewers. Soon, it seemed like every studio wanted to join in the game and this year we have had a surprisingly large number of new Christmas specials being produced.
Prep & Landing tells the modern-day story of what goes on behind the scenes before Santa Claus arrives at a child's house. Our hero in the story is an elf named Wayne (Codename "Little Drummer Boy") who is just one of many members of the Prep and Landing team. Their mission: Get In. Get Out. NEVER Be Noticed. Wayne narrates the story of how he has done the job for a long time and that he is looking forward to the day he is promoted to his dream job – Director of Naughty List Intelligence. Unfortunately for Wayne, his partner ends up being promoted to the position instead.
This leaves Wayne upset as he sets out on yet another Christmas Eve filled with Prep and Landing missions with his new partner – a young upstart named Lanny (Codename "Tree Skirt"). When they arrive at their targeted house, Wayne, discouraged by his situation, lets Lanny take over while he sits on the couch, watching television (no Christmas specials), and eating a Santa-shaped Christmas cookie. Everything seems to be going well until the child of the house, a boy named Timmy, wakes up and surprises the elf by taking his picture.
Meanwhile, back at the North Pole Christmas Eve Command Center (NPCECC), an elf named Magee is getting everything ready to launch Santa's Sleigh (Codename "Rosebud"). Everyone is tense while the Big Guy (Codename "Big Red") is getting ready for his mission. Magee's main worry comes from a huge snowstorm in Sector 7 where Wayne is located at Timmy's house, which just happens to be Santa's first destination. Back at the house, the two elves have managed to put Timmy back to sleep and they then scramble to get the kid back into bed. This is when Magee calls in about the storm and realizes that the landing strip is not ready. Realizing that things are not going to be ready on time, Magee pulls the plug (Operation "Figgy Pudding") on delivery of presents to Timmy's house. This causes Wayne to snap back into shape as he remembers the importance of his work and how much it means to the kids patiently sleeping in bed while he preps their house. He then jumps into action to save Christmas for Timmy by urgently preparing the landing zone for Santa's arrival. When even that does not go as planned, Wayne must improvise a landing strip using Christmas decorations pulled from a neighboring house.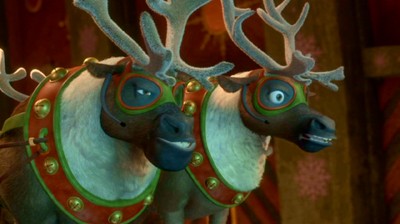 Prep & Landing
is probably one of the funniest new Christmas specials created in recent years. The script, based on a story by Chris Williams (
Bolt
), is quick, funny, and filled with references to different Holiday jingles and stories. I loved the codenames given to the different characters and situations. My favorite was "Eight Maids A-Milking" given to the reindeer pulling Santa's Sleigh (they, in turn, hate the codename). The funniest sequence has to be the launching of the reindeer which has the look and feel of a serious space shuttle launch. In the middle of all the seriousness, Magee calls on the elves to "rev up the engines", which is accomplished by a tiny elf dropping in front of the two lead reindeer, Dasher and Dancer, and basically pumping them up for the launch.
Actually, the two reindeer have some of the funniest lines and gags in the show. When one of the reindeer says "shutting down engines", the reindeer lift up their legs in unison as they plummet to their landing. When Dancer asks how they are going to make it to the runway while there is a storm, Dasher responds with "Laughing all the way." It is little moments and comments like these that make watching the show an extremely enjoyable experience. I even found myself laughing-out-loud on several occasions.
Aside from the writing and story, Prep & Landing also features superior animation and visual style. Directors Kevin Deters and Stevie Wermers-Skelton have created a CG animated film that feels warm and dark at the same time. Much of the story takes place at night in Timmy's house or outside during a snowstorm. The technical achievements are impressive and gone are the days of distracting CGI special snow effects. Also impressive was the musical score by Michael Giacchino (of Incredibles fame) which complements the adventure sequences and fits harmoniously into the film. Rounding up the excellent visuals and music is the voice cast with comedian Dave Foley as Wayne, Derek Richardson as Lanny, and Sarah Chalke as Magee. Foley shines here, but Richardson and Chalke both demonstrate excellent comedic timing with their lines.
Overall, I was impressed with Prep & Landing. It's not every year that a Christmas special attracts my attention. Disney certain gave this special a big push when it was promoting it earlier this year. Perhaps they realized that they had great potential with this special and wanted to make sure people saw it. I certainly liked it better than Merry Madagascar or other recent specials released by the big studios. The general public also seems to have enjoyed it. Even with the delayed broadcasting (it was supposed to have been released last week), ratings were relatively high for the show. Twice as many people may have tuned in to Shrek's special two years ago, but that was a known property with beloved characters. Even so, the numbers for Prep & Landing were even higher than the Madagascar special from last November. As to whether it will become a perennial Christmas classic, it's difficult to predict. It is my opinion that Prep & Landing certainly has all the makings of a new Christmas classic, but only time will tell.
Animated Classic or Back To The Drawing Board?
Prep & Landing
Walt Disney Pictures for ABC
December 8 2009
22 minutes
Rated TV-G
directed by Kevin Deters and Stevie Wermers-Skelton