Behind the increasingly creatively short-changed Shrek series (another one is set for release next year, the fourth movie in less than ten years, while Pixar's Toy Story series – breathe in the quality – is only about to make it to three in fifteen years), the DreamWorks Animation factory's second biggest franchise is, somewhat inexplicably, the loud and noisy Madagascar troupe. Admittedly, the first film contained some very nice moments and a stylized look that took computer animation off into new directions, but last year's Escape 2 Africa sequel really was moviemaking for money's sake on a grand scale, devoid of any warmth or originality.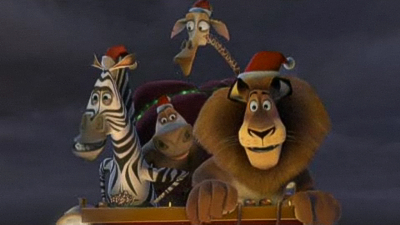 With an inevitable third (and final, please?) follow-up in production, how better than to keep the characters alive on screen than by the Studio following the Shrek route again (hey, if it works for one set of characters, it's sure to work for them all, right?) and stuffing them all into Santa's sleigh for a Christmas special? Proving to be a television hit, Shrek The Halls from a couple of years ago was DreamWorks attempt to create a new, soon to be much loved, perennial family classic, and to a large extent it worked, coming so close to salvage some of the charm of the characters after the dreadful Shrek The Third.
So why not do it again? That's the basic premise behind Merry Madagascar, the latest addition to the franchise that has already seen its breakout Penguin stars previously launch into their own festive spin-off, A Christmas Caper, which was very, very funny in its own right. But since then we've had Madagascar 2 and The Penguins Of Madagascar television series on Nickelodeon…and to be honest I'm more than a little Madagascar and Penguined out! Which is why it's no surprise for me to confirm that I found last night's broadcast of DreamWorks' new animated special to be uneven, and only a little bit special.
On the plus side is the returning voice cast, all dropping in from the movies except for Sasha Baron Cohen as King Julien, who is probably still hiding from the mess that was Bruno, an uninspired retread that was not a patch on the hilarious Borat. It's no matter, since Danny Jacobs from The Penguins Of Madagascar series steps in and provides a perfect replacement, although for a character that I find irritatingly annoying, he's seen just much as usual, which is too much ostensibly a sidekick personality. And at least Merry Madagascar is short, at just over 20 minutes and being a TV special, everything comes in smaller doses, meaning that the characters have their moments to shine but that the writing must prevail over any plot diversions or unneeded character indulgences.
Not that the plot really does any more than it needs to do: we find the characters still stuck in Madagascar, making another attempt – this time by air balloon – to get back to New York. Before one can say "ho-ho-ho", Julien and his crazed lemur gang have shot the balloon down, fearing it to be an invasion of the "marauding red knight goblin", bringing Alex, Melman, Gloria and Marty back to Madagascar. The red goblin naturally turns out to be Santa Claus, passing over to make his annual deliveries, but Julien's attack brings his sleigh crashing down too, with resulting amnesia. Eventually working out who the big guy in the red coat is, what follows is the usual "lovable characters must save Christmas" storyline that's been a staple of such festive specials since time began, the New Yorkers not only vowing to deliver the presents but seeing the sleigh as their ticket off Madagascar once and for all.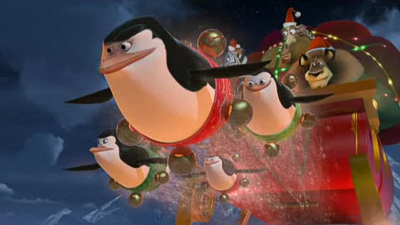 It's a plot as old as they come, but with the voice cast and luxurious production values, at least one can't complain that DreamWorks has skimped on the basics: the animation is easily above that pressed into service for the Penguins series on Nick, and approaches feature quality regularly throughout. Highpoints, as always, are those darned Penguins, this time engaging in a hilarious battle with Santa's Russian accented reindeer who, in the special's major laugh out loud moment, turn out in a very funny twist to be old North and South enemies in their own "cold war"!
Also proficient, on the technical side, is Heitor Pereira's music score, drawing upon themes from the movies and a couple of usual Christmas hits, though it's pretty buried under all the hyperactive shouty dialogue and plentifully loud spot effects.
Sadly, the beginning is not all as much fun as it could be, however, and it takes an age for the crew to make it off Madagascar to start their journey home, albeit a destination we know they can never truly reach as they need to be Madagascar bound in order to begin the next movie. I'll never quite grasp why "I like to move it, move it" has proven such a popular catchphrase for Julien, and the low point of Merry Madagascar for me had to be when Santa kicks off his boots and starts to dance along, although I'm sure it made millions of others chuckle uproariously. There's also an inconsistent tone between the characters, at one moment aching to break free of the confines of Madagascar, and then, when the sleigh offers them an obvious ride home, all but Alex seem really enthusiastic to leave.
But once we do get away from Julien and Madagascar, and the guys start their gift giving run, the pace is picked up no end, with much faster editing, funnier comedy and the pre-requisite warm Christmas spirit, which had been lacking until this point. An inevitable delivery montage is another highpoint, the cutting between locations and weather conditions raising further big smiles as to question why on Earth they didn't get the characters into this routine earlier as opposed to spending too much time with Julien. It's no secret that DreamWorks likes to give more of what the audience likes, but the Studio also gets caught up in that trap until the audience becomes not just tired but completely weary of certain characters.
Then again, with the amount of money that such poorly conceived product as Shrek The Third and Madagascar 2 pulled in, I guess I'm in the minority. So while I only found Merry Madagascar to be mildly entertaining, with a couple of admittedly laugh out loud moments, I'm sure the soon to be much-hyped audience ratings will prove that there's still a massive Madagascar audience out there ready to pick up this special on DVD (conveniently available exclusively at Walmart the day after broadcast) and stand in line for the third film in 2011. I could understand the appeal of the Madagascar characters the first time out but, as always, DreamWorks insists on giving us too much of a good thing and tries to wrap too much up into one gift.
Animated Classic or Back To The Drawing Board?
Merry Madagascar
DreamWorks Animation for NBC
November 17 2009
22 minutes
Rated TV-PG
directed by David Soren