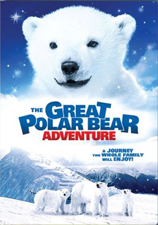 I'm afraid we've just a short post today as I attempt to battle off a return bout of a cold that I don't want to spread back into the flu I just shook off while also trying to finish off our reviews on Oliver & Company and the 45th Anniversary Edition of Mary Poppins. Those should be up real soon, but for now the eagle eyed among you will have noticed Rodney's thoughts on The Great Polar Bear Adventure were posted over the weekend.
I wasn't a great fan of the A&E docu-drama Pride from a few years back, where nature footage was rather awkwardly dubbed with CGI'd mouths to create a weak Lion King retread, but I was interested to see if the trick had worked better here. Unfortunately, as Rodney explains in his terrific review, the film's story plays a little vague with the facts while possibly being too graphic in other areas, suggesting some "adult guidance" might be appreciated by younger eyes.
---
Over in the UK, it was BAFTA night last night, with the big wins being WALL-E for Best Animated Feature, Wallace & Gromit: A Matter Of Loaf And Death for Animated Short, and ex-Python Terry Gilliam's acceptance of a Fellowship tribute. You can read more and catch all the winners in our Animated News report here.
---
And speaking of awards…our extremely popular Animated News & Views Oscar Contest is back for another year, in which we ask you to predict which names and films will be taking the golden statuette home with them on the evening of February 22. Those closest to predicting all the winning names will become a winner themselves, grabbing an extremely cool Disney DVD bundle of top titles worth over $200! Also, don't forget to join us on the night for live chat and a running tab on who's in the running to nab that stack of discs (we're all envious already here, I can tell you)!
Today is also the final day to enter our trio of contests, so run, Forrest, run over to our Contest Corner to be in with a chance of getting your mits on one of these three titles: the Oliver & Company: 20th Anniversary Edition, Space Buddies, and the recently released The Secret Of The Magic Gourd! All three giveaways end at the stroke of midnight tonight (ET), so get your entries in before these discs become pumpkins! Or something like that. Did I mention I have a cold!?
Stay tooned! — Ben.