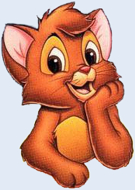 Disney's Oliver & Company comes back to DVD next Tuesday, in a new 20th Anniversary edition similar to the recent upgrades we've seen for Robin Hood, The AristoCats, The Sword In The Stone and others. There are some that describe these editions as "last ditch" attempts to sell us titles we already own before they start to make their inevitable Blu-ray Disc showings, and while I would agree that they hold little new for collectors other than fancy new covers and (yay, nay!) redundantly added set-top games, they do keep some of the lesser known features on the shelves.
We'll be reviewing this new edition soon, but Jeremie's already got us started on some Oliver coverage, with the first of three interviews that peeks behind the scenes on the film's making. We'll bring you one new piece each day until Tuesday's release, and today he's speaking exclusively with Oliver & Company animator Dave Pruiksma, who recalls the tumultuous period of Disney animation in the 1980s when the film came together, as well as lifting the lid on a few insider details! Pruiksma is as candid as he is fascinating to listen to, and this is a great discussion that digs a little more dirt than we may be used to reading about in such promotional interviews. With a nice additional rundown of the many characters he's animated in the Studio's films, simply don't miss this article!
---
Following up on the release of You're A Good Sport, Charlie Brown, we got sent in another video clip from the special, courtesy of the Warner Bros. YouTube page – just click the "More" link at the end of the post and enjoy! As previously mentioned, Rand has a review for the new disc in the pipeline, and we'll have more Oliver & Company treats for you on Monday!
Stay tooned! — Ben.