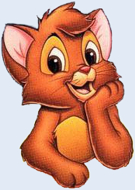 My take on the
Oliver & Company: 20th Anniversary Edition
is finally here, where I let rip on just how much I like this underrated Disney gem and how important it was at a time of great change at the Studio. It remains a vastly entertaining and contemporary picture and if you haven't seen it in a while, certainly deserves another look on DVD.
Looking back further into their history are comments for the re-hashed Mary Poppins: 45th Anniversary Edition, a frankly baffling release (what, no Blu-ray?) that loses more material from the excellent 40th birthday release than it gains in the form of advertising for the current (and actually not too magical) Broadway show. Not perfect in any way!
Ol' Rand's also been into "the office" this morning, and added his review for the latest of Warners' remastered Peanuts titles, You're A Good Sport, Charlie Brown, which also includes the "just as good" You're The Greatest, Charlie Brown, adding that it's refreshing "to see some of the more non-holiday specials emerging".
Even better is the news that the release a couple of years ago of The Bugs Bunny/Road Runner Movie and Bugs Bunny's 3rd Movie: 1001 Rabbit Tales is set to be complimented by the wabbit's first feature compilation, Friz Freleng's The Looney, Looney, Looney Bugs Bunny Movie! Coming to DVD from Warner Bros. on April 28, it doesn't look like there will be any new bonus features, but there's a promise of some "classic cartoons" and the $14.98 list price ain't bad. For those counting, this will only leave Daffy Duck's Movie: Fantastic Island and the later, produced for video Daffy Duck's Quackbusters still to come…howsabout a decent Duck double bill? You know he'd want it that way…
Have a great weekend, and stay tooned! — Ben.