She's the Madagascar Terminator, and she's back!
Who? Well, Nana, of course! She was just an "interlude" character in the first Madagascar, but she so won the audience over that the creators of Madagascar: Escape 2 Africa couldn't but call her back for an even more over-the-top and hilarious performance. Now, she's become the leader of an army of tourists left stranded by the pesky Penguins' schemes, and she still comes with a bad attitude…especially towards Alex!
But the success of the old nanny owes a large part to her sound, performed by renowned vocal talent Elisa Gabrielli, who has lent her voice – and her impressive palette of different colors – to more than 30 different animated characters such as Gargoyles' Maria Chavez, Batman – Mystery of the Batwoman's Detective Sonia Alcana, W.I.T.C.H.'s Sarina Sanchez, The Invincible Iron Man's Virginia "Pepper" Potts, The Spectacular Spider-Man's Dr. Ashley Kafka, along with so many additional voices for Mulan, Shrek and Open Season among others.
So meet a unique, proteiform artist…but watch out her handbag!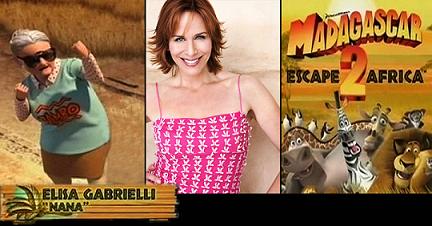 ---
Animated Views: How were you first introduced to the character of Madagascar's Nana?
Elisa Gabrielli: I was working on the first Madagascar doing some of the smaller characters and background voices, singing (which is something I've done a fair amount of in Mulan, Shrek, Shark Tale, Kung Fu Panda, Bee Movie, etc). I was working with a really talented group of actors called the LA Mad Dogs, who were there doing the same thing. On that particular day the directors and producer asked if anyone wanted to take a crack at voicing this Little Old Lady. She was still just a black and white sketch at the time. When I got up to give it a try, this crazy character just kind of appeared. They cracked up and said it would be really fun to animate to that voice…the rest is history. Honestly, I never thought I'd get to keep the character. I went home and told my husband [actor/musician Floyd VanBuskirk] "I'm sure they're going to give her to Harvey Fierstein!" Lucky for me, I was wrong.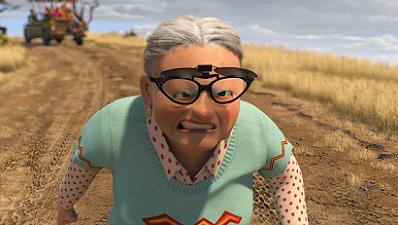 AV: What was your inspiration for Nana's voice?
EG: Actually, both my Grandmothers…the Russian one, Lilly, who was tough and smart, and my Hungarian Granny, Elsa – whom I adored – who was all of that and had a wicked sense of humor. And Lenny, my Stepfather, who is the scrappiest, most street-smart person I know. He used to manage boxers and I hung out at the ring with him when I was a kid. That definitely made its way into Nana's character!
AV: What was the main reason you wanted to voice Nana?
EG: The second I set eyes on her sketch, I really wanted to do her. Her character really resonated with me.
AV: What are the differences, from your viewpoint, between the Nana in Madagascar and the one in Escape 2 Africa?
EG: I think you get to see a bit of Nana's softer side with the tourists as she warms up to them and tries to keep their spirits up. It was really fun being able to take her in different directions; and to watch her have depth as well as a significant impact on the story line!
AV: How do you manage to be so "over the top"?
EG: I think the "over the top" part comes naturally! It's great fun to take characters to their limits. You can always dial things back, but I always discover such great stuff at the edges!
AV: How did you prepare the role?
EG: As for preparation, in animation, sometimes you get the material when you get there, and then I just have to trust the character to inform me and hit the ground running. If I can get the material before — I really like to, because then I can get a better picture of the situation. I can daydream a little and let my imagination go in different directions. It gives me more to choose from.
AV: How do you concentrate before such a performance?
EG: I never really find it hard to concentrate if I'm fully involved with the character. That becomes the loudest thing in the room. Although a character like Nana takes a lot of energy, so I tried to make sure I was well rested and ate something before hand…otherwise I would run out of steam!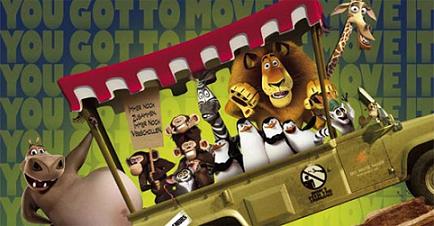 AV: How did you work with the directors?
EG: The directors Tom McGrath and Eric Darnell, and producer Mirielle Soira were basically always there, and often producer Mark Swift as well. They were so much fun to work with. They would throw out suggestions and were always really open to my ad libs. It was a very collaborative experience and such a joy to work with them because they were all so creative…and really, really nice people.
AV: Were some animators present during the session, or were you filmed to help the animators animate the character in tune with your voice and your movements during the recording?
EG: The animators weren't present when I recorded, but they did film most of the sessions.
AV: Do you see some of your gestures in Nana?
EG: I know my vocal delivery had an impact, but Nana's visuals came from the brilliant collaboration between and imaginations of the animators at DreamWorks. I got to meet some of them recently. They're awesomely talented. It's incredible how much is involved in all of it! It's really exciting to see.

AV: You voiced Detective Sonia Alcana in Batman – Mystery of the Batwoman. How was that experience?
EG: I was so stoked to be working on Batman! And I really loved working on the role of Sonia. She was a complex character with quite a bit of darkness and emotional pain in her background to overcome. Her feelings about Batman were conflicted, so it gave me a lot to play with. Also, director Andrea Romano was great to work with.
AV: Could you relate to Sonia in any way?
EG: Sure, but I always relate to something in all the characters I do. It's one of my favorite things about acting. I think with the character of Sonia, it was her struggle to evolve as a person and to grow from the things in her past rather than to let them hold her back.
AV: Would you like to return to Batman, possibly as someone else?
EG: I would love it. Or even to come back as Sonia. I think by the end of it all, she had a bit of a crush on Batman.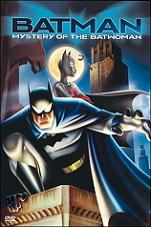 AV: You're currently doing work for The Spectacular Spider-Man. Are you set to continue on that?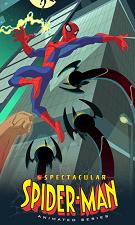 EG: I sure hope so. When they start on the second season it will be great to flesh out the character of Dr. Ashley Kafka. She's sure to get herself in all sorts of trouble.
AV: You often happen to voice several characters for one show. Does that makes things more difficult?
EG: No, not at all. It's really fun.
AV: What do you like in voices for animated films? What's special in that, compared to the stage or live action?
EG: I think the biggest difference is that I can be absolutely anything that I am capable of creating vocally. Anything! I'm not limited to form or age or even species! Lots of fun! But again, I love acting wholly, whether I express the character through my voice or with my entire being.
AV: What is your most favorite role you've ever voiced?
EG: I've really enjoyed all the characters I've played…but Nana wins so far. Definitely. We all had so much fun seeing her come to life!
AV: Have there been any roles you've tried out for and didn't receive the role?
EG: Absolutely. In fact, I created the role of Pepper Potts in The Invincible Iron Man video, which the movie was based on. When they recently decided to do an animated TV series, they wanted Pepper to sound more like the way that Gwyneth did in the movie. Ah well. I really enjoyed playing her when I did.
AV: Any upcoming animated films we will hear your voice in?
EG: Well, Madagascar 2, Beverly Hills Chihuahua, Kung Fu Panda and Bee Movie have all come out on DVD…so that's the most recent animation right now. In addition to the animation, I really enjoy being in front of the camera too. Perhaps exploring a comedic role on screen or something more provocative, like a guest spot on The L Word?
Stepping into character both on screen and in animation give me the opportunities to explore acting in such different and equally beautiful ways.
---
---
Our thanks go to Elisa Gabrielli, Paula Gould and Daniel Villalobos.