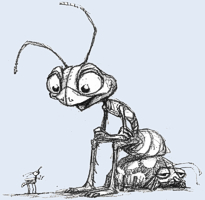 Rodney's been back over the weekend with his promised look at the second of Disney's recent superheroic offerings, X-Men: The Animated Series – Volume 2, which picks up where Volume 1 – and his previous review – left off! Though I'm not at all the biggest X-fan, I've loved Rodney's reviews on these titles as his love of the original comics and what sounds like a pretty faithful translation to the screen here comes shining through, and he really knows his X-origins. Praising the storylines contained in this set is where Rodney's main comments lie, with audio and video elements also complimented, and even a lack of extras can't break his enthusiasm; as he says, "Overall, I am very happy with this release and I can hardly wait for the third volume".
---
Remember the "Bug Wars" of 1998? When Pixar had their "epic of miniature proportions" ready to roll in the face of DreamWorks' smart and sassy Antz? This was back, if you recall, when Jeffrey Katzenberg had recently left the Mouse House and had launched his own animation studio which aimed to out do Mickey in the animation stakes with both an epic, traditionally animated musical (The Prince Of Egypt) and his bug-starring feature produced in the developing medium of CG. Much was made of the race to get each film out first, and the similarities between them, but if you're thinking that's ant Z adorning our page on the top right today, let me put you right and say this is actually the work of character designer Peter de Sève for Pixar's A Bug's Life.
In celebration of the film's debut on Blu-ray Disc, Jeremie Noyer speaks with Peter for a fascinating discussion on the design process, which also features some terrific blow-ups of his Bug's concept art. For me, both movies each feature fantastic elements of their own, but I have to say neither holds a candle to Max and Dave Fleischer's original bugs life, Mr Bug Goes To Town which, then as now, I just can't see why some enterprising distributor hasn't restored and returned to our screens in a genuinely presentable edition (yes, Warner Bros, I'm looking at you, kid).
I'm anxious to see how the hi-def format reflects Pixar's bugs on this new disc, and I'll be giving my animated view on this release soon, so stay tooned! — Ben.