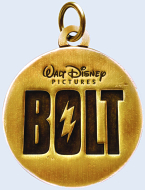 As promised, and posted over the weekend after a couple of minor hitches, I managed to get my full review of Bolt on Blu-ray Disc and DVD online. I expect many of you have already read my comments (going by the feedback sparked in our AN&V Forums), but in short, I found Disney's latest to be a typically good representation of today's computer animated confections: well crafted but slightly formulaic good clean fun without wishing to break any new ground.
For those fans of the film who find the disc fairly light on bonus features, don't forget that our own Jeremie Noyer has been posting some cool Bolt content, including speaking to the film's designer Joe Moshier, Bolt's animator Cinzia Angelini, and joining a roundtable discussion with the disc's bonus short's director and cast member, Nathan Greno and Mark Walton respectively.
Elsewhere on the site, you only have a few hours left to enter our first ever Blu-ray Disc giveaway: a chance to take home a brand new copy of Disney's genuine masterpiece Pinocchio in its Platinum Edition release. Head over to our Contest Corner, wish upon a star, and it could be yours, but you only have until midnight ET tonight!
Lastly today, it's another of our occasional live-action days, albeit in favor of a movie with some very tenuous animation connections! As a major movie buff with tastes that range far and wide of a main focus on animation, I'd like to give a shout to one of the all-time classic comedy movies that's just joined the ranks of Paramount's Centennial Collection and comes highly recommended as a slice of pure comic genius. Often referenced in other movies and cartoons, including a very memorable episode of Tiny Toons Adventures (no, that's not the connection I'm talking about), it is of course the original The Odd Couple, and you'll find a mini "capsule review" at the end of this very post.
Enjoy, and stay tooned! — Ben.
The Odd Couple: Centennial Collection
Paramount (1968 / 2009), 2 discs, 105 mins plus supplements, Rated G, $25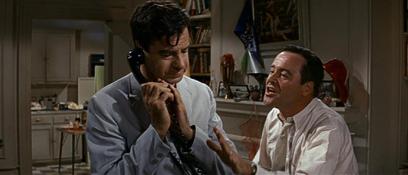 For many people, one of The Odd Couple's defining elements will be Neal Hefti's almost iconic theme tune, made even more the very epitome of sitcom music by its long-term use on the opening titles of The Odd Couple when it made a transition to television for five successful seasons during the 1970s. Like the subsequent M*A*S*H*, the TV incarnation of The Odd Couple became the de facto edition of the basic concept, outstripping the film that inspired it and the original stage play that predated that!
The Odd Couple opened on Broadway in 1965, with Walter Matthau and…Art Carney!? It seems astonishing to think of anyone else but Jack Lemmon now, and many expected Carney to reprise his role in the inevitable film, but potential director Billy Wilder – himself a replacement for the play's director Mike Nichols, who had become a movie director with The Graduate – wanted his old Some Like It Hot star Lemmon to play opposite Matthau, reigniting the team that had worked so well in The Fortune Cookie.
With Paramount balking at paying top dollar for both star and director, writer Neil Simon had final say and went for Lemmon over Wilder (who would have also written the screenplay), the directing reigns falling to Simon's director of choice, Gene Saks, who had recently carried out the same duties for the author's Barefoot In The Park. Famously pairing two of Hollywood's most prolific comic actors, The Odd Couple cemented their screen chemistry and set the unofficial Lemmon and Matthau partnership up for a total of ten movie comedies, but it's arguably The Odd Couple that stands the test of time better than any of them. The concept is brilliantly simple: two down on their luck guys agree to share a New York apartment to save on expenses, the two being long time friends. They soon find out that best friends are great…until you try and live with one another, and before long Lemmon's super-clean and neurotic Felix Unger is clashing spectacularly with Matthau's slovenly slob Oscar Madison.
Whether or not the film would have been funnier with Wilder behind the camera is open to debate: many feel it couldn't have been bettered, though it may have been cruder: the quartet's later reunion The Front Page being decidedly edgier with its language, here retaining a safe G rating. Given Simon's original stage dialogue, Saks actually does a fine job of converting the action to film, setting up his camera (apparently under the very watchful eye of legendary producer Howard W Koch) in such a variety of locations within Oscar's rather spacious apartment that one totally forgets the play origins, and the addition of a handful of outside scenes – most notably at a baseball game – helps tremendously in broadening the scope. But it's the pointed comedic dialogue, as delivered by two generously competing actor-friends at the top of their games, that really shines; almost every line a keeper ("It took me three hours to figure out that 'F.U.' was 'Felix Unger'!").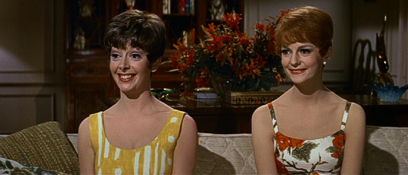 A highlight for anyone who saw the play, and reprising their roles for the film, is the visit by the two Pigeon sisters, a pair of kooky British gals living upstairs played by Carole Shelley and Monica Evans: a double act that worked so well on stage and screen that they reprised essentially the same characters as Amelia and Abigail the geese in Disney's The AristoCats, played again together as Maid Marian and Lady Cluck in the Studio's Robin Hood and made various appearances in the TV version of The Odd Couple.
On television, Felix provided a wonderful chance for Tony Randall to shine, with Jack Klugman – who had taken over from Matthau on Broadway – as Oscar, and the repeated nature of the main titles turned Hefti's theme into a classic, doing the same thing for situation comedy that his Batman had done for 1960s superheroes. Indeed to this day, the opening notes to The Odd Couple provide the perfect setting for any parody of the genre, such is the shorthand the music has become synonymous with.
The legacy of the play, film and show itself didn't stand up quite so well: a 1980s New Odd Couple failed to ignite any magic, and a 1990s TV movie Together Again attempted a coda of sorts by marrying off Felix' daughter. Finally, a 1998 theatrical sequel to the then thirty-year old movie original again reunited Lemmon, Matthau and writer Simon, who jettisoned all of the intervening material. The result, which again attempted a marriage concept, this time between Felix and Oscar's kids (differently named from the TV show), paled in comparison, especially coming after the very similar Grumpy Old Men movies. It was always fun to see the two guys spitting words at each other, but they never did it better than in this 1968 original.
Previously available as a bare bones disc, Paramount has now added The Odd Couple to their prestigious Centennial Collection of classic movies, which was ironically inaugurated by two of Billy Wilder's best films, Sunset Boulevard and Sabrina, and continues with this latest release, number 7 in the series as marked on the cover spine. The now-classy black and gold packaging saps a little of the original disc's bright original theatrical poster art, but the glossy slipcase and included booklet of stills and text information clearly state that The Odd Couple's comedy is to be taken seriously. As such, the 5.1 mix offers a nice soft spread that retains the all-important dialogue well, though for some reason Hefti's celebrated tune, heard in all the supplements, has been replaced on the menus by a sound-alike) and the new 2.35:1 anamorphic transfer presents a spotless image that surely comes close to whatever a Blu-ray Disc could offer, a super sharp, non-saturated image that presents Oscar's sloppiness as cleanly as Felix would be satisfied with!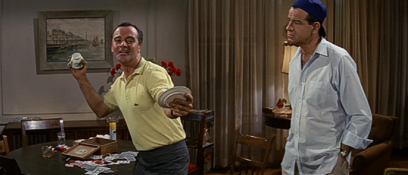 Added to this is a whole new heap of extras, all of which are very welcome but all of which are also very fluffy and sweet, none of them really delving into anything more than basic information and how great everyone was to work with. On the first disc, a feature commentary with Felix and Oscar's real life sons Chris Lemmon and Charlie Matthau finds the two reminiscing about their famous fathers in a pleasant conversation, though by their own admittance they're honored to have been asked but not sure how to fill the film's length, even if a few comments are amusing and there are nuggets of rich information and discussion.
A second disc basically offers a single hour-long documentary sliced up into more manageable chunks: In The Beginning… chronicles the origins of the stage show and the transfer to film, interviewing a host of names (Simon's friend Larry King, select secondary cast, director Saks, Lemmon and Matthau's sons and, surprisingly welcome, then studio head Robert Evans who reveals the most), only to unwittingly show up the two leads and their writer's absence even through any archive material.
There's more of the same in Inside The Odd Couple, exploring the casting of the film and a good portion of its production, opening up the information a little more even if everyone keeps singing everyone else's praises. Memories From The Set has more from those who were there, describing how it was to work with two masters of their craft and the differences in shooting a movie as opposed to performing in a stage play, also elaborating on the little known fact that due to Matthau's broken arm, the first and second acts were filmed in reverse. Matthau & Lemmon (or Lemmon & Matthau as the title plays to demonstrate the point) is a more personal look at the two guys' on-screen dynamics and real-life friendship over the years, again prominently featuring sons Chris Lemmon and Charlie Matthau. Interestingly, they also touch on what the "sons of The Odd Couple" now do professionally, having followed their dads into the business as actor and director respectively. Closing these featurettes out is The Odd Couple: A Classic, a short capper of the best moments combined with parting words from those involved with the supplements.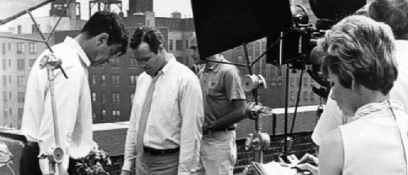 From the previous edition, a typical theatrical trailer from the time plays out some of the scenes in a close to three minute montage, and they're not all of the best lines in the movie! A stills Gallery serves up images from the Production (behind the scenes with the cast and crew on set) and the Movie (publicity shots) but it's a rather limited selection, none of them are in color, and there are none of the various original poster drawings that were used to sell The Odd Couple on its original posters. Neil Simon is conspicuous by his absence and likewise there must have surely been room to include some archival material of the two stars or to explore the property's legacy in its various television incarnations and the theatrical sequel. I'd have also thought, given the limited commercial prospects for that sequel on disc, it would have been a terrific bonus to have had the option of here too.
But as a truly original one-off that then became endlessly referenced, it's well past time to reacquaint yourselves with The Odd Couple, or to meet them on a first visit, and this edition, which might as well have been marked up for its 40th Anniversary, is certainly the definitive account of the movie, with a platter of light but interesting supplements to boot. It's not spaghetti, and it's certainly not garbage – The Odd Couple is the best peculiar pairing you're ever likely to see!