I don't believe Mark Twain, writing The Prince and the Pauper in 1881, would have ever anticipated that his novel would someday be transposed by the Disney Studios into the realm of cartoon animation. Would he have liked that? Nobody can tell, yet it can but be acknowledged that Disney's 1990 featurette stands among the most successful cartoons ever.
Not only because of the both delicate and fun treatment of the novel, but also because it presents one of the deepest and most touching performance by our dearest Mickey Mouse – doubly starring in the piece. Following a discussion on his animated feature Oliver & Company, our guest for the second time – and we're so delighted about that – director George Scribner chats with us about what he feels is probably his favorite production!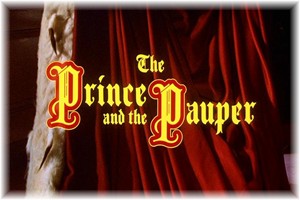 ---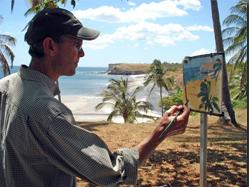 Animated Views: How did the production of The Prince and the Pauper start for you?
George Scribner: I know that a lot of projects were being developed at the time and they were always looking for properties that the Fab 5 – Mickey, Donald, Goofy, Pluto and Minnie – could do. Once Rescuers Down Under was greenlit and moved forward, my understanding was that Jeffrey Katzenberg wanted to release it with something else, just to add more value. At the time, there was a development. I read it and I liked it a lot. It was really challenging to put Mickey through some of the depth that was in the short.
AV: With the choice of Mark Twain's novel, two Mickeys make twice the fun!
GS: This idea predicated on the Mark Twain novel which is twins. Once it was decided to do it with Mickey, Goofy and Donald, it was just easy to double Mickey up. It is funny because, originally, I argued for "let's give Mickey's counterpart the Prince an English accent, in English voice." And Jeffrey, to his credit, argued otherwise saying: "no, that really sort of robs the sort of the whole premise of them being identical which allows them to switch places. And he was right. It was a very easy leap to make given it was from the original novel.
AV: How do you explain that, after Mickey's Christmas Carol, it was the short format that was chosen again?
GS: That's a really good question, but I don't have the answer. We certainly felt while we were making it that it could have been expanded. The story had enough density and complexity to it that it easily could have been expanded to a 60-65 minute feature like The Three Musketeers. It would have held up. There was enough story material to sustain a short feature. I think it has more to do with the realities of the time. They couldn't bundle two movies together back to back, but a featurette would be the right duration for an audience.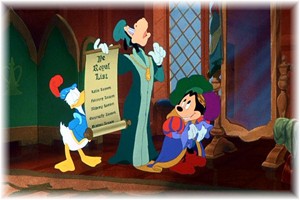 AV: How did you deal with the script you received?
GS: The script was in really good shape by the time I read it. By and large, the first set of reels that we put up stayed pretty much intact. There were a couple of story shifts midway through, which is really just part of the process – you're constantly just refining it. We ended up fleshing some of the action sequences out and redo some things, but I don't think we altered the fundamental structure from the screenplay. The story structure was so well set up that we had so much to work with starting out. The reel just got better and better because the underlying structure just held up so well. It was really just about plussing it as we went along. It's a perfect example of my own personal philosophy in matters of writing. A good writer can really handle and solve so much structural work. Particularly in the motion picture business, a good writer makes all the difference.
For me, the perfect example of that is that core scene, with Mickey Mouse, this small, short character being written in a scene where the father of the Prince passes away. I thought: "Woah, that's fantastic!" In my mind, it was absolutely doable. There was a lot of argument like: it's just Mickey Mouse. Does a character like this have any kind of resonance or emotional depth to be able to insert such a short character in a scene with that kind of weight to it. I thought we could, as far as it was handled very subtly and very delicately. And I think we did. That, to me, was the reason I wanted to do this. "Woah! Can we pull this off? This is amazing!" I spent two and a half years on it, and we did it! I've very proud of this short!
AV: How did you handle that particular scene?
GS: That was all worked on in story, first. Then, I worked with the animator on getting the correct performance. But the underlying emotion structure was in the original story reels. That wasn't like something that was created from zero with the animator. That was all there in the first set of reels, in the first animatics, that kind of depth just the way that was timed and staged. The animator knew very clearly what the poses would be. I don't say the animator didn't plus it, but, in those particular scenes, we worked very hard to have those worked out ahead of time. Because they were not gonna be over-animated scenes. Those were gonna be very restrained pieces of business. It was really more about the staging evoking the response, rather than the performance. A lot of that has to do with Mickey just bowing his head and we moved away to the candle that dies.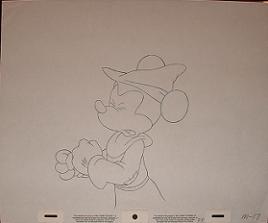 AV: Since you dealt with the Fab 5 and the great tradition of Mickey Mouse cartoons, did you make some kind of historical research to help you shape your movie out?
GS: We went back to very specific cartoons, for one thing: I wanted the models to be from the late 30s, the closer to the Freddy Moore designs. Particularly Mickey. He tended to be, I thought, a little cuter, a little shorter, plumper, the edges tended to be rounder. I just loved the proportions that he brought to him. So, we went back to The Pointer and The Brave Little Tailor – this one especially for the watercolor look. We wanted to resurrect that. I felt very really strongly that that added such a freshness to it, and if we could pay homage to the really amazing work that had been done here and if we could get even close to it, I'd be very happy. We all agreed that this look was just perfect for this vehicle, for such a classic story.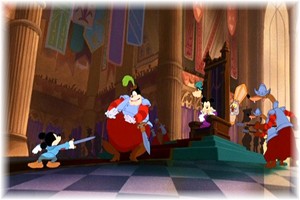 AV: Did you face any technical challenges on that production?
GS: No. It was the last production to be done traditionally. It was all hand-painted, all shot under camera. I don't think we even went to CAPS to shoot it, because we did quite a bit of the production at Dale Baer's company in Hollywood. We simply didn't have the capacities with Rescuers Down Under going through the CAPS pipeline. So it was all done traditionally.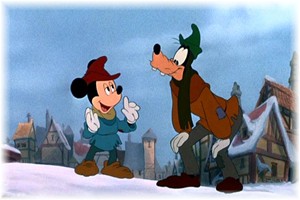 AV: Concerning the music, the choice of Nicholas Pike, who is better know for his horror movie scores, may seem surprising.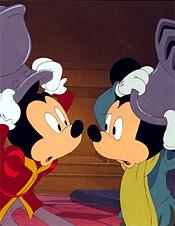 GS: I had met Nicholas and he gave me samples of his work. On The Prince and the Pauper, we were looking for somebody younger. The budget obviously wasn't the budget of a feature, so we had certain limitations. That wasn't bad; that was just the reality of making this. And, listening to samples, I really like them. I thought he could bring a freshness to this, something different because he's younger. In my brain, the music I used for inspiration was Korngold's Sea Hawk and Anthony Adverse, scores that Korngold had done – again in the late 30s/early 40s – and that seemed just perfect for this. That's what I pointed Nicholas.
He proved to be very good. He was someone I could work with. He was very easy to work with because he was one of the first composers to be able to sit with, sort like an animator or a painter, with samples and preview before he orchestrated his pieces. I would go to his house. We spotted it first, then we'd go over cues. I'd go over any afternoons after work listening to what he was working on. With all the digital samples, you could really listen to all the notes before going into the final sessions. Now, that's fairly common, but he was way ahead of the curve.
AV: And what about this Rigoletto pastiche for the song?
GS: It was just a fun, simple, little gag. We just brainstormed about that song and found that idea that just seemed cute. And Jenny Tripp, the writer, wrote lyrics on that.
AV: Simple, but so efficient. All the more since that idea of parodying opera pieces was resumed in the Three Musketeers feature.
GS: It happens that the coordinator of the production of The Prince and the Pauper was Donovan Cook, the director of Three Musketeers. I don't have the answer, but maybe he liked it!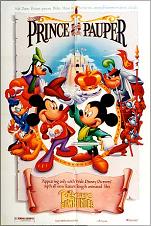 AV: From the story to the art direction and to the music, The Prince and the Pauper is certainly one of the most charming Mickey shorts.
GS: I appreciate that. A lot of this has to do with these characters. They're so much fun to work with. You're not sitting there spending a year of time trying to figure out who your characters are. In this case, because the characters were already well known, you don't have to explain who they are. And we had some really terrific story people on it. Working with funny people is always a big plus! It really was a joy. There were difficult moments getting it done under budget and on time – it was tough! But relatively, it was a lot of fun!
AV: Did that deep acquaintance with the Fab 5 help you in the Theme Park productions you've worked on that involve them, like Philharmagic?
GS: Absolutely. As I said, we did a lot of research, and that stayed with me for the last 20 years. I bring that to all the work I do at Imagineering. I know where all those scenes are, and I can point them out. "That's a great gag. I remember that in The Pointer, he does this. Why don't we use it here?"…you build up an accumulation of institutional memories that you bring to whatever project you're on in the present.
AV: 20 years later, how do you feel about The Prince and the Pauper?
GS: I am really extraordinary proud of this featurette and, in a lot of ways, I almost treasure it more than Oliver & Company, because I could really direct it my own way. I was given a lot of latitude. In the end, it was a really satisfying experience and it nailed everything that we set out to do. I don't have the Oliver & Company poster in my room, but I have the Prince and the Pauper poster. There's something about this one I just feel connected with.
---
---
With our sincerest thanks and admiration to George Scribner.