Paramount Pictures (May 26 1976), Legend Films/Paramount (July 1 2008), single disc, 92 mins, 1.78:1 anamorphic widescreen, Dolby Digital Mono, Rated PG, Retail: $14.95
The Movie:
Won Ton Ton: The Dog Who Saved Hollywood is one of those infamous Hollywood movies: long forgotten by most of the world, and a failure with much curiosity value for those who should know better. It also came slap bang in the middle of the 1970s, a time when Hollywood films were often looking to their own past for inspiration (the gangster pictures like The Sting and The Godfather) or as a setting (most notably Mel Brooks' hysterical Silent Movie, or Nickelodeon). And, like many all-star vehicles of the 1970s, packing in the guest cameos was the name of the game, especially in movies based around the classic era, this one being set in 1920s Hollywood and about a down and out dog who becomes the toast of Tinsel Town, setting the screen alight in a series of rootin', tootin' adventures. But with everyone wanting scraps, Won Ton Ton finds there's a down side to fame…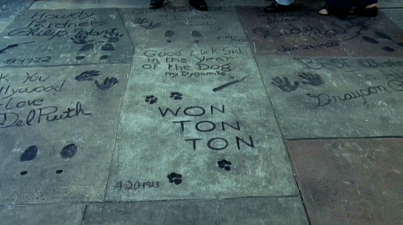 In Won Ton Ton, the line up is almost insane and should be enough to tempt most, featuring as it does a huge number of players that will be familiar to classic film and animation buffs: Bruce Dern, Madeleine Kahn, Art Carney, Phil Silvers, Teri Garr, Billy Barty, Edgar Bergen, Milton Bearle, Joan Blondell, John Carradine, Cyd Charisse, Jackie Coogan, Yvonne De Carlo, Andy Devine, Alice Faye, Rhonda Flemming, Zsa Zsa Gabor, Sterling Holloway, Tab Hunter, Dorothy Lamour, Peter Lawford, Keye Luke, Victor Mature, Virginia Mayo, Ethel Merman, Ann Miller, Ricardo Montalban, Walter Pidgeon, The Ritz Brothers, Dean Stockwell, Rudy Vallee, Johnny Weissmuller and Henny Youngman among many more "hey I know that face" faces.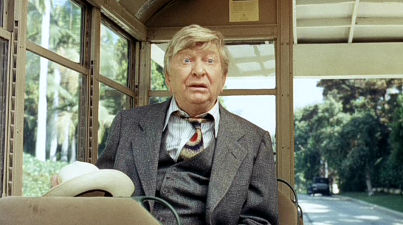 The film was overseen by prolific Paramount based producer David V Picker, but quite how hack and later revenge thriller schlockmeister Brit director Michael Winner (infamously of the increasingly deprived Death Wish films) got to be involved is a mystery! It's the closest anyone could say he came to making a "family picture" and, as such, may I add it's also perhaps the most seriously accomplished of his career, with the kind of proper budget, decent locations and on the ball crew that his later, sometimes painful to watch films, just don't have.
It's dated, of course, but only in that Bugsy Malone way, having the fortune to have been set in Hollywood's 1920s golden age, which is pleasantly recreated, kind of like the nice and bright side of The Day Of The Locusts or Chinatown. Legends and conventions of the time are gently mocked, and there are some genuinely funny moments, even if the PG-rated language sometimes gets near to crossing the mark. In fact, Won Ton Ton is sadly occasionally crass (there are a couple of dubious plot points that openly suggest the seedier side of Hollywood), which is extremely unfortunate, for a little pruning on one early scene and just a couple of instances of language aside, we might have been talking about Winner's film as the family classic it seems intended as.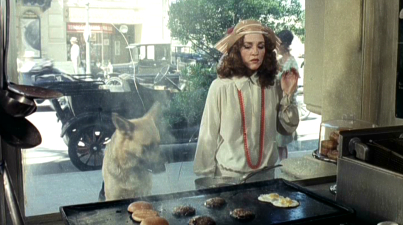 As such, it straddles an uneasy polarity of coming across as a wannabe cute kids comedy and something more adult – becoming episodic with one subplot that peters out and another that is in danger of overcoming the main plot. The loose ends do come together, but it's probably best to recommend Won Ton Ton as a film fan's curio as it's not quite innocent enough to work as an all family picture in this day and age, even if it does seem to pre-date Who Framed Roger Rabbit, subbing the old screen stars in lieu of the toons (and using some genuine era stock footage from Harry Hoyt's Boston Blackie adventure picture to illustrate Won's adventures on screen).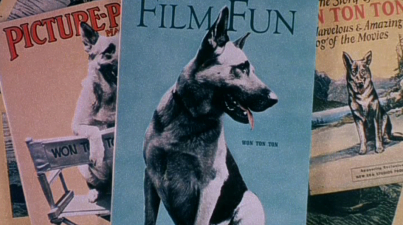 Even the very basic plots could be distant cinematic cousins: with his threadbare New Era Studio close to extinction, head honcho JJ Fromberg is in desperate need of a hit, when into the lot comes a young actress looking for stardom. When she gets into hot water backstage, a German Shepherd that she befriended earlier comes to her rescue, witnessed by an aspiring director who suggests a movie series starring the dog, whom he dubs Won Ton Ton, an obvious pastiche of the phenomenally successful early silent series starring Rin Tin Tin. Won's movie situation recreations are fun, and in the lead roles as the dog's director and young starlet respectively, Dern plays his usual quirky guy, while Kahn is her kooky self.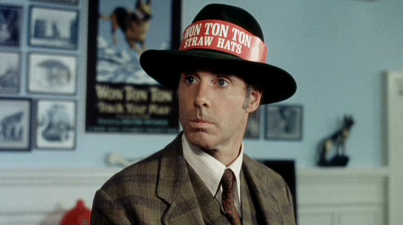 Though some of them look like they're on their last legs, it's also enjoyable enough to see those legends run through their paces one last time. But while there are a few chuckles to be had and, coming in at an hour and a half, it's briskly paced, The Dog Who Saved Hollywood is never really laugh out loud funny, and perhaps aside from the trimming of a couple of instances that may leave a bad taste in the mouth, about the only thing I could think of that might have added anything more would have been an overblown lampoon of a traditionally glitzy musical production number, something that might have played well with veteran composer Neal (the 1960s Batman) Hefti's bouncily enjoyable themes.
Certainly one to see if you're an old movie buff, I'll have to have a word about Won Ton Ton: The Dog Who Saved Hollywood to my old mate Terry Rawlings, the prolific editor of such films as Watership Down, Alien, Blade Runner and most recently The Phantom Of The Opera, who is here credited as a Sound Editor, and surely must have a few amusing behind the scenes anecdotes. As it is, Won Ton Ton will perhaps remain the oddity that it always has been: certainly the main reason to see it is to catch those Hollywood greats on the big screen one last time, though for a film about Won Ton Ton, called The Dog Who Saved Hollywood, the titular pooch sure takes a back seat to the human dilemmas of Dern and Kahn's on-off relationship, and he doesn't exactly "save" Hollywood either. Obviously everything ends up happily, but not without some crudely odd choices in what could have been a straight forward family film, but then again would anyone expect any less from Winner?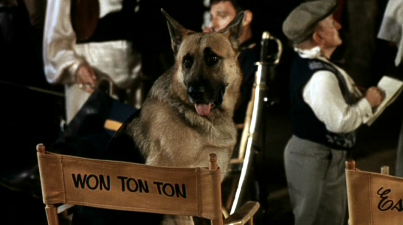 The Disc: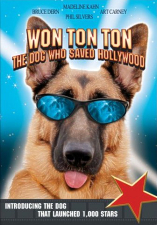 Although it's not a film crying out for release on DVD at all, Won Ton Ton is a welcome pick-up from the guys at Legend Films, who have been into providing decent editions of some long out of print or definitive versions of public domain titles for a good few years now. True, their main selling point is often a Colorized version of a black and white movie, but credit to them for providing both old and new on the disc, usually with the original monochrome image benefiting from the restoration work carried out for basis of the color versions.
Recently the company has moved from being just a service company (and, it has to be said that their proprietary coloring is pretty impressive even if the originals should always remain the default viewing option) to venturing out into distribution, with several in-house catalog titles. Now, a deal with Paramount (a company well known for their distinct lack of interest in mining their own archive) to bring some of the more obscure curios to market has seen some 40 or so titles making their much welcome disc debuts.
Won Ton Ton unfortunately doesn't come loaded, but apart from the obvious theatrical trailer inclusion, what would have been super is some kind of guide to the many star cameos and in-jokes by way of a commentary (Winner likes to talk so getting him to sit and let his memories flow shouldn't have been too tough to arrange) or, surely an option, a pop-up trivia subtitle track. However, we're lucky that many of these overlooked little movies are making it to disc at all, and any qualms on extras are easily outweighed by the pristine quality.
Although licensed and distributed by Legend, you'd be hard pushed apart from their logo to differentiate these catalog titles from standard Paramount product, such is the consistency in layout and design. The cover goes for the kind of cute family comedy (think the Air Buds or more recent Firehouse Dog) the film wants to be (and almost is), sporting a cool shades wearing German Shepherd with stars in his eyes on the front and on the disc art. Understandably given the budget intentions of the release there's no insert, but again it's more important that these films make it to disc, and not all films are destined to flaunt all the trimmings.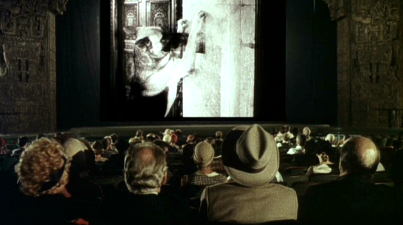 When it comes to the video transfer, images are obviously something Legend Films know a bit about, and from what I've seen all of their titles exhibit the best of what can be achieved from their original elements. Certainly here, the transfer is surprisingly solid for an otherwise obscure oddity that's been kept in the studio vaults for so long, and I simply wasn't expecting as clean, contrasty and sharp a print as is presented, even if it appears to be interlaced as opposed to progressive. Don't let the opening – intended to evoke the silent comedies in scratchy black and white – put you off; Won Ton Ton, anamorphically enhanced in its original screen ratio, has no right to look so good!
A product of the mid-1970s, The Dog Who Saved Hollywood's sound mix is typical of the period, a mixture of live room recording and ADR lines which are no less clear and never distort or sound shrill the way some audio of the time can often come across. It's probably the result of some sweetening by the Legend Films boys, but it sounds remarkably good, especially Hefti's playful score.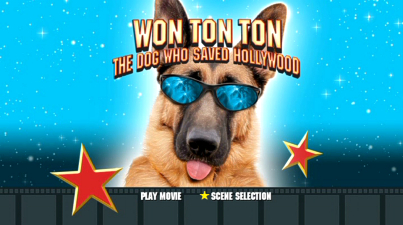 Cinematic Classic or Faded Print?
Won Ton Ton: The Dog Who Saved Hollywood is an odd film to knock down, but a hard one to recommend outright. It's undoubtedly worth seeing for anyone interested in seeing some classic screen heroes and heroines popping up in later years cameos, and the film would probably be able to entertain young kids for whom the more questionable humor wouldn't even register, but gathering the whole family around a screening might be a little awkward for some. However, Legend Films present the film well for those that have been waiting patiently for it to arrive on DVD.