Thanks to Genius Entertainment, here's your chance to grab one of five copies of their new CGI animated release The Ten Commandments!
The film comes to DVD on Tuesday, February 5 2008. The contest is now closed and our lucky winners are:
• Tim Sormin, Redmond, Washington

• Jimmy Gunawan, Sydney, Australia

• Mathew Gaastra, Decatur, Alabama

• Stephanie Lucchesi, Long Beach, California

• Matthew Martin, Chicago, Illinois
Congratulations! Your disc will be with you soon (please allow longer for international delivery).
---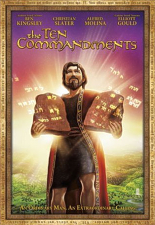 About
The Ten Commandments
The Ten Commandments showcases Moses, the reluctant prophet, who was the only man in Biblical history to see the face of God and call him "friend". This animated version is filled with high adventure, miraculous events and a gentle sense of humor. Condemned to die by the Pharaoh while just a baby, Hebrew Moses is set adrift on the River Nile by his mother and his sister. Rescued by the daughter of the Pharaoh, he grows up thinking he's an Egyptian prince. Eventually exiled from Egypt when he is exposed as a Jew, he is touched by God and told that he will lead his enslaved people to the Promised Land…
Tech Specs: Exclusive behind-the-scenes footage, Jeremy Camp I Am Willing music video, game and more, 1.78:1 anamorphic widescreen, 88 minutes, Dolby Digital.
Read our full review of the DVD here!
---
THE SMALL PRINT: Winning names will be drawn at random. Participants must provide a full name, mailing address and valid email contact. This information will be kept confidential and deleted after the contest has closed, although Animated News & Views withholds the right to publish winning names and location area only. One entry per household. Disc prizes are Region 1 editions, but the contest is open to US and non-US international readers. Prizes are non-transferable and no cash alternative will be offered. No responsibility is accepted for inaccurate prize descriptions provided to us at the time we go to press. The administrator's decision is final and no correspondence will be entered into. Associates of Animated News & Views and Genius Entertainment are unfortunately ineligible to enter. The contest closes on Tuesday, February 5 2008 at 11:59pm ET.