Today Jeremie's continuing our Bolt coverage with a real treat, an exclusive interview with character designer Joe Moshier, who speaks extensively about his career, taking in the changes on The Emperor's New Groove and, interestingly, some additional work on the eventual direct to video sequel Kronk's New Groove, the switch from traditional hand drawn animation to CG and the new techniques that entailed, as well of course as his work on Disney's latest animated picture. Who knew Bowler Hat Guy was originally to be called Morpheus Pink!? With some exclusive pop-ups that allow for closer inspection of the artwork, I think you guys will really enjoy this one – and we've more to come!
---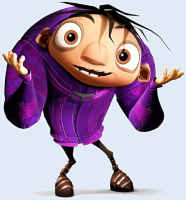 Just time today for some new disc announcements: the computer animated comedy Igor has been set for release by MGM on January 20, going for $17.99 on DVD and $39.99 on Blu-ray Disc. Extras include deleted scenes, bloopers and a featurette, while the BD adds an alternate opening and commentary.
Wonder Woman is confirmed for a March 3 release in multiple flavors: a single disc DVD ($19.98), two-disc ($29.98) and BD ($34.99). Featuring the vocals of Keri Russell, Nathan Fillion and Alfred Molina, the animated DC Universe movie is the origin story of how Amazon Princess Diana evolved into our gold bracelet-clad heroine. Bonuses on the two-disc and BD include featurettes, documentary, commentary, additional television episodes, digital copy and sneak peek of the next premiere in the DC Universe line.
A slew of live-action contemporary classics are also coming to BD, so a quick mention for the wonderful Little Miss Sunshine, out for $39.99 with deleted scenes, gag scene, featurettes and webisodes, Mike Judge's offbeat Office Space ($34.99) with deleted scenes, featurette and "interactivity", and the truly memorable Sideways (extras TBC) for $39.99. All three are out February 3 2009.
More on the way, so stay tooned! – Ben.