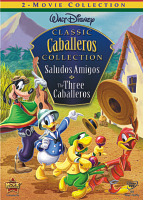 Disney is
really
pushing their release today of the
Classic Cabelleros Collection
, their new rounding up of two of the Studio's Package Features from the 1940s:
Saludos Amigos
and
The Three Cabelleros
, and have provided us with a ton of promotional items, not least the clips you'll find in our
Cabelleros Contest
, which runs, along with our
Sabrina giveaway
, until midnight (ET) tonight.
In celebration of today's release, for which we'll have a full review up soon, check out a couple of newly released clips from Saludos Amigos: a look at a popular Brazillian matchbox game that eventually drives Donald crazy, and the introduction of cowboy Goofy's South American gaucho counterpart.
You'll find both new clips in the "More" link at the tail of this post.
Saludos for now, and stay tooned! – Ben.
The Classic Cabelleros Collection
features two of Disney's most unique 1940s Package Features:
Saludos Amigos
(1943) and
The Three Cabelleros
(1944).
The selection of bonus features includes the vintage live-action featurette South Of The Border With Disney and two fully animated Donald Duck shorts.
Support Animated News & Views by snagging a copy from Amazon.com at the bargain price of under $15!
Saludos Amigos
Movie Clips
A popular Brazillian matchbox game eventually drives Donald crazy:
Introducing cowboy Goofy's South American Gaucho counterpart: