We're celebrating the December 19 release of Universal Pictures' The Tale Of Despereaux with the chance to win a special prize pack featuring a number of Despereaux goodies, including a adult and child sized shirts and hats, a picture frame magnet, croc shoe decoration, bookmark and the full sized theatrical poster artwork as seen below!
The Despereaux contest will end on Sunday 21 December at 11:59 ET and is open only to US residents. We will reveal the winning name shortly after.
To be in with a chance of winning this choice selection of cool stuff, simply submit your details into the form below…and good luck!
UPDATE: Congratulations to our winner, Anthony S. of Trinity FL!
---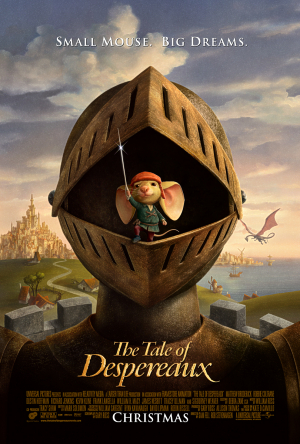 About
The Tale Of Despereaux
Once upon a time, in the faraway kingdom of Dor, there was magic in the air, laughter aplenty and gallons of mouthwatering soup. But an accident left the King broken-hearted, the Princess filled with longing and the townsfolk without their soup. Sunlight disappeared. The world became gray. All hope was lost in this land…until Despereaux Tilling was born.
A modern fairy tale from visionary filmmaker Gary Ross, together with directors Sam Fell and Rob Stevenhagen, The Tale Of Despereaux tells the story of several unlikely heroes: Despereaux (Matthew Broderick), a brave mouse banished to the dungeon for speaking with a human; Roscuro (Dustin Hoffman), a good-hearted rat who loves light and soup, but is exiled to darkness; Pea (Emma Watson), a Princess in a gloomy castle who is prisoner to her father's grief; and Mig (Tracey Ullman), a servant girl who longs to be a Princess, but is forced to serve the jailer (Robbie Coltrane).
Tiny and graced with oversized ears, Despereaux was born too big for his little world. Refusing to live his life cowering, he befriends a Princess named Pea and learns to read (rather than eat) books — reveling in stories of knights, dragons and fair maidens. Banished from Mouseworld for being more man than mouse, Despereaux is rescued by another outcast, Roscuro, who also wants to hear the tales. But when the Princess dismisses Roscuro's friendship, he becomes the ultimate rat and plots revenge with fellow outsider Mig.
After Pea is kidnapped, Despereaux discovers he is the only one who can rescue her…and that even the tiniest mouse can find the courage of a knight in shining armor. In this tale of bravery, forgiveness and redemption, one small creature will teach a kingdom that it takes only a little light to show the truth: what you look like doesn't equal what you are.
From Universal, The Tale Of Despereaux
comes to theaters December 19!
---
THE SMALL PRINT: Winning names will be drawn at random. Participants must provide a full name, mailing address and valid email contact. This information will be kept confidential and deleted after the contest has closed, although Animated News & Views withholds the right to publish winning names and location area only. One entry per household. The contest is open to US readers only – no international entries please. Prize is non-transferable and no cash alternative will be offered. No responsibility is accepted for inaccurate prize descriptions provided to us at the time we go to press. The administrator's decision is final and no correspondence will be entered into. Associates of Animated News & Views, Universal Pictures and Mammoth Advertising are unfortunately ineligible to enter. The contest closes on Sunday 21 December at 11:59 ET.