Filmation (1987-1988), BCI (July 3, 2007), 2 discs, 230 mins plus supplements, 1.33:1 original full frame ratio, Dolby Digital Stereo, Not Rated, Retail: $24.98
Storyboard:
Marshall Bravestarr fights Tex Hex and his gang of robots and fiends cowboy-style on the planet of New Texas.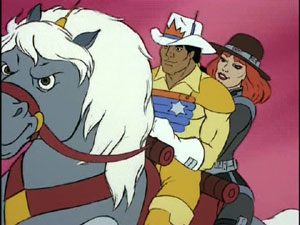 The Sweatbox Review:
I have a strange tale to tell. I am not referring to the genre-blending concept behind Bravestarr, but rather the story of the demise of a major animation studio. It is a shame to have to discuss it here, as Bravestarr is considered by Filmation producer Lou Scheimer himself to be Filmation's crowning achievement. Nevertheless, the show did much to bring about the end of the studio. Filmation had its first hit with its initial series The New Adventures Of Superman, and through the 1960s and 1970s saw further success with The Archie Show, Fat Albert, Tarzan And The Super 7, and many others. As declining ratings for its shows led to the dwindling of network support for Filmation, they saw their greatest success come in syndication with 1983's He-Man And The Masters Of The Universe. She-Ra was also popular, and these toy-based hits led to Filmation deciding to develop its own toy line idea to present to Mattel.
Mattel seemingly was sold on the idea, though they did quibble on things like the color of Bravestarr's costume or the extent of Native American culture to be portrayed. A toy line was produced, but it came to stores several months before the public had gotten its first glimpse of the cartoon. The toy line flopped before it had a chance to be properly promoted, and the series fared little better. To make matters worse, the project had been envisioned to launch with a theatrical film, Bravestarr: The Legend, but a financial backer backed out and the film saw only an extremely limited release, going largely unseen until this DVD release. In short, the whole Bravestarr launch was a disaster. But that doesn't mean the show itself was.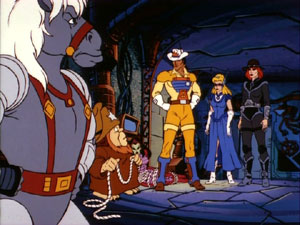 The origin of Bravestarr can actually be traced back to about 1984 during the development of the Ghostbusters show that Filmation did. Lou Scheimer liked something about a character named Tex Hex, who was designed as a lackey for Ghostbusters baddie Prime Evil. Ol' Tex was put on the backburner for the time being, until another show could be developed that would do him better justice. That show turned out to be Bravestarr, a series that also fulfilled Scheimer's desire to spotlight a Native American hero, and mixing western themes with science fiction. The result is a somewhat odd blend, with Bravestarr himself sporting a "super cowboy" outfit complete with Indian-themed cowboy hat, and damsels in distress who wear long dresses and bonnets while being attacked by robots. Like other Filmation shows of the past, this one was to present morals at the end of the story, clarifying for younger viewers what we had learned in each story.
The new "Best Of Bravestarr" DVD includes the pilot movie Bravestarr: The Legend on the first disc (running 87 minutes), and five specially selected episodes from the series run on the second disc. In the movie, which was never edited into episodes for the series, we are introduced to Bravestarr at a young age, lying in a stasis chamber aboard a spaceship about to crash on New Texas. A Native American man stands beside the chamber, speaking of the boy's destiny. They have evidently escaped some sort of attack, but their foe is still with them. In a nod to Superman, the boy's escape is made, the intent being to send him where the law-enforcing Galactic Marshalls will find him. The larger ship crashes on the planet, but the man survives and shouts in defiance to the evil force that caused the crash, a being known as Stampede.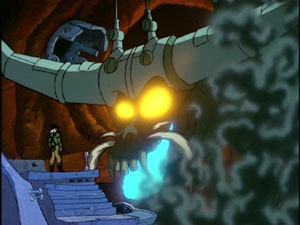 Also on the planet now, Stampede seeks an agent to do his evil bidding and finds a cruel man named Tex, who has just cheated his partner McBride and left him badly injured. Stampede transforms Tex into Tex Hex, now with a skeletal countenance and magical powers. Meanwhile, McBride is rescued, and as he is taken away by medical personnel, we see a crystal drop from his hand. That crystal is Kerium, a miraculous source of power and healing; and as the planet's hidden wealth becomes known, all the galaxy seems to come to New Texas, in the biggest rush since gold was discovered in the western parts of North America. New Texas becomes the home for countless prospectors and merchants, not to mention thieves. Tex Hex recruits several less-desirable citizens, such as the diminutive robot Cactushead and the serpentine Vipra.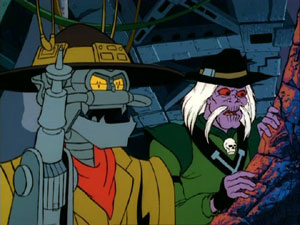 Tex's gang runs roughshod over the towns of New Texas, and in one town a call for help is made to the galactic Marshals, requesting a thousand men to come and offer assistance in dealing with the threat. Instead, exactly one man is sent, along with a female Judge named J.B. Naturally, that solitary man is Marshall Bravestarr, while the judge is none other than the daughter of McBride, Tex's former partner. The town is unimpressed by the small delegation, but the Marshall shows surprising strength in dealing with Tex Hex in their first encounter, even if not all goes smoothly. Bravestarr ends up finding Shaman, his old mentor, out in the desert, and learns more of the history of his people. They were apparently a band of Native Americans who had immigrated to another world, only to be sent fleeing when Stampede appeared. Bravestarr learns that Stampede is now on New Texas, and Shaman sends Bravestarr out to find a great weapon to help him fight Stampede. At this point, Bravestarr is fully powered with the strength of a bear, the eyes of a hawk, ears of a wolf, and speed of a puma, all represented by a talisman he wears around his neck.
While Bravestarr does find a formidable gun, he also meets Thirty-Thirty, a horse-robot-man with an attitude. Thirty-Thirty ends up being Bravestarr's close friend and ally, joining him to fight off Tex Hex's next attack on the town. This makes the townspeople much more impressed with their new (now super-powered) lawman, even though Bravestarr knows that Tex Hex will be back. Indeed, Tex plans a much larger attack with his legion of evil, and Bravestarr will need everyone in the town to pull together in order to fend them off. This includes both humans and Prairie People, smaller creatures that remind one of western Ewoks, who have to overcome the prejudice of the humans in order to assist them.
Watching the movie now, it is obvious that Filmation had high hopes for the show that was to follow. When a movie starts with Superman: The Movie-style swooping credits, you know that the creators were aiming high. The film that follows these credits is stuffed with special effects shots that, in those days before computer-assisted post-production, often took seven or eight passes beneath the camera. Never had a Filmation show looked this good. The animation might best be described as economical. I hesitate to use the word "limited", because at times it looks really quite good. The director knew how to make the most of his budget, keeping quieter character or expository scenes simpler, and saving the best animation for when the action ramped up. The result shows true skill in stretching the budget while making the movie look as epically impressive as possible. It doesn't all come out perfectly, mind you— the editing is a bit choppy at times, and characters occasionally go off-model. The inclusion of the Prairie People adds some poignancy while dealing with issues of prejudice, but giving them high-pitched voices (notably Bravestarr's deputy Fuzz) and some silly mannerisms turns them into sometimes unwelcome comic relief.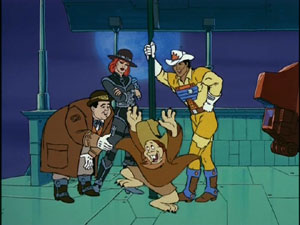 The movie was done by the Filmation television crew, as opposed to other Filmation theatrical films that had their own separate unit working on them (generally this applied to all their other features but this one and Flash Gordon). The drawings are pleasingly realistic and attractive. The characters each have distinct personalities with enough elasticity to offer up interesting personal exchanges and tell stories of emotional depth. The romance between Bravestarr and J.B. has a freshness to it that, although it was downplayed in the series, comes off nicely in the movie. I have to say, however, that Thirty-Thirty is one of the oddest animated characters I've ever seen. The idea of a robot that looks like a horse and walks on two legs is different enough, but seeing his supposed partner Bravestarr ride him as he runs on four legs is just weird. It's just one aspect of a show that has many eccentricities, including the merging of Native American mysticism and iconography with sci-fi concepts. It almost seems a little too "high concept," but the second disc offers the chance to see how the series developed.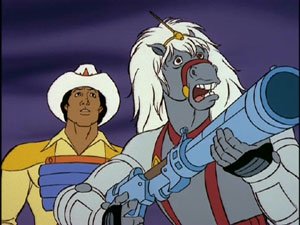 Moving on to Disc Two then, we see five episodes from the Bravestarr series. In Eye Of The Beholder (there's an overused title for ya), a beautiful blind blonde woman is supervising a shipment of Kerium that is intended to be used to help cure blind children. She meets Tex Hex after Bravestarr chases him off. She "sees" (check out that irony) the good in him the sighted people cannot perceive. Bravestarr and Thirty-Thirty remain skeptical, but the woman gets to Tex, who is reminded of a lost love. It's all pretty cliché, but for kids who haven't seen this story told a million times already, it is a sweet reminder that everyone has good inside. In case you don't catch the moral, a thirty-second moral tag completes each episode on the show. (e.g. "In today's story, we learned…" ) Adults will certainly find the tags way too obvious, but keep in mind that the show was aimed at youngsters.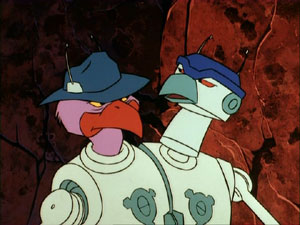 To Walk A Mile offers another clichéd story, this time about a boy named Mark who is ashamed that his father refuses to fight. Naturally, there is a reason behind his father's behaviour, as he is a former Marshall who was once known for his bravery. When a criminal known as Two Face (a two headed buzzard-robot mix, not the Batman villain) kidnaps Mark, his dad shows his true mettle and makes the boy proud of him once again. Fallen Idol sees Bravestarr disillusioned this time, as a hero of his from his Academy days is wanted for murder. So, just after learning that we must give people the benefit of the doubt, we learn not to hold them too high up on a pedestal either! Tex's Terrible Night offers just what we needed— yet another animated telling of A Christmas Carol, this time with Tex Hex in the Scrooge role, and with Shaman playing all three Christmas spirits. Aside from having almost no scenes with Bravestarr, the episode utilizes flashbacks with stuff we've already seen in the movie (though television audiences at the time likely had not), but we do also get to know a lot more about Tex's relationship with his love Ursula prior to becoming the pawn of Stampede.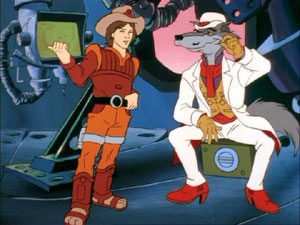 The final episode here is The Price, a cautionary tale about the dangers of using drugs. In the Bravestarr world, the drug of choice is called "spin." A strange dingo arrives in town and attempts to seduce two boys with the drug. One rejects the offer, but the other boy makes a tragic choice. The ending is jarringly strong for a kid's show, but it certainly gets the point across well before the moral tag completes the program.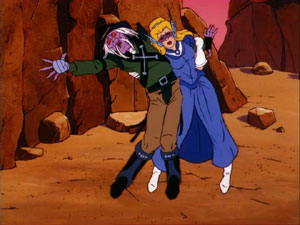 Okay, so the stories are not terribly original, but the setting sure is. Given that there are probably no more stories to tell, it's all about the presentation, right?. And while Bravestarr: The Series does not look quite as impressive as Bravestarr: The Legend, that is only because of the decrease in special effects shots. It is still a very handsome and well-directed program, and I can see why Lou Scheimer thinks it's the best thing he ever did (though I vote for The New Adventures Of Flash Gordon). I may not have ever totally bought into the concept, but given the wacky premise, the Filmation staff certainly did a bang-up job. Hopes for the show had initially been so high that a Sherlock Holmes In The 23rd Century spin-off was planned (with a two-part Bravestarr episode serving as a pilot), and a Prairie People spin-off called Bravo had also been in the works. Unfortunately, ratings and money issues forced new owner L'Oreal to pull the plug on the studio in 1988, leaving behind a legacy of a quarter-century of classic children's programming that is currently getting its place in the sun once again thanks to DVDs like this one, aimed at collectors who still appreciate the work that Lou Scheimer and his staff did and wish to share it with our own kids.
Is This Thing Loaded?
The first disc has an Andy Mangels- hosted Audio Commentary on the movie with producer Lou Scheimer, director Tom Tataranowicz (mistakenly called Tom Sito on the packaging and in the press material), animator Tom Sito, voice actor Pat Fraley, and voice director Erika Scheimer. This is a very enjoyable and genial commentary, nicely advanced by Mangels, with each participant having surprisingly strong recollections of all aspects of the film's production. They are all obviously proud of their effort, though they also touch on the disappointing fate of the film, which never had its large-scale release. Included in the discussion is the use of rotoscoping and creation of stock footage for the series that followed, as well as the early use of computer-modelled wireframes that was essentially rotoscoped for animation in the film whenever you see ships or vehicles riding by.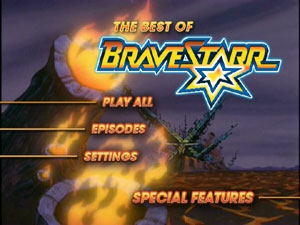 Disc Two has the other extras, which focus on the movie. It seems apparent that BCI is planning to do what they did with He-Man and She-Ra— having content in the "Best Of" edition that will not be repeated in the complete series sets to follow. Saddling Up With Bravestarr: The Legend (21:58) is a fine letterboxed featurette that delves into the production of the movie. Interviewees include the audio commentary participants and a few others. Although the end of the studio is addressed, it is nice to see Lou Scheimer speaking with so much pride about the show and the all-in-one shop that Filmation had back in the day.
The Bravestarr: The Legend Theatrical Trailer (2:04) is followed by a Promotional Presentation (12:33) for the film, which has voiceover by Lou Scheimer and a number of clips from the movie. The black-and-white Live Action Footage For Rotoscoping (0:52) also appears in the "Making Of" featurette, but it's alright to have it separate too. An Image Gallery includes promotional material, lobby cards, etc. And as with all BCI Filmation discs lately, you can see a variety of trailers and show opening when you go to More From Ink & Paint.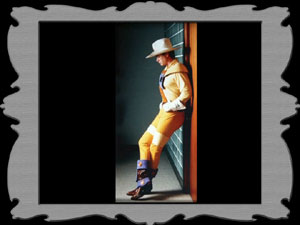 DVD-ROM: A DVD drive-enabled computer will allow you to access scripts, storyboards, and the series bible when you pop in Disc Two. Mucho neato.
Case Study:
BCI, as always, knows how to serve up an attractive package. The two-disc set comes in a fold-out digipack housed in a sturdy slipcase, all emblazoned with beautiful artwork. The episode guide has as its cover the stunning theatrical poster, featuring a Bravestarr with a less spandex-looking uniform. (Screenplay writer Bob Forward posed for that shot of Bravestarr leaning against a large piece of machinery.) The guide has plenty of trivia as well. BCI and Funimation catalogs also come in the package.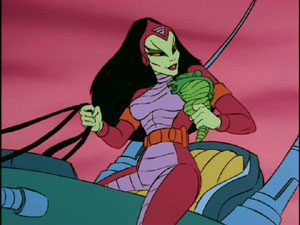 Ink And Paint:
Due to Filmation's shows never being shipped overseas for animation, their shows have generally always looked unusually clean for the time period in which they were made. With no shipments to Asia, the cels remained remarkably free of the dust normally seen on shows of that era. A hint of shimmer during pans is the only complaint I can make with the video presentation on this set, as otherwise the image is free of distracting artefacts.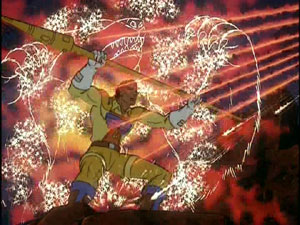 Scratch Tracks:
The 2-channel stereo sound (available in English or Spanish) is probably the best I have ever heard on a Filmation show. The theatrical budget for the film certainly helped as lot, but even the series is able to offer a full sound and even decent bass. There are no subtitles on these discs.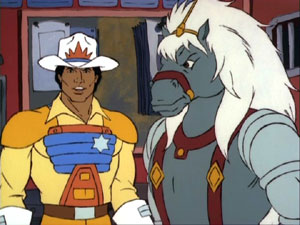 Final Cut:
It's probably becoming monotonous to keep hearing reviewers say how wonderful BCI has been to Filmation lovers. If I were Lou Scheimer, I would be feeling a great deal of gratitude towards BCI and Andy Mangels for their line of collectors' DVD sets. The packaging and special features once again stand tall, and the video and sound on this release are particularly good. Bravestarr may have led to the demise of the studio, but it is ironically one of its better efforts. It's so nice to see the film finally get a larger audience, and doubtless the series will garner more fans once they check out this set. The premise may be loopy and the plots clichéd, but this is still solid entertainment. I find myself looking forward to the first volume of the complete series, expected in Fall 2007.
Animated Classic or Back To The Drawing Board?