Filmation (1987), BCI (July 1, 2008), 4 discs, 704 mins, 1.33:1 original full frame ratio, Dolby Digital 2.0 Stereo, Not Rated, Retail: $39.98
Storyboard:
The marshal and his cyberhorse sidekick continue their defence of the good people of New Texas.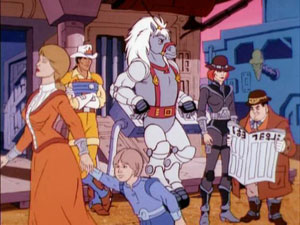 The Sweatbox Review:
More history and commentary on this series may be found in our other reviews for this series, including its "Best Of" release, the movie-only release, and the first volume of the complete series.
Well, this is it. With the release of this volume, we see the final 32 episodes of television produced by Filmation. I wonder how many people ever saw these shows in their original syndicated run. Bravestarr was plagued by bad timeslots and viewer apathy, made worse by a bungled movie and toy line launch. The whole enterprise had disaster written all over it, and yet the series is probably the sharpest-looking thing Filmation ever produced. While not my favorite Filmation show, the scripts were always earnest, and the premise was certainly original for its time (if you overlook the coincidental similarities between it and its contemporary Galaxy Rangers). While some may find the series to be a little too "after school special" in its moralizing, one has to admire a studio that stood for something. And, as someone who prefers sci-fi to fantasy, I'll take Bravestarr over He-Man, thank you.
This is also one of the final Filmation series sets to be released by BCI, who to date have done an exemplary job bringing us cartoons from yesteryear. Even though sales apparently slowed on their "Ink And Paint" sets over the past couple of years, they have managed to find ways to continue putting out these releases in a regular fashion. I only know of a couple of sets that will likely not be released now, but am glad that they decided to finish off Bravestarr for those that picked up the first volume (or the movie-only disc or the terrific "Best Of" set). Unfortunately, the waning sales may have affected their past few releases somewhat in terms of offering up extras, but in Bravestarr's case I think we were already treated pretty well with the previous releases. It's just good to be able to say that the series was at least completed on DVD.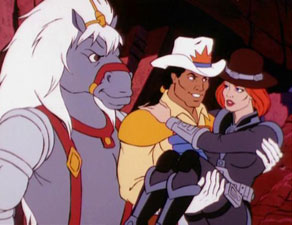 The episodes contained in this set are of course all part of the same 65 episode initial order of syndicated episodes (that comprised Bravestarr's single "season") that was begun in the first set. As such, there is nothing to really distinguish these episodes from the last batch when considering writing or animation quality. Plus, the production order and airdate order were quite different, and this set looks to be in airdate order. In fact, the last episode on this set, Strength Of The Bear was the last aired episode in February 1988, but was just number 3 in the production numbering. Obviously, don't look for any sense of closure when you get to the end of this set. That's really okay, though, as the series did not employ much continuity, and though there was lots of characterization there was little real character development. I tend to skip around these sets and watch whatever interests me at the time, and it doesn't harm my enjoyment of the episodes.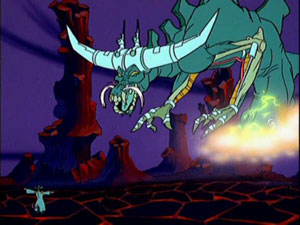 The 32 episodes are presented on three discs. There are too many to go over in any depth, but as an example, on Disc One, the powerful villain Stampede plots to use Shaman's powers against him, and in another episode he imbues a machine with many of his own terrible powers. Later, he also creates an evil guitar; yes, an "evil guitar." Thirty-Thirty is horsenapped by two subjects of an intergalactic queen (in an episode with one of the cornier titles, Nomad Is An Island). A partially disabled boy goes after criminals, while in another episode a young hotshot learns of his own limitations. Stampede returns in another tale, where he finally gets fed up with Tex Hex and finds a replacement stooge; together, they plot to steal the three suns of New Texas.
Disc Two sees the Galaxy Council try to place a force field around the land of the Prairie People. J.B. gets a job evaluation. Stampede teaches Tex Hex another lesson by taking away his powers, leading to his capture by Bravestarr. Shaman is kidnapped in one episode, and then his staff is stolen by Stampede in the next. Thirty-Thirty splits with Bravestarr after an argument. J.B.'s brother visits New Texas, but his ship arrives empty.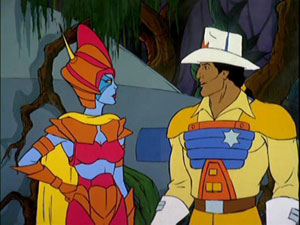 On Disc Three, Bravestarr's deputy Fuzz is captured for a space zoo. A good man falls into a life of crime. Fuzz tells tales of New Texas' past, and J.B. gets to experience them first-hand when she is transported to the past. Bravestarr escorts an empress on the way to peace talks with The Krang. Stampede uses an evil comet to help create a blockade around New Texas. The last episode on the set, though just the third in production order, actually does make for a nice capper, as Bravestarr must re-connect with the animal spirits in order to restore his lost powers.
You may wish to note that three of the five episodes included in the "Best Of" set also appear here: Fallen Idol, Tex's Terrible Night (the "A Christmas Carol" one), and The Price (the memorable drug abuse episode).
This series ends as it began, with pretty drawings, stiff animation, some corny humor, overdone accents, and plenty of good lessons. I still find it to be an odd premise for a show, but even after so many episodes, I can't help liking it. As a final contribution to the cartoon industry, Filmation could have done a lot worse.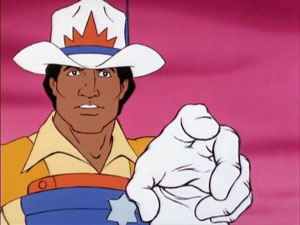 Is This Thing Loaded?
No extras have been included on this release, but we'll give them a point for a good episode guide included in the packaging.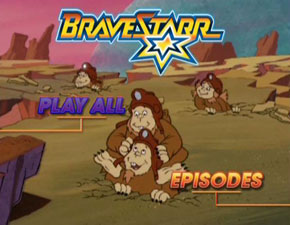 Case Study:
The three discs are housed in a book-like digipack. Instead of overlapping discs, there are trays that fold out, thereby protecting each disc individually. So, the first disc sits above the second, while the third disc, on the facing side, sits above an empty tray. The digipack is housed in a sturdy slipcase. While many of BCI's other multi-set releases feature villains on the second volume's cover, this set displays its hero on top of his horse/friend. However, the villain Tex Hex does appear on the spine. Inside the package, you may find an eight-page episode guide that has a brief synopsis for each episode as well as a couple of points of trivia for each one. Here, you will find out about script changes and notes, as well as how designs were occasionally copied from other Filmation shows.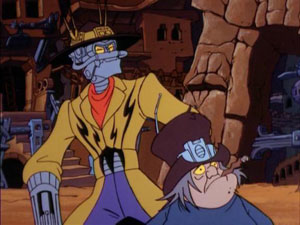 Ink And Paint:
The video presentation is satisfactory but far from outstanding. The image is quite soft, becoming even blurry at times. Bright colors bleed and bloom. And the compression work is seriously challenged by having so many episodes per disc, with aliasing happening whenever the camera pans anywhere. On the plus side, the prints are actually in pretty good shape, with barely any evidence of dust and no significant scratches. Colors are just slightly muted.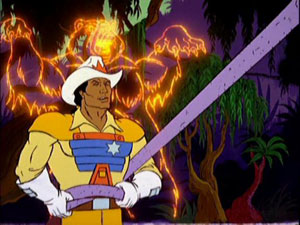 Scratch Tracks:
The stereo sound comes out pretty good. You won't be awed, certainly, but it does carry enough power to carry the action convincingly. Bass is naturally lacking, but other types of sound are crisp. The dialog is always clear, and there is no hiss. Unfortunately, there's nothing to be done about the horribly put-on western accents that fill this show!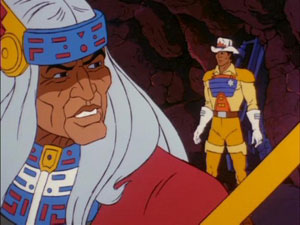 Final Cut:
It has been a great couple of years for Filmation DVD releases, thanks largely to the folks at BCI (with nods to Warner, Classic Media/Genius, and Paramount for their contributions as well). Cartoon enthusiasts can now experience a large portion of the Filmation library, from the classic to the obscure. Those that take a chance on these Bravestarr sets will find that Filmation saved some of their best for last, with a show that had some of their slickest artwork, a wacky but interesting premise, and a strong moral compass. I'm sure that those who were involved with the studio must be proud now, knowing that their efforts have been archived so handsomely, and that a new generation is enjoying these shows with their parents. Bravestarr has an unfortunate history, but it's a strong show that encompasses many of the things that Filmation always tried to achieve with its programs. They specialized in American-made animation that sought to entertain as well as instruct, and that shines through in Bravestarr.
Animated Classic or Back To The Drawing Board?