Walt Disney Television Animation (September 14 1985 – November 11 1987), Walt Disney Home Entertainment (November 14 2006), 3 disc set, 640 mins approx. plus supplements, 1.33:1 original full frame ratio, Dolby Digital 2.0 Mono, Not Rated (TV-Y), Retail: $34.99
Storyboard:
Zummi, Tummi, Sunni, Cubbi, Grammi and Gruffi – the Gummies return to our screens in this first collection of their original adventures, one of the first fully animated Disney television shows to hit the air. Taking on the twisted Duke Igthorn in a mythical medieval land populated by ogres, goblins and dragons, the Gummies' magical powers and unique abilities ensure that they're always around to help brave young knight's page Cavin and his friend Princess Calla save the day at Dunwyn Castle. High adventure that's beyond compare, indeed!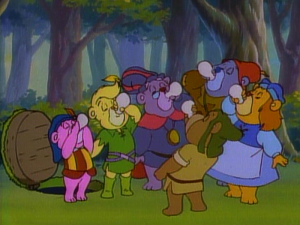 The Sweatbox Review:
Based on a concept by then-new Mouse House head honcho Michael Eisner, who questioned why the studio he ran wasn't making a show featuring characters based on the hottest candy on the market – Gummi Bears, which his kids loved – Disney finally entered the fully-animated original-for-television game in 1985 with Adventures Of The Gummi Bears, which debuted as part of a wide promotional push in a partnership with toy manufacturer Fisher Price. Disney was trying the trick with another toy-co, Hasbro, at the same time, with the similarly colorful Wuzzles, a fondly remembered show that mixed animals together to create a comical cast of new ones! Though that show probably had the stronger concept and was much more comedy driven (it would probably have beaten the pants off Spongebob if it had premiered today), Gummi Bears won the day and remained on the air for six full seasons.
Although there's no direct connection, Gummi Bears features a lot in common with Disney's other big animated title of 1985, The Black Cauldron, which although plagued with production problems and was somewhat dumped into theaters unfairly, obviously struck a design chord with the Studio, who were perhaps hoping from some company synergy (before that word became a corporate strategy) and might have seen characters from that film pop up in the Gummi universe. Unfortunately that was never to be, and style apart, Gummi Bears is a much brighter and colorful take on the same genre, and much more kid-friendly and suited to its younger audience (though most striking is the similarity between the Horned King's assistant Creeper and the Gummi villain's cowardly henchman Toadie). Even though I was probably a little older than the target age, the Disney fan in me urged a look when the show began its run on UK television early the following year.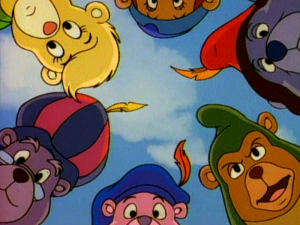 Just glancing over the back-jackets of the discs as they reveal the episode titles sent me right back: A New Beginning, The Sinister Sculptor, Zummi Makes It Hot, Loopy Go Home, The Secret Of The Juice and Duel Of the Wizards – the memories of jumping up early on a Sunday morning to catch these when they originally played, with sufficient fanfare from what I recall, came flooding into my head. And, as it was shown back in 1985, this DVD collection presents the stories in their complete episode editions. Let me explain – although it was shown in ostensibly a half-hour program format, Gummi Bears was very often split into two halves, with each presenting a story, a Gummi short if you will, of its own. So, while we do get a fair share of full-length, single story shows, its this dividing of the half-hour up into two sections that creates the marketable amount of "47 episodes" in the set. Have no fear, Gummi fans, nothing has been cut or left out, or indeed added…this is exactly as you first saw these episodes back between 1985-1989, the two-story shows being presented as was, with title sequence and double-bill credits intact. As a result of these original episode blocks, the tally actually works out like this: Discs One and Two both hold 10 episodes with 16 stories apiece, while Disc Three contains 9 episodes totalling 15 adventures – roughly half of the Gummi Bears full six-season run.
From its first few episodes, it's unclear on whether Gummi Bears is aimed more at girls or boys. Certainly, the earlier shows cover both bases but are decidedly more boy's action-adventure skewed, perhaps as an answer to the phenomenally successful Care Bears of which this feels like the more punchy cousin. As Walt himself brought personality to his Seven Dwarfs, the writers here imbue each Gummi with their own character traits: we get wise old wizard Zummi, kindly mother-figure Grammi, muncher-cruncher Tummi, good to have in a tight spot Gruffi, save for his short temper, and the "kids" Sunni, naturally a teenage girl, and Cubbi, the youngest boy and probably of the audience demographic on which the show had its eye. Together, each one brings something to the party, and all gain the fun ability of powerful bouncing when they drink Grammi's Gummiberry Juice – an age old recipe passed down from Gummi to Gummi that has helped them bounce free of the odd scrape or two.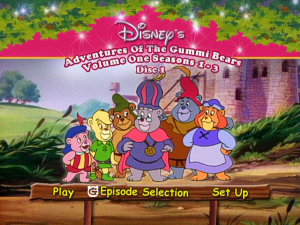 And there are plenty of escapades like that to be had when we first meet the group hiding out in Gummi Glen, where for years they have lived as mythical creatures to the oblivious humans nearby. In Disc One's Season One debut story, A New Beginning, we meet Cavin, a young human full of hopes and dreams, and who believes the Gummi Bears exist thanks to a Gummi medallion left to him by his Grandfather. Out in the Dunwyn Castle forest on the run from the twisted Duke Igthorn's ogres, Cavin accidentally stumbles into the Gummies' home, and his medallion unlocks the secret Book Of Gummi. Finding a friend and human ally, the Bears confide in Cavin and share with him their Gummiberry Juice, which has the unexpected effect of awarding the weak boy with superhuman strength! Keeping this powerful capability undisclosed, Cavin and the Gummies are able to see off Igthorn's latest attempt at a castle coup, thus sealing their friendship forever.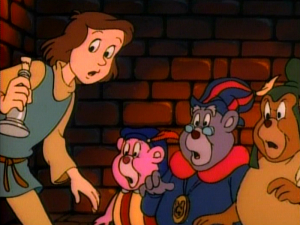 If it sounds like something to come out from the classic Disney era, then that's fully intentional, and indeed this premiere episode did accompany re-issues of Pinocchio in theaters as part of the international Gummi Bear rollout. A double-episode is next, starting with The Sinister Sculptor, where we're more introduced to the inhabitants of Dunwyn Castle, and in particular Cavin's friend Princess Calla and her father King Gregor, as the Gummies battle a scheming artist who creates very lifelike statues, followed by Zummi Makes It Hot, where the wizard has to lead the group into Igthorn's domain of Drekmore…
Two more stories fill up the next half-hour; the reluctant dragon-esque Someday My Prints Will Come and Can I Keep Him?, in which another dragon, this time more typical, flies Sunni and Cubbi into the heart of Drekmore Castle. By now, Duke Igthorn is also well aware of the Gummies' existence and has added finding the secret of their Gummiberry Juice to his plans to ultimately take control of Dunwyn and rule the kingdom. A Gummi In A Gilded Cage is the series' second full-length episode, though one that doesn't quite warrant the extra time. Much better is the two-hander of the next show, The Oracle/When You Wish Upon A Stone, which has Tummi playing food tricks on Igthorn, and then Cavin and Cubbi find themselves in Giant Country – both witty and visually pleasing adventures.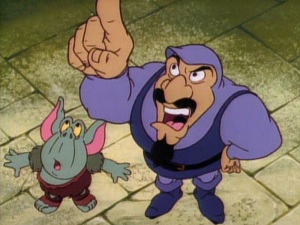 Cavin's friend Princess Calla discovers the secret of the Gummi Bears in A Gummi By Any Other Name, when Sunni uses Zummi's transforming hat to pretend to be the Princess. Meanwhile, Calla herself has decided to give up the Royal life and heads out disguised as a peasant. As Duke Igthorn enters the frame, a farcical chase ensues, resulting in Sunni's revealing herself to the bemused Princess, and a fun ending in which Igthorn's ogres end up finally capturing Calla…or is it Igthorn under the changing hat?
Disc One continues with several perfectly adequate but none too eventful stories: the double-episodes Loopy, Go Home/A-Hunting We Will Go and The Fence Sitter/Night Of The Gargoyle, while The Secret Of The Juice is a fun full-lengther centered around Grammi for a change, and Gruffi comes to the fore in the double show Sweet And Sour Gruffi/Duel Of The Wizards. Gruffi's temper tantrums are solved with comic results in the first, while he's back to his old self when he helps Zummi out-spell a strange old wizard who's had his magic travelling key stolen by that great ape Igthorn!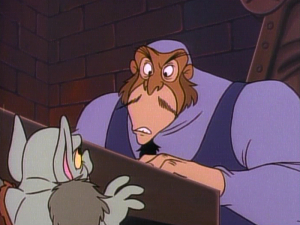 Disc Two's episode titles that jumped out at me and jogged my childhood memory included A Gummi In A Strange Land, Faster Than A Speeding Tummi and the shady, "man with no name" spoof For A Few Sovereigns More. Before those, we get the double episode What You See Is Me/Toadie's Wild Ride, a couple of sweet shows in which Tummi befriends a blind woman who keeps him protected when Igthorn turns up, and an example of character arcing in the series: a change of location for Igthorn's sidekick Toadie that would also play off in a much later episode. Bubble Trouble/A Gummi In A Strange Land is a mishmash of a so-so story featuring Sunni and an overly cute baby dragon, and a much more adventurous one that has Grammi back in Drekmore searching for the goblin who has hexed Gruffi to sleep. Light Makes Right is a suitably dense season closer, filling in a sizable chunk of the Gummi backstory that leads the group to try and make contact with other possible Gummi survivors, while unbeknownst to them an intrigued Igthorn listens in…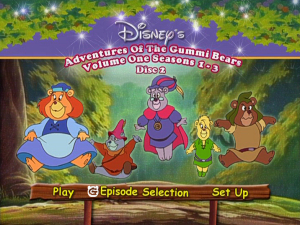 Episode 22 starts off Season Two from 1986, and Up, Up And Away continues the "other Gummi" theme previously set up at the end of the last show. When an airship crash-lands in Gummi Glen, the Gummies are surprised to find another Gummi, Chummi, on board. His tales of the long thought lost Great Gummies has them all excited, though things take an unexpected swing when Igthorn learns of their plan to sail away… The next two-story episode, Faster Than A Speeding Gummi/For A Few Sovereigns More features a couple of classics, not least the Sovereigns story, in which the writers have much fun with Flint Shrubwood, an obvious nod to Clint Eastwood's Western persona from the Dollars trilogy which probably had me laughing much more as a grown up than I did back then!
Over The River And Through The Trolls/You Snooze, You Lose sees Cavin on a quest to save his Grandfather (cousin of The Black Cauldron's Fflewddur Fflam perhaps?) and then has Igthorn producing a strange brew of Gummiberry Juice that doesn't quite have the desired effect. The Crimson Avenger is a full-length but otherwise uninspired outing which sees Cubbi take on the night-time alter ego a crime-fighter, but much better is the second episode in the A Hard Dazed Night/Do Unto Ogres two-hander, in which Toadie switches sides – albeit temporarily – to help Sunni when she saves his life. Disc Two ends with the full-length show For Whom The Spell Holds and the double-billed Little Bears Lost/Guess Who's Gumming To Dinner, two time fillers that provide a little good natured fun.
Disc Three begins with the final show from Season Two, My Gummi Lies Over The Ocean, and while previous "long-lost" Gummi Chummi didn't make it in as a series regular, the writers were obviously keen to bring in some new Gummi juices to the mix, since they go back to that theme to have Gruffi and Tummi arrive on a mysterious island which is eventually revealed to be home to Gusto Gummi, an wayward artist who was to join the gang in the following season. What's clear as Season Two wraps up is that in the later episodes the Princess plays more of a major roll than Cavin – perhaps the result of the show skewing its attention from the original boys adventure intentions to focusing on the increasing number of girls who were responding to Fisher Price's well marketed tie-in merchandise?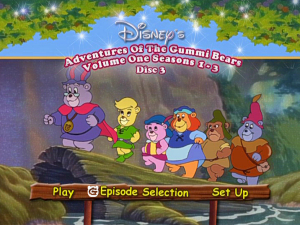 By the time the third season's exploits were originally shown on television, I had perhaps moved on from being engrossed in Gummi adventures, as evidenced by only a couple of titles holding any memory connection for me. Ironically, it's with Season Three that the show really finds its feet, with much better quality in the animation and storytelling. The double episode Too Many Cooks/Just A Tad Smarter launches us into 1987, and Season Three's shows; Smarter being the stand-out as the Gummies are forced to side with Igthorn when Toadie's much tougher cousin Tadpole stages a coup in Drekmore and proves the greater of two evils.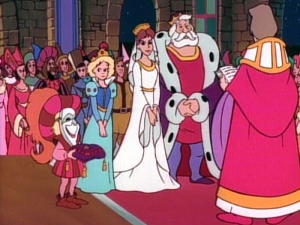 If I Were You/Eye Of The Beholder, although shorter, double-episode stories, really deserved to be longer as they both have great concepts: the first playing on the oft-riffed body-swap scenario (this time, Tummi swaps places with Igthorn), and the Beholder story features several similarities to another project in production at the Studio at the time, as I shall touch on below. Next, Presto Gummo/A Tree Grows In Dunwyn are the kind of routine potboilers that occasionally pop up to boost any series episode count, while Day Of The Beevilweevils returns to the half-hour format for another exceptionally drawn show that has the Gummies journeying into another far off, and very atmospherically evoked land…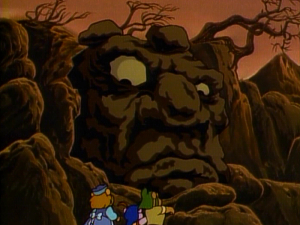 Water Way To Go/Close Encounters Of The Gummi Kind are both better than usual Gusto stories with nice touches that open up the doors for more mythical creatures to show up in Gummi Glen: in Water, Gusto and Sunni meet a little mermaid, Aquarianne. Encounters has Gusto creating a mechanical Gruffi that fools everyone from the commoners to Duke Igthorn. Another mythical character snows up…sorry, shows up in the first of the next two stories, Snows Your Old Man/Boggling The Bears, when winter fails to pass over Gummi Glen and the younger Gummies discover this is the work of Chill Beard, a possible renegade from Fantasia, or later to feature in Hercules, whichever way you look at it. Sunni adopts another child-like, cuter-than-cute character in the Boggling story, though the shape-shifter soon causes all sorts of chaos for the teenage Gummi to clear up!
Season Three ends with the spectacular The Knights Of Gummadoon, based on the classic legend of Brigadoon when the ghostly castle only shows for one day every one hundred years. Here, the Gummi version appears in Gummi Glen, where Cubbi fulfils his life-long ambition to become a Gummi Knight, but a dangerous situation soon ensues when Cavin is mistaken by the ancient Gummies as a hostile human, not helped by the fact that Igthorn is up to his usual dirty tricks. For most of Season Three, Calvin is nowhere to be seen, even though the episodes still center heavily on the castle for their primary location, so it's a nice season capper to have the boy return. By now the writing has improved a great deal, and though the show would continue to become more girl-centric, an influx of new characters, most notably the artist Gusto Gummi, keep the stories fresh enough to avoid repetition.
Amongst this final disc's selection, My Gummi Lies Over The Ocean is quite the epic – like a big budget movie, only done on television terms, with sinking islands, extensive water effects and the intro of new characters. Day Of The Beevilweevils is another such grandly designed episode that transcends the usual needs of Saturday morning cartoons. Oddly, the disc actually finishes with one further show, the double-story Mirthy Me/Gummi Dearest, that sports a 1985 copyright stamp and another surprise return of Cavin to the proceedings. I can only assume that this show is a left-over from Season One, though why it wasn't placed there is a mystery since the set would have otherwise closed properly, at the end of the third series, with the neat Gummadoon season wrapper.
Looking back on the twenty-something year old show today, and what immediately struck me was how ambitious in scope the show had been. Igthorn's castle lair Drekmore, for instance, is a fantastically twisted design in which the Disney fairytale castles have somehow turned in and eaten themselves; all sharp turrets and bold, spiky architecture contrasts with a deep and better than remembered – or expected – paint job on the backgrounds. Likewise, the scriptwriters never feared to send their characters off to far away or new lands and locations, meaning that each show was fairly rich in unexplored regions and fresh vistas. The characters themselves, though actually animated by TMS in Japan, work well too, with a suitable feel of familiarity despite the fresh concept. Again, the power is in the writing and there's great fun to be had with the names as new characters emerge: Gusto's toucan bird perhaps sporting my favorite moniker, Artie Deco!
Then there are the usual Disney touches – for some reason Gummi Bears feels like the kind of show Walt would have made had Saturday morning cartoons been all the rage in his time – especially from the animated features surrounding the show's debut and set in the same kind of world. We've noted the similarities to the same year's The Black Cauldron, but equally interesting is that the Princess Calla and King Gregor dynamic feels very much like a dry run for Ariel and Triton's relationship in The Little Mermaid, which was also in production at the time. Then there's also the Eye Of The Beholder story, which has a Mermaid Vanessa clone putting a spell on the castle when she intends to marry the King – with a comical French chef even thrown in there to boot! Finally, we get about as close as we can to The Little Mermaid… when Aquarianne, shows up!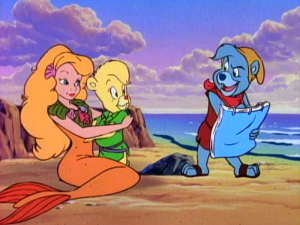 Of the other Disney connections, mention must go to the voice cast, of course, made up of several Studio stalwarts past and future: Paul Winchell returns after voicing Tigger in the Winnie The Pooh featurettes as the wizard Zummi, and regular cartoon legends June Foray and Lorenzo Music join him as Grammi and Tummi respectively – roles that fit them like old shoes. In later shows, vocalists Corey Burton, Jim Cummings and Frank Welker participate…all now huge names in the world of genuine animation vocal artists. And the crew's not bad either: producers/directors Art Vitello, Tad Stones and Alan Zaslove all went on to enjoy successful careers within and out of the Mouse House's television endeavours.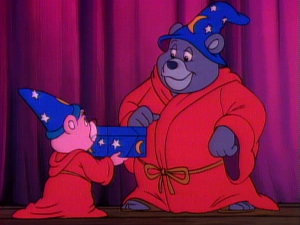 All in all, it was a pleasure revisiting Gummi Glen to spend some more time with some childhood friends. The amount of material that had remained ingrained, though locked away, in my mind was incredible: apart from the flooding recollection of episode titles, various lines of dialogue ("Time is money! Or at least it would be if I were paying you", "That's not a duck, it's a fish!") came floating towards me as if I had just seen these shows yesterday, as well as the popular theme song. The Sherman Brothers of the 1980s television department, the husband and wife team of Michael and Patti Silversher ensured that, whatever else, the tradition of bouncy and appealing Disney music would continue in the opening titles of these shows, and Gummi Bears is no exception – Silversher & Silversher's typically catchy theme has jogged my memory enough that it's something I now can't shake!
Is This Thing Loaded?
In a word…"no".
As with most of the Disney-TV-On-DVD releases, Adventures Of The Gummi Bears comes to disc with plenty of main feature material, but a distinct lack of any bonus supplements. I'm sure the producer-writer-directors could have been persuaded to sit in on a commentary for a few select episodes, particularly the more resonant half-hour slots, or even a ten-minute, simple talking heads retrospective? Apart from the Fisher Price promos of the time, a still frame gallery that plays up the extensive design aspects of such a packed series would have been fascinating to see, especially now with my more appreciative eyes.
We do actually get one clip, though to call it a bonus is pushing it: right before the premiere episode A New Beginning the pre-title commercial teaser plays, but this is really just literally a few seconds of footage from the show cut together and intro'd in voice by Lorenzo Music's Tummi Gummi. Perhaps if all the shows had retained these quick trims, or if they'd been collected and tagged on the end of the shorter Disc Three, we may have had something fun to call extra…but we don't.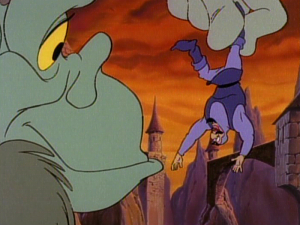 Case Study:
If you picked up any of the previous Disney Afternoon shows on disc, you'll know what to expect here: three individual thinpak clear cases with a character face on each sleeve (here it's Gruffi, Zummi and Cubbi), an episode selection on the back, and slipcase housing to complete the set, which does the job enough to make it feel slightly substantial. A contest form offering the chance to win Disney preschool DVDs shows, as with the lack of extras, exactly where the Studio thinks their biggest sales – mistakenly – will be. Sure, sharing the program with your own kids is a given, but what about us collectors who loved these shows as kids and now have that all-important disposable income!?
Ink And Paint:
"Overstuffed" says the back of the packaging…and, boy, did they get that right! While Gummi Bears was shot to film elements, the final mixing, titles and occasional video effects meant that the show was mastered on one of the two most popular broadcast formats of the time, U-Matic tape, or BetacamSP. Seeing that BetaSP (the professional and much more successful adaptation of Sony's short-lived Betamax home system rival to VHS) was and is a component format, I'm guessing that many of the shows here were mastered to U-Mat, which goes someway to explaining the crosstalk inherent in the images presented.
If there's anything that doesn't look as good as the TV we're used to seeing today, it's composite, interlaced signals, and unfortunately, all the Gummiberry Juice in the world can't undo what was done all those years ago, so the cries that "the image should have been remastered" really fall into the "non-feasible" category – at least the cost involved in carrying out some form of comb filter to even out the image as best as could would have been prohibitive given the commercial prospects for Gummi Bears on DVD. What could have been looked at, however, was the state of these originals: tape dropout is abundant, and most noticeable is that the color levels fluctuate between pastel and particularly over vibrant saturation. These are basic correction tweaks that might have glossed over the other issues with the image and provided more consistency overall. Later shows fare better, perhaps due to a move to better archiving on the more stable BetaSP?
Most distracting though are the digital artefacts – I wasn't sure if I was viewing MPEG-1 streams at some high action points; the result of that "overstuffing" of almost four hours per disc of fast moving frames. If it had meant issuing the series as a collection of three releases with only two seasons per set, I think quite a few fans would have been a lot happier…the result being right now that this is possibly the worst encoded Disney disc I have ever come across, only saved by the fun storytelling and the fact that this is only TV-level animation we're watching. Things look a bit better away from a PC screen and on a true TV tube monitor, but with the lack of extras we should be expecting better than this from a Studio who usually get awarded such high marks for their visual presentations.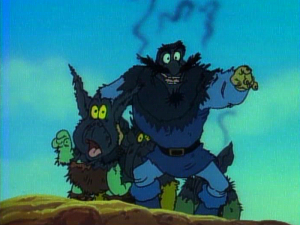 Scratch Tracks:
Making up, somewhat, for the extremely lacklustre video quality is the soundtrack, which although only presented in original mono, is more than serviceable for the show. Music and dialogue are clear in that very 1980s way of having everything fighting for mixing space, while sounding perfectly audible if a little aggressive. Subtitles in English for the Hard Of Hearing are also provided.
Final Cut:
Newbies to the world of the Gummies are sure to be enchanted if they're of the right age or sensitivity – or both – though others may find the show lacking compared to the in-your-face style provided by the attention span suckers of today. Though the video quality doesn't hold a candle to the majority of Disney DVD releases, the original source tapes were never mastered for anything other than the Saturday morning television broadcasts the show was intended for.
We deserve better, of course, but the goal for many fans has simply to have these shows on an easy to store non-degradable format, and it's here that the Mouse House is fulfilling the (very) basic requirements, with the extensive running time providing a weekend's entertainment that's not to be sniffed at.
As a show, Gummi Bears is warm and witty, and perhaps a good intro to Disney animation after the more soft and cuddly Pooh Bear franchise so popular with preschoolers. For me, it was an unexpected delight to find that I still enjoyed it for what it was, though the highlight for my now adult ears was picking up that the grumpy one sounds like Tony Curtis in Some Like It Hot!!
Animated Classic or Back To The Drawing Board?