Hanna-Barbera (1958), Warner Home Video (November 15, 2005), 4 discs, 624 mins plus supplements, 1.33:1 original full frame ratio, Dolby Digital 2.0 Mono, Not Rated, Retail: $44.98
Storyboard:
A slow-talking canine everyman is joined by a smooth-talking bear and a cat-and-mouse act to form Hanna-Barbera's very first half-hour cartoon show.
The Sweatbox Review:
As much as I have enjoyed all the other Hanna-Barbera sets so far, it is quite possible it is this one that was the most important yet. It's an arguable point to be sure, but it is hard to disagree that Huckleberry Hound was a huge breakthrough for Bill Hanna and Joe Barbera on their way to becoming cartoon titans. After the MGM cartoon studio abruptly closed down in 1957, its former heads were forced to seek new opportunities. The obvious avenue was to look towards the medium that had forced them out of work: television. Their first effort was The Ruff And Reddy Show; new Ruff and Reddy segments, running alongside older Columbia cartoons, began in December 1957. This was all well and good, but Hanna and Barbera knew that their real salvation would come if they could convince someone to buy all-new, full-length cartoon programs.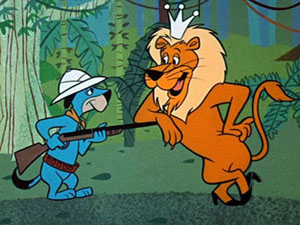 The critical and commercial success they had with The Ruff And Reddy Show guaranteed that the duo would at least get some consideration, even if networks were skeptical, and so they proceeded to develop The Huckleberry Hound Show. They had enough faith in the show that they got underway before having a sponsor, but it was not long before Kellogg's was signed as Huck's sponsor. The sales pitch to the ad men was almost a disaster, as Joe Barbera's presentation included an incorrect dialog track, but once that problem was fixed the executives found the show hilarious. The show was syndicated by Screen Gems (Columbia Pictures' television arm) beginning on October 2, 1958, and the next year it received the first Emmy given to a cartoon program. And thus the fabled Hanna-Barbera animation studio began its dominance of the television cartoon field, a run that lasted three decades.
It is hard to imagine a world without these characters now, but in 1958 television audiences had yet to catch a glimpse of these classic cartoon animals. The nominal star of the show, of course, was Huckleberry Hound, a folksy canine Southerner. Huckleberry was amiable almost to a fault, but it was his good nature that allowed to him to constantly come out on top. Every episode, Huck had a new occupation and a new nemesis, much in the tradition of Bugs Bunny or Donald Duck cartoon shorts. On his first show, he was a policeman, but in succession he was a hunter, a knight, a sheriff, sad sack neighbor, etc. Huck had his own distinct personality, however, dealing with each situation in a totally laid-back manner that would leave Bugs mystified and Donald exasperated. Huck rarely got angry with his adversaries, making such remarks as, "You gotta admit— that lion's a load of laughs." And of course, no situation couldn't be helped by his singing "Oh My Darling Clementine".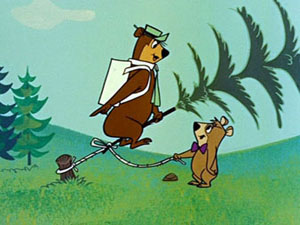 Huck appeared throughout the show as a host of sorts, but it was Yogi Bear who had the first spot on the program. Yogi and his little buddy Boo Boo Bear were residents of Jellystone Park (unlike Huck, their stories' setting was almost always the same). In his first appearance, Yogi was trying to escape the park, but over time his shtick would feature him trying to pilfer "pic-a-nic" baskets, or having run-ins with other park dwellers. His friendly nemesis, Ranger Smith, only came later on, so these Huckleberry Hound shows have Yogi facing off against a string of different park rangers. (When Yogi got his own show in 1960, his spot on The Huckleberry hound Show was filled by Hokey Wolf.)
The next spot on the show, before Huck's closing cartoon, belonged to Pixie And Dixie. The chasing of these two mice by a cat named Mr. Jinks may resemble the premise of Hanna and Barbera's Tom And Jerry cartoons, but Pixie And Dixie cartoons had a whole other dynamic thanks to the addition of dialog. Instead of simply being "the mice with the red vest (Dixie) and blue bowtie (Pixie)", the pair was also recognizable for their voice characterizations. Likewise, Mr. Jinks had a voice that was sympathetic enough to make his deeds somehow redeemable. Even his spiteful catch phrase, "I hate those meeces to pieces", became endearing when spoken by the wonderful Daws Butler.
Daws also voiced Dixie in those shows, as well as Yogi and Huckleberry, so he was almost as essential as the writers and artists. Butler had an uncanny ability, like Mel Blanc, to create a fully realized character with an amazingly distinct voice, and without exception make that character lovable. Don Messick, also later to become legendary for his work for the H-B studio, voiced Pixie and Boo Boo.
The addition of voices to the cat and mice in Pixie And Dixie cartoons is a prime example of how voice work was crucial in Hanna-Barbera television cartoons, even more so than in any theatrical cartoons. After all, the limited budgets and production time in animation done for television could not support the visual splendor of theatrical cartoons. The writing had to be sharp, and voices had to sell the gags often more than the animation did.
Okay, so I alluded to that dreaded term: "limited animation". Classic theatrical cartoon buffs may deride it; but for myself, once I start watching these shows I get so wrapped up in the great characters, absolutely superb voice work and genuinely funny writing, that I forget just how limited the animation is. How funny are these shows? Well, does the name Warren Foster ring a bell? Foster was a main writer on the Looney Tunes cartoons. Add in other vets like Alex Lovy, Dan Gordon, and of course Bill Hanna and Joe Barbera, and you've got a great start towards making some darn funny animated programs. Plus, while the animation may be limited, the individual drawings show off some nice cartoon poses. Look at these screenshots— these are great cartoon drawings!
Unfortunately, the original Huckleberry Hound programs have been lost to the ages, the victims of repeated cutting up of the shows for various broadcast packages, as well as more than a couple of studio moves. Warner Home Video has done their best to present these old cartoons in the best possible light, assembling them in the order in which they first appeared, but not as complete programs. Instead, each "show" has only the three main cartoons that made up the program, without any opening, closing, bumpers, or interstitials. You get one for Yogi, one for Pixie and Dixie, and one for Huck; that's it. The bonus features do something to rectify this, however (see below). While this is too bad, there is something to be said for not having to fast-forward through the same repeated bits through marathon viewings (like with the Rocky And Bullwinkle shows).
Once you get past that wrinkle, you can sit back and enjoy Huck's first 26 episodes, an amazing wealth of classic cartoon goodness. Be prepared for a little repetition, for the Warner people have been true to the original show by re-running a few of the shorts, just like they were first broadcast. Despite this, there are still dozens of separate cartoons to check out. And each one is selectable is one of three ways: you can choose to play the whole disc, or one "episode" at a time, or you can choose an individual cartoon. If watching a whole episode, then, there are chapter stops for each cartoon for easy skipping.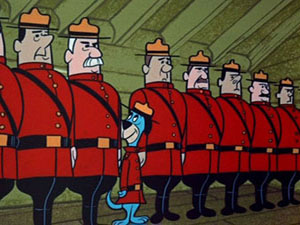 Is This Thing Loaded?
There are a bunch of features listed for this set, and some of it is good, but… no commentaries?! Perils Of Penelope Pitstop gets commentaries, but not Huck?! Outrageous! Also, there is no featurette detailing the significance of the show, and that is a crucial boo-boo, you might say. There should be at least one more volume coming, but it's surprising that no effort was made for this DVD set to place the show in historical perspective. So, let's see what we do get here…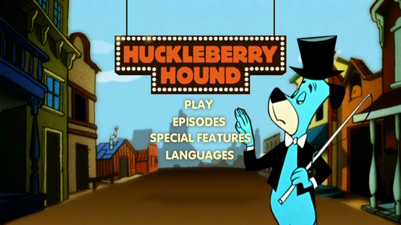 The first disc has Reconstructions of complete episodes for all the episodes on this disc… except the first one. Weird. To watch the first episode complete with opening, closing, bumpers, and interstitials, you have to go to Disc 4's Huckleberry Hound Restoration: Reconstructing The Premiere Episode. There's no big difference between what was done for the first show as opposed to the next few, so I don't see why the first episode's reconstruction was placed on the last disc. Nevertheless, the effort to put these together is much appreciated. The added extras on these reconstructed shows are a combination of black & white and color footage (some of it being shown in color for the first time), with varying levels of video quality.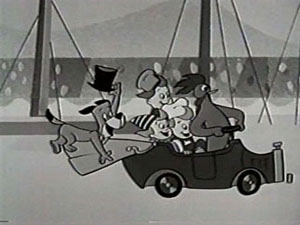 There are lots of mentions of Kellogg's cereals, and the animation for these spots is notably more refined than what is seen in the cartoon shorts themselves. One other minor complaint: not all the bumpers are placed correctly; e.g. Yogi introduces his own cartoon, but a "Huckleberry Hound" comes on instead. Also, a Kellogg's commercial in the first episode's "reconstruction" features not-yet-existent Hanna-Barbera characters (like Augie Doggie and Quickdraw McGraw), making me wonder just how authentic the reconstruction was. Oh, well. It was nice to see anyhow.
Disc 2 has the most useless extra on the set… no, actually, the two most worthless "extras". Huckleberry Hound: A Linguistical Masterpiece (5:30) has an actor, pretending to be a linguist, enthusiastically discussing Huck's language. Huckleberry Quotes: The Remix (2:20) is a music video with clips of Huck talking. They make these extras, but don't do commentaries or historical featurettes??? Mystifying.
On Disc 3, things get much better, with The Legendary Sound Of Daws Butler (12:41). We don't get video footage of Daws, but there are plenty of photos and cartoon clips shown as animation vets like Corey Burton, Mark Evanier, and Nancy Cartright share their fondest memories of Daws and explain (very convincingly) why he was one of the best there will ever be.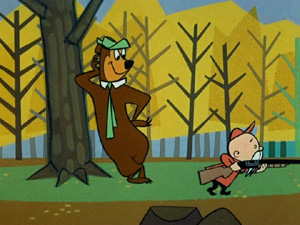 Disc 4, like the Flintstones sets, is double-sided. The first side has Additional Bumpers And Bridges (6:08), a cool collection of black & white and color segments from the show, some of it looking better than other parts— the color sections faring better. The second side of the fourth disc has the aforementioned first episode reconstruction, as well as Trailers for The Yogi Bear Show, "Looney Tunes and Tom And Jerry collections, and the new DVD Scooby-Doo In Where's My Mummy?
Case Study:
Warner stays more or less consistent with their packaging of these sets. This one is labeled as part of the "Hanna Barbera Golden Collection", as opposed to the "Classic Collection" label some sets have gotten. I cannot tell what distinguishes one from another. I think they just goof up. It cannot be denied, however, that these sets look plenty spiffy with their clear slipcovers providing an "animated cel" appearance to the package. The multi-fold digipack holds the four discs, the last of which is double-sided. The inside package has a hat motif behind the discs, playing off the idea of Huckleberry wearing many different hats/occupations during the course of the show. It's clever, though not nearly as handsome in appearance as some of the other H-B set designs. The full contents for each disc, including each individual cartoon, are shown. Inside, you will also find a miniature cel of Huck as a mailman being chased by a dog— while supplies last!
Ink And Paint:
Warner did a pretty decent job of cleaning the cartoons up for this DVD release. There is a bit of dust and such, but probably not much worse than what was seen on original airings. Colors pop out wonderfully, and there is some minor grain present. As an inexpensive early television production, you cannot expect it to be pristine, but it looks pretty darn good. Digital artifacts are fully absent from what I could tell. Bravo! (Yes, it looks better than DuckTales.)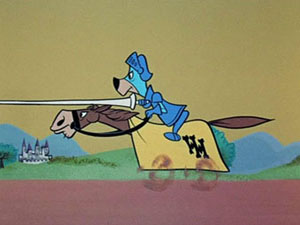 Scratch Tracks:
Naturally, we get mono tracks here, in English, French, and Spanish. The original English track has been made as spiffy as the video, with no noticeable hiss or distortion. Dynamic range? Nah, but what's important is that Daws sounds perfect!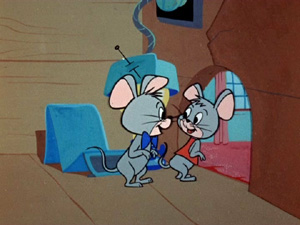 English, Spanish, and French subtitles are available.
Final Cut:
Great show, decent DVD set. Hanna-Barbera television does not get any better than this, unless your tastes go more towards the adventure programs. Hanna-Barbera had the best people in the business working for them in those days, since theatrical animation was laying off many talented writers and artists. This talent elevates these shows well above what might be expected when viewing the limited animation.
To top it all off, you have the voice wizardry of mainly Daws Butler but also Don Messick, and the featurette on Daws is a nice tribute to a man who gave Hanna-Barbera so much of its personality. The lack of commentaries or historical featurettes is puzzling, but we shall hope for more on Volume 2. For now, it will suffice to have these wonderful cartoons available to a new audience. Highly recommended if you love cartoons, and you likely do.
Animated Classic or Back To The Drawing Board?