Rankin-Bass/ITC Films (November 19 1982), Artisan Family Home Entertainment (March 16 2004), single disc, 93 mins, 1.33:1 pan-and-scan, Dolby Digital 2.0 Stereo, Rated G, Retail: $14.98
Storyboard:
In a mythical forest in an enchanted land, a Unicorn finds out that she may be the last of her breed. Seemingly, the other Unicorns of the world have "vanished" to an unknown place. Leaving the tranquillity and security of the forest, she ventures out to find others of her kind, but is soon seen and captured by a travelling freak show, Mommy Fortuna's Midnight Carnival, where she is lined up with various other fantastic creatures, many of which prove to be painful illusions. She's set free with a terrible magician, Schmendrick, whose magic rarely works (and never quite as he means), and he joins her on her quest, which leads them to meet Molly Grue, a scullery maid who believes in legends and wants to help the Unicorn.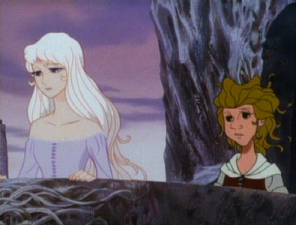 Their journey takes them to King Haggard's cursed castle – where they have heard that the monstrous Red Bull keeps guard over all the other Unicorns. In trying to rescue her from the Bull, Schmendrick accidentally turns the Unicorn into a human female, and though this helps the trio get past the gates and into the castle, Haggard senses that something is not quite right about the young newcomer. Meanwhile, Haggard's son Prince Lir falls for this mysterious woman, and she must make a choice and search deep within herself to find the answers to her destiny…
The Sweatbox Review:
Before Jeffrey Katzenberg came to Disney and heralded the "second coming" of feature animation back in 1984, the medium was in a bit of a state, commercially speaking. Animation had become rather stale, and though the Disney features of the 1970s contained wonderful moments and characters, the general feeling was that they were overall being let down in the story department. Other studios decided to try and out-do the Mouse House, with lower-budgeted features that appealed to different audiences, often with more serious themes and plots. Around this time, adaptations of books such as Watership Down, The Secret Of NIMH and The Plague Dogs are most remembered (not that they particularly helped animation's continued downward spiral).
Hollywood in general had turned to sword and sorcery epics – grand tales set in mythical lands and filled with special effects – something that was not lost on the animation industry with their years of experience in such things. Ralph Bakshi famously tried (and failed) to bring JRR Tolkein's The Lord Of The Rings to the screen (a feat that proved so costly and damaging that only one half of the planned two films succeeded in being completed), while the dark and serious tone of these films was not lost even on Disney, whose own The Fox And The Hound was a surprisingly sombre take on what could easily have been a cheesy cuddly animal buddy movie.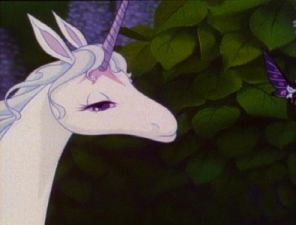 Ultimately, this "season" of films that filled the early multiplexes lasted between 1980 and '85, when the expensive failures of films such as Krull, Clash Of The Titans, The Dark Crystal and Disney's own The Black Cauldron caused Hollywood to sit up and take notice. Disney would bounce back with The Great Mouse Detective, Oliver And Co, and The Little Mermaid (the rest, as they say, is history), while the live-action studios armed themselves with action and comic book movies – and it's pretty much been the same ever since!
Falling somewhere in-between being both light and frothy and steeped in dark fantasy, The Last Unicorn made its debut in the holiday season of 1982, brought to the screen from Peter S. Beagle's best-selling book by animation duo Arthur Rankin Jr and Jules Bass. Mostly well known for their "Animagic" stop-motion animated Christmas specials Rudolph The Red-Nosed Reindeer and Frosty The Snowman, the Rankin/Bass team were much better at structuring their television outings rather than anything feature-length, though they had had moderate success back in the 1960s with the limited animation feature The Wacky World Of Mother Goose and stop-motion puppet films The Daydreamer and, perhaps most memorably, Mad Monster Party.
However, with decent source material at hand, they branched into traditionally hand drawn territory for an animated version of Lord Of The Rings' prequel The Hobbit, as well as a later television special based on The Return Of The King, which aimed to fill in the gaps where Bakshi's effort left off. Despite The Hobbit actually condensing the original novel down fairly well, these two films were technically not even anywhere near the noble disaster of Bakshi's film, and the integrating of too much "business" (and several unnecessary songs) proved their undoing. The Last Unicorn was therefore much more of a departure, being a serious take on a fantasy story that demanded reverence, and was seen as the first of a series of theatrical films. Unfortunately, this was never to be: the film remains their first (and last) stab at creating big screen animated features in this style.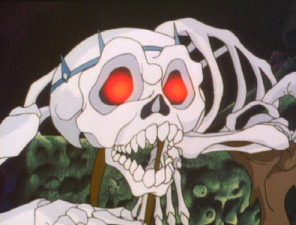 As with The Black Cauldron and other films of the era (Return To Oz and The Dark Crystal especially spring to mind), The Last Unicorn has a very enigmatic feel, and more than a touch of melancholy. It's no laugh-a-minute riot, nor a depressing picture, but the tone (from the book) is very sombre, and this is also expressed in the music. Interestingly, the songs are almost never sung onscreen by the characters, being expressions of thought, emotion and reasoning, many years before Phil Collins came to Disney and did the same with Tarzan and Brother Bear. Jimmy Webb's full orchestral score often lifts the film higher than the sum of its parts and is instrumental (no pun intended) in pushing the emotional core, tightly woven in with a handful of songs. The tracks here are provided by the pop band America, who do for this film what a similar group, Journey, did for Tron, providing songs of hope that still can't help but feel downbeat.
The voices are in tune with this approach as well, and this is one of the two problems I have with The Last Unicorn. In the lead, Mia Farrow seems like she's almost sleepwalking through her role, in a reading that is totally within the confines of her character, but irritatingly morbid as well. From the book, I found her character to be dazed and confused, but never weak or out of hope, something that Farrow plays on incessantly here. Of the other characters, Alan Arkin as Schmendrick is probably most successful, playing the role in a slightly confused state, though his readings are intense, and despite not really knowing what he means, Schmendrick tries to sound as if he does.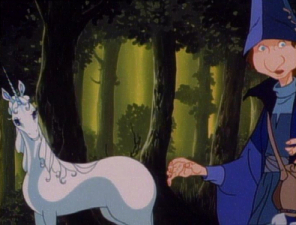 The film was one of the first since The Jungle Book to tout its all-star voice cast. Watership Down had played the same trick by promoting the likes of John Hurt and Zero Mostel on its soundtrack, but The Last Unicorn arguably had the bigger names of the time: Farrow, Arkin, Jeff Bridges, Christopher Lee and Disney stalwarts Angela Lansbury, Keenan Wynn, Paul Frees and Rene Auberjonis, who all bring a believability to their characters. Bridges (who also appeared in Tron during the same year) doesn't come out of the film as the best vocalist, though Lee (there's that Lord Of The Rings connection again!) is chilling in his scenes, and is really responsible for the darkening of tone in the second half. Indeed, it is said that he was such a fan of the book that he came to recording sessions armed with his own copy, which he had "helpfully" indicated in what should and not be left out of the script!
Though the film was boarded and developed in the US (produced by ITC in the UK), the actual animation was handled, as with the earlier The Hobbit, in Japan. It manages to lift above the quality of the Saturday morning cartoon style – just – but only ever reaches full feature quality when the Red Bull (presumably before he became a popular energy drink) makes his foreboding appearances. In fact, it was armed with these images that helped the company originally sell the film to distributors, especially home video pre-sales (the film eventually recouped its investment and became cult viewing for fans who missed its limited theatrical screenings). The designs are great, and the background layouts have the kind of care and attention put into them that the Japanese are famously proud of, but it's when the Red Bull's scenes are pushed to the fore that the movie really comes alive.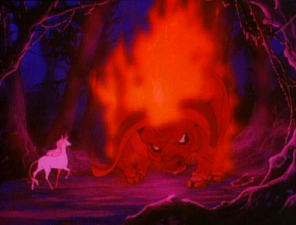 At these times, action is drawn on "ones" (meaning a new drawing for each new frame) and the elaborate effects work on the flames that surround him does hide a number of times the animation recycles. However, for the most part (and this is the second of the two problems I have with the film), the movement is stuck at 6fps, rising to twelve (or "twos") at best. This doesn't really help the artistry, which betrays the animators' inexperience in telling this deep a tale. Faces remain alarmingly static throughout, with little movement or expression around the eyes, and lip-sync is minimal. Coupled with the sometimes-wooden vocal acting, it doesn't help the average viewer get into the story.
Of course, these things matter very little if you're a fan of the film – and there are many. I count myself among them for, despite my gripes, The Last Unicorn is one of those films that does keep one's attention. I wouldn't say it was an obvious kids' movie (which is the way it's always been sold), but as an animated film for grown ups, it does work quite well. There is much rumor of a live-action, Lord Of The Rings styled remake, with the original voice talents coming back to reprise their roles. Whether this ever actually gets made (it's been on and off the boil for a good few years now, with Terry Gilliam's long-time editor Julian Doyle slated to direct) is beside the point: the rabid fans who track its every development shows that the original book and this film still generate great interest.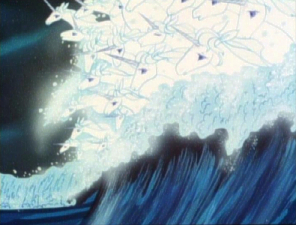 Rankin/Bass would leave their traditional 3D models behind and stick with 2D drawn animation from The Last Unicorn onwards, finally finding great success with their original animated show ThunderCats (itself spawning a phenomenally successful video release for the feature-length pilot). The artists who originally worked for them, on The Hobbit and The Last Unicorn, later found success themselves by teaming up and forming Studio Ghibli, which under director Hayao Miyazaki garnered much critical praise and ultimately an Oscar, for last year's Spirited Away. But as far as Rankin/Bass' feature work goes, they couldn't be better remembered for their foray into the sword and sorcery genre than by producing one of the more lasting efforts from that era. It's simply a shame that this DVD edition has decided to totally screw that legacy up, however, as we shall see below…
Is This Thing Loaded?
In all my time collecting and reviewing LaserDiscs or DVDs, I don't think I've come across a film that has yet been treated with such little respect on disc. Although The Last Unicorn may be an acquired taste, there's no denying that the film has a voracious fanbase, all eagerly awaiting the release of their favorite feature on DVD.
Unfortunately, like the rest of the disc, the complete lack of any extras screams out that this one is one to avoid. The Scene Index is about as exciting as things get (the cover's claim of the pan-and-scanned "Full Frame Version" not really applying as a Special Feature), with the film being sliced up into 23 chapter stops selectable via the menu or the included insert – hey, at least we got one of those.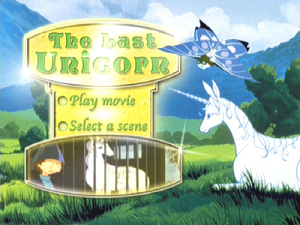 There is hope however: if you're able to play multi-region discs, Carlton have released a much more pleasing disc in the UK and even better is Concorde Home Video's very nice German edition, which features an English-language soundtrack and also packs in the original theatrical trailer. For German speakers, there's more: 10 minutes of bonus material, a text gallery (with stills), production notes and a German language DVD trailer. The film was originally received much more favourably in Europe and has gone on to become a bit of a cult favorite in Germany. It seems right that they have managed to get the best presentation of the film on DVD, though for this US region one edition to stink as much as it does is just plain disgusting!
And as for DVD-ROM features, well, with no surround sound and a pan and scanned transfer, do you really think Artisan are going to shell out for interactive features on this little baby? Nope! As with everything else contained in this release, it looks like the Red Bull's been lurking and sucked anything of worth away…
Case Study:
Well, there is that chapter insert, though it features just as inept artwork as the rest of the sleeve cover does. Compared to what was issued internationally, this is just a poor attempt to make the film look bright and breezy, but comes off looking like a budget, bargain bin title.
Ink And Paint:
Unless you really have to add this region one edition of The Last Unicorn to your collection, I would recommend not touching this issue with a barge pole!
What we've been given is one of the worst pan-and-scan transfers I've ever seen – and from a substandard film print filled with speckles, gate-weave and dust to boot! Worse still is that it looks like this is merely a recycled transfer from the original BetaSP tape master, and a composite one at that, as the image is also full of interlacing and crosstalk. What's most bizarre is the constant re-framing of the print: the image shifts up and down, in and out, with tell-tale signs that something is amiss showing up in the form of black mattes here and there (also slipping tantalisingly into squished widescreen for the main titles and end credits) No original widescreen option is offered either, so it's a case of lumping or leaving it – and I'd prefer to leave it, actually.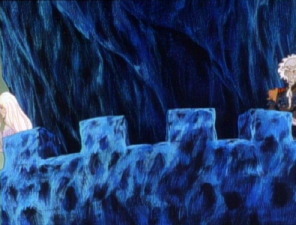 In Germany, Concorde's disc features a nice new shining 16×9 anamorphic widescreen transfer that preserves the original framing, while the UK's Carlton presents the film in widescreen too. What's most odd is that Artisan usually do offer both options, and the Carlton logo on the sleeve indicates that they would have least been offered a widescreen print or materials to transfer. Featuring a shocking lack of care and attention, this disc is no better off than the original VHS tapes, with bleeding reds, softness and zero contrast – the only plus is that its now on a non-degradable format. Perhaps the idea is to wait until the live-action film arrives and offer a better, special edition then? Who knows, but in the meantime, if you can't wait and see, go with one of the international PAL versions (I opted for the superior German edition) – there's no hope here.
Scratch Tracks:
Concorde's edition available in Germany not only presents the film as it should be seen, but also offers a new 5.1 Dolby Digital mix. Again, this Artisan "effort" can't even be bothered to do that, presenting the film in standard 2.0 stereo. I've always found the mix on The Last Unicorn to be excessively compressed, meaning that there are no dynamic highs and lows, and everything is shoved in the audience's face, sometimes at a shrill level. While I haven't heard the surround remix, this DVD certainly does nothing to soften things aurally, and is a harsh sounding track. About the only things that are just about done justice to are America's songs, though there is a soundtrack CD out there (another continued bestseller in Germany) where they sound even better.
They get a couple of marks for preserving the stereo track (at least it's not mono), although it was never a fully satisfying sound mix to begin with. Avoid this…and/or get the German or UK issues.
Final Cut:
Personally, I found this disc to be a travesty of presenting a much-loved animated film on DVD. Yes, we've braved bare bones, full-screened discs before, but even they have had their redeeming features (such as decent audio remixes, open-matte transfers, or a few extras). This edition of The Last Unicorn has nothing of note to push it as a purchase, and for first timers, I would even be as wary of recommending the actual film, since it is not to all tastes. By no means containing adult content, the film could be described as a "family picture", but is certainly not for the little ones (not that you'd know that from the rainbows, sprinkly fairy dust and fun-looking butterfly on the frankly shoddy cover).
If you simply must add the title to your collection, it really is worth going the extra mile to source one of the international versions – the addition of the trailer, original widescreen and 5.1 remix is worth it alone. As for this region one Artisan edition: it's a rent at best, and I just hope the horribly hacked-up cropped picture job doesn't mess with your brain too much. Definitely one to miss, and as far as I am concerned, I'm still waiting for The Last Unicorn to make her decent DVD debut.
Animated Classic or Back To The Drawing Board?