DisneyToon Studios (February 15 2002), Walt Disney Home Entertainment (August 20 2002), single disc, 73 mins, 1.66:1 anamorphic widescreen, Dolby Digital 5.1 Surround, Rated G, Retail: $29.99
Storyboard:
The setting is Wartime London, and we find an older Wendy having to say goodbye to her husband, Edward. He's been called up for service (leaving rather mistakenly in an American GI truck – the movie's only fact fault). Wendy is left in the house she grew up in with her son Daniel and her daughter Jane. The younger of the two, Danny loves to hear of Wendy's adventures in Never-Land, and of Captain Hook and the Lost Boys. Jane claims that she is too old for these childish stories, reasoning that she should be out helping with the war effort. It's during one particularly nasty air raid that the menacing shape of Hook's ship appears – and the Captain is out for revenge! From his experiences in Never-Land, Hook believes that children never grow up, and his men kidnap Jane, thinking her to be Wendy. By the time she breaks free, it's too late, and the ship has taken her "second star to the right and straight on 'till morning" to Never-Land itself! Peter and Tinkerbell soon hear about the young girl, and before long, she's in the safe hands of Pan, with Hook still bent on justice. Slowly Jane comes around to the idea that it's okay to be a child, whatever your age, especially when she's the only one who can help Peter after Hook double-crosses her! Jane's adventures in Never-Land stand her in good stead when she finally returns home a happier girl altogether. She finds her new outlook is welcomed by Danny, leaving the two of them to play out Peter Pan stories of their own, while Wendy herself has the chance to say a final goodbye to an old friend…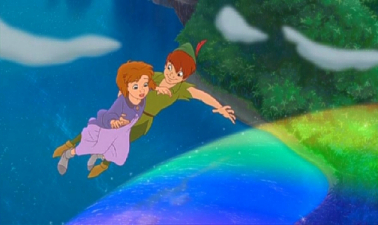 The Sweatbox Review:
As a huge fan of the 1953 Walt Disney version of J.M. Barrie's classic book and stage play Peter Pan, I was ready to tear the latest non-needed "sequel" from the Disney company apart when it hit theatres early 2002. I'd grown up with the original movie, and to be honest, I was hoping that with all the nasty spin-off activity going on at the Studio nowadays that they would at least leave one of my favorites untarnished. I'd memorized Peter Pan from an unofficial VHS that my Dad had brought home in an attempt to satisfy my insatiable appetite for animation, and I was quite literally "hooked" (sorry)! To me even now, Peter Pan still holds up as one of the best-looking Disney features of any era. I think the films of the 50s were made in that magical time between when the artists had learnt and experimented and when animation costs were brought down. Not that the quality suffered! The 60s brought us Mary Poppins, of course, and the classic The Jungle Book.
By the late 70s, though, the "pencil line" look was starting to feel a little "heavy" and sluggish. Don Bluth had shown that traditional cel animation could be achieved on similar budgets with The Secret Of NIMH, and Disney's own The Great Mouse Detective was the first feature in a long while to attempt the look of the original pictures created all those years ago. After the renaissance in the 80s, and the dawn of the computer-assisted age, lower costs meant that more time could be spent where it counts – on the animation. Coupled with great storytelling, the new generation of Disney artists proved that they could compare with the old masters. Animation had that lush, polished look again, with individual lines colored in a similar tone to that of the surrounding color. Unfortunately, with systems making animation easier (if not less time consuming), there has also been an emergence of some "sub-standard" work, from all the major studios. Disney, of course, has led the way with their direct-to-video sequels, often blemishing the very films they strive (and usually fail) to continue. Some have been halfway decent (Lion King II), where as some have just been painful to sit through (Pocahontas II and…ugh…Cinderella II). And I was pretty much expecting the same to be true of this new Peter Pan feature.
With regards to the video sequels, I have thought it fairly reasonable to let the Studio off with follow-ups to films created by the current staff, such as The Little Mermaid, Toy Story or the above mentioned Lion King. But mess with the classics, such as Lady And The Tramp, Peter Pan and the upcoming Dumbo and Jungle Book sequels, and you're messing with animation history and the memories of some beloved moments in many peoples' lives. The best thing about seeing this new movie for me was the chance to see the long shelved short John Henry that was supposedly attached to prints. First off in the theater, I was annoyed; there was no John Henry. I was now most certainly not in the mood for a cheap knock-off from one of my favorite features. And then, the movie began…
From the opening Disney logo, I was enchanted. Tinkerbell's glow has been added to the traditional white-on-blue castle, and coupled with Joel McNeely's magically atmospheric music score, the audience is shot straight back to Never-Land. It was as if we'd never left! By the end of Return To Never-Land, the main thing that struck me was how much reverence the creators had paid to the original 1953 film, right down to the details in the backgrounds in Wendy/Jane's room. As far as the animation goes, this was the first outing for Disney's Australian division, and it's clear that they pushed for a look that would up the ante for the tots of today, while totally capturing the essence. The end credits are even adorned with what could have been Mary Blair-styled concept drawings had this been a true 1950s release!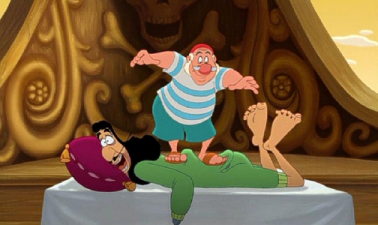 Perhaps predictably, Captain Hook's ship is now rendered with the help of CGI technology. Though a slightly obvious CG addition, it does look spectacular, and might even take away some of the effect from the star-ships in Disney's upcoming Treasure Planet, as it seems they have let one special visual concept out of the bag early. The one drawback to the ship that I found mildly irritating was that the sails themselves never seem to flap in the wind – hopefully this will be taken into account come Treasure Planet's release. More could have been made of the aerial journey through war-torn London, with perhaps some gags aimed towards the enemy invasion attempt, but I guess the Mouse House did not want to upset the film's chances in Germany!
The kaleidoscopic transformation through the sky from London to Never-Land was, I suspect, an in-joke from the Wonderful World Of Disney series, as this is how Tinkerbell would draw the viewer into each week's episode. Again, the music helps this sequence no end, and the addition of snatches of original dialog from 1953 made for a spookily riveting ride. We never actually saw the kids travel to Never-Land in the first film, so this is rather clever in that it does not encroach on any "set standards" and makes a nice departure from the original's entry to Peter's home world. Back in Never-Land, all is as we left it, with the exception of the unseen Tiger Lily and the Indians, and the tick-tock of the clock-croc (I guess even crocodiles are protected by PC laws nowadays). Instead, we get a giant octopus, and at the time I originally saw this, I wondered if this was a leftover from the film's more basic video roots, before it got re-tooled as a theatrical outing. On seeing it again, and comparing it more closely with the original Peter Pan, I was reminded of how cartoony the crocodile was in that film too, so it does fit.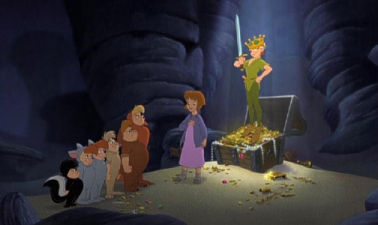 The story is fairly lightweight, and at times Pan seems relegated to the sidelines, almost a secondary character in his own follow-up film! Then again, this really is Jane's story anyway, and the movie was originally known in production as Peter And Jane. At first, similarities to Spielberg's 1991 live-action Hook are inevitable, but this film plays on its own strengths and can still be seen as a follow-up to Peter Pan, while fitting in before the events of Hook. There are some wonderful sequences, and the wartime bookends are set up and played off with just the right tone, although some of the Pan/Jane sequences seem a little overplayed, but perhaps that's because we've seen this kind of thing before. There are enough twists and turns to keep it interesting, and one extremely nice touch was to include Tinkerbell's "death" from the original book that was cut back in 1953. This whole plot line hits just at the right moment emotionally and is well planned.
As usual in a quality Disney feature, the music plays a large part again, this time in the form of a song written and performed by Jonatha Brooke. I'd never heard of her to be honest, but on the basis of her voice and work here, she deserves to be a big star. Her main contribution, apart from an early reprise of Second Star To The Right, is I'll Try, which contains all the angsty feelings Jane is going through, and is used like other recent Disney films, without the character mouthing the words. This works very well in the context it is placed in, whereas the other songs, in the Never-Land sequences, are sung by the "cast" in the traditional way. They Might Be Giants fans may be a little disappointed to find that their included So To Be One Of Us is a more familiar Disney "show-tune", although it's a fun and rambunctious number. The closing credits features an update of an old classic, Do You Believe In Magic? Composer John Sebastian had originally written the hit after being inspired by a stage version of Peter Pan that he had seen, and when the Disney Studio suggested using it for the new film, he offered to re-tune the lyrics to fit the story! Performed by BBMak, it's a great way to end the film on such an "up-beat" (sorry)!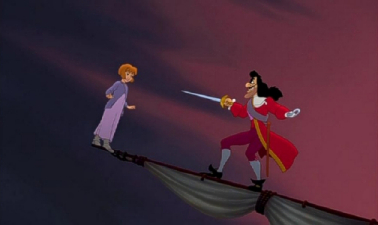 Joel McNeely's score, while retaining the John Williams Hook sound, pays tribute to the original film by including the main character themes, especially Sammy Cahn and Sammy Fain's immortal Second Star To The Right. The voice cast are also overall successful in capturing their characters. While some of the Lost Boys have changed a bit over the years, Harriet Owen is nicely cast as Jane, and Blayne Weaver (Pan) makes for more than a passable Bobby Driscoll. Corey Burton, after years as "the voice" of Disney scratch tracks, promos and documentaries, finally makes it to the screen as a fully-fledged character actor. His Hans Conreid is so absolutely spot on that you'd believe it was the man himself – and with good cause: Burton began his career over 30 years ago performing Hook impersonations! Jeff Bennet is also up there, recreating Smee's nasally whine pitch-perfect, and my only question was why they didn't use Katherine Beaumont as the adult Wendy – she still sounds more like Wendy now than Kath Soucie does in the movie. Ahh well, almost perfect!
Praise must go to co-directors Robin Budd and Donovan Cook, as well as non-credited and very prolific Disney director Kevin Lima (A Goofy Movie, Tarzan) who supervised, for creating such a rousing adventure and a real return to Disney movies the way they used to be made. I'm with everyone else regarding Disney's DTV product – is it a coincidence that dropping only two letters makes the difference to "dire-to-video"? – but this film's ending, in which an adult Wendy finally says goodbye to Pan, is a really touching moment, and very well staged. So while it can never really compare to the original, and will probably never make any "best of" lists, Return To Never-Land offers us another chance to visit the place where children never grow up. If you look hard enough, put the stigma of the Disney sequels to one side, and suspend that adult disbelief just long enough, you'll find it's where you belong too.
Is This Thing Loaded?
Lost Treasures opens up a trove of deleted scenes, featuring introductions from producer Chris Chase and executive Sharon Morrill. The first is more of an extended rather than deleted scene, featuring Jane's first meeting with Hook, and it's a charming little moment that was apparently cut due to time and pacing. It's a shame, as this plays out very nicely, and the animation is almost complete in places, with most of it in pencil test and some even ink and painted! A second cut scene harks back to beginning of production, and features the alternative version of why Tinkerbell becomes sick. Although these scenes only run less than a minute each, they're a nice confirmation that the less expensive films still go through the usual animation process.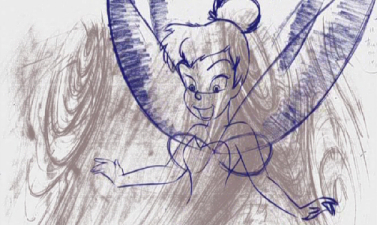 Jonatha Brooke has more time to shine in the promo for the I'll Try music video, which is in danger of being another "making of" with the singer gushing over how great it was to work for Disney, what the song means, etc. The chat soon cuts out however, and we are left with a decent, if rudimentary, clip to accompany a great song.
Never-Land's New Hero is a (very) simple read-along for younger kids, telling a short story about Cubby, the chubby Lost Boy who has to help Tink save Peter and the rest of the Boys from Captain Hook. Slightly older kids might like the set-top Rescue The Lost Boys adventure game, where you become a Lost Boy in a bid to save Jane and the rest of the Boys from Hook's Pirates. Both these features use elements from the movie in a simple way, and the inside of Hook's ship is nicely rendered in 3D.
There are also the now-standard Sneak Peeks at other Disney titles, with trailers for the theatrical release Treasure Planet, as well as the video issues of The Rookie, Mickey's House Of Villains, Monsters Inc, Beauty And The Beast, Schoolhouse Rock, A Very Merry Pooh Year and a shameless Toon Disney TV channel plug. But no Return To Never-Land teaser or trailer – how annoying!
Almost making up for that, and for a change, there's actually a worthwhile addition to the DVD-ROM portion of the disc. The InterActual player's menu design is nice, with Tinkerbell the "host" that you can move around screen to highlight the various options available, but the main event is a fully playable sampler of You Can Fly!, a three-level demo for the Disney Interactive game in which the player is placed within the Lost Boys' hideout and has to complete three point-and-shoot games. There are a couple of nice touches here, such as the 3D Never-Land, and although the games are basic, they'll enthrall young kids and the final "bucket and ball" challenge took me more than a few attempts!
Other than that, standard weblinks lead to the Disney online site, where you can register the disc, and visit the original theatrical Never-Land site (but strangely enough not the new video release site), which has a few further games and production notes.
Case Study:
Peter Pan: Return To Never-Land looks magical and inviting enough in its traditional white Disney keepcase, while inside there's a chapter insert that lists the index stops on one side and a disc overview on the other. An enclosed envelope promises "valuable savings" and "exciting new offers", promoting the Return To Never-Land soundtrack and other upcoming releases, while offering a free Never-Land storybook mail-in coupon.
Ink And Paint:
As a 2002 theatrical movie created direct from a digital source, you'll be expecting Never-Land to shine in all its glory. And shine it does – this disc will not disappoint, especially with its rather unexpected but very welcome THX seal of approval. The movie presented anamorphically in its original "family friendly widescreen" (what's that?) 1.66:1 ratio. One of the brightest Disney features in years, colors are crisp and warm and the conversion is particularly clean of any digital disruption. Great job!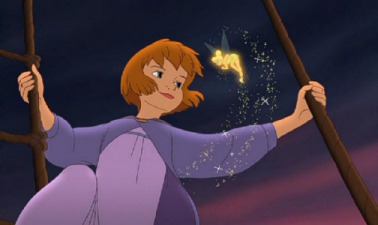 Scratch Tracks:
The boys at Buena Vista Sound have done it again, cooking up a wonderfully deep and rich mix deserving of the most big budget animation releases. The soundtrack plays a very large part in the success of Return To Never-Land, and the Dolby 5.1 audio on show here will give your system a nice run through, even if it's not the most aggressive mix out there. English surround is also provided, as well as French and Spanish language tracks, but the extra-oomph DTS tracks that we sometimes get on Disney DTVs is unfortunately not an option here.
Final Cut:
As a movie, Return To Never-Land is a definite cut above the usual Disney sequel fare, and as a kid-disc, it comes with a nice array of extras. As with most Disney releases, I guess they could have included a commentary and behind the scenes peek, but this is "secondary product" after all, and as such is well enough served here. The menus are fun, the overall experience is positive, and much as I'd love to bash another worthless "continuation of a classic", I just can't do it! Sure, it will have its detractors, but at the end of the day it's pure and simple: kids will enjoy the movie, and adults will be transported back to a time in their lives when ships sailed in the night, pixies could make you fly, and all you wanted to do was Return To Never-Land…
Animated Classic or Back To The Drawing Board?