Walt Disney Pictures (January 25 1961), Walt Disney Home Video (November 9 1999), single disc, 79 mins, 1.33:1 original negative ratio, Dolby Surround, Rated G, Retail: $39.99
Storyboard:
Set in London, the story centers on Pongo and Perdita, a couple of Dalmatians who meet in Regent's Park and strike up a romance between themselves and their human "pets" Roger and Anita. Soon they are all living together in a tiny townhouse, with Roger's songwriting just about paying the bills. When Anita's old schoolmate Cruella De Vil hears that Perdita is about to give birth to a litter of puppies, she makes an offer to buy them all up – so that she can skin them all and make her dream of a Dalmatian fur coat reality!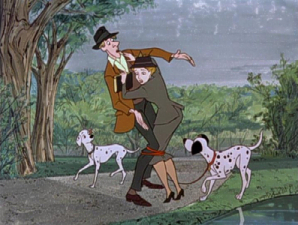 When Roger and Anita reject her offer, she sends around her dastardly henchmen, Jasper and Horace, to steal the puppies, along with 84 other Dalmatians from across England, and they are kept hidden and locked up far away somewhere in the English countryside. Although Roger has a good idea who is behind it all (dreaming up his top seller Cruella De Vil in the process), the humans seem helpless, so it's down to Pongo and Perdy to track down the puppies and take on Cruella and her cohorts themselves…
The Sweatbox Review:
Released in 1961, Walt Disney's One Hundred And One Dalmatians was the first animated feature to utilise the Xerox-copy process, introduced to cut down the costs that the elaborate and lavishly produced Sleeping Beauty had proved were too expensive. Beauty had been in production over six years at the Studio, eating up resources and guzzling cash – it was, at the time, the most costly animated feature made to date, complete with six-track stereo surround sound and widescreen 70mm to boot! That the film lacked Walt's personal touch was evident and combined with the sheer cost involved (and the fact that 1959 was not a record breaking year for any Hollywood studio), Sleeping Beauty had failed to set the box-office alight in the way Snow White and Cinderella did. As Walt had done after the ambitious Pinocchio and Fantasia both disappointed at the box office, the Studio looked for a simple story that could be made quickly and economically. The answer was One Hundred And One Dalmatians, based on the book by Dodie Smith.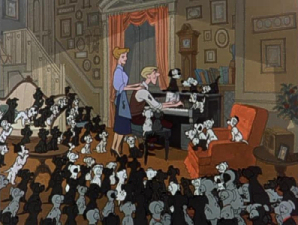 Not only did the Xerox process keep costs down, but it also aided the animators in not losing their heads keeping track of all those puppy spots! Ub Iwerks, who had started with Walt back in the 1920s, had rejoined the Studio in the technical department (his freelance non-Disney work would also take in Flip the Frog for MGM, and Alfred Hitchcock's The Birds). Iwerks came up with the Xerox process, which copied the (cleaned up) animators' drawings directly to cels, cutting the need for an inker. There was still obviously a need for the painters to add color, but the system pleased the artists, who felt their work was being preserved and finally presented in a more direct way, rather than having their drawings traced by the inkers. This produced a more 'fluid' illusion of movement and gave great life to the images, though Walt wasn't particularly pleased with the technique at first. The process meant the need for characters' outlines to be burnt to the cel in solid black as opposed to the individually colored lines the inkers had been able to use, but Walt grew to accept the look and it became a Studio trademark, continuing to be used for The Sword In The Stone, Mary Poppins and The Jungle Book.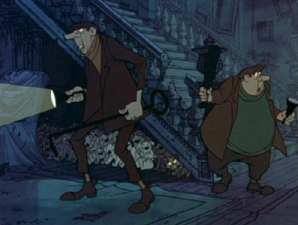 It was the way all the Studio's films were produced up until the new generation of artists pushed for a way to return to the original way of creating animation, which finally came thanks to computer-assisted production where the artists' refined drawings could be transferred and painted in the computer, allowing the best of both worlds. With Dalmatians, style was of great importance. Due to the rough-edged look of the animators' sketches, production design could not be too lush or as "deep" as the films of the 40s and 50s. Therefore, heavily "blocked out" backgrounds and layouts dominate the film, indicating to the audience that this is a new Disney, a different kind of Disney, with a modern look to fit the new decade. This approach serves the source material well – Dodie Smith's original book sets the action in a contemporary world and this abstract, sometimes surreal setting is perfectly balanced with her words. This was, discounting Dumbo (whose circus setting provides its own old-fashioned feel in any case), Disney's first contemporary tale, and is quite reflective of the thrillers and adventures Walt was making in live-action and for his Wonderful World Of Color TV show at the time.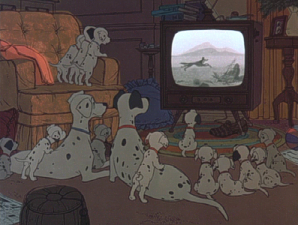 There are even a couple of great television gags: the puppies' hero is a TV action dog (which the direct-to-video sequel uses as a nice reference and set up nod), and their favorite show while in captivity is the 1931 Silly Symphony Flowers And Trees – the first cartoon in Technicolor and here playing (in a wickedly ironic joke by the Disney team) in black and white!
Brimming with energy, wit and style, One Hundred And One Dalmatians is perhaps the most "modern" of Walt Disney's original films. The contemporary setting has not dated in the least, and there are no real pointers that the film was created in the "swinging 60s" apart from the animation process. The script has real moments of poignant feeling, as well as some very funny supporting characters, and a big dose of high adventure.
Betty Lou Gerson's Cruella, along with Marc Davis' tour-de-force visual interpretation, is one of Disney's most classic villainesses and her backups Jasper and Horace are among the most rounded of support players. Adding class is Rod Taylor as Pongo, who'd just scored a hit as the inventor in George Pal's film version of H.G. Wells' The Time Machine. One nice trivia fact is that Ben Wright, who brings Pongo's owner Roger Radcliff to life, would later return to the Studio to portray Grimsby in The Little Mermaid!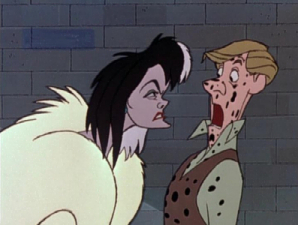 Although the film should feel episodic in nature, it never is, as the main theme is so well played that the story does not have time to slow down, and the suspense is stretched to breaking point. One of Disney's most enjoyable films, forget the live-action remake (and its even poorer sequel) and lap up this original animated classic!
Is This Thing Loaded?
Back in the early days of DVD, the prospect of "full color artwork on disc" and "interactive menus" must have seemed like a world of opportunities had opened up to us. And as with so many of those early titles, One Hundred And One Dalmatians lacks any meaty bonus features. In fact, the title came out so early in the format's life that a LaserDisc pressing was also released at the same time!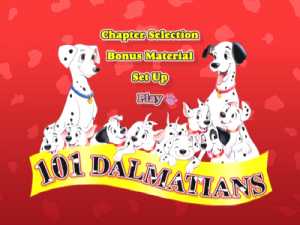 It does seem like Cruella's also been stealing bonus features; the one extra found here is the movie's theatrical trailer, although not the original 1961 teaser, but for the 1991 re-issue (and in not-so-good shape that shows off what the film transfer might have looked like if sourced from a less than pristine print). Dalmatians is scheduled to make an appearance in the line up of prestigious Platinum Edition collectors sets, so I guess we'll have to wait for that special edition disc to see an original trailer, or anything more, but for now this one is as slick and professional as the recent Disney trailers come.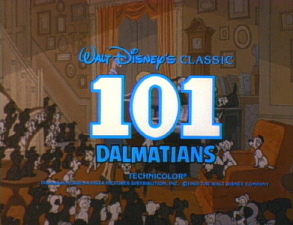 Also included are a couple of pages of Recommendations. Despite box cover art for Hercules, Mulan, Simba's Pride, A Bug's Life, Mary Poppins and the live-action 101 Dalmatians remake, none of them lead to any video clips, which would have been a nice surprise. The menus, while also static and without any musical accompaniment, do look nice and the artwork is used pleasingly. There are 17 chapter indexes, which are well bookmarked, although this is the only DVD from memory that includes a whole index just for the Walt Disney Pictures logo!
Case Study:
A white keepcase, a la Disney, a chapter index insert and, of course, that "full color artwork on disc" is all we get.
Ink And Paint:
Presented in its original "open matte" full-frame aspect ratio of 1.33:1, One Hundred And One Dalmatians (which would have been matted to a widescreen ratio in theaters) looks great. If an extensive digital clean up is on the cards for this great little film's future release, I wonder how sharper the image could become. It's crisp, and the film print used is clean of any scratches. Without any extras to take up disc space away from the video, compression is kept to a minimum, with strong colors that reflect the movie's production design with a very film-like image – in fact it's spotless!
Scratch Tracks: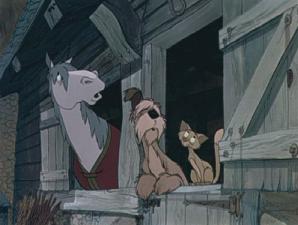 As with the video, the THX mastering ensures that the audio is also up to scratch. The Dolby Surround track included here is what played in the 1990s theatrical re-issue, and it's a well balanced track that does not vary too wildly from the 1961 stereo recordings. Things have been given a little more separation, and the music has been freshly remixed from newly found stereo elements. Voices are locked centrally and come across without distortion, and the surround track gets a little more of a workout that most other classic film remixes. The LFE frequencies could do with a little more boost, but for a film over 40 years old, this sounds pretty deep and it's no tough chore to turn up your subwoofer speaker a tad. French and Spanish dubs have also been included which have decent fidelity and, as usual for Disney, well performed foreign character translations. English subtitles have also been included.
Final Cut:
One of Disney's most classic adventures, One Hundred And One Dalmatians is well worth looking for on DVD. A spruced up, bells-and-whistles Platinum Edition is scheduled for release later this decade, but in the meantime this edition does a nice job of presenting the film as it should be seen. This was one of Disney's early "Limited Issue" titles, and as such it was originally fairly highly priced and withdrawn from the market when the Studio announced the Gold and Platinum collections. Copies are still out there, and often to be found at more than reasonable prices. Get spotting!
Animated Classic or Back To The Drawing Board?