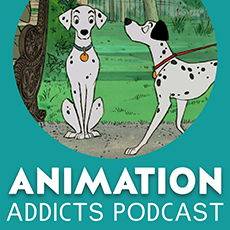 Learn more about The Rotoscopers!
The Rotoscopers review Disney's first modern animated movie, the 1961 canine classic One Hundred and One Dalmatians.
Highlights:
• Nerdy Couch Discussion: Animated henchman – who are our favorites, what qualities do you like in a henchman?
• Main Discussion: One Hundred and One Dalmatians (1961)
• What if Disney made a live-action movie telling the tragic backstory of Cruella De Vil?
• Differences from the book and movie.
• This was the first film to use the iconic Xerox method, which Disney used for many of the films from this era.
• The incredible opening credits. Good thing they had Xerox… all those dalmatians in one frame!
• Pongo's opening monologue, talking about the different prospects. Gotta love dogs looking like their owners.
• If they are so poor, how can they afford a housekeeper?
• The nonsense version of Cruella De Vil.
• Jump-starting the puppies and their obsession with TV.
• Introduce our two henchmen: Horace and Jasper.
• The twilight bark and Lady and the Tramp cameos.
• Hall Hall and the hilarity of What's My Crime?
• The animation of the cars in the film.
• Gotta love the villain-henchmen hissy fit.
• Old 1990s merchandise: happy meal toys and talking books.
• Listener question: who is your favorite character and why?
• We rate it!
• Voicemails & mail bag: Yuri, Brandon, Billy, Joshua, Chris, SimbasGuard, and Sophie. Plus special snail mail from Billy!
• When talking about this episode on Twitter, use the hashtags #AnimAddicts and #YouIDIOT!