Walt Disney Pictures (July 2 1986), Walt Disney Home Video (July 23 2002), single disc, 74 mins plus supplements, 1.66:1 anamorphic widescreen, Dolby Digital 5.1 Surround, Rated G, Retail: $19.99
Storyboard: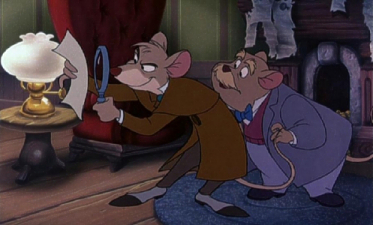 Basil of Baker Street leaps into action and jumps to the rescue when young Olivia Flaversham's toy maker father is kidnapped. Hot on criminal mastermind Professor Ratigan's trail, Basil and his new-found friend Dr Dawson uncover a lot more than just Olivia's missing dad when they stumble into Ratigan's plot to take over the entire mouse population of Victorian London! Can the pint-sized Sherlock Holmes outwit his greatest enemy? Will he be able to bring a halt to the fiendish attempts to replace the Queen with an electronic robot? The chase is on, taking Basil and company from the depths of 1897 London's sewers to a high-flying pursuit across the skies above Big Ben!
The Sweatbox Review:
In 1986, if you were talking animation, you were talking cartoon mice! Steven Spielberg was funding his first foray into animation with the Don Bluth-directed An American Tail, and Disney's offering for that year was this great little gem, which also got another round of theatrical screenings in 1992 as The Adventures Of The Great Mouse Detective (some international releases also named the story's hero in the title: Basil, The Great Mouse Detective).
1986 was not a rosy time at the Disney Studios. Bluth had walked out several years before, taking with him some of the new breed of talented animators. He felt that the style and heart of the original Disney features was something that had become missing in the later years. The final straw was when he was told on The Rescuers (another mouse picture!) not to bother filling in the whites on a character's eyes. The Disney team carried on without Bluth's unit, finishing work on The Fox And The Hound, which was a modest success, and continuing with the Studio's most ambitious feature, The Black Cauldron. Costing $25m to produce, Cauldron was an expensive critical and commercial failure. It did indeed boast a number of amazing sequences, some extraordinarily detailed light and shadow work and a couple of early CG animation shots, but was let down by a episodic script and pretty weak characters. Much of the footage was cut, and the future of Disney animation looked bleak.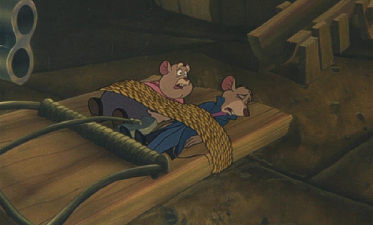 During the turmoil that went on in the creation of The Black Cauldron, animation directors John Musker and Ron Clements (who would go on to The Little Mermaid, Aladdin and Hercules) had taken their minds off the project and had begun work on an idea based on Eve Titus' children's book, Basil Of Baker Street. Re-imagined as a mousy Sherlock Holmes, Basil was every bit as clever as Conan Doyle's mystery-story hero, but obviously skewed towards the younger reader set. Michael Eisner and Jeffery Katzenberg – the then new execs at Disney – liked what they saw, bought the rights and gave the go-ahead – on proviso that the film was made quickly and cheaply. Watching the film now, it stands up to modern day viewing, mainly because it returns to the classic Disney values of character and story, while still pushing some animation boundaries.
Undergoing a number of name changes in theatrical release, the resulting movie finally reaches the shiny disc video format in its original incarnation of The Great Mouse Detective on the sleeve, but as The Adventures Of… in the actual print used. Thinking about it, I'm now actually pretty sure that it's always been Adventures – when I saw it on original UK release, it definitely never said Basil, either! For some reason, I am more than partial to this movie. It has great moments of the contemporary feel that would inhabit later Disney animated features, while losing none of the sparkle and magic that made the previous films as timeless as they are. The answer is in how the film was made. The new regime at Disney was not about to let a huge disaster like The Black Cauldron happen again so easily. The Great Mouse Detective, although only one year in full production, spent four years in planning, and that pre-production time made sure that the artists were working with a tightly structured story, and set the blue-print for how future Disney features were made.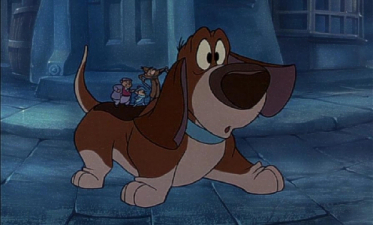 The story itself follows the adventures of super-sleuth rodent Basil, who shares his residence with the famous (but unknowing) Sherlock Holmes himself! Recruiting a new assistant in Dr Q Dawson, Basil sets off to help find the little girl mouse Flaversham's missing father. He's been kidnapped by Basil's arch nemesis, the comically twisted Professor Ratigan, who has a plan that will see him seize control of all of London! Ratigan, a hugely underrated villain in the Disney canon, has one itch – he hates being reminded that he is, in fact, literally a rat. "You're a mouse", one of his cronies explains. "Yeah! A BIG mouse!" he continues. Those who cross Ratigan are not forgiven, as he has an even bigger surprise in his army, an enormous cat mouser name Felicia, who "loves her tasty treats"!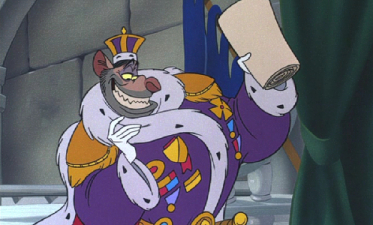 Ratigan is a tour de force of comic timing, animation and voice talent. When you're crossing Glen Keane (the huge, bulky rounded shoulders he loves to draw are the giveaway!) with the vocals of Vincent Price, where can you go wrong? Price offers a full and rich reading of his lines and was very proud of his work in the film, as he had been written two songs to sing – a new experience for him. The World's Greatest Criminal Mind, one of the three songs in the film co-written (as is the score) by Henry Mancini, is an instant classic, and one of the best "these-are-my-dastardly-deeds-and-now-I'm-going-one-better" villain's songs. The rest of the score is very magical and a direct cue from the John Williams fantasy sound, while the smattering of songs do not intrude on the story and are often used as source music for a backdrop to a scene.
Other voices in the film will also be familiar to Disney fans: Dr Dawson is voiced by Val Bettin, who would go on to voice the Sultan in 1992's Aladdin, and Flaversham himself by Disney favorite Alan Young, who had done a sterling job as Scrooge in Mickey's Christmas Carol and would continue the role in the Duck Tales television adventures. Another famous voice, that of Basil Rathbone, was lifted from an earlier live-action Sherlock film for a couple of lines of Holmes' dialogue, though Rathbone himself had also featured in a Disney film, narrating the Mr Toad segment in The Adventures Of Ichabod And Mr Toad (1949). The characters are wonderful, with Basil himself just the right mixture of charm and arrogance, and rest of the supporting cast are all memorable, not least Ratigan's perfectly named hench-bat Fidget!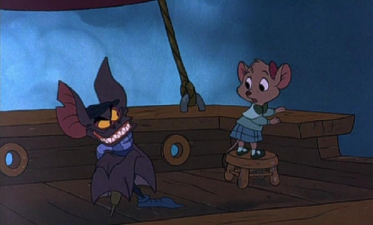 This is a hybrid Disney feature, in more ways than one. Apart from the slight change in musical styles (it's not a full-blown musical) the animation was totally handled by the new group of animators (among the supervising directors are Keane, Musker and Clements, as well as Mark Henn, Rob Minkoff, Hendel Butoy and Phil Nibbelink), who were led by one of Walt's original "Nine Old Men", Eric Larson. Nibblelink also helped deliver The Great Mouse Detective's masterstroke – a daring fight held deep in the cogs of the Big Ben clock. This was the first time computer animation had been combined with full-quality drawn character animation, and much was made at the time in the press that computers were edging traditional artists out. Nothing could have been further than the truth, of course. Although nowadays computer imagery can be printed optically direct to film, back in 1986, each frame of Big Ben's interior structure was printed out and hand colored on cels, much as a standard character would be. Perhaps it's because this process had to be carried out in this way that the integration of character and computer animation is so engaging and enthralling. Music, editing, pacing and direction make this sequence a classic in modern animation and it should not be overlooked as much as it has been.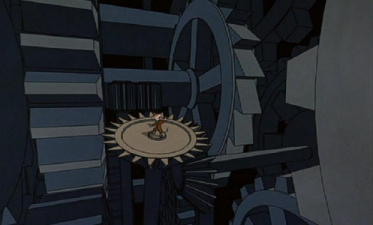 While Who Framed Roger Rabbit and The Little Mermaid are often credited as the blockbusters that kick-started the reinvention of Disney animation in the 1990s, just as much kudos should be awarded to The Great Mouse Detective for bringing the Studio's artists back to their roots and to a place creatively where they were actually able to pull off those later milestones. With some of the "old school" feel Disney in attendance, and much of the new breed out to impress, it's Basil to the rescue, in what the packaging quite rightly calls "Disney's greatest little mystery in history"!
Is This Thing Loaded?
Now here's where things become a little more icky… One of the things you'll notice on the packaging is that this isn't a Disney Gold title as originally announced. It's not even labelled as a Special Edition. It simply says "Walt Disney", and as such I suppose that's what you're getting. For a film that came out just after The Black Cauldron, I found that there was a lot in common with that film's disc too. Not an abundant amount of material to get stuck into, but not totally devoid of any extra fun.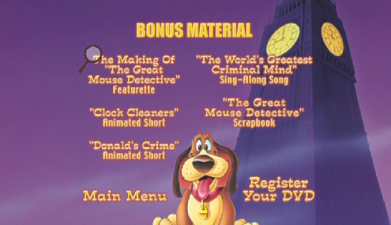 Top of the list is The Making Of The Great Mouse Detective, which sounds a lot better than it actually is. Basically an archive featurette running just over seven minutes, you'll find all the cast and crew gushing about making the film, and a little info on the computer graphics. My favorite moments are when co-songwriter Melissa Manchester appears to talk about her club-singer mouse song Let Me Be Good To You (an inspiration for Jessica Rabbit?). Just look at those togs – stuck in an 80s fashion time-warp, me thinks! It's a welcome addition, but not quite up to Disney's retro mini-making documentaries that sometimes accompany their discs.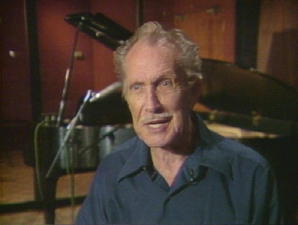 Next up are a couple of animated shorts from Disney's Golden Age of cartoon animation. Donald Duck joins Mickey Mouse and Goofy for the 1937 classic Clock Cleaners, which has its obvious link to the clock scenes in the main feature. Print wise, this is fairly high-contrast, with over vibrant colors. I don't know why this one was chosen; it's not been cleaned up at all, and I've seen the same short in better quality on previous Disney compilations. But if you're a Mouse House fan and you haven't seen this short yet, check the disc out as it features some stunning background layouts and detailed animation, especially in the scenes where Donald takes on the demented clock!
Donald goes solo for the next cartoon, Donald's Crime, which is in better print shape, probably due to its later release of 1945. Stuck with no money and a date with Daisy, Donald sinks to an all time low, stealing the required cash from Huey, Dewey and Louie's piggy bank money box. Despite having a great time on with his date, Donald's guilt gets the better of him, sending him deeper and deeper into paranoia. It's another fun short, and has a couple of similarities with the Great Mouse Detective feature artwork-wise, but a better short to have perhaps included would have been Goofy's How To Be A Detective from 1952, as this one seems a little lost here.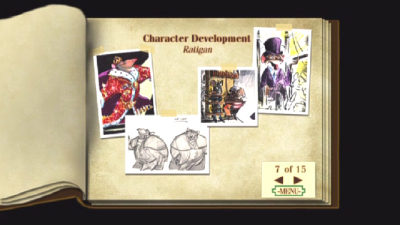 The Great Mouse Detective Scrapbook highlights some selected concept and production art from the making of the film. Featuring sections on Visual Development, Character Designs, Storyboards, Behind The Scenes (cast and crew) and Publicity, the only disappointment was that the gallery only contains one of the original posters from the film's many different designs and re-issues. It is fun, though, to see all our favorite Disney artists back when they were a little younger!
Finishing up, we have Vincent Price's classic moment from the film, The World's Greatest Criminal Mind, in sing-along mode. Presented in full-frame 4×3, this is a heavily truncated version of the song, but it does give a chance to see what the film looked like pre-restoration and pan-and-scanned format.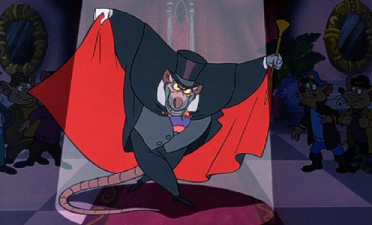 This being a Disney disc, we also get our share of a fair few trailers and sneak peeks. Unfortunately, the original theatrical trailer for The Great Mouse Detective is not included! We do get looks at The Rookie, Mickey's House Of Villains, Monsters Inc, Beauty And The Beast, Patch's London Adventure (which I have better hopes for having seen this teaser), Inspector Gadget 2 (which I have less hopes for having seen this teaser), the Rolie Polie Ollie feature, Schoolhouse Rock and a TV promo for Teamo Surpremo. But where's Basil in all this?
Finally, while there are no added games in the DVD-ROM section, there is a link to register your disc at the DisneyDVD site.
Case Study:
Unfortunately, Basil has not been supported as well as he could be by the rest of the package, not least the cover sleeve, which for my money is perhaps the single poorest example of Disney DVD artwork ever. It just about reflects the tone of the film, but is badly drawn, with one character looking off right at "something" and our main hero obscured and lot really looking a lot like himself. Things are patched up slightly on the reverse, with a fine full-length shot of Ratigan and his boys, but every past edition of The Great Mouse Detective had better cover art than this!
There also seems to be a discrepancy between the sleeve and the disc artwork over the running time. The cover lists it as 74 minutes, while the disc states 80. It clocked in on my player around the 74 minute mark, so the extra five minutes is an intriguing mystery of its own! Happily, some of the previously released sleeve art has been used on the disc's menus, which are accompanied by Mancini's score and some very nice subtle movements in the seemingly static main menu. Inside Disney's white keepcase, an insert replicates that awful front cover on one side and retains a bonus feature and scene selection index on the other.
Ink And Paint:
Although stated as being presented in its original camera negative ratio of 1.66:1, this is another title that has actually been "compromised" to the 16×9 anamorphic ratio of 1.78:1. The wideness of the picture is certainly there, and we are seeing a good quarter of extra image information on the sides than on any previous release, but these titles should be slightly "windowboxed" more in order to show all the image top and bottom. This 1.78 framing has the irritating feeling that some shots are a little cramped, but it's definitely the better choice over pan-and-scan and overall The Great Mouse Detective transfer is a pleasing experience.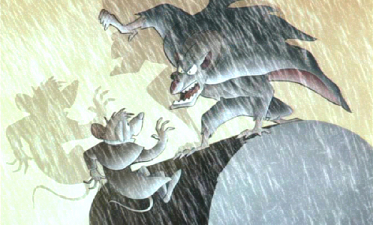 The print has obviously been cleaned up and restored, and despite coming from film (as opposed to the latest digital-to-digital conversions) the transfer is free of glitches and artifacting. It's a very smooth image with only some minor color fade on the Big Ben/CG shots, possibly because of how they were accomplished at the time. It could also be artistically intentional though, as these have been well graded for video, and possibly give these sequences just the right touch.
Scratch Tracks:
Boasting a new 5.1 surround mix, The Great Mouse Detective sounds better than ever! As with most modern movie soundtracks, there's not much to fault in the sound department, especially as the original mix masters would have been created in 1986, when Dolby was still relatively new and audio dubbers were still having loads of fun placing their effects, spreading their surrounds and pushing the dynamics. Mancini's music score is pushed to the fore and sounds great, the dialogue perhaps a little low in the mix compared to all the other audio activity, but not annoyingly so. The disc also carries standard stereo French and Spanish language tracks, and although the main titles don't reflect the language changes within the film, we do get static title cards just before and after the feature showing us what the different versions looked like – in French the film translates as Basil: Private Detective, while in Spain it's Basil And Ratigan! An English subtitle track is also provided. The foreign language tracks are all exceptional, with many of the voices spot on versions of their characters.
Final Cut:
Fans of The Great Mouse Detective have been waiting years for a definitive release of their favorite film. I feel honestly that this will only keep them quiet for the time being, before they realize what little thought and effort has gone into the disc. The movie itself (surely the main reason to buy any DVD anyway) looks and sounds great, and is another must-own title in any Disney library. It's the film where the new generation of artists found their solid ground, allowing them to flourish over the next decade with The Little Mermaid, Beauty And The Beast, Aladdin and The Lion King. It introduced the method of combining three-dimensional computer generated backdrops with hard-drawn character animation, leading to the techniques that would showcase themselves in Who Framed Roger Rabbit. As a disc, it's not as if they didn't have enough time to make this a pretty decent title, the omission of the original trailer is a real shame, as is any kind of commentary from Musker and Clements. But if this is as good as The Great Mouse Detective is going to get, then it will have to do. The movie is the reason to get it – and it's a good reason, too!
Animated Classic or Back To The Drawing Board?