Battle from the 80s: Teenage Mutant Ninja Turtles vs. GI Joe!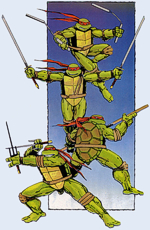 We've a couple of slices of real 80s nostalgia for you in our two most recent reviews! First up, those heroes in a half-shell are back in the
Teenage Mutant Ninja Turtles: 25th Anniversary Collection
on Blu-ray Disc. This four disc set pulls together the original three feature films plus the recent CGI animated
TMNT
in celebration of the 1984 debut of Kevin Eastman and Peter Laird's mass-merchandised creations. Enjoyment of the films is ultimately down to if you were a fan or not, and how much cheesiness you can stand on your pizza, but I have to say I was still impressed by the work of the Jim Henson Creature Shop's animatronics. The discs leave a lot to be desired (just basic trailers for the first three, the same extras as was found on the previous release for the fourth), but the packaging is where it's at, even if the cost is ridiculously high for the overall value.
Meanwhile, Rodney has joined up to America's special missions force for GI Joe: A Real American Hero, Season 1.1, the first collection of episodes from the Hasbro tie-in that became a hit during its original run (and remains closer to the line's original conception than the wham-bamm current live-actioner blowing up movie theaters). As is customary, Rodney gives us some great background into the series, and distributors Shout themselves seem to have backed it up too, with a host of appropriate bonus features including an original 1963 Toy Fair Presentation and some neat packaging, all of which give Rodney reasons to recommend the set over previous releases to fans of the show.
Stay tooned! — Ben.

---