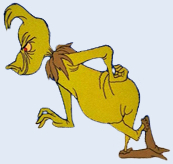 Ending the week in Seussian style here at Animated Views, Randall Cyrenne presents a look back on the life and career of Theodor "Ted" Geisel, better known to his many fans as Dr. Seuss, the writer responsible for the current box-office number one,
Horton Hears A Who!
, amongst many books.
Long a popular source for animated shorts and specials, Rand's The Animated Seuss feature concentrates on the many animated adaptations to come from Seuss' work, including of course, the immortal The Cat In The Hat, The Grinch and Green Eggs And Ham, itself now in production as another Fox/Blue Sky animated picture! Take a peek at this article, and you may be surprised at just how long Seuss was associated with animation, and the legends with whom he worked. Meanwhile, in case you missed it, take a look at James' review of the Horton Hears A Who! film, as well as Ben's take on the recent DVD release of Horton's animated TV special. That's a whole lot of Animated Seuss from the folks at Animated Views!
Also, many thanks to Jeremie for providing us with such amazing Enchanted coverage the past week or so. Jeremie has been a terrific addition to Views, and we certainly appreciate all the fine work he has been doing. The quick link to all of our Enchanted links is right here.
Enjoy, have a great weekend, and stay tooned! – Ben & Rand.