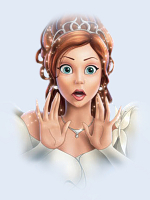 Welcome to a very special week here at Animated News & Views!
We're celebrating the DVD and Blu-Ray release of Disney's wonderfully charming Enchanted here with a series of exclusive behind the scenes interviews.
You've already read about how original screenwriter Bill Kelly came up with the concept, but where did it go from there? In Chapter Two of our Enchanted story, Jeremie speaks with Disney executive Doug Short, who was the first to read the script and continued to champion the project through an official green light and onto director Kevin Lima's movie set!
Also, look for our full review of the movie and the new DVD – out tomorrow – which I'll hopefully be posting later today, and we'll also be announcing the winners of our Enchanted contest too!
Stay tooned! – Ben.