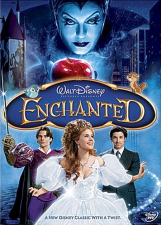 I was hoping to end the week with a little more than today's quick post, but we've been very busy shaping up some amazing new articles for you. Next Tuesday sees the release of Disney's latest classic Enchanted on DVD and hi-def Blu-Ray, and to celebrate, Animated Views presents the ultimate trip behind the scenes to see how the multiple Academy Award-nominated and box-office hit came to the screen!
Our own Jeremie Noyer has been speaking to all the principal crew, including composer Alan Menken, animation director James Baxter and the director of Enchanted himself, Kevin Lima, for a terrific series of exclusive behind the scenes interviews – plus a whole heap of exclusive, never before seen artwork from the production! Split into several storybook-styled chapters, first up is screenwriter Bill Kelly, whose original script set the wheels in motion to bringing Princess Giselle to the screen!
We're pretty excited about what we have coming up for you all next week, and of course we'll also be posting our take on the DVD – I guess that's my weekend viewing filled in, then! Don't forget that you have until the clock strikes twelve at midnight tonight to enter our Enchanted contest and magic yourself one of the three copies we have to give away – good luck!
Have a great weekend! – Ben.