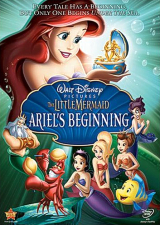 While I was hoping to get our Ariel's Beginning review up yesterday, it got progressively late and by the time it was finally ready it was better saved for this morning. It's never easy when one has to criticise any project, and less so when it it understood that these films are ultimately made with the right intentions and by very creative people, albeit because the front office has essentially commissioned the film to fill a DVD release schedule gap and squeeze a little more profit from an established franchise.
And that's where, basically, The Little Mermaid: Ariel's Beginning flounders: without going down the sequel path, characters can't be expanded upon, so the prequel solution seems to have locked the filmmakers into a barely movable position where personalities that will find their own arc in the eventual original story have been skewed somewhat to fit the chosen storyline here. It doesn't always work, and the feeling of a rushed or cheap production filters through, even though it may be that everyone involved was doing the best with what they were asked to do. It's also a shame that this is the last traditionally animated film to come from the DisneyToon people, just as they were really finding a sure footing. Ariel's Beginning is sadly a step back from that quality, and since it was mainly outsourced to another company, I'd still like to remember DisneyToon proper going out on the considerable achievement of Cinderella III: A Twist In Time.
On a brighter front, don't forget that Jeremie's exclusive new Little Mermaid interview series kicked off yesterday with Ariel herself, voice artist Jodi Benson, who from what I understand had some of her own issues with Beginning's script, and still lurking around the site is none other than Eric Goldberg, who takes Christian on a Character Animation Crash Course to dip inside his new cartoon "how to" guide – and you can win a copy of the book in our Contest Corner too!
Back soon with more, so stay tooned! – Ben.