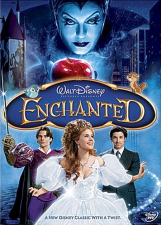 We close our amazing
Enchanted
week here at Animated News & Views, celebrating the release of the movie on DVD of course, with a truly magical discussion with the film's principal creative partnership,
director Kevin Lima and executive producer Chris Chase
.
Featuring some absolutely beautiful, never before seen development artwork chosen exclusively for us by them both, Jeremie Noyer speaks to Kevin about his very varied career in animation and filmmaking, taking in comments on A Goofy Movie, Tarzan, Return To Neverland as well as his move to live-action projects such as 102 Dalmatians and a pair of Eloise movies for television.
Chris then remarks about how they teamed up for Enchanted, finally bringing a long on the shelf project to the screen, and in fine style, I might add! To say either of these interviews, the final chapter in our week-long series, is insightful is doing them an injustice: both guys have a great sense of value and welcome nostalgia, obviously looking set to keep providing us with genuinely unique entertainment for many years to come. I look forward to seeing what they come up with next!
---
Well that's a heck of a lot of weekend reading, so we'll see you next week with a whole lotta Who! – reviews of Dr Seuss' Horton: both Blue Sky's new animated feature and Chuck Jones' original 1960s short. Happy Easter! – Ben.