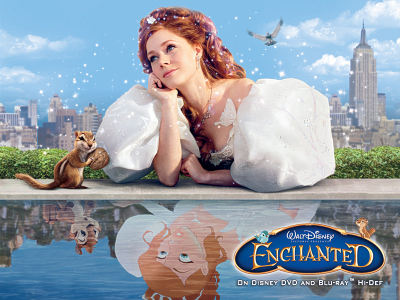 It's here, folks! Disney's charming musical comedy arrives in stores today, and we're still celebrating with our series of behind the scenes Enchanted exclusives!
Today, we've a couple of the film's big hitters for you in the shape of interviews with composer Alan Menken and arranger Danny Troob. Both will be instantly recognizable names to musical and Disney buffs, of course, with Menken the co-writer of the Studio's most successful recent animated feature songs, as well as composer of their wonderful scores, chalking up eight Academy Award wins for his work on such contemporary classics as The Little Mermaid, Beauty And The Beast, Aladdin and Pocahontas among many other achievements, including a personal fave, Broadway's Little Shop Of Horrors. His long-time collaborator Troob has been the man responsible for bringing the Menken sound to the screen, and here both talents speak to Jeremie Noyer about their creative processes and how they drew upon their many years' experience to give this new project just the right amount of knowing parody and genuine magic.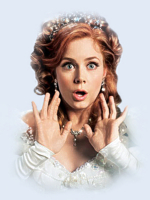 Also, posted last night, is my full review of the DVD edition of Enchanted. After a bad spell in the movie theater, I've really grown to love this latest addition to Disney's canon, and it does deserve all the popular appreciation, success and acclaim it's been getting. I guess I was a little Grumpy first time around having perhaps been expecting something a little "more", but the DVD – and not least Amy Adams' [right] wonderfully disarming performance – has won me over, and it's been played twice already! The movie's many fans should rush out and pick their copy up today, but be aware that Enchanted is a title ripe for a return visit in future. The supplements are interesting, but very light, and the promise of much more to come in a double dip might be something worth thinking about. As such, perhaps a rental is a preferred option this time around, but Enchanted itself is well worth catching one way or another!
You might also have noticed we've posted the winning names from our Enchanted contest – congratulations to Stephen Arnold, Juan Rodriguez and Tommy Sutanto, who each will be sent a copy on us!
Also, be sure to check out the film's Visual Heritage with our selection of comparisons to classic Disney moments!
Making up for the lack of extras on the DVD, our interview coverage will continue tomorrow, with some never before seen artwork, so stay tooned! – Ben.