Animated News Weekly Archive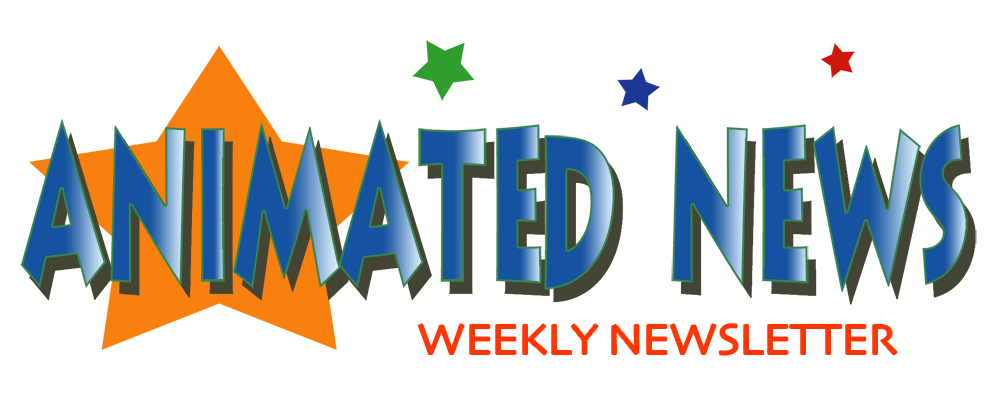 One downside to getting to celebrate another big milestone like our 20th anniversary is that there's not a lot more left to show or tell about our history. However, after some major excavation deep into the embarrassingly cluttered AV archives, we were able to find another dusty bit of long lost content under some old boxes of cease and desist letters and moldy
Norm Of The North
promotional plush.
From the first week of our launch in October of 2003 and intermittently over the next six years or so, we had an email newsletter. Sure these messages may not be too useful anymore! But they're actually kind of fun as a sort of virtual time capsule. And perhaps some future animation researcher might find the links useful. Either way, they're part of our story and we're happy to be able to move them from the dark, cobwebbed recesses of the AV archives and back into the warm light of our anniversary celebration!
So travel back 20 years with us to see how we covered the top stories of the day!
Subject: Animated News Weekly

10/26/03 - 11/01/03

Hello, and welcome again to the Animated News Weekly. Please copy and paste any split links into your browser for more info on a given subject. And here we go...



----FEATURE FILMS----

The initial box office weekend take for BROTHER BEAR's limited NY/LA release was deemed a success: $291,940 from only two theaters. The film just went into a wide 3000-screen release on Saturday, November 1st. Predictions for the weekend grosses are anywhere between $18 to $22 million, which would see it off to a very good start. The all-important "Thumbs Up" was awarded to the film from both Ebert and Roeper: http://tvplex.go.com/buenavista/ebertandroeper/today.html

Looking ahead to Disney's next, and HOME ON THE RANGE has been added to their official website slate, with a teaser site up and running, offering a full look at the film, which is different to the teaser available on the Finding Nemo DVD. If you can't wait to "Bust A Moo" April 2nd, check out the trailer: http://disney.go.com/disneypictures/homeontherange/main.html

Greg's Previews over at Yahoo reports on a Variety story that Pixar's next after The Incredibles may have had a name change. Originally "Route 66", it was switched to CARS soon after to avoid confusion with the 60s TV show. Now it seems the film may go under a slightly different name: THE CARS is the new moniker, referred to here: http://movies.yahoo.com/shop?d=hp&cf=prev&id=1808405700

Miyazaki's next, HOWL'S MOVING CASTLES has a Japanese date set, July 17 2004, according to the Anime News Network: http://www.animenewsnetwork.com/

WALLACE AND GROMIT: THE CURSE OF THR WERE-RABBIT began shooting this week. Nick Park and Aardman are aiming for a September 2005 release: http://forum.bcdb.com/gforum.cgi?post=13391

With only a few days before its DVD debut, Disney/Pixar's FINDING NEMO reached a domestic $338,746,985 after 22 weeks in theaters. Stable-mate PIRATES OF THE CARIBBEAN did $301,243,790 worth of business in just 16 weeks, making its bow on disc December 2nd. NEMO is also faring well overseas: $36.9 million in the UK alone, and still number one after three weeks!

Greg's Previews has updates on two features in development, THRU THE MOEBIUS STRIP - http://movies.yahoo.com/shop?d=hp&cf=prev&id=1808406253 - and WHERE THE WILD THINGS ARE: http://movies.yahoo.com/shop?d=hp&cf=prev&id=1808406553&intl=us

November 3rd is the deadline set by AMPAS for the Studios to submit their eligible animated motion pictures for Oscar consideration. We should know by the trade ads in the coming weeks which titles have been put forward by whom. The official announcement is here: http://www.oscars.org/press/pressreleases/2003/03.10.28.b.html

SciFi Wire has a talk with Elijah Wood about his first post-Lord Of The Rings project. Taking a change of pace from his earlier Mad Max movies, director George Miller's HAPPY FEET features the voice of the one time Hobbit: http://www.scifi.com/scifiwire/art-main.html?2003-10/28/11.00.film

More Disney: Another TV show getting the theatrical upgrade is TEACHER'S PET, coming to theaters next February. The official teaser site is now online providing a first look at the film: http://disney.go.com/disneypictures/teacherspet/main.html

Animation Artist takes a look at the computer processes used to merge the classic LOONEY TUNES characters with their live-action counterparts in the upcoming BACK IN ACTION feature film. What ever happened to ink and paint, eh? http://www.animationartist.com/cgi-bin/getframeletter.cgi?/2003/10_oct/features/looney_tunes.htm

Variety announced that screenwriters Matthew Berry and Eric Abrams have been attached to the live-action feature version of Cartoon Network's JOHNNY BRAVO, for Warner Brothers and star Dwayne "The Rock" Johnson: http://www.variety.com/index.asp?layout=upsell_article&articleID=VR1117894889&categoryID=13&cs=1



----DVD RELEASES----

We broke the news last week; now DVD Toons announces that Universal's upcoming AN AMERICAN TAIL releases will only be fullscreen, "vanilla" movie-only versions. Perhaps the long rumored Special Edition (Fievel's adventures were among Spielberg's biggest 1980s earners) is a future possibility, but don't hold your breath: http://www.dvdtoons.com/news/484

After years of pestering, Warners finally unleashed the LOONEY TUNES DVD GOLDEN COLLECTION. The much anticipated set, featuring over 56 complete and uncut cartoons, has been getting favourable reviews and is a commendable edition: http://www.dvdtoons.com/reviews/241

More first look images for you, this time of the upcoming Lion King "mid-quel", HAKUNA MATATA. From the BROTHER BEAR: SING-ALONG SONGS disc, Kristin provided us with these pics: http://www.animated-news.com/archives/00000130.html

An early look at the special features for the 2-disc PIRATES OF THE CARIBBEAN DVD: http://www.dvdfanatic.com/news.php?id=0310271

This weekend marked the 10th Anniversary of Tim Burton's THE NIGHTMARE BEFORE CHRISTMAS. Recently re-shown at Disney's El Capitan theater, the Special Edition DVD is available from Amazon.com: http://www.amazon.com/exec/obidos/tg/detail/-/6305949980/102-3502886-9685707?v=glance

Don Bluth's producer partner Gary Goldman offered up a little more on the original AN AMERICAN TAIL disc that's in the works for a bare-bones, full-frame edition early next year, also touching on their relationship with Amblin. We have the details here: http://www.animated-news.com/archives/00000165.html



----INTERVIEWS----

Promoting Brother Bear, PHIL COLLINS talks to the Toronto Sun, reported online at Jam Movies: http://www.canoe.ca/JamMovies/oct26_collins-sun.html

MATT GROENING is also talking. At the NPR website, in a streaming audio interview, he looks back at 300 Simpsons, Futurama, and the time when producer FOX TV almost sued itself over an inside joke: http://freshair.npr.org/day_fa.jhtml?display=day&todayDate=10/23/2003



----CHARACTERS AND HISTORY----

John Canemaker follows up his excellent book THE ART AND FLAIR OF MARY BLAIR with a live multimedia presentation and rare 35mm screening of ALICE IN WONDERLAND at the Los Angeles County Museum of Art, on November 7th. Further details from the LACMA site: http://www.lacma.org/art/film/film.htm

It's the return of DUCK DODGERS and the 24th Century over at Toon Zone, who landed an interview with the new Cartoon Network show's producers: http://forums.toonzone.net/showthread.php?threadid=92932

Jim Hill Media reported a fun story about what the "CAST MEMBERS" of the Disney theme parks get up to on party nights: http://www.jimhillmedia.com/legacy/index.htm?../articles/10272003.1.htm~contentFrame

Michael Barrier, a contributor to the new Looney Tunes DVD set, also voices an opinion on John Hench's new book DESIGNING DISNEY: IMAGINEERING AND THE ART OF THE SHOW - http://www.michaelbarrier.com/Commentary/Hench/Hench.htm - and also looks back on an interview he did with legendary animator ART BABBIT: http://www.michaelbarrier.com/Interviews/Babbitt/interview_art_babbitt.htm



----TELEVISION / THEMED / STAGE----

Several leading animation companies in Japan have teamed with distributor Sony Pictures to launch ANIMAX-ASIA, a 24-hour anime network in key Asian territories. Arriving January 1st 2004, you can find out more here: http://www.animax-asia.com/

An animated Kid Rock? Pamela Anderson's rapper boyfriend takes to VH1 for A KID ROCK CHRISTMAS, an upcoming special that will feature the cartoon segment, The Twelve Days Of Christmas. More from the Big Cartoon database Forums: http://forum.bcdb.com/gforum.cgi?post=13697

Phil Collins continues his working relationship with the Mouse House by penning six-to-eight new songs for the eventual transfer of the Studio's 1999 hit TARZAN to the Broadway stage. The BCDB has a full post: http://forum.bcdb.com/gforum.cgi?post=13796



----BUSINESS----

Reported around several sites, the news that ARTISAN and LION'S GATE were merging was given a fun spin by Superhero Hype: http://www.superherohype.com/punisher/index.php?id=328

Walt was always a railroad fanatic - now the Disney Company is getting into trains. A high-speed line will bring visitors to Disney World directly from Orlando International Airport. Yahoo News has the full story: http://story.news.yahoo.com/news?tmpl=story&u=/ap/20031027/ap_on_bi_ge/florida_high_speed_rail_2

According to AWN, kids television giant DIC ANIMATION is about to try and increase its global profile, partnering with several top licensing and merchandising companies: http://news.awn.com/index.php3?ltype=top&newsitem_no=9491

Could Samurai Jack and Dexter's Laboratory creator Gennedy Tartakovsky be defecting from the Cartoon Network to join up with LUCASFILM ANIMATION? That's the rumor at Animation Blast, hinting that his association with Lucas is not limited to directing the Clone Wars "micro-series" for CN: http://www.animationblast.com/

Staying put right where they are is the team behind BROTHER BEAR. Disney has directors Aaron Blaise, Robert Walker and producer Chuck Williams locked into a contract to produce a new animated film for the Studio: http://news.awn.com/index.php3?ltype=top&newsitem_no=9510 - Though the report does not touch on the subject or format of the new project, it is thought that this could mark the return to 2D animation at Disney Studios -- some great news to end this week with!



----WRAP UP----

That's all for this week, folks! Don't forget to visit us online at www.animated-news.com and contribute through our forums: http://animation.skyblueproductions.net/

Have a great week,
The Animated-News Team.


----------------------------------------------------------

Disclaimer: The news shared in this email contains material and links to other non-associated websites. Animated-News.com is not responsible for any consequences arising from the participating and use of these sites, and cannot be held liable for any content that may prove to be untrue, or stories that may later have elements within them changed by the creators of the reported projects. Original content ©2003 Animated-News.com.