Animated News Weekly Archive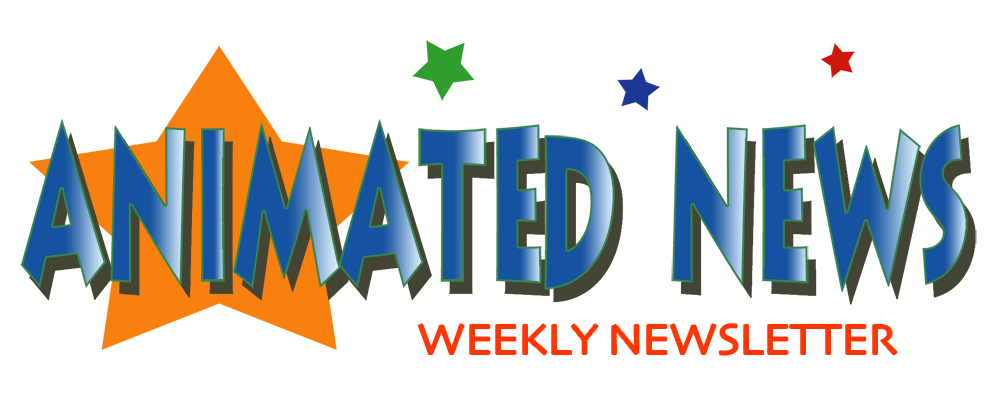 One downside to getting to celebrate another big milestone like our 20th anniversary is that there's not a lot more left to show or tell about our history. However, after some major excavation deep into the embarrassingly cluttered AV archives, we were able to find another dusty bit of long lost content under some old boxes of cease and desist letters and moldy
Norm Of The North
promotional plush.
From the first week of our launch in October of 2003 and intermittently over the next six years or so, we had an email newsletter. Sure these messages may not be too useful anymore! But they're actually kind of fun as a sort of virtual time capsule. And perhaps some future animation researcher might find the links useful. Either way, they're part of our story and we're happy to be able to move them from the dark, cobwebbed recesses of the AV archives and back into the warm light of our anniversary celebration!
So travel back 20 years with us to see how we covered the top stories of the day!
Subject: Animated News Weekly



Hello, and welcome to our very first mail out to everyone on the Animated News subscriber list! Our goal is to keep up the fine work begun and maintained by Olivier and Animated-Movies so that we can continue to get our daily -- and weekly -- doses of Animated-News. Check the site, www.animated-news.com, for updated news, while the News Weekly email (sent every Sunday) will keep you in touch with the week's big stories. Please copy and paste any broken links into your browser for more info on a given subject. And so, moving right along...



----FEATURE FILMS----

Disney provides a first look at its 2004 feature HOME ON THE RANGE on the November 4th DVD release of Finding Nemo. Check out our exclusive frame grabs at http://www.animated-news.com/archives/00000020.html

There's more than one transformation in Disney's next traditional film, BROTHER BEAR. First reports state that the overall look and feel of the film changes when the lead character switches from being a human into a bear, as well as its shift from 1.85:1 to a wider 2.35:1 CinemaScope ratio -- a first for an animated motion picture!

Staying with BROTHER BEAR, and while the Hollywood Reporter praises the film, Variety only finds a few things to like. Check out http://www.hollywoodreporter.com/thr/reviews/review_display.jsp?vnu_content_id=2006016 and
http://www.variety.com/index.asp?layout=upsell_review&reviewID=VE1117922169&cs=1 for their conflicting viewpoints, as well as http://www.aintitcoolnews.com/display.cgi?id=16335 and http://www.slantmagazine.com/film/film_review.asp?ID=868 for another "interesting" slant. USA Today finds it more positive: http://www.usatoday.com/life/movies/reviews/2003-10-23-brother-bear-review_x.h tm

At http://www.miceage.com/allutz/al101503b.htm, MiceAge.com takes a further look at BROTHER BEAR, pointing out some "executive decisions" that changed the look of the movie. AWN goes along the same lines for a more in-depth look at the making of the film:
http://mag.awn.com/index.php?ltype=pageone&article_no=1898 

Sylvain Chomet's amazing LES TRIPLETTES DE BELLEVILLE, or BELLEVILLE RENDEZ-VOUS in the UK, is being prepared to face strong competition from Nemo at next year's Oscars. Sony Pictures Classics, who are issuing the film as THE TRIPLETS OF BELLVILLE in the US, think it could pull the same trick that Spirited Away did last year in the Animated Feature category. Having seen the film, I'd say they were in with a very healthy chance and it's an easy recommend to you all. Find out more at
http://movies.yahoo.com/shop?d=hp&cf=prev&id=1808518975 and the official site: http://www.sonyclassics.com/triplets/ 

As the release date draws near, we're seeing more CAT IN THE HAT images appear online. More at: http://www.cinecon.com/gallery/album73

The LOONEY TUNES are back online with an update to the site for their next big movie BACK IN ACTION:
http://www2.warnerbros.com/looneytunesbackinaction/index.html

According to Ain't It Cool News, THE MUPPETS WIZARD OF OZ is to be shot soon in Vancouver. More at http://www.aintitcool.com/display.cgi?id=16331

Russia's first theatrically released feature is coming to the US: http://www.bcdb.com/ has more on the Chicago Animation Festival screening.

UK-based Vanguard Animation, currently working on VALIANT, is to team up with a couple of German companies to provide animation for the long rumored HAPPILY N'EVER AFTER. AWN has the full details:
http://news.awn.com/index.php3?ltype=top&newsitem_no=9423

Coming Soon.com picked up on an earlier Variety story on the future of Sony Pictures' THE CHUBB CHUBBS franchise: http://comingsoon.net/news.php?id=2011

Older news, but a new take on George Lucas' foray into animated motion pictures can be found over at Red Herring http://www.redherring.com/article.aspx?f=Articles/2003%2F10%2F0c7fc820-5666-48fc-addf-496ba6276531%2F0c7fc820-5666-48fc-addf-496ba6276531.xml&hed=George%20Lucas%20gets%20animated - with a little input from a certain former-webmaster we know!

The Wall Street Journal broke the news that Glen Keane's directorial Disney debut Rapunzel has undergone a name change to reflect the off-the-wall take on the fairy-tale. RAPUNZEL UNBRAIDED is the new name, and more can be read at SFGate.com:
http://www.sfgate.com/cgi-bin/article.cgi?f=/news/archive/2003/10/23/financial1010EDT0052.DTL

More first look images, this time from Ain't It Cool News: Puss In Boots from Shrek 2 is here: http://www.aintitcool.com/display.cgi?id=16362

After the success of Spirited Away, Disney is set to issue more STUDIO GHIBLI movies to theaters and DVD. AICN has more: http://www.aintitcoolnews.com/display.cgi?id=16366 

GARFIELD THE MOVIE has its first official peek revealed with the new one sheet, courtesy of Lights Out Entertainment: http://lightsoutentertainment.com/news/news.php?id=1931 



----DVD RELEASES----

The biggest hit of the year -- animated or live-action -- is Disney/Pixar's FINDING NEMO. DVD Toons had the first look at the 2-disc set -- http://www.dvdtoons.com/reviews/239 -- and it has been getting good reviews from others too:

A new animated disc based on the drawings of Beatle John Lennon is in the pipeline for release in the UK on October 27 and on November 18 in the US. There's more on the DVD, titled LENNON LEGEND, here: http://forum.bcdb.com/gforum.cgi?post=12944

Final specs for ALICE IN WONDERLAND's 2-disc set? http://www.animated-news.com/archives/00000026.html

FRANK AND OLLIE, the 1995 documentary on the last two remaining of Walt Disney's Nine Old Men, is headed for wider distribution on November 18. Pre-order at:
http://www.amazon.com/exec/obidos/tg/detail/-/B0000TAYSO/qid%3D1067190928/sr%3D8-8/103-8825808-4497455

Spot the similarities yourself between The Lion King and KIMBA: JUNGLE EMPEROR LEO when the Japanese film debuts on DVD October 28th: http://www.kimbawlion.com/ 

http://www.davisdvd.com/news/daily_news.html - Davis DVD has a look at Columbia-TriStar's early 2004 slate, with THE CRITIC: THE ENTIRE SERIES set for issue on disc.



----CHARACTERS AND HISTORY----

Celebrating 40 years in the business, and with news of further live-action films in the works, the PINK PANTHER has been immortalized by pop artist Shag: http://www.pinkpanther.com/ 

It may just be coincidence, but Shag has also been involved with the 40th anniversary of another animated institution, the ENCHANTED TIKI ROOM at DisneyLand! Check his site here: http://www.shag.com/tikiroom.html

The Animation World Network announced those who have contributed to the Walt Disney Studios' past that would be honoured as Disney Legends in this year's ceremony. Richard Fleischer, Buddy Hackett and Ilene Woods are among them: http://news.awn.com/index.php3?ltype=top&newsitem_no=9411

A TRANSFORMATION TALE, a new Art Of Brother Bear book from Disney Editions on the making of their new animated film, is reviewed at The Laughing Place: http://www.laughingplace.com/News-ID210210.asp

More books: a forthcoming tome on animator Ray Harryhausen is out in November. http://www.dvdfile.com/news/special_report/ten_questions/harryhausen_ray/index.html - DVD File asks him Ten Questions.

Animated cell-phones? It's happening according to the Walt Disney Internet Group:
http://home.businesswire.com/portal/site/home/?epi_menuItemID=989a6827590d7dda9cdf6023a0908a0c&epi_menuID=c791260db682611740b28e347a808a0c&epi_baseMenuID=384979e8cc48c441ef0130f5c6908a0c&newsId=20031022005227&ndmViewId=news_view&newsLang=en&div=1865077808



----TELEVISION / THEMED / STAGE----

http://forums.toonzone.net/showthread.php?t=91899 - Toon Zone got an early look at the first episodes of Cartoon Network's new STAR WARS: CLONE WARS micro-series. TheForce.net has a full trailer: http://www.theforce.net/episode2/index.shtml#22326 

What happens when Paramount's NICKELODEAN and the HOLIDAY INN collide? The kids toon channel and hotel chain will develop the first "Nick-themed hotel" for 2005, according to www.animationblast.com, while more on that story can be found on the Official Nickelodeon Family Suites Page: http://www.nickhotel.com/

The Sherman Brothers have been confirmed as NOT contributing to the new MARY POPPINS musical, which is in production for an opening in London's West End next year. Variety has more:
http://www.variety.com/index.asp?layout=upsell_article&articleID=VR1117894180&cs=1

Disney's LEGENDS OF THE RING OF FIRE website reveals looks at the series made up of 6 animated shorts based on Asian legends and myths: http://www.disneychannel-asia.com/DisneyChannel/showinfo/programmes/ring_fire.html

Animation magazine picks up on Variety's story about a new animated show in development based on "theater-of-the-mind"-styled radio host Phil Hendrie: http://www.animationmagazine.net/article.php?article_id=1677 

Disney Channel's hit show KIM POSSIBLE is headed for a movie-length outing, A STITCH IN TIME. The made-for-TV feature will air on the channel in November. Toon Zone has the details:
http://forums.toonzone.net/showthread.php?threadid=89684



----WRAP UP----

Well, that's about it for our first week on the job. Don't forget to visit us online at www.animated-news.com and contribute through our forums: http://animation.skyblueproductions.net/

Have a great week,
The Animated-News Team.


----------------------------------------------------------

Disclaimer: The news shared in this email contains material and links to other non-associated websites. Animated-News.com is not responsible for any consequences arising from the participating and use of these sites, and cannot be held liable for any content that may prove to be untrue, or stories that may later have elements within them changed by the creators of the reported projects. Original content ©2003 Animated-News.com.