Paramount and others (1934-1970), Arnold Leibovit Entertainment/Puppetoon Productions (September 1, 2023), 1 Discs, 282 mins, 1.37:1 ratio, DTS-HD Master Audio 2.0 Mono, Not Rated, Retail: $60
Storyboard:
The third volume of George Pal's uniquely amazing stop motion shorts features over 20 Puppetoon delights, plus several European cel animated films.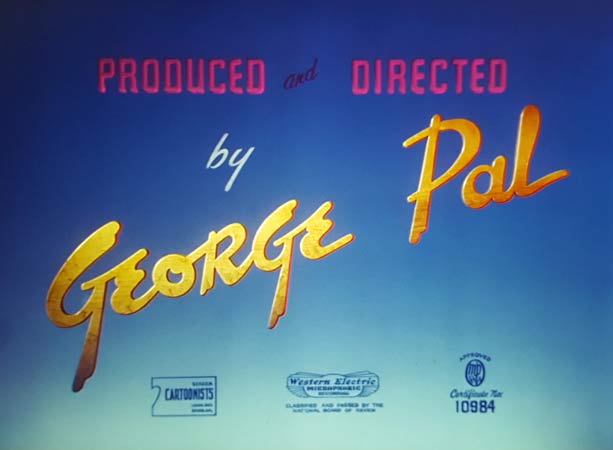 The Sweatbox Review:
Ten years after the much-welcomed Blu-ray release of The Puppetoon Movie, and three years after the release of the similarly positively reviewed The Puppetoon Movie Volume 2 disc, producer Arnold Leibovit is back to present another collection of George Pal's wonderful stop motion puppet films. Leibovit has worked with Paramount Studios and various archives in the USA and Europe to gather another twenty-one Puppetoons, plus seven hand-drawn animated works. Pal, of course, was the fantasy film maestro who was later responsible for bringing such classic films as The War Of The Worlds and The Time Machine to the silver screen, but he got his start producing both hand-drawn and puppet animation. His Puppetoons, released in the USA through Paramount Studios in the 1940s, are among cinema's most unique and well-loved treasures. We live in a privileged time, when so many of these shorts have now been restored in high definition and are available on Blu-ray.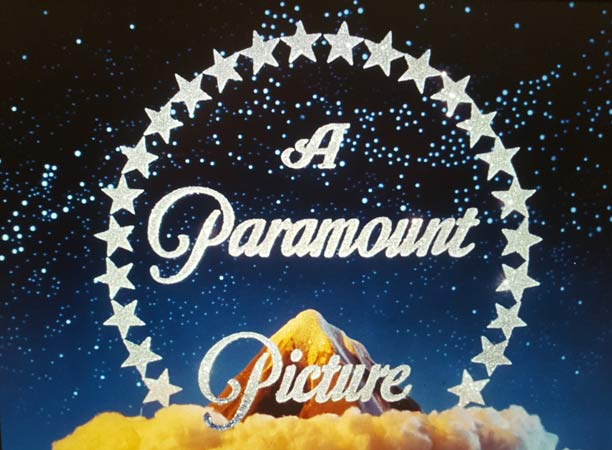 The Puppetoon Movie Volume 3 is not a true movie per se, but rather a collection of shorts, complete with opening and closing titles/credits. This is important to note, since the titles for these films are wonderfully crafted themselves. The disc's main menu invites the viewer to select from three lists of random films, labelled Puppetoon Films A, B, and C. Each set runs over an hour, and has a selection of Puppetoon films from the USA and earlier ones from Europe, as well as some Pal-produced hand-drawn shorts. There is not much rhyme or reason behind the groupings, particularly given that not all the films are even Puppetoons; but it does offer a pleasingly diverse viewing experience. Personally, I would have stuck with just the Puppetoons in chronological order, and kept the hand-drawn ones to the bonus features; but as each film is individually selectable, the viewer can watch them in whatever order he or she wishes. Each of the three shorts listings also has a Play All function.
A few of the shorts will be recognized from the first Puppetoon Movie Blu-ray's bonus features. In fact, Together In The Weather was part of the original Puppetoon Movie proper, but now it is fully restored and has its titles/credits. All of the other films that were in High Definition in the bonus section of the first Blu-ray are also now further restored to a higher standard, including the two Dr. Seuss shorts (The 500 Hats Of Bartholomew Cubbins and And To That That I Saw It On Mulberry Street), The Sky Princess, Rhapsody In Wood, Date With Duke, Jasper And The Beanstalk, and Rhythm In The Ranks.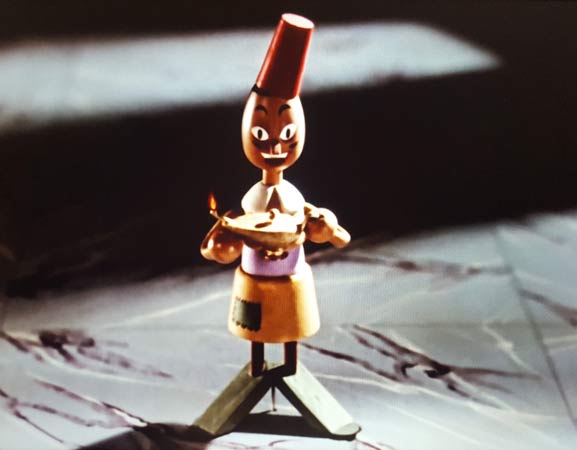 Incidentally, of the twelve additional cartoons that appeared in only standard definition on The Puppetoon Movie Blu-ray (as well as the previous DVD), only Aladdin And The Magic Lamp gets an HD upgrade for Volume 3. (Note that The Ship Of The Ether was on Volume 2.) And in case you're wondering if all the Puppetoons are now on disc, the answer is "no". A few of the European shorts understandably remain no-shows, and Jasper has a few of his shorts unfortunately missing as well, partially due to potential controversy. Pal, a European, was not entirely familiar with American "negro" stereotypes, but some of the Jasper films nonetheless harken to what may be considered racist imagery and notions. For this reason, we'll likely never see Jasper And The Watermelons and its like on Blu-ray.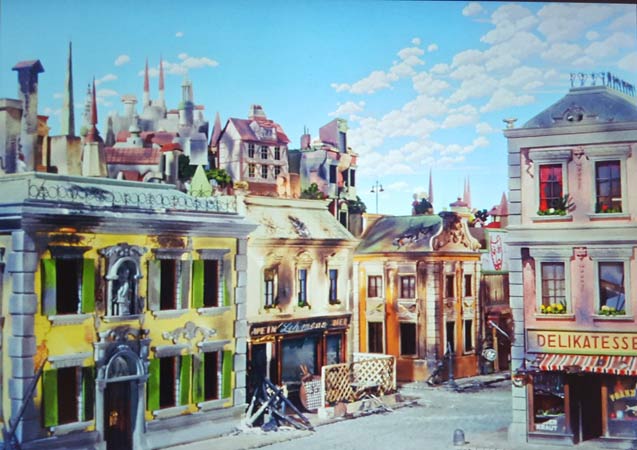 Details about the Puppetoons and their creator have been mentioned in previous reviews. Suffice to say that these films are absolutely precious, utilizing hundreds of puppet figures to simulate dancing and running, and even squashing and stretching. Special effects, careful lighting, terrific music, and technical wizardry combine to make these films breathtakingly special.
Puppetoons A
The first cartoon listed is Western Daze (1940), which was – appropriately enough – the first to be released by Paramount. American audiences get introduced to Jim Dandy, a happy-go-lucky fellow who falls in love with a rancher's daughter but gets framed by horse thieves. Another filmmaking legend, Ray Harryhausen, worked on this short, and voice legend Mel Blanc also pitches in.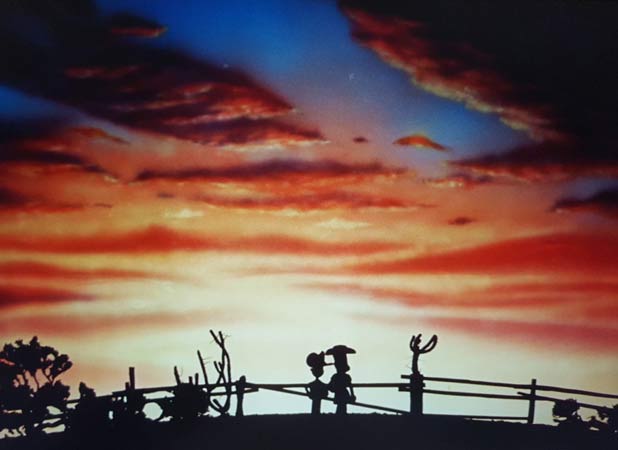 The Old Woman Who Lived In A Shoe (1940) is a hand-drawn short that got released that same year in Europe, serving as an advertisement for Rinso soap powder. It may be an ad, but it's a charming cartoon in its own right. Here, that poor old woman is threatened with eviction when she doesn't agree to marry her froggy landlord.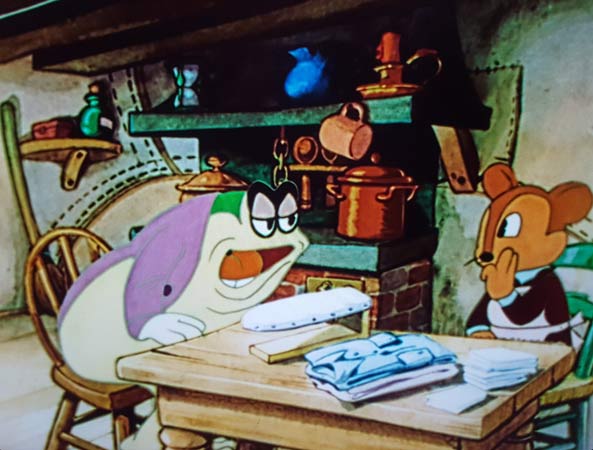 The Ballet Of Red Radio Valves (1938) is another hand-drawn short, this time advertising for Philips.
The spirit of the Austrian people brings to life a statue of Johann Strauss, as he uses his musical skills to lead the invading Screwball Army into the river, in Bravo Mr. Strauss (1943).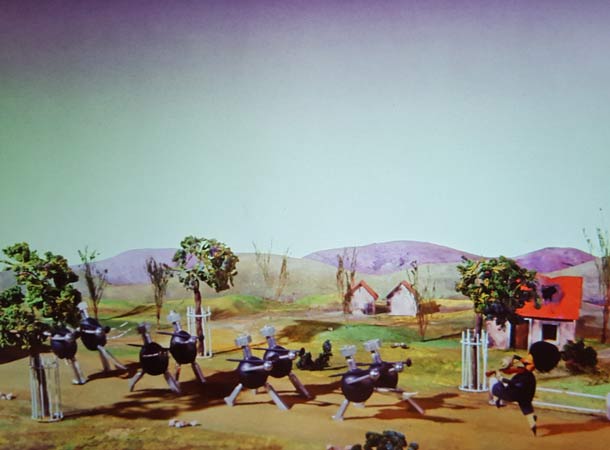 Hotlip Jasper (1945) sees the Puppetoons regular find himself a trumpet, only to be fancifully brought to Hollywood to star in his own Paramount film, directed by his acquaintance The Scarecrow. Trumpet master Raphael Mendez provides the solo for Flight Of The Bumblebee.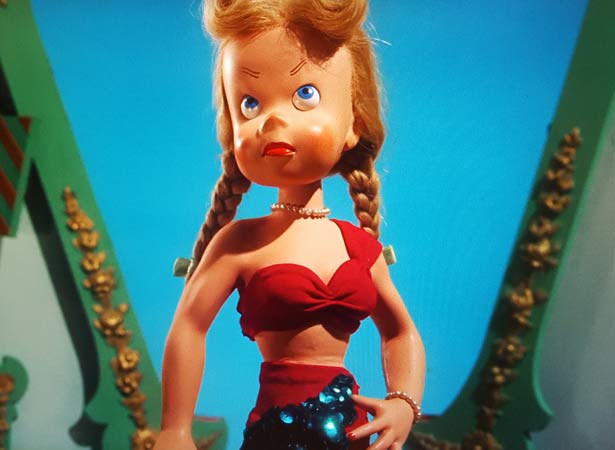 Though Together In The Weather (1946) was also part of the first Puppetoon Movie, its new restoration is quite welcome here. While as folksy and charming as a Puppetoon ever was, it is also a surprisingly racy effort, portraying a perturbed Judy's efforts to seduce clueless Punchy into becoming her beloved. Punchy's reactions are reminiscent of the Wolf's in Tex Avery's "Wolf and Red" cartoons.
A Fairy Tale About A Melancholic King (1934) is a four-minute Gasparcolor short which was made in France. The story serves as a commercial for margarine.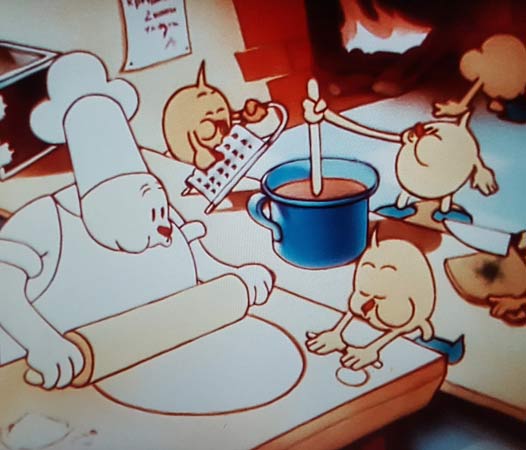 Jasper's Music Lesson (1943) is transformed into a lively boogie woogie show-stopper.
Seven Puppetoons were nominated for Oscars, and the first was Rhythm In The Ranks (1941), which sees toy soldier Jan disciplined for dereliction of duty after being distracted by an lovely ice skater, before redeeming himself fighting the Screwball Army.
The next Oscar nominated Puppetoon was also the stronger of the two Dr. Suess shorts, the quite delightful The 500 Hats Of Bartholomew Cubbins (1943). Poor Bart can't doff his hat to the king, because another keeps appearing in its place. The king is initially unimpressed by the apparent disrespect, but eventually a satisfactory resolution is reached.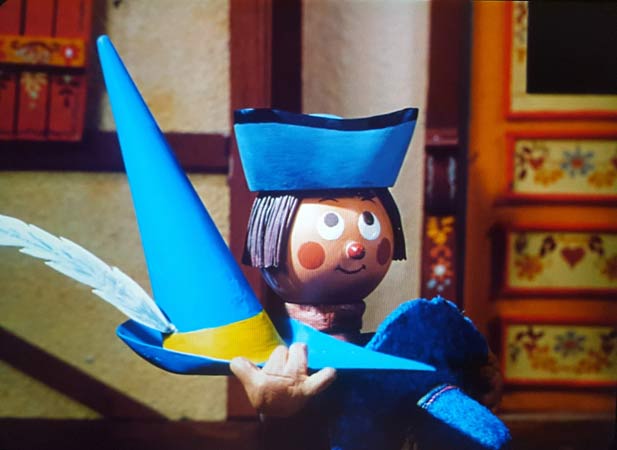 Puppetoons B
The Truck That Flew (1943) may be the weakest cartoon on the set, but it has its moments. This short, based on a book, introduces the dreamer kid Rusty, who has a love of vehicles. Rusty would return in better cartoons over the next couple of years, as seen on the Puppetoon Movie Volume 2 disc.
The Queen Was In The Parlour (1939) is another cel animated ad for Rinso.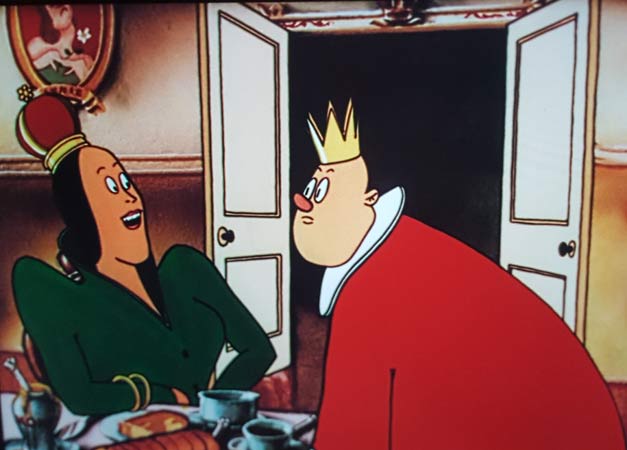 Charlie's World Cruise (1936), also hand-drawn, is a Philips radio ad.
Duke Ellington performs his Perfume Suite in Date With Duke (1947).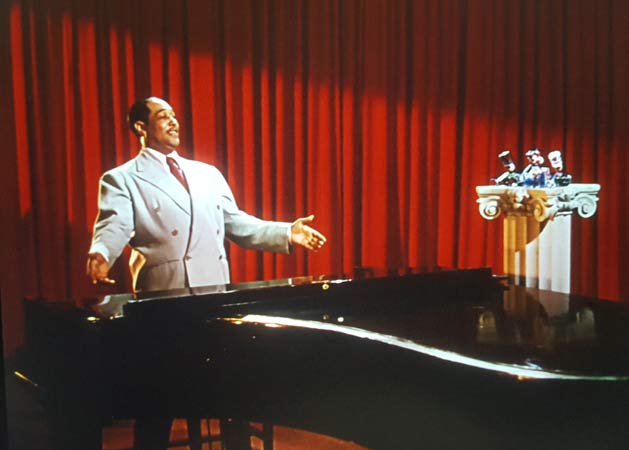 The previous set had some wonderful shorts promoting Horlick's malted milk drink. By now, you should know not to discount the shorts that are ads, as they can be just as innovative and entertaining as the others. On Parade (1936) is the first of the Horlick's ads, showing how fatigued soldiers can benefit from the famed drink.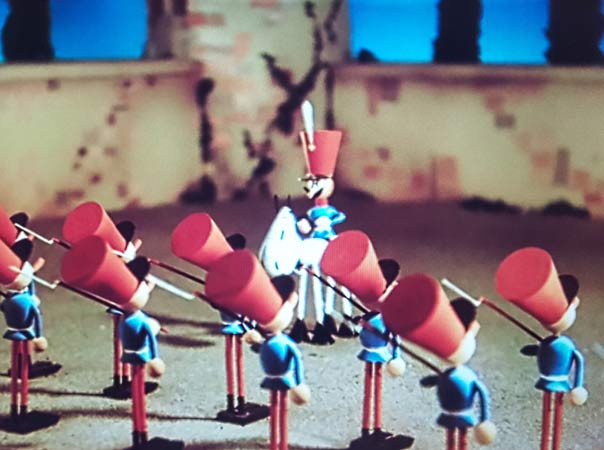 The Tool Box (1970) was commissioned by ABC television, two decades after Pal had made his last Puppetoon. It aired on Curiosity Shop, a children's show intended to compete with PBS's Sesame Street, though it was short-lived. Chuck Jones served as producer for its 17 episodes.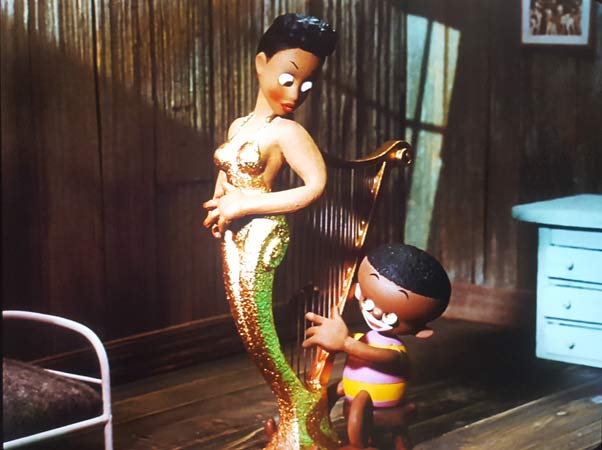 Jasper And The Beanstalk (1945) naturally derives from the famous fairy tale, and it follows the regular story beats; but here, voice artist Peggy Lee is transformed into the sexiest harp ever captured on film. This one was also nominated for an Academy Award.
Friend In Need (1940) is a three minute hand-drawn short used to help raise money for needy children, commissioned by the Dutch Cinema Association.
My Man Jasper (1945) sees Scarecrow and BlackBird being held accountable for their years of scamming Jasper.
Puppetoons C
The Sky Princess (1941), as mentioned, was another short that was in HD on the first Puppetoon Movie Blu-ray, but I was very happy to find out it was undergoing a fuller restoration, since I find it one of the most beautiful of the Puppetoons, replete with crystalline imagery, a castle in the clouds, and other fairy tale wonder, set to the music of Tchaikovsky's The Sleeping Beauty Ballet.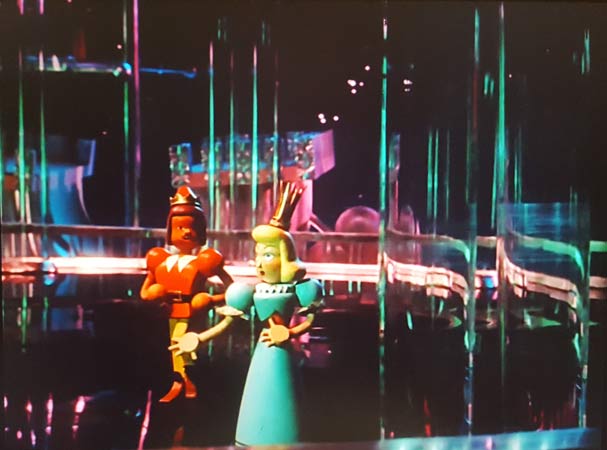 The Good Bear And The Bad Bear (1940) is another fun hand-drawn Rinso ad.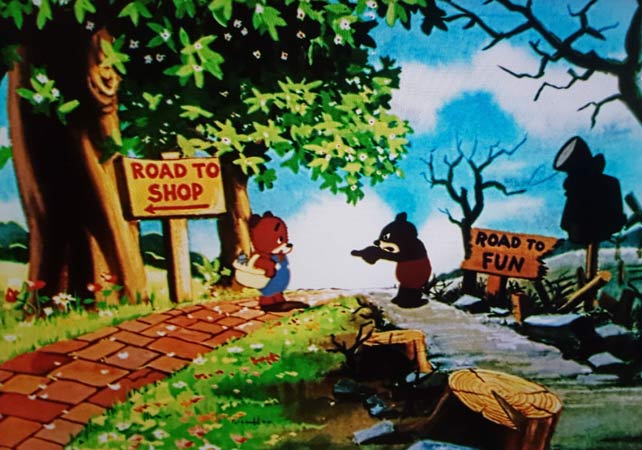 Jasper's Boobytraps (1945) returns to the battle of wits between Jasper and Scarecrow.
Rhapsody In Wood (1947) tells the origin of famed musician Woody Herman's clarinet, as told by Woody Herman!
World's Greatest Show (1935) is an extremely rare hand-drawn Philips advertisement.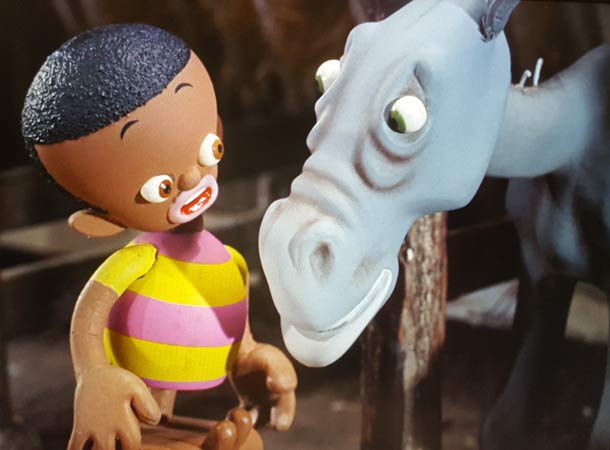 Jasper's Derby (1946) sees Jasper encouraging a race horse to win the Kentucky Derby, using his violin.
Aladdin And The Magic Lamp (1939) is a Puppetoon ad for Philips, utilizing the famed tale of a boy and the wishes he can make with his lamp.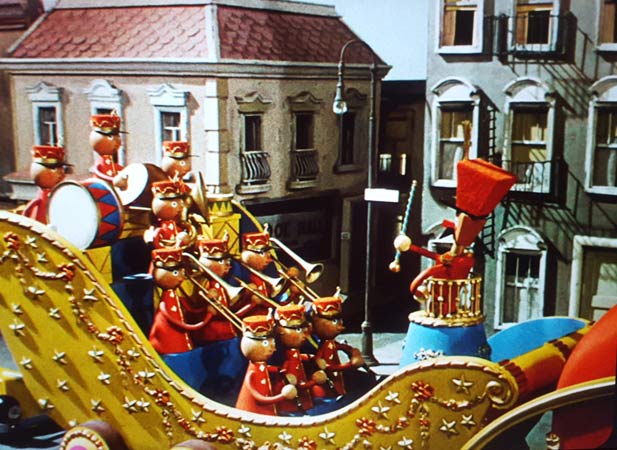 And To Think That I Saw It On Mulberry Street (1944), is of course the other Dr. Seuss Puppetoon, and this one was also nominated for an Oscar. While not quite as fun as The 500 Hats Of Bartholomew Cubbins, it is nevertheless full of the whimsy of Seuss, exploring a lad's ever-more hyperbolic and fanciful description of what he saw on his way home.
Jasper is left behind by Scarecrow, who is attending a jitterbug dance competition in Shoe Shine Jasper (1947). Not to worry, though, as Jasper is granted magic shoes that propel the story into another wonderful musical fantasia.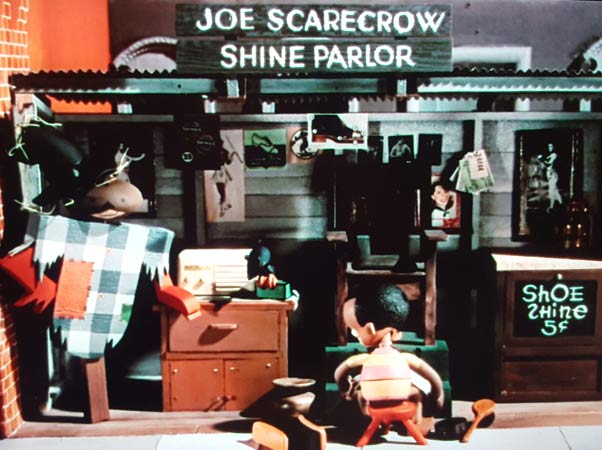 Is This Thing Loaded?
Sweet Pacific (1947) (1:05) is a Puppetoon ad for Mounds candy bars.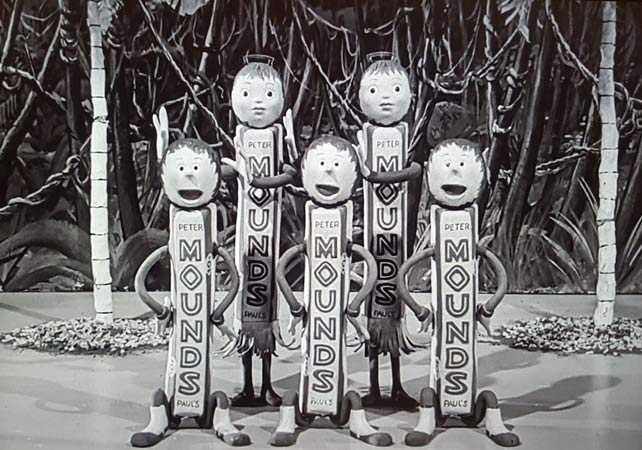 In a Previously Unreleased George Pal Interview (1970) (16:07), Pal discusses his life and inspirations, and looks back on his career. The video is quite good, though its audio has a slight echo to it. It's great to hear from Pal in his own words, but the most interesting aspect is the film projects he speaks about planning to make, which never materialized, such as a Pal version of Logan's Run. Logan's Run was eventually realized by others in 1976 (the year after Pal closed out his career with the disappointing – but still pretty fun if you are in a campy mood – Doc Savage, Man Of Bronze).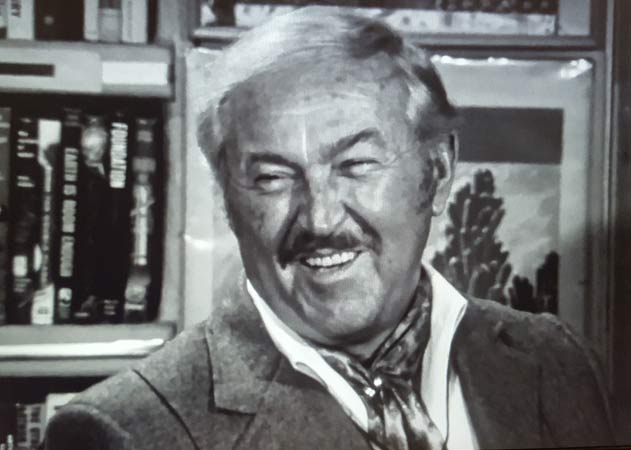 The Fantasy Film Worlds Of George Pal (1985) Expanded Interviews (49:07) include those with Ray Harryhausen (over 13 minutes), Ray Bradbury, Gene Roddenberry, Roy E. Disney (eight minutes), Joe Dante, Russ Tamblyn, Wah Chang, and Duke Goldstone.
Another extended interview gets its own listing, as a former Puppetoon head animator and puppet builder discusses the techniques for making of the films in Bob Baker Talks Puppetoons (15:39). Baker was an accomplished puppeteer, who enjoyed a large career in entertainment after working for George Pal.
In the interest of full disclosure, I'll note that my name appears in the booklet, as well as the Special Thanks section of the Full Production and Donor Credits (8:16).
Case Study:
The front cover once again features an image of Judy, for the third consecutive volume. While I can appreciate a sense of uniformity, it would have been a nice idea to showcase other Puppetoon characters to better suggest the diversity of the films. Jasper was really the biggest Puppetoon star, but I suppose one can understand being shy about promoting the release using a character who is a racialized caricature, though Jasper is arguably not terribly offensive (I realize and respect that opinions will certainly vary in that regard). The Blu-ray case follows the lead of the menus, oddly listing all films as "Puppetoons", even the hand-drawn ones. A glance near the bottom of the back cover shows numerous logos, showing how many entities were involved in bringing the films to disc, including Paramount, the British Film institute, ASIFA, the UCLA Film & Television Archive, and others.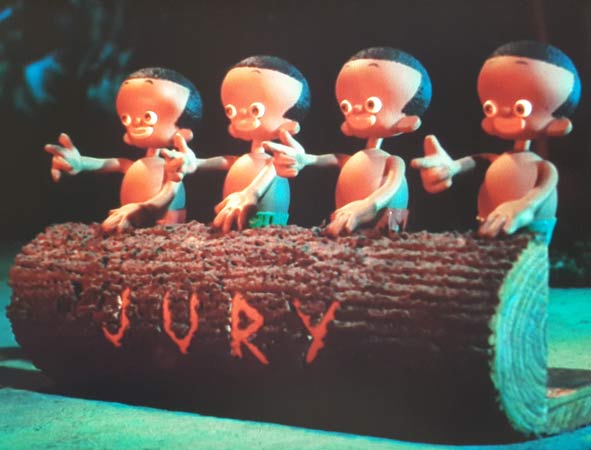 Notably, the case also holds an attractive 20-page booklet with extensive liner notes about the films and their restoration sources, accompanied by many images.
Ink And Paint:
The source for these films were all either 35mm Technicolor Successive Exposure Negatives, or Imbibition Nitrate Prints. The result is another stunning presentation, full of color and wonder. The Paramount films undoubtedly look the best, offering crisp, vivid imagery, making most of the shorts look brand new – and if a few of the films look less good, it's only by a half-notch. Seriously, the Puppetoons look almost unbelievably good. The amount of care that went into transferring and restoring these films is admirable.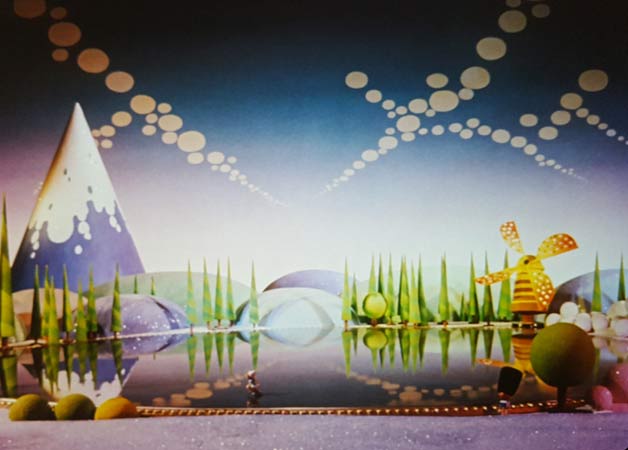 The European films look quite good as well, but generally cannot match the sharpness of the Hollywood shorts. Gasparcolor in particular will simply not look as great as the Technicolor elements seen on the Hollywood films (notably in the color department), but the same care has been taken in making them look as good as they possibly can.
All of the films look clean, being remarkably devoid of dust or other artefacts. Placing these films on a dual-layer disc has certainly allowed them proper room, and the mastering has them looking totally authentic to the film sources.
Scratch Tracks:
The mono tracks sound generally quite nice. The European films sound just a little more tinny or echo-ey in spots, but their rareness makes it hard to quibble. Meanwhile, the Paramount films sound immaculate, giving a proper presentation for these musical masterpieces.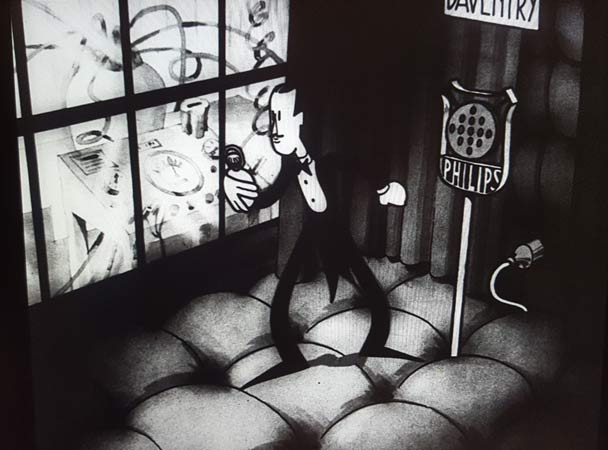 There are no other language options. Subtitles are offered from the menu, but those are only available for three of the short subjects, though I am not sure which ones.
Final Cut:
I enjoyed this selection of Puppetoons and other shorts immensely. Watching these films makes one remember what one loved about animation in the first place. The skill, creativity, and sense of artistry is inspiring, and they are just plain fun to see. The list price may seem high to some, compared to big studio releases, but there are a whopping twenty-eight short subjects on this dual-layered disc. This was an independent production that relied somewhat on donors to make it happen, and one must keep in mind that proper restorations do not come cheap. The discs that have resulted from these projects are the main source of revenue for these restorations, and as such I'm happy to pay a bit of a premium. After all, one won't find them on Netflix next week; they are only available on Blu-ray.
Placed next to the previous two volumes of Puppetoons, disc producer Leibovit has now provided fans with a trifecta of awesomeness. Animation fans should welcome this third collection, which is a gift to classic cartoon lovers, and to admirers of George Pal. He couldn't have asked for a better tribute.
Order The Puppetoon Movie
Volume 3 from Puppetoon.net!
Animated Classic or Back To The Drawing Board?