Universal/Illumination Studios (December 21 2016), Universal Home Entertainment (March 21 2017), Blu-ray plus DVD and Digital HD, 108 mins plus supplements, 1080p high-definition widescreen 1.85:1, Dolby TrueHD 7.1 Audio, Rated PG, Retail: $34.98
Storyboard:
In a world filled with animals, a showman koala quickly comes up with the idea of staging a song contest in order to keep his struggling theater in business.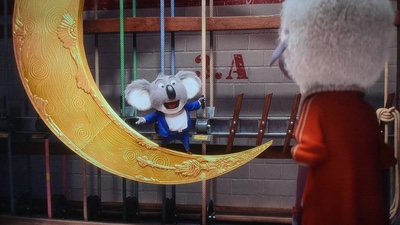 The Sweatbox Review:
2016 may well have belonged to Disney, but each of the other major animation studios all put up a fair fight, especially in the last quarter of the year, when new movies debuted every few weeks. In fact, between Universal's two Illumination feature releases – the only studio other than Disney to issue two animated pictures during the year – we were treated to a new animated film from the major commercial studios each month, from Illumination's own The Secret Life Of Pets in June, Fox's fifth (and hopefully final) Ice Age sequel, Blue Sky's Collision Course, in July, followed by August's much more critically acclaimed Kubo And The Two Strings from Laika (technically Universal's third animated picture after its Illumination films), and September's Storks, which saw Warner Bros. return to its comedy cartoon roots and break free from its recent Lego confines (even if the visual production was actually provided by Sony Animation).
Despite being hilarious, Storks seemed to get a little lost in the fray, and I didn't catch it until it hit disc later in the year, a fate which also befell DreamWorks' October release of Trolls, which I initially avoided because it frankly looked awful! However, both films proved to be hits of varying sizes, with Trolls already scoring a sequel from DreamWorks' new owners (yep, Universal again) and each were more solidly entertaining than they may have first looked. Disney owned November with their juggernaut Moana, before Illumination returned to take on another Mouse House behemoth, Rogue One: A Star Wars Story, opening its "American Idol with animals" film, Sing, just a week after Rogue's December release (is it me, or should that title have an exclamation point to really make it "Sing!"?).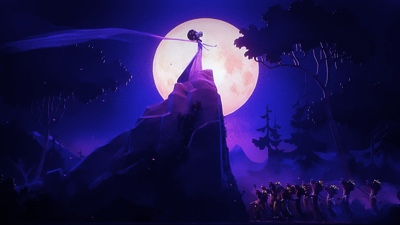 It was a brave move, arguably going after much of the same overlap audience, but while Sing may have initially gotten lost in the shuffle, Universal's banking on the Star Wars fans to get their fill early meant they could sit back and watch their singing animals turn into a hit with long legs, as the trades used to have it, taking full advantage of a long-trailed advertising campaign that targeted families looking for feelgood holiday entertainment at Christmastime. Not that the resulting movie is especially festive, although it's an undeniably feelgood experience. An often overused trait applied to too many animated films recently is to remind of those big song and dance endings that used to wind up every other DreamWorks animated comedy and suggest that the likes of Trolls or Sing were like those moments…but stretched throughout the entire movie, and both films certainly looked like they played this way from their respective trailers.
Sing, especially, looked like a cartoon karaoke session, and a potentially interminable experience for some as a result, the only glimmer of hope being, for me, that it was written and directed by Garth Jennings, previously one half of the Hammer & Tongs music promo company and the director of the hugely underrated big-screen adaptation of The Hitchhiker's Guide To The Galaxy. He followed this up with the charmingly lo-fi Britcom Son Of Rambow, after which a Hitchhiker sequel fizzled out before it got in front of the cameras and Jennings seemed to fade from the filmmaking landscape. Bucking the trend for an increasing number of animation movie directors switching to live-action production, Jennings has always been a highly visual director, wringing top value out of the relatively low budget Hitchhiker's Guide to deliver a film that looked each and every inch a blockbuster, and so even though Sing's previews didn't promise much more than animated animals singing a selection of today's pop hits, I suspected there had to be more to it than just that.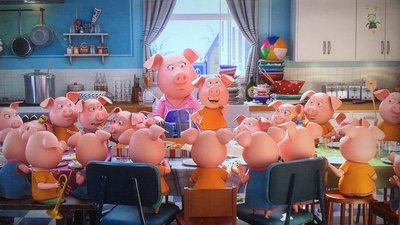 Thankfully, Sing delivers. Sure, the cartoon karaoke aspect takes up a huge chunk of the movie's longer than expected, near two hour runtime, but right from the start (with a sly poke at the Disney logo, or at least that's how it came over to me) and its Beatles' song opener (actually Universal's second use of the band's catalog after Kubo), it's clear that Sing means business. This may be a modern jukebox musical…but what a jukebox – a continually revolving mix of massive commercial hit songs and original tunes, both sourced from the original recordings and largely performed by the vocal cast assembled here, including a veritable who's who of current A-listers and character voices where, for once, the celebrity voices don't overpower the animated characters.
Indeed, it took me until a half hour in before I realised song contest organiser, a koala named Buster Moon, was voiced by Matthew McConaughey (following Kubo in his second animated Universal outing in the same year), since he really works to pull away from his usually laid back style to convey a continually "switched on" approach that's hyper but not annoying. The other voices all deliver nice subtleties, too, with the likes of Reece Witherspoon, Taron Egerton, Peter Serafinowicz and Jennings himself all performing with accents or nuances that do much more than just plop a celebrity in a role. Even the Family Guy himself, Seth McFarlane, isn't instantly recognisable, save for some intonation giveaways once we've heard him for longer during the movie, and most naturalistic is Scarlett Johansson, proving again what a strong vocal actress she can be after Her and The Jungle Book. There are a few other neat surprises in the cast list, and a quick in-joke for John C Reilly, referencing his other animated role of Wreck-It Ralph, adding to perhaps the best ensemble in an animated film for quite a while.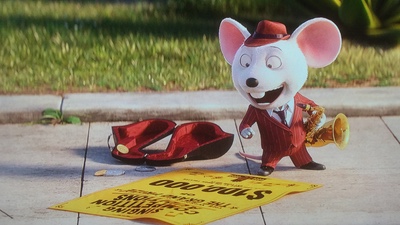 Set in a post-Zootopia world where it seems animals on both sides of the eating divide have settled their differences, Sing's actual locations may not come across quite as well realised conceptually as that earlier film – it's essentially our world but filled with animals – but that doesn't mean it still doesn't pop via terrifically detailed rendering, and Jennngs has fun moving his animated camera around with a confidence and skill that holds shots when they need to be held and doesn't fall into the trap of too many whip-pans instead of straight picture cuts as so many less experienced CG directors and cheaper productions often do. In fact, the zippy, economic storytelling reminded me of what an animated Michael Bay movie might be like, with multiple plot strands and several main characters all introduced within the first ten minutes in a brash but not obnoxious style that feels fun and keeps fresh.
As the film progresses, we learn more about the selected few that have made it through to a struggling local theater's big hope, a song contest, in a series of intertwined plot threads that are as expertly handled and intercut as a Scorsese epic by way of terrific editing that I'm surprised didn't help the film get more recognition during awards season, even in an admittedly very strong year. Remarkably, Jennings manages to keep the pace up, but not so breathlessly so as to wear out the audience. In fact, it was only when Sing slows down for a moment that I noticed we were already at the halfway mark. It's here that a minor subplot kicks in, featuring Jennifer Saunders' venerable but faded superstar (with the singing voice of Jennifer Hudson, pulled off better than you'd expect), which may feel a little unneeded, but no doubt giving the film a revitalised lift just when things might have become a tad too episodic and repetitive.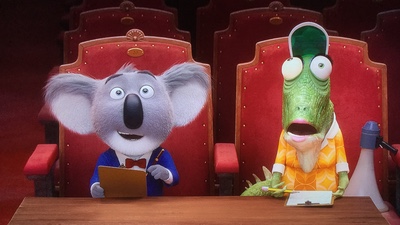 It's true that Sing doesn't always escape those kind of pitfalls entirely, and perhaps just begins to start to run out of steam two thirds through, but it stages a deft comeback in the last quarter, when the actual contest kicks into high gear, via Taylor Swift's still-infectious Shake It Off, and the high energy returns with its "we can put on a show right here!" spirit, leading to an unexpectedly touching – but still funny – ending in which everyone finds what they need and everyone's a winner, before the inevitable all-singing finale. It's remarkable that the 65+ songs in Sing, including that old Idol/X-Factor standby, Hallelujah, took up a reported 15 percent of the budget and yet the film – lengthier than most Illumination features by almost a half hour – doesn't look like it has had to skimp in other areas to keep to the studio's strict $75 million price tags.
When the jukebox isn't playing, Jennings' regular composer, Hitchhiker's Joby Talbot, provides a by turns delicate and bombastic score that hits all the right notes and fills in all the gaps with a variety of styles and orchestrations that pulls off the impossible and ties the entire soundtrack together. After such recent pop-tinged animated films as the enjoyable Gnomeo & Juliet and the downright strange Strange Magic, Sing comes along to mix its action, characters, story and songs the way it should really be done, like an animated Moulin Rouge tailor-made for today's music and fame obsessed teenagers with attention spans of less than thirty seconds. Older viewers may also be reminded of the now unfortunately forgotten Animalympics, with music taking place of sport, and will also appreciate some absolutely beautifully nuanced character animation.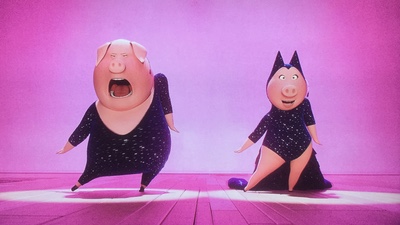 Sing turns out to truly be one of those movies with "something for everyone", and its zippy pace means that if there's a song or moment that isn't right up one's alley, there's sure to be a quick cut to something else soon enough, with a fast and funny script that keeps things fresh, witty and inventive, even if it's not always original and sometimes predictable. However, it's easy to see how Sing sang at the box-office to the tune of around $600 million and is in line to become Illumination's next franchise, with a sequel now due in 2020 ("Sing Again"? "Sing…And Dance!"? Just spitballing!), hopefully with Jennings returning. Coming right at the tail end of a packed and very strong year, Sing is another example of how great and different animated features were in 2016.
Is This Thing Loaded?
After enjoying the main feature much more than I had been expecting to have done, an audio commentary with writer-director Jennings would have been most welcome, although Universal largely forgoes the animation collector in their Illumination releases and instead focuses on added value of a more generic but no less entertaining nature. So, as is now standard for the studio's animated properties on disc, Sing features three Mini-Movies of the short shorts variety, all running around four minutes and animated to the same high level of the movie. You'll guess what Gunter Babysits is all about from its title, while Love At First Sight has Miss Crawly attempting online dating, and Eddie's Life Coach features more Reilly. Throwing a bone to those that do like to know about such things, The Making Of The Mini-Movies is a six-minute peek behind the scenes, as informative as it is welcome.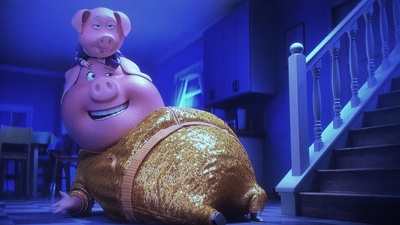 The Making Of Sing covers the basics of production on the movie itself and, although it seems woefully inadequate at less than five minutes and mostly promotional in nature, it still manages to straddle between something that both casual fans of the movie and those more interested in the nuts and bolts will enjoy, with Jennings and Illumination producer Chris Meledandri among those popping up to deliver their soundbite remarks. Finding The Rhythm: Editing Sing is more of the same, and again short at under three minutes, but no less welcome in shining a light on Gregory Perler's contributions; that Universal has chosen to highlight him specifically is an obvious sign that I wasn't the only one to notice his fantastic work on this film. A series of Character Profiles turns attention to the voice cast, for a twelve minute Play All selection that catches McConaughey, Witherspoon, Tori Kelly, Egerton, Nick Kroll and Jennings' brief takes on their characters, with actually a higher level of interest than one might expect in their individual approaches.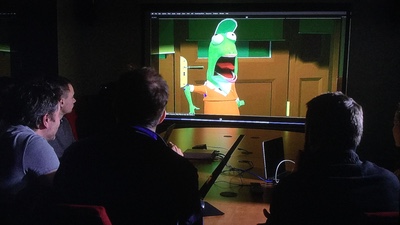 Being that Sing is a music-led movie, you'd be expecting some Music Videos to pop up somewhere, and here Universal provides two, for Kelly's cover of Stevie Wonder's Don't You Worry 'Bout A Thing (3:11) – also accompanied by a decent Making Of A Music Video clip (2:52) – and Wonder and Ariana Grande's new track Faith (2:46), both of which explore one of the film's central messages of hope. The current fad for Lyric Videos is fulfilled with a repeat for Faith (2:49) and another track, Johansson's Set It All Free (3:40), although it could have been cool to also offer instrumental options for wannabe popstars to sing along to. Sing & Dance! – Faith offers up a fluffy chance to learn some of the dance moves choreographed for the movie, in a strictly for kids six and a half minutes.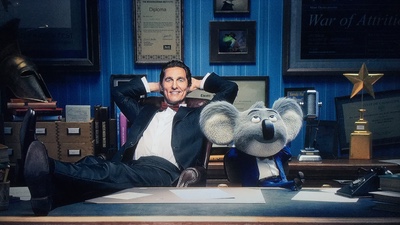 The Sing Network serves up a handful of further character moments by way of not-terribly inspired fake commercials, for Gunter's Dance Studio, The Moon Theater, Rosita's Babysitting Gizmo and Miss Crawly's Matchmaking Service. Getting shunted back to the main menu after each clip gets repetitive when surely a Play All choice would have put the commercial break idea over better, although that is optional for the final selection, In The News, of E!-style "true entertaining stories" for seven of the main characters, using clips from the film in a fun way that adds up to around 15 minutes of extra material. Finally, The Best Of Gunter throws the spotlight on the comedy pig for a minute, but I truly hope this isn't the start of a character breakout – he's a favorite because he's funny, but nothing more, and to start to feature him in a bigger role in a sequel, or heaven forbid his own movie, would be to stretch a good joke character too thin, as even the mighty Pixar failed to do creatively with Dory. Besides, I'd love to see more of the Ride Like The Wind-singing snail instead!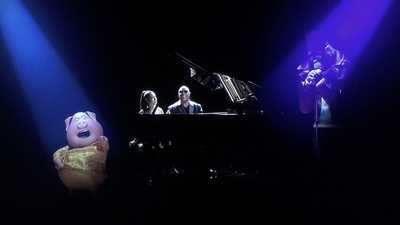 At the top of the disc, previews play for upcoming Universal and Illumination product, including this summer's Despicable Me 3, the Minion Mayhem attraction at Universal parks, a teaser for Mariah Carey's what-the-heck animated holiday title All I Want For Christmas Is You (which, perhaps understandably, declines to show any actual animation) and, in a rare slice of cross-distributor promotion, DreamWorks' Trolls (as released by Fox Home Entertainment), displaying Universal's flexing its muscles over their new acquisition. Although this isn't the most of immersive behind the scenes packages, Universal's disc offers up decent added material that accompanies the movie well and, although a commentary track would have been the most welcome extra, there's otherwise good enough value to be found here.
Case Study:
Available on every format from 4K to digital download, and all manner of 3D and DVD in between, it's Sing's regular Blu-ray edition under review here, coming in a nice slipcase that replicates its sleeve underneath with some embossed elements but doesn't extend to any flashy sparkle effects that could have pushed it into overkill. It does the job of giving the title an added touch in a fine way, with the standard BD case inside holding an added DVD and download code.
Ink And Paint:
Digitally rendered animated films are about the best source for any HD format, and Blu-ray is the purest way to see the least compressed version of those files. So it comes as no surprise that Sing follows the likes of Moana to disc with a spotless, demo reference quality transfer, especially in chapter thirteen's flooding and destruction of the theater. We didn't get the 3D edition in to review, but I expect Sing has fun with the format, although I can't imagine how the concurrently released 4K disc could expand on the clarity and detail exhibited here, from the spittle coming from one animal's mouth to the specs visible in the spots of light. Sing is a film more concerned with its soundtrack and characters than most, so there isn't a standout action scene, but it's filled with tiny, lovely little moments that add up to a striking visual presentation, including innumerable touches in the animation that truly belie its budget and make it look incredible.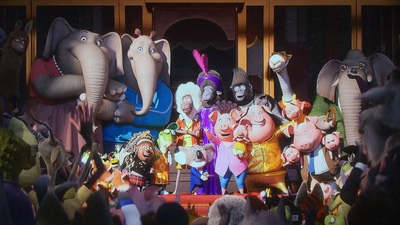 Scratch Tracks:
In a perhaps unsurprisingly aggressive mix, I still felt some of Sing's voices could have been better treated to sound more natural to their surroundings, with everything coming over as too pure and close mic'd, and voices not always authentically feeling as if the characters really are "outside" or, in one case, sounding too boxy. This is perhaps a personal observation and it's certainly not something that rings true all the time, especially within the confines of the theater itself, where there's a nice ambience. The sound mixers no doubt already had their hands full with juggling the sheer amount of musical juxtaposing required to meld everything together, so in many ways this is a remarkable soundtrack, full of hyper effects, almost continuous music and energetic voices, but never becoming tiring or tiresome, and although some of the music choices might not be my personal preference, they are nevertheless well placed both in the film and the mix itself.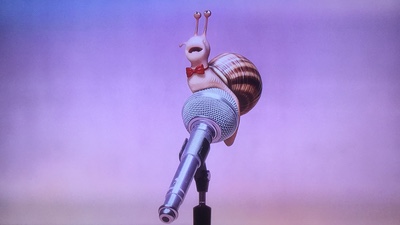 Final Cut:
Although Sing makes good on the promise (or the threat, depending on your point of view) of its ultra-commercial, song-filled promos, it's ultimately much more than the sum of its parts, and somewhat makes for an interesting, if lighter, companion piece to Disney's more more lauded Zootopia. It may not have that film's depth and nuance, but Sing can still hold its own, with a sincerity and positive spirit that beats the more routine similar aspects in the straight-out comedies of Storks and Trolls, and a flat-out killer soundtrack with one heck of a playlist.
With its larger, expertly handled cast and multiple story strands, Sing also feels more substantial and, now that the film's theater has been put on the map, I wonder if a sequel might take things to the next logical level and introduce an international singing contest that could have fun with an even greater expanded cast. After all, anything less would simply be a re-run, and I'm already fatigued by the amount of such shows on TV. Hopefully it'll do something new with the format, because Sing works, and works well, as quite a joyous slice of family entertainment.
Animated Classic or Back To The Drawing Board?