Following the events of Despicable Me 2, Gru is now working for the Anti-Villain League full-time with his new wife Lucy, but his career is brought to a halt by the arrival of Balthazar Bratt, a former child actor who's become obsessed with the character he used to play on a popular 80's TV series. Gru's failure to capture Bratt gets him fired, and things get even crazier for him when he discovers that he has an identical twin brother he never knew about before named Dru. Although he's initially jealous of Dru's wealth and apparent success (not to mention his hair), the brothers become fast friends when Gru learns that their father was secretly one of the greatest supervillains of recent history. Meanwhile, the Minions quit working for Gru because he won't return to villainy and eventually find themselves in prison. Meanwhile, Agnes becomes obsessed with finding a unicorn when a one-eyed man in a bar tells her they are real. Still meanwhile, Margot finds herself being stalked by a chubby boy who has become obsessed with her. In yet another meanwhile, Lucy worries that she's not bonding with her new daughters enough as a mother. And all of this happens as Gru talks Dru into helping him steal the world's most valuable diamond from Bratt, while not telling him that he's only doing so in order to get his job back.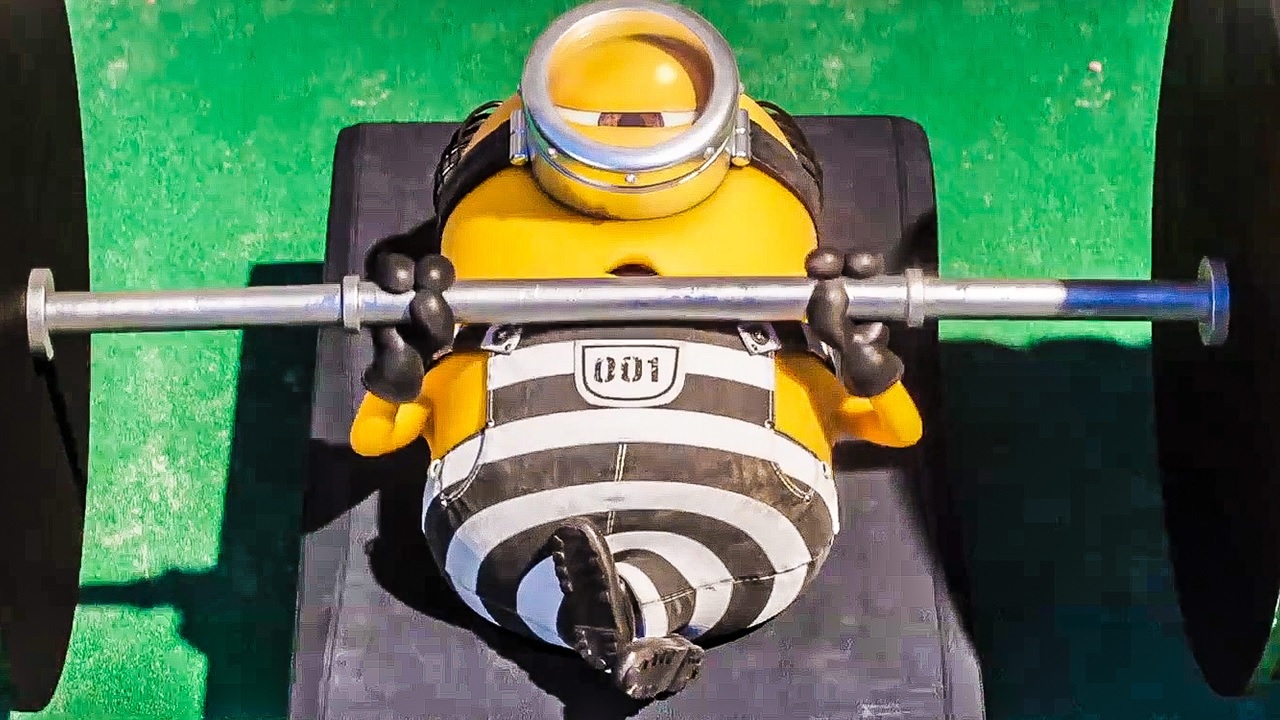 Despicable Me 3 is something of an odd duck to review. On the one hand, there's plenty of fun to be had with it. On the other, it's lacking that certain…something, even if it's hard to describe exactly what it's missing. As you can probably tell from the plot summary, the movie is certainly busy. In fact, there's so much going on that it's sometimes at risk of drowning in itself, with various subplots either not living up to their potential and/or not amounting to much of anything. It's almost like watching a competition in which everyone is so desperate for attention that no one ends up really winning. This is not to say that the movie is bad, because it isn't. But after Illumination charmed audiences with The Secret Life of Pets and dazzled them with the almost shockingly great Sing last year, it's hard not to see the film as a bit of a step down for them.
The movie does get off to a really strong start, with an absolutely hilarious opening sequence in which Bratt and Gru face off against each other (albeit one which was more or less given away in the film's teaser trailer), filled with 80s jokes and physical comedy. The scenes that follow are equally amusing, nicely setting up the story while throwing in sly nods to Star Wars as well as a truly twisted explanation as to why Gru believed his father died (Julie Andrews makes her brief appearance as Gru's horrible mother both demented and delightful). But somewhere along the way, when the film desperately tries to give Gru's daughters something to do, things start to become muddled. There's no reason a moment when Margot dances with a boy against her will couldn't have been left on the cutting room floor, and the plot involving Agnes's quest for a unicorn is resolved before it really has a chance to go anywhere. Most disappointing, though, is the much-marketed subplot centered around the Minions becoming jailbirds, a concept which has almost endless comedic potential but results in them escaping almost immediately (and way too easily).
---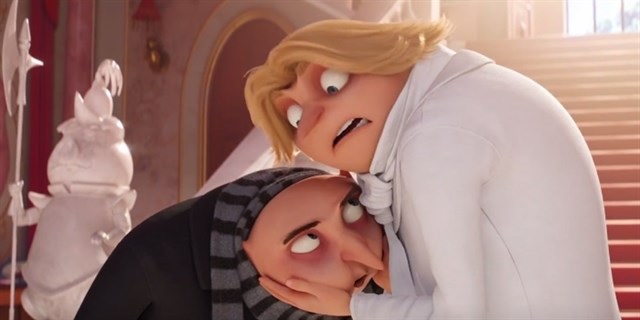 Which is not to say the sequel is without its pleasures. Sort of playing like a less tragic version of Baby Doll from Batman: The Animated Series, Bratt's a hoot, and the various flashbacks to his ultimately doomed acting career provide a very welcome camp factor. As voiced by Trey Parker (in what is probably the first family-friendly thing the South Park co-creator has ever done), the character is easily one of the film's highlights, even if he's not quite as funny–or as, for want of a better word, lovable–as Despicable Me 2's El Macho. Similarly, Dru is enjoyable as a wannabe villain who's so bad at crime that he thinks stealing lollipops from a candy store counts as a daring heist. It's just a shame that the movie lets itself become so distracted as it goes along, too often focusing on the plots which don't exactly work and not spending enough time on the ones that do.
As was the case with the previous movies in the franchise, the animation and the voice work are great. Steve Carrell gets to do double duty this time around, giving Dru an even more bizarre accent to his brother. Kristen Wiig, meanwhile, continues to be lively and energetic as Lucy, though Russell Brand's Dr. Nefario is sadly missing in this installment. Visually, it's probably the most elaborate Me to date, featuring colorful widescreen animation and explosive, PG-rated James Bond-style action.
At the end of the day, Despicable Me 3 is an "okay" sequel, but it's also comparable to going to a buffet in which you eat so many different things that you end leaving it feeling full yet not quite satisfied. The characters and cheeky brand of humor are charming enough to allow for a good time, and I imagine I'll be more forgiving on certain aspects whenever I give it another viewing. It's far from Despicable, but I do wish it were closer to being great.
(Note: Despicable Me 3 has no end credits stinger, but the crawl does include a fairly nice tribute to Spy Vs. Spy that makes it worth sitting through if you have time)
Animated Classic or Back To The Drawing Board?
Despicable Me 3
Universal Pictures, Illumination Entertainment
June 30th, 2017
90 minutes
Rated PG
Directed by Kyle Balda and Pierre Coffin