When The Jungle Book opens, it presents a sort of hand-drawn animated version of the current Walt Disney Pictures logo. While it does look rather odd, it can also be seen as a way to pay homage to the 1967 animated version of the story. One that, to this day, is a beloved entry in the Walt Disney Feature Animation library. But while this is essentially a live-action remake of that film, it's not necessarily the same film. This version of The Jungle Book not only manages to stand out independently from the animated film it is inspired by, but one can argue that the film is so good it could very well be considered the definitive version of the story.
---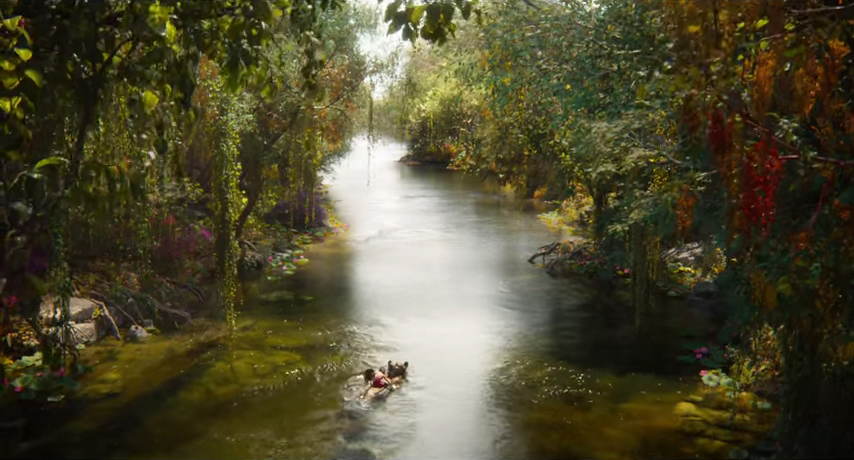 There are so many aspects to explore that make this a wonderful film. Director Jon Favreau and writer Justin Marks craft their story to really be about Mowgli and not just his jungle environment. They're clearly interested in understanding the man cub, what motivates him to want to stay in his adopted home despite knowing that it is as hostile as it is beautiful. The trials and tribulations Mowgli faces allow for an examination of his ability to not only adapt to his surroundings, but also to develop a greater appreciation for the nature of things and how it shapes him into becoming a better person.
Because this version really is about Mowgli, it was imperative that the actor playing the man cub is able to draw sympathy from the audience. Neel Sethi accomplishes this without having to resort to being cute or child-like. There's believability in his performance despite his essentially acting to nothing. There is this amazing sense that he's doing more than just interacting with the other characters and the environment. It truly feels like he's doing everything for real from his body language to the look in his own eyes. He's not trying to converse with Baloo, he really is talking to him.
Voicing the supporting animal cast is a dream ensemble who live up to expectations. It may take a moment to warm up to this Baloo at first since he starts off as a bit of a jerk, but Bill Murray provides the perfect charm to the bear who lives the good life however and whenever he can. I like how Idris Elba voices Shere Kahn. There's something scary, yet thrilling about the way he is meticulous with his words and actions that you know he's going to do something terrible and still jump when it happens. Ben Kingsley may sound gruff as Bagheera, but he is no less humbling as a stern teacher who has deep affection for the well-being of the man cub.
---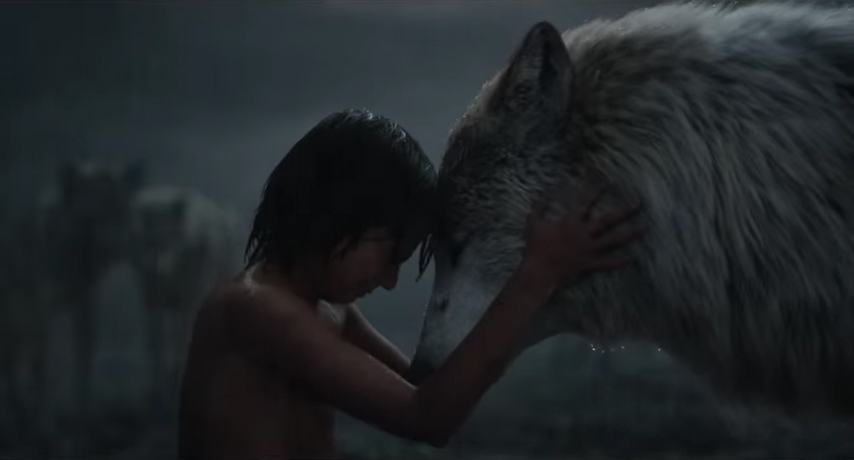 Lupita Nyong'o, I feel, is marvelous as adopted mother Raksha, displaying strength to maintain her emotions under any circumstances and still have unconditional love for Mowgli. Scarlett Johansson makes the seductive Kaa work so well that it feels natural for the character to be female. Giancarlo Esposito does just fine as Akela, caring for Mowgli while being the just leader of the wolf pack family. And then there's Christopher Walken as King Louie. The right bit of instability that is both amusing and disturbing, making you laugh one minute and then fearful the next. Keen ears will pick up the late Garry Shandling in his final role as Ikki the porcupine, Spider-Man director Sam Raimi as an Indian giant squirrel, and Favreau himself as a pygmy hog.
The music by John Debney is quite wonderful. He throws in touches from the animated film's score here and there, but manages to incorporate his own style that matches very well with the atmosphere and the environment. He has a good understanding of when to really play up the emotion of the scene to when to just be subtle enough to merely support what is happening on screen. This is quite evident through the final half of the film, enhancing the film's pacing so that the action moves along just enough that the audience is left feeling absorbed into what's going on.
I do agree that the usage of the songs during the film don't necessarily work as well as they might have. But then we're so used to and familiar with how they sounded in the original animated film that to hear them performed in a different manner would seem off-putting any way, even with Richard Sherman modifying the lyrics a bit to match this version of the story. You get the feeling Bill Murray and Neel Sethi sounded so laid back and carefree with their singing of "The Bare Necessities" that perhaps they were intentionally singing off key now and then. And while Christopher Walken succeeds in making "I Wan'na Be Like You" sound more menacing than fun, keeping the monkey sounds does limit the impact. Fortunately there's an enjoyable end credits version along with a nice, tantalizing cover of "Trust in Me" by Scarlett Johansson.
---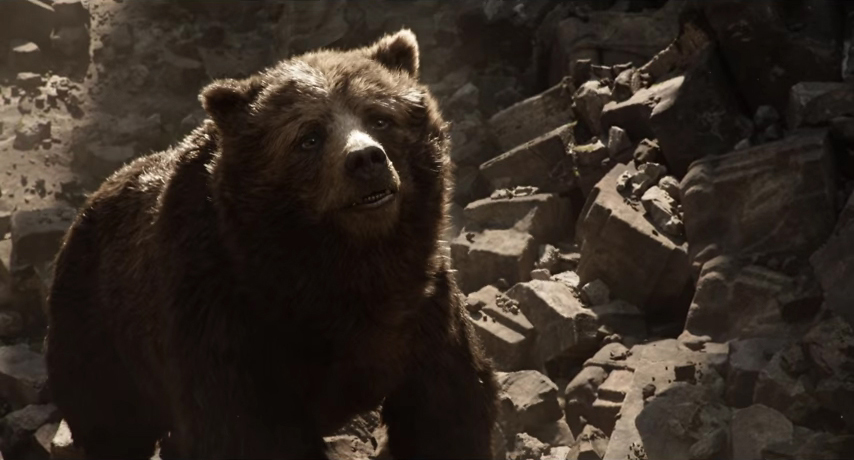 Now we come to what makes this version of The Jungle Book so spectacular. The visual effects are absolutely astonishing, so much so that it's unbelievable that very few, if anything outside of Neel Sethi is real. The foliage of each tree, each plant really, is remarkably detailed and realistic that its breathtaking. It follows the likes of Avatar and Life of Pi in blurring the line between what's real and what's computer generated to a point that it's really scary how far advanced technology has come since the days of the original 1967 animated film.
Even the character animation is amazing. Sure there are instances where their movement and behavior break from reality. And yet the characters are so full of life and personality that it is quite believable that they exist for real. I was able to spot in the end credits the usage of a couple well known studios that know a thing or two about bringing creatures to life: the Jim Henson Creature Shop, the Moving Picture Company, and Weta Workshop. All three, and many other visual effects houses, are to be applauded for their incredible work in making not only the animated world believable, but to also make audiences believe Sethi really is interacting with an environment and characters that aren't really there when he's performing on camera.
The Jungle Book is a film that has and will entertain audiences of all ages. Children will be thrilled by the captivating story and characters. Adults will be in awe of just how realistic the film looks and appreciate a wonderful story being told. Those familiar with the 1967 animated film will smile at instances when homages are made to it while allowing for this version to shine on its own. It's a magnificent movie that is full of life that it's hard to imagine any one not feeling good when they walk out of the theater.
Animated Classic or Back To The Drawing Board?
The Jungle Book
Walt Disney Pictures
April 15, 2016
105 minutes
Rated PG
Directed by Jon Favreau