You may have heard this story before: two friends become rivals as they compete for the affection of a girl. But in this telling, one will go to hell and back to make his play — literally!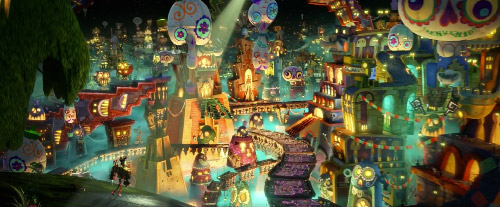 In the review for Reel FX's first feature, Free Birds, I noted that despite a bit of a cookie-cutter feel to everything the studio had shown they can do good work. And, man do they show it off this time! The Book of Life is absolutely gorgeous. The argument could be made that it's the most beautiful CG animated film ever made so far: bold and vibrant colors; fun and unique character designs; stunning sets and landscapes. It's obvious a lot of care and talent went into every scene. To be honest, it's almost a little distracting how amazing everything looks.
But as I've said many times in reviews, I'm a story guy. Get that right, and I can forgive a lot of other things. The Book of Life has an interesting-enough plot. It's a very funny film that will have both adults and kids laughing. And at the other end of the spectrum, despite a few too many cliches, there is a good heart at the center of the story. But overall it's all a bit weak. The whole thing revolves around a love triangle that almost skips over the love part. The men seem more concerned with beating each other than winning the girl's heart. The girl they're chasing acts strong and independent and claims she's not a prize to be won, but doesn't get to do much other than be fawned over. Then there's the storyline about the afterlife. While the point is to make it hard for the protagonist to reach his goal, it feels too episodic and contrived. The ending of the story is a little too convenient and forced. But the biggest overall issue is a lack of any real antagonist. Almost solely so the characters can have a big battle to end the movie, a bad guy is mustered, but he barely figures in the rest of the film and so the audience really doesn't care about his probable defeat. (Lastly, c'mon lazy animated film writers — can we lose the bodily function jokes already? Like here, they're almost always cheap throwaway jokes whose loss would probably improve the movie.)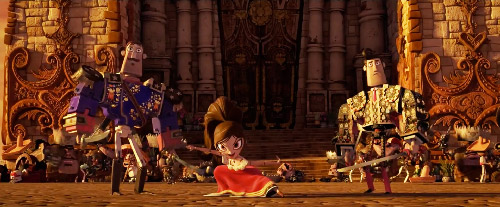 But here's the thing about all that… you're not going to care! Coming from me, that is a big deal! Yes the story is weaker than I would like. But this is the very rare movie that gets everything else so right that I have no problem forgiving plot issues.
Music is a big part of the film with some really nice original songs by Paul Williams and a great score by composer Gustavo Santaolalla. Some pop songs were also reworked to fit into the style of the movie, and (surprisingly!) it was very cool and worked really well. This is not your usual animated soundtrack. This is a definite buy, and will be a enjoyable way to get your kids listening to a style of music they might not often come into contact with.
Voice acting was top notch all around. Diego Luna really shined as the speaking and singing voice of Manolo. Zoe Saldana never seems to disappoint in any role, and that continues here in her character Maria. Channing Tatum is my new Brendan Fraser — you can't help but like him no matter what part he's playing, and here he really gets a chance to ham it up as Joaquin. Ron Perlman's voice was a perfect match for the character design created for Xibalba. Ice Cube 's Candle Maker was a surprising and hilarious change of pace from the rest of the film. And Kate del Castillo almost steals the show from the rest of the cast as La Muerte.
Story, as the saying goes, may be king. But a weak story doesn't have to be the death of a film when, like The Book of Life, the animation, music, humor, acting, and everything else is so heavenly.
Animated Classic or Back To The Drawing Board?
The Book of Life
Fox/Reel FX
October 17, 2014
95 minutes
Rated PG
directed by Jorge R. Gutierrez