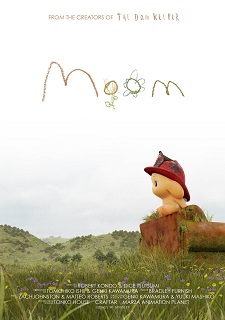 Art is primarily about emotion.
And from the very beginning of their independent venture as Tonko House, Robert Kondo and Dice Tsutsumi have expressed the purest one.
That was first with The Dam Keeper, whose adventure is still going on with the production of a graphic novel series and a feature length film derived from the award-winning short.
Now, for their second project, Moom, the two creators chose to set themselves new challenges in, this time, adapting an existing Japanese book and in producing their film from both sides of the Pacific, in teaming up with Japanese studio Marza Animation Planet (famous for the Captain Harlock series).
The final film is another Tonko wonder, definitely touching to the deepest of the heart, and a wonder for the eye. With the most up-to-date medium, Robert Kondo and Dice Tsutsumi prove once more their mastery and genius, through their love for the medium and their very own storytelling style.
We feel really fortunate to have these two artists -in the most noble sense- answer our questions on their latest production, already awarded in some of the most noted festivals around the world.
---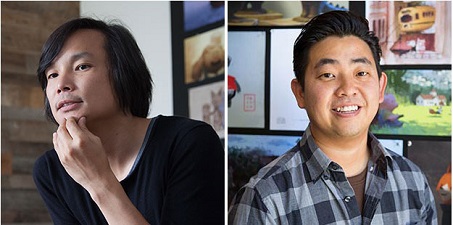 AnimatedViews:
Moom
is inspired by a book written by Genki Kawamura (also producer of
The Wolf Children
). How did you come to meet him?
Robert Kondo & Dice Tsutsumi: We met Genki Kawamura through Dice's producer friend, Tomohiko Ishii. They both came for a screening of The Dam Keeper, after which, we had dinner and discussed the possibility of working on a project together. At first, we discussed making a children's book together. Eventually, with our interest in learning about cg production in Japan, and Genki garnering interest from outside parties in a film adaptation of his children's book, Moom, the discussion shifted from a children's book to directing a film, with Genki and Tomohiko producing.
AV: What did you like in his book and his treatment of memories?
RK & DT: The world Genki created of lost and forgotten objects arriving in the world of Moom with their memories attached was a fantastic idea. This story of loss between a memory and its former owner was something we found to be a human emotion that we could relate to. It was a very sophisticated adult idea wrapped up in a children's book. Genki found a very poetic way of weaving the story into a children's book.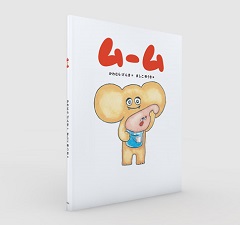 AV: How did you adapt the story to make it work for the screen?
RK & DT: At Tonko House, it is important for us to find our own personal connection with any story we tell. It was important for us to find how our lives and experiences directly connected us with the emotion that we would try to convey through the telling of this story. We found the story of Moom was largely a story about loss for us. We talked amongst ourselves about our own stories of loss, in particular, the first time we really remembered experiencing loss in our lives. Out of that session of sharing came a story about the first time Robert recalled experiencing the loss of life. He recalled Valentine's Day, at the age of four, losing his great-grandmother in a tragic hit and run. The loss was sudden and unexpected and he would find it difficult to understand the overwhelming sadness that would strike him at seemingly random times; when running around on the playground, or playtime with friends, in times of joy, suddenly young Robert didn't feel like playing anymore. The realization of loss and the finality of death was something that took time and experience to understand and accept. We felt the emotional path of learning about loss for the first time was our connection with this character Genki had created.
AV: The original book design is very flat and painterly. How did transform it into a full CG world?
RK & DT: The decision to create a realized world in CG came from our desire to create these fantastic memories in contrast to textured, objects that were forgotten. We wanted the objects to look like they had lived a life before arriving in this world. The believability of the world around Moom was something we thought helped to anchor the fantasy of these memories to a more realized world.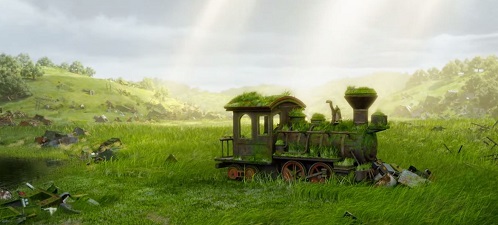 AV: Design-wise, how did you manage to integrate the imaginary characters of Moom and Lumin into the very realistic vegetal environment?
RK & DT: It was important for the texture of Moom and the memories to be tactile, a surface that is as realized as the objects in the world. We also worked very hard with the animation team to create believable movement, the realization of the world helped us to understand the kind of animation we should do with Moom.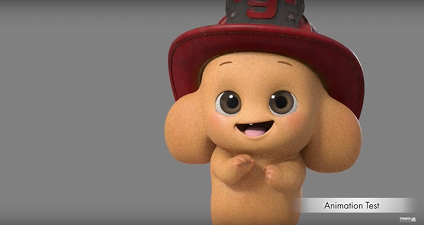 AV: Animation is often about caricature and exaggeration. Your animation style is on the contrary very simple and pure. How do you manage to be so expressive and that pure at the same time?
RK & DT: Just like our stories, we try to connect the animation to moments in our lives we could relate to. We actually did think about caricature in creating the animation of our characters, we felt that not all caricature has to be big and exaggerated. When animating Moom we encouraged the team to caricature the movements of three year olds. We shared videos of Dice's son when he was three. We felt the appropriate caricature was to simplify the movements for clarity in how a three-year-old moves. We tried to share our experience working in the American industry and blend it with the sensibilities of the Japanese animation industry. Understanding how we connect to the emotional core of the story drives our telling of the story including the animation. We picture ourselves or the one's we love, like Dice's son, in these situations, helping us to understand how these characters might move to support the emotional arc of the film.
AV: There's THFD written on Moom's helmet. A sweet touch…
RK & DT: We thought it would be fun to have our studio as the fire department Moom's hat came from, the Tonko House Fire Department. A nod to our personal connection to the character in the film.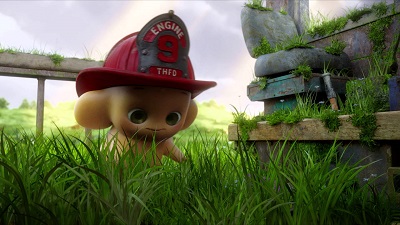 AV: How did you approach music?
RK & DT: We worked with the same composers, Zach Johnston and Matteo Roberts, from The Dam Keeper, our first animated short. We involved them early in the process, when we had a story reel representative of the story we wanted to tell. Zach and Matteo are filmmakers themselves, their music for the film inspires the way we tell our story. Often, the discussions we have to create the music for the film are important talks that help us to understand the story we are trying to tell. We map the emotion of the film through creating the music for the film, similar to how we map the emotion of a film for the lighting and color of a film in a color script.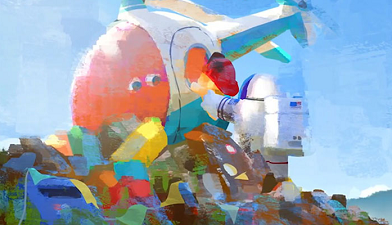 AV: How did you come to appeal to Alex Mandel to compose the Moom swing?
RK & DT: Alex is someone we had known from our time at Pixar. We invited Alex to be a part of the film when we felt like we needed a piece of music that contrasted the rest of the score. Zach and Matteo were open to the idea, and Alex was great in creating the feeling of improvised music that was a critical point in the film where Lumin learns to accept her loss.
AV: How and why did the production of Moom become a collaboration between Tonko House and Japan?
RK & DT: Tonko House has had aspirations to work with Japan since the start. Since leaving Pixar, we have always discussed the Japan's rich tradition of animation and our experience in the American cg animation studios, and felt it was odd that the two of the giants of the animation hadn't collaborated much. We felt it is something Tonko House can be a part of that would be unique in our approach to animation. Dice grew up in Japan, but moved to the United States to study art. He has worked in major studios like Blue Sky and Pixar and has always had a dream about being able to collaborate with Japan. There is a strong desire in Japan to make animated projects for the international market and to learn from the big studios in the states. We feel Tonko House could help to start that bridge between Japan and the US. It was always a part of Moom, with our desire to learn about Japan's industry and the funding for the film coming from Japan.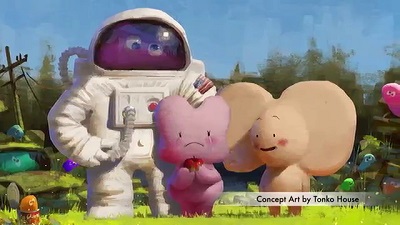 AV: As an American studio, what kind of connections do you have created with Japanese artists?
RK & DT: We are continuing to build our connections. We hope to share our experience in the American industry, while learning from the rich tradition of Japanese animation. We think this will create something new for our industry, hopefully different than what is in the market now. We are just beginning on this journey, and find it is difficult to inspire change, but find it rewarding to see how we learn to influence each other.
AV: How did you choose Marza to work with you?
RK & DT: Marza is one of the studios in Japan that has worked with western filmmakers and artists. They have worked on large scale feature productions and were an obvious first collaboration in Japan for us. Moom's producer, Tomohiko Ishii, really pieced together the production on the Japanese side, suggesting and campaigning to invite the right collaborators for Tonko House to work with, including Marza Animation Planet and his own company, Crafter.
AV: What did the Japanese studio and artists bring to Moom, practically and artistically?
RK & DT: They brought an incredible work ethic and a high standard for craftsmanship. The budget was much smaller than what we were accustomed to. The teams were much smaller and the timeline was condensed. Where we were used to working with teams of people, sometimes those teams were reduced to individuals. What that meant was greater control and less room for error in communication. We were also introduced to comping in post. Piecing together elements of renders in software like Nuke for control of the final picture in the end, this is something we had not seen on such a large scale in the bigger studios. We found this step to give us final control over the finished picture. We found their passion and desire to create something for the world standard of CG animation to be inspiring and energizing. We are excited to continue finding ways to collaborate with Japanese artists.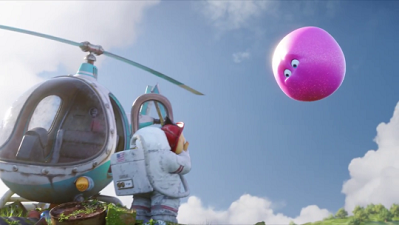 AV: How did you share the task between Tonko and Marza?
RK & DT: Tonko House was responsible for the story and directing of Moom. Marza and Craftar were responsible for the production of the film.
AV: How is the feature film version of Dam Keeper going?
RK & DT: It's going great! We are working on the script and we are excited about where it is going! We are also working with First Second publishing on a graphic novel series that is helping us to develop our story for the feature. We are turning in the artwork for the book this week, it is due out next year!
---
---
The Art of Pixar: The Complete Color Scripts and Select Art from 25 Years of Animation
is available to order from Amazon.com!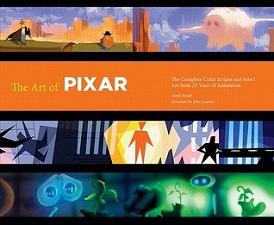 ---
---
Our thanks go to Robert, Dice and Zen at Tonko House, and to Alex Mandel