Laika/Focus Features (August 19 2016), Universal Home Entertainment (November 22 2016), Blu-ray plus DVD, 102 mins plus supplements, 1080p high-definition widescreen 2.39:1, DTS-HD Master Audio 5.1, Rated PG, Retail: $19.99
Storyboard:
Young lad Kubo, on the run from his misguided Grandfather, must journey to find the gifts he needs in order to face his destiny, in an epic and mystical stop-motion animated adventure.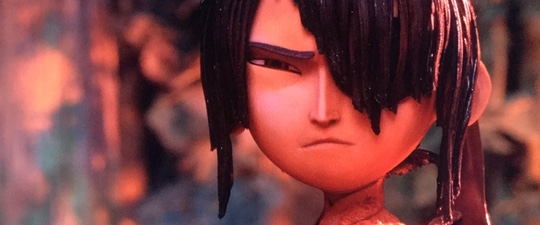 The Sweatbox Review:
With their latest film Kubo And The Two Strings, stop-motion indie Laika reach their highest peak yet, creatively if not commercially. The studio is only a semi-independent, of course, with a deep pocketed distributor in Focus Features, a mini-major which itself is the arthouse division of the much larger Universal Pictures, which can also also count on Minions producer Illumination Entertainment and newly acquired DreamWorks Animation to provide additional similar content. Perhaps the mega-franchises those two bigger labels represent (Despicable Me, Shrek, Madagascar, The Secret Life Of Pets, Kung Fu Panda and more between them) help to offset Laika's less box-office bothering fare, because although this relatively new studio certainly has the tools and the talent, a massive hit has remained illusive, and despite a wide release and many good notices, Kubo has been the least grossing of its releases so far.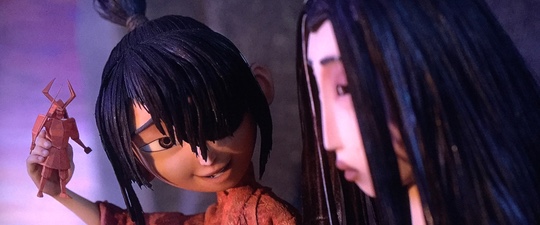 But more than just commercial success is at play in Universal's Focus support of Laika, and if Kubo gets a widely expected nod, their films will count at four for four at being Oscar nominated for Best Animated Feature and they remain popular sellers on home video, with dedicated fanbases to boot. Most importantly for wider animation fans in general, Laika is currently the only major practitioner of the stop-motion feature medium in the United States, at a time when the form continues to enjoy enormous success both critically and commercially around the world, particularly in Europe (Fantastic Mr Fox, this year's My Life As A Zucchini) and the UK, where Britain's venerable Aardman Animation just put a sequel to its huge international hit Shaun The Sheep Movie into production. That Shaun was a smash everywhere globally except for America says much about the US's love-affair with CGI comedies, and while Universal's huge franchises keep pulling in the big bucks, I do hope they continue to let Laika tinker along with more challenging and ambitious stories.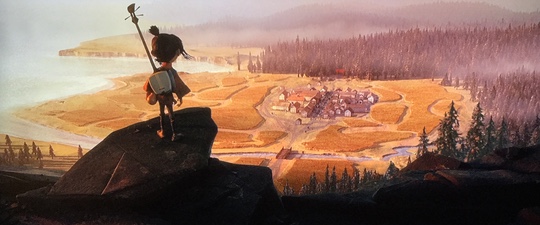 Stop-motion has arguably always been seen as animation's country cousin, even back in the hand-drawn days when it fell mostly to George Pal's Puppetoons to provide the initial kind of three-dimensional animation imagery that CG makes all too "easy" in this day and age. Before long, Pal adapted his techniques to provide visual effects creatures, characters and props for his later live-action science-fiction classics, inspiring the likes of Ray Harryhausen – himself a protégé of legendary King Kong pioneer Willis O'Brien – to use stop-motion in a decades-long series of fantasy adventure films. For a long while, this was how stop-motion remained "sidelined", never front and center but always around and, though sometimes hampered by the optical printing processes of the time, trying to blend in to the live-action plate photography as "photoreal" and not to call attention to itself.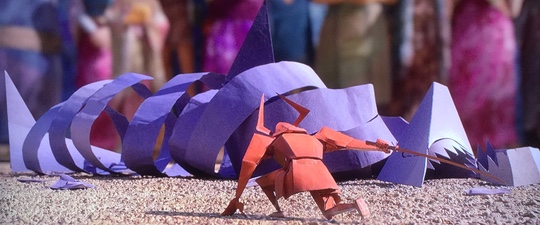 It was really the Rankin/Bass Studio that finally gave stop-motion a featured stage, albeit mostly for television, with a long run of animated holiday specials, including Rudolph The Red-Nosed Reindeer and Santa Claus Is Comin' To Town (and one feature, the very amusing Mad Monster Party), that remain traditional staples and command good ratings to this day. One kid watching those programs in their original 1960s and 70s airings was animator-director Tim Burton who, while at Disney in the early 80s, created his own stop-motion short, the macabre Vincent and contributed concepts for the studio's Return To Oz, which featured an elaborate stop-motion animated climax produced by the Will Vinton Studio. When Burton hit big as a live-action director with Pee-Wee's Big Adventure and Beetlejuice (both which featured fantastical stop-motion visual effects), Disney was suddenly eager to work with its young protege again, albeit on a more even footing, and the result was a homage to Rankin/Bass, Burton-style, The Nightmare Before Christmas, now considered a true classic and a film that not only spawned its own dedicated following but essentially an entire stop-motion genre of its own!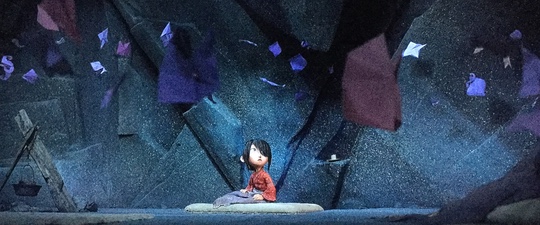 Soon came Burton's take on Roald Dahl's James And The Giant Peach, directed again by Nightmare's (and Burton's old Disney colleague) Henry Selick, and Selick's own vastly underrated live-action/stop-motion combo Monkeybone, while Burton himself branched off to create a more natural continuation of Nightmare's look and feel with Corpse Bride. All the while, Vinton Studios looked on, scraping by on commercial work but looking to expand into features, and so when big investment in the shape of Nike founder Phil Knight came along, the studio jumped on it. When Will Vinton left soon afterwards and demanded a name change, Laika – a Russian word for hunting dog, although I'm not sure in which context it was chosen in relation to the studio – was born. Selick, by now a big deal director in the stop-motion world, came aboard to direct its first short, ironically an experiment in CG animation, Moongirl, and then Laika's breakthrough feature Coraline, both of which ultimately provided Nightmare fans with more, albeit Burton-less, of the same gothic light and dark comedy approach.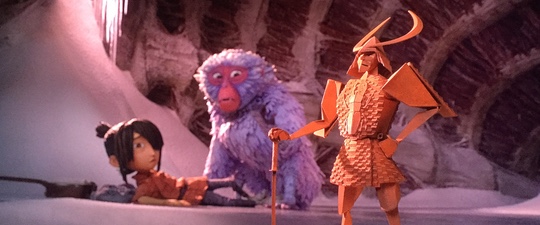 It's a tone that has stuck with the studio's films, especially ParaNorman and, to an extent, The Boxtrolls, while Burton himself returned to Disney for his first actual stint in a stop-motion director's chair with the arguably too self-reverential and ultimately underwhelming Frankenweenie. Which makes Kubo And The Two Strings an all the more fresh proposition, finally breaking free of any kind of Nightmare confines (for the most part, even if some character designs wouldn't be out of place in that film or, indeed, from the world of the Giant Peach) to deliver a jaw-dropping, eye-pleasing new course of direction for modern stop-motion animated features. Arguably, Aardman's films have never truly adhered to the Burton template, but then they've largely been claymation pictures of a different sort, and usually straight comedies, although the brilliant Pirates! In An Adventure With Scientists!, perhaps their most ambitious work, did bring some other elements to its story.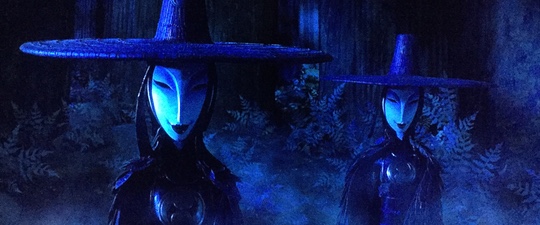 Laika have taken a page from Aardman's Pirates! book for Kubo, in the way that the stop-motion is augmented with CG visual effects, something that Aardman's had been experimenting with as far back as Flushed Away, which became a CG feature when the melding of water effects and practical model work proved impossible to accomplish. Flash forward a decade or so, and Pirates! managed to finish the feat, expertly combining "real" galleons, props and locations with computer-added high seas and ocean effects, a trick that Kubo runs with and expands upon. Laika have always used computers in their work: mostly to digitally erase the armatures that hold up the model figures in their poses. On one hand this is a "cheat" that the likes of Pal and Harryhausen could never have enjoyed and had to come up with their own ingenious ways of hiding strings, wire and metal frames. But on the other, it does allow for a much more fluid and expressive form of stop-motion, where for good or bad, the movement can come closer to the perfectly smooth look of CG, while retaining the hand-crafted feel.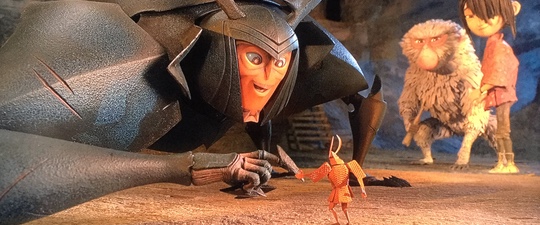 Even here, though, Laika have taken a step forward in how those models are created, now using precision 3D printing techniques to provide the animators with perfect reproductions of the characters' faces in multiple configurations with now exact colorings on each model – gone now is the slight fluctuations between color matching as each section is replaced to create another frame of movement. Yes, this is all wonderfully, technically advanced stuff, and I suppose it does bring the form forward in making it the best of what it can be, but part of the charm is exactly that hand-crafted feel, such as the visible fingerprints and indentations on Aardman's plastercine figures (a look they painstakingly replicated for Flushed Away'a digital characters). Where this is most apparent in Laika's work is in the hair and cloth texture of the models, and even here the animators have reached such extremely high levels of fluidity that these elements almost become Kubo's reason for being, just one of the things to sit and marvel at throughout its runtime.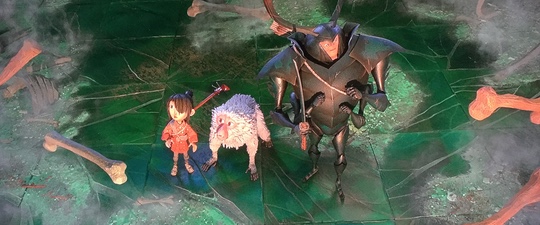 Of course there's much more to Kubo And The Two Strings than just hair, impressively handled as it is! Directed without a touch of nepotism by Nike and Laika owner Knight's son Travis – himself the head honcho at the studio – Kubo marks his debut in this role, and it's obvious that he's picked up a thing or two from his observations (and animation) of the studio's previous outings. I have to say that I'm a little surprised at Knight's Annie nomination for Best Director, since I feel that's a nod for the film's different approach than for his direction alone, as I was never sure that it was always as well handled or expressive as it might have been, with a lot of the film being successful because of performance and design rather than any directorial flourishes. Indeed at several times throughout, I didn't always find Kubo was as directorially strong as a more experienced hand might have had it, often finding itself in the idea itself than its execution, although there's no denying it's certainly an assured debut for a first time helmer that suggests Knight will only find a stronger voice in films to come.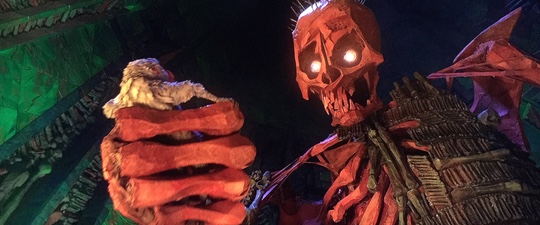 As for this one, well, it deals with some pretty hefty themes, and without the songs and humor that we've come to expect from such animated fare. In fact, the premise itself may take a second or so to get one's head around, as obscurely as it is set up so as to reveal more details as the story progresses. As we meet baby Kubo and his Mother, they're on the run from his Grandfather who has, in a real "wait, what?" moment that truly sets out Laika's stall and the kind of experience we are in for, taken one of his eyes and is searching for him so that he can finish the job. Seemingly safe, Kubo grows knowing he must never be caught out at night, since his Grandfather's mystical agents will find him, which naturally eventually happens to set the film's plot into action. Kubo and his Mother have been living on the edge of a town, where Kubo, known as the "paperboy", plays their enchanted shamisen, an ancient Japanese guitar-like instrument, and tells mythical stories to the locals, using the magic of the shamisen to bring his intricate origami characters to life.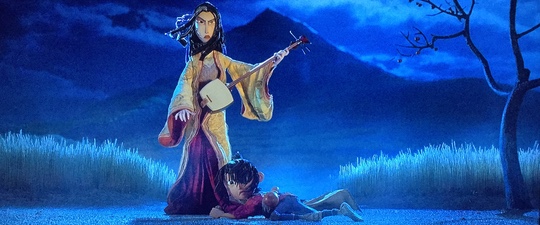 The quiet, different feel of the film is evident immediately, and although we may have been in similar territory with the likes of Disney's Mulan and DreamWorks' Kung Fu Panda, this comes across as a more sensitive portrayal of the culture, even if I did note some inevitable comparisons in character design here and there, especially one old woman who reminded me of Mulan's grandmother, and another (voiced by George Takei) who sometimes resembled her father. Along the same line of thinking, and I don't know if it is intentional, but when we do finally meet Kubo's Grandfather himself, I could not shake my initial reaction of him bearing a striking resemblance to the great British actor Peter Cushing (and here voiced by another, Ralph Fiennes). Comparions aside, these designs are quite striking visually, making some of vocal casting tougher to relate to; occasionally there seems to be something of a slight disconnect between the voices and the characters, particularly Charlize Theron's Mother in human form.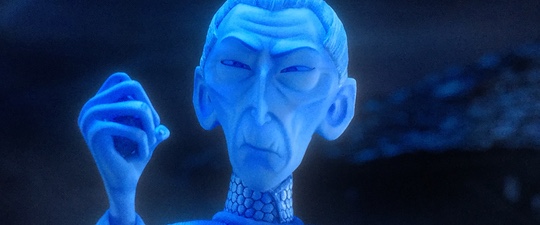 Ah, yes…human form, since – mild spoiler alert – it's not long before she sacrifices herself to save young Kubo when those dark spirits come searching, and recalling Kubrick's The Shining in their creepy nature. However, it won't come as too much of a surprise when we meet a new monkey-like creature who resembles Kubo's similarly designed wooden charm that this turns out to be his Mother reincarnated, using the last of her magic to bring the charm to life and continue to protect her son. As this side of her character, Theron has much more fun and invests herself more, although her highpoints are more the humorously abrasive attitude she has rather than any great animation vocalist skill. Matching her with even more bravado and comic value is Matthew McConaughey as a brave beetle warrior who, it doesn't take a great deal to fathom, turns out to be Kubo's Father. These are the "two strings" of the title, it being a much better choice, interesting and intriguing, than "Kubo And His Mom And Dad" would have been had Disney's marketing team named this in the mid-1980s.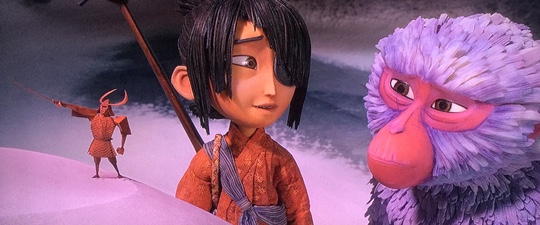 In many ways, having real if fantastical counterparts to his parents on his adventurous odyssey suggested to me that this could all be a dream, the way that Dorothy sees her farmhand friends depicted as different companions in The Wizard Of Oz, but it isn't really a thread that gets explored, the film ostensibly playing out for real. I'm not sure if an extra layer may have been introduced with that idea, or if it might have been a touch clichéd, but I think it could have been interesting and might have reframed both some of the fantastical elements and the more simplistic moments that the film sometimes finds itself in, despite its often dense nature. Another element I wasn't too sure about was how epic the film was in comparison to how epic it wanted to be: at the end of the day, this is quite an intricate story about one family's internal squabbles, and all the huge vistas and giant monsters still don't quite cut through the conundrum that for all the scope, Kubo never quite feels truly epic, possibly because we subconsciously know we are watching miniatures or because so much of the framing has the characters in close-up. The flipside of this is that it is filled with extraordinary shots and sequences – some of which will intentionally remind old timers of the Harryhausen flicks of their youth – and undeniably the film some kind of "bigness" to it that continuously impresses.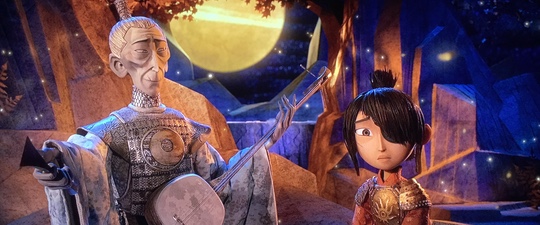 When Kubo's shamisen does eventually loose two of its strings and he must improvise to bring back its power, the result is emotionally resonant, and I've a feeling that the film will be one worthy of repeat viewings where it will only get better each time out. It's true that the structure could be seen as too episodic – the middle of the film sees our heroes on a quest to retrieve a series of objects so as to then face their ultimate foe – and it's certainly a shade under ten minutes too long, but this is otherwise Laika playing at the top of their game. So far, each of their pictures have featured a child as their central character, with only Coraline not focusing on a young boy as its lead. With Kubo And The Two Strings, Knight undoubtedly steps the company's ambitions up another notch, and it would be extremely interesting to see if this new direction could sustain an even more mature story, perhaps without a child lead. Kubo certainly shows us new sights, or at least fresh versions of those sights, that we have never seen before, especially in the stop-motion medium, proving they have many more strings yet to play.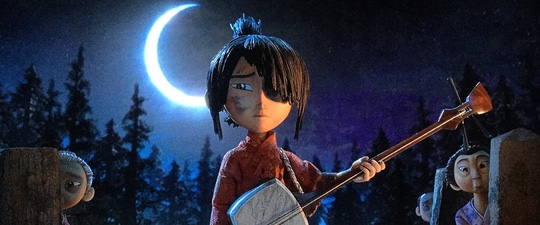 Is This Thing Loaded?
Following on from Universal's previous Laika titles, Kubo And The Two Strings again includes a small but perfectly formed collection of supplements pertaining to the main feature and it's making. Before we get to the movie, in fact, the disc opens up with a brief but very nice overview of Laika's first ten years, with Knight looking back for just over a couple of minutes on the studio's previous films that paved the way for Kubo's expansive approach. As the producer-director and Laika chief, he features again in the set's supplementary documentary Kubo's Journey, broken up into several smaller menu chunks but running for almost a half hour when Play All is selected. Although you'll appreciate the sheer level of artistry in the costumes, props and sets when viewing the film itself, you'll really understand the thought process that's gone into each and every of those elements from this doc, which covers all the bases in detail, from the film's intricate Japanese inspirations and mythological monsters, to the blending of the model and CG elements and the use of music in the effective score.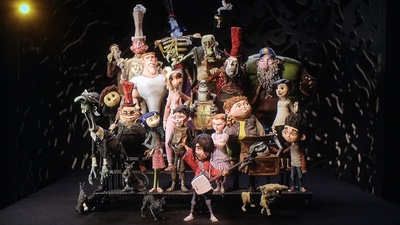 Liberally sprinkled with movie clips, behind the scenes and cast and crew talking heads, this really is a great example of how good these kinds of pieces can be, marred only by the quiet voices and too-loud music in the mix so as to often make things hard to hear. However, your mind should be suitably blown by the incredible amount of work involved, especially in the animators' building and movement of the sixteen-foot giant skeleton character, a direct reference to Harryhausen's, with only the film's vocal cast being somewhat overlooked. Corners Of The Earth and The Myth Of Kubo are electronic press kit style featurettes which, at around three minutes each, give more of a general overview of the production, centering on the film's locations and it's inspiration, respectively.
Wrapping things up is Knight once more, delivering an excellent, if slightly dry, feature Audio Commentary, packed with explanations of what we're seeing onscreen and how it was achieved, as well as descriptions of the multitudes of Kubo's Japanese influcences, symbolism and the various setups and payoffs throughout the film. Intelligent and informative, if not exactly enjoyable, this is still worthy of your time if you get as much out of the film as I did, and easily demonstrates Knight's intensity, knowledge and passion for such projects, speaking right up until the final frames with a wry sign-off. As well as the tenth anniversary Laika clip that opens the disc, there are additional trailers for a Kubo: Samurai Quest mobile game app, Despicable Me ride at Universal theme parks, plus Blu-ray spots for The Secret Life Of Pets, Phantom Boy and something else that I would prefer to never see or think of ever again.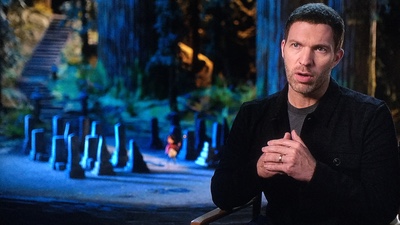 There's also a highlighted Previews menu option and, while it would have been great to have a nice little grouping of full theatrical trailers for Laika's first ten years of features (Coraline, ParaNorman, The Boxtrolls), unfortunately all we get are a bunch of insubstantial 30-second spots for those films' Blu-ray releases, plus two completely unrelated titles, for something called The Young Messiah, which looks to be akin to what "Jesus Begins" might have been a good alternate title for, and Ratchet & Clank, which seems to be exactly the kind of substandard CG crap that the likes of Kubo And The Two Strings breaks away from. These last two are particularly odd to have included, especially when it would have been neater and nicer to have at least one of Kubo's excellent previews in their place, particularly the one that showcased a powerful new arrangement of George Harrison's song While My Guitar Gently Weeps, heard in the final film performed by Regina Spektor over the end credits.
Case Study:
A standard Blu-ray case holds the disc, plus a DVD copy and a code for a Digital HD download, while a lightly embossed slipcover provides a touch of reverence from Universal.
Ink And Paint:
Digitally shot, digitally posted and digitally delivered in a gorgeous 1080p hi-def presentation…Kubo follows suit with most animated films these days in boasting a first-rate image (in a beautiful 'Scope widescreen ratio) and making it harder and harder for us critics to appraise. Clean and sharp, I could see no encode issues with the feature and its three-quarters of an hour or so of bonus material, making for a quality disc.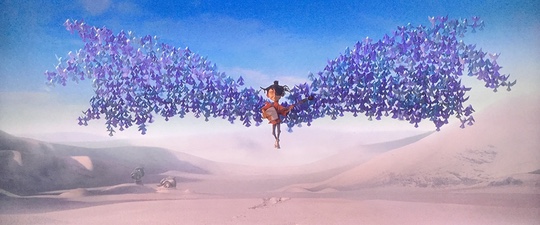 Scratch Tracks:
Again created from scratch in the impossibly perfect world of the digital sound studio, there's not a line of dialogue or effects spot out of place in this immersive track, which does as much as anything to envolepoe us in Kubo's world. Dario Marianelli's music, a highlight itself, is nicely placed within the mix, which does a good job of creating appropriate atmospheric touches. English and Spanish dubs are available, with French added as a subtitle option.
Final Cut:
Pixar's John Lasseter has always been a huge proponent of Hayao Miyazaki's Studio Ghibli and often proposes how much they have influenced his own studio's projects, but aside from the sly inclusion of a Totoro-like figure in some of those films, I've yet to see any transparent indication of just how much Ghibli inspires Pixar. With Kubo And The Two Strings, Laika has stepped into that void and almost suggests, albeit with three-dimensional stop-motion animation instead of three-dimensional computer imagery, exactly the kind of film that might result from such a clashing of styles, sourced from Japanese myth but structured in the American way.
And what's really great is that the film distances itself from the rush of current CGI comedies not only with its stop-motion production method, but in its deeper, more challenging story and alternate approach. Some of these elements may confuse or downright baffle, but they should also entrance and entertain. Universal's disc may not be packed, but there's a decent production overview and it showcases the film off splendidly. Whatever else, Kubo provides a unique and refreshingly different and diverse feature animation experience, and that's cause for celebration in itself. Just don't blink…
Animated Classic or Back To The Drawing Board?