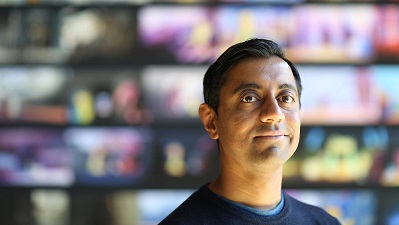 When long-time Pixar animator Sanjay Patel was asked to develop an idea for an original short film, he knew he wanted to tell a story that came from his experience as a first-generation Indian American. Having spent much of the past decade developing a series of highly visual books on Hindu mythology, he had a lot of material to draw upon. As it turns out, however, giving viewers a peak into the world of Hinduism within a seven minute short, while trying to maintain a meaningful and cohesive story, was a complicated endeavor. In the end, with help from a team of superb artists, the film became a touching story about the culture clash that Patel experienced as a child growing up.
Sanjay's Super Team blends many exciting elements – traditional 2D and 3D animation, alternate realities, ancient temples, deities, cosmic action sequences – with a story about family, identity and tradition.
Presented alongside Pixar's The Good Dinosaur, Sanjay's Super Team is also the subject of an art book written by the director himself, in which the director presents key moments of story, character and environmental development that gave shape to the film as it made its way through the production pipeline, resulting in a gorgeous chronicle of short filmmaking at Pixar.
We were fortunate to approach Sanjay Patel and evoke with him the different steps of the production of this unlikely short movie.
---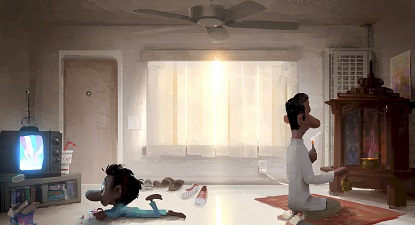 AnimatedViews: It is said that, at first, you were reluctant to direct an animated short. You preferred to write/draw books. Can you tell me about the differences between the two artistic attitudes, and what made you change your mind?
Sanjay Patel: The big difference is I feel super creative and happy by myself. The more people I get around the more exhausted and uncreative I become. In many ways I'm a classic introvert, I really need lots of alone time to feel good. So my personality does really well with working on a book by myself. Directing is the exact opposite of my personality. Your whole job is to surround yourself with a team and to be creative through them. The thing that helped me was when I realized that I didn't have to have all the answers, and when I let myself just collaborate with my friends. When the short was working at its best, there was a true collaborative energy going on.
I changed my mind towards directing after talking to my dad. He reminded me that the studio had supported me for nearly twenty years. And to not try what they were asking me to do would create bad karma. He suggested that my duty was to try my best.
AV: How did you build your crew?
SP: I wanted to work with Chris Sasaki from minute one. The guy is an incredible talent and a really hard worker. And he does it all with a smile and laid back attitude. As a director you couldn't ask for a better collaborator. The producer of SST, Nicole Grindle, did all the heavy lifting to assemble the crew. She gets all the credit for snagging Chris as well.
AV: Also, in your crew were Dice Tsutsumi and Robert Kondo, who created the wonderful Dam Keeper. Being, like you, both artists and directors, how did you collaborate with them?
SP: Once again Nicole orchestrated the collaboration with Robert and Dice. Nicole had worked with them both on Monsters University and felt they would be a great fit for us. Robert acted as mentor to Chris Sasaki who was new to the role, and Dice acted as mentor to Paul Abadilla, who created a beautiful color script for the short. We were extraordinarily lucky to set the short on sure footing with such seasoned pros.
AV: The subject being very close to your own identity, how did you share your vision to your crew, who doesn't share Indian and Hindu culture?
SP: I started off by sharing the story reels, then told them more about how I grew up in a household that was split into east and west. I told them about trying to balance two cultures while trying to figure out your own. We also took a couple of trips to the San Francisco Asian Art Museum and were guided by some great docents who brought the deities to life by recounting their myths. We also had two other artists (Charu Clark: Lighting Lead & Arjun Rihan: Camera & Staging Lead) of South Asian descent who helped educate the crew.
AV: In matter of design, what were your sources regarding the temple and traditional Indian architecture? How was it, to create it in CG?
SP: Well, we took inspiration for Jain temples as well as the temple architecture of the Hoysala empire. Much of the design work was executed by Chris Sasaki and Nelson Bohol.
In some ways, working in CG allowed us to take some shortcuts with replicating details that the original creators of these temples might have appreciated.
AV: Your books propose a lot of wonderful designs of Hindu gods. Did you want to translate those designs in animation?
SP: I didn't want the designs of my books to set the tone for the short film. In fact I gave Chris the freedom to find them in his own style. Once they were modeled and rigged, Royce Wesley our lead animator did some great tests to figure out the unique way they could animate. The big reference point for animating the deities was classical Indian dance. We brought in a local expert, Katherine Kunhiraman. She helped choreograph the movements of the deities with specific South Asian dance traditions.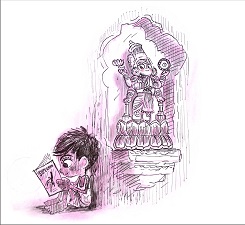 AV: What were the technical challenges you encountered?
SP: Lots of tech challenges. All the deities needed flowing robes and ornate jewelry that could levitate and trail with the deities. Creating the cosmic temple was a major technical challenge that got solved by lighting and effects working side by side to pull off a set that was a moving visual effect.
AV: How did you make light a true storyteller?
SP: Light is the central theme of the story. Lighting the candle, keeping it lit, light changes representing the transformation of the temple from something grey, dead and lifeless into something vibrant and celestial, ultimately leading to Little Sanjay's enlightenment.
AV: Can you tell me about the use of those particularly vibrant colors?
SP: Each deity has a color association. Vishnu is always blue, Durga is always red, and Hanuman tends to be seen in greens. Just stayed true to the tradition.
AV: Can you tell me about the sound design?
SP: We were super lucky to work with an amazing sound designer, Justin Pearson, who works here at Pixar. I asked him to limit himself to just a prayer bell and chanting, because this is all my dad uses in his devotional practice. Justin made fantastic use of the limitations by recording prayer bowls, massive temple bells, as well as crystal bowls for pure tones. Justin is a wizard with sound.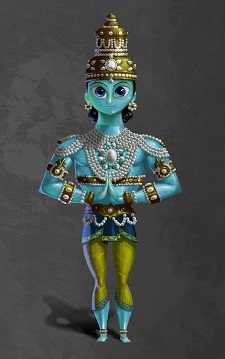 AV: How did you come to composer Mychael Danna for the score? What did you expect from his unique musical personality?
SP: Since Mychael was being courted by PIXAR to score The Good Dinosaur we were asked to consider him. After meeting and talking we realized that both of our sons share the same name, Arjun. It turned out that Mychael's wife is Bengali and he was very in tune with the culture as well as the music of the spiritual culture of India. In fact, Mychael had the insight to introduce the bansuri flute for a peak moment where Vishnu anoints the boy.
AV: Sanjay's Super Team is very specific in its subject, and at the same time, talks to everyone. How do you explain that paradox?
SP: Much of that credit goes to John Lasseter. John was the one who suggested telling the true story of me and my dad. Then he kept encouraging me to tell my truth, to be faithful to my story. He knew if we were honest about the experience it would ring true and resonate for others.
AV: It seems to me that, in a way, Sanjay's Super Team allowed you to rediscover your traditions, but through the most modern of mediums. What do you think about that (again) paradox?
SP: Yeah, its sorta ironic! What I tell people is that my dad practices his faith sitting cross legged on a mat. I'm equally devoted and reverent, I just sit on a Herman Miller chair and use a Macintosh computer. I think Steve Jobs would have smiled at this short!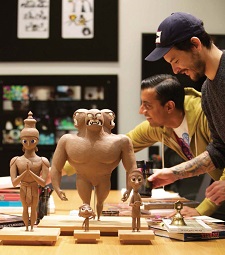 ---
---
---
---
Our warmest thanks to Sanjay Patel and April Whitney!