Warner Bros. (2015), Warner Home Video (August 25, 2015), 1 Blu-ray + 1 DVD, 77 mins, 16:9 ratio, DTS-HD Master Audio 5.1, Not Rated, Retail: $24.98
Storyboard:
Lex Luthor, disturbed that the world's greatest superheroes have banded together to defeat villainy, forms a team of his own. But even Luthor is only a pawn in Darkseid's scheme to subjugate the Earth. Plus, Lego!
The Sweatbox Review:
In today's superhero boom, there are increasingly more and more ways to enjoy your favourite characters, with versions for every taste. Among the cutest and most family-friendly are the Lego versions, which have become their own brand of ongoing toys, games, and videos. After the 2013 Lego Batman movie adapted material already created for that character's second video game (which had many co-stars), there came the hit theatrical Lego Movie in 2014, and now an ongoing series of direct-to-video movies featuring the Justice League.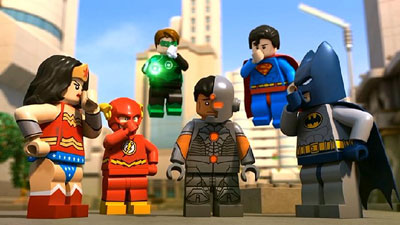 This particular continuity was introduced in the 2014 TV special Lego DC Heroes: Batman Beleaguered, which saw Superman trying to convince Batman to join his Justice League team. That special can be found on the Blu-ray for the team's first movie, Justice League Vs. Bizarro League, released in early 2015. The latest movie, with the full title of Lego DC Comics Superheroes Original Movie – Justice League: Attack Of The Legion Of Doom (whew!), picks up where the previous one left off. The League is now a quite public hit, undefeated in its many supervillain conflicts. Things appear grim for the supervillain community, leading to criminal genius Lex Luthor to form his own team. It is quickly revealed, however, that Luthor is not alone in this, and is actually working for the intergalactic scoundrel Darkseid.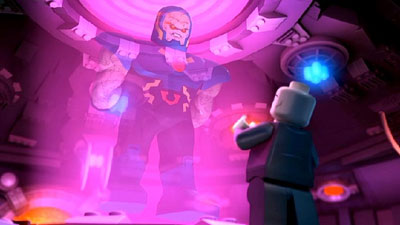 Luthor recruits Black Manta and Sinestro, and then offers tryouts to other supervillains, though ultimately he only wants people he can easily control. Meanwhile, the League's overpowering might is on clear display when they easily handle a robbery by The Trickster, voiced by his live action actor Mark Hamill. The only snag in their pursuit of The Trickster is Cyborg, the youngest member of the team and the most eager to impress. His mistake during the chase leads to being admonished by his hero Batman, and cripples his confidence, despite the vocal support of his fellow members.
The League and The Legion Of Doom battle later over a mysterious alien being held by the US military, ultimately resulting in the alien being recruited by the Legion. The alien assists the Legion Of Doom in framing the Justice League, which in turn leads to the League being banished by The United Nations. With the rest of the League in deep space, it will be up to Cyborg to redeem himself and save the day!
The plot would have actually made for a pretty decent episode of Super Friends. In fact, I sometimes wonder if the Lego branding in needed at all in these projects, as the script here works just as well without it. Of course, there are a few cute Lego gags and brick-tastic sound effects when things fall apart, but other than that I would have just enjoyed this movie the same if it had more traditional representations of the characters. One can't really knock the charm of Lego minifigures springing into action, though, and the brick-like nature of the characters does allow for sillier gags to be carried maybe a little better.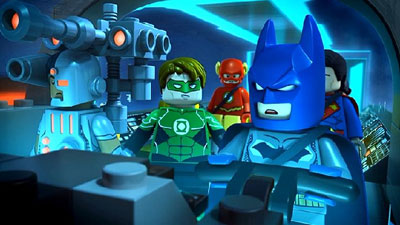 This is in every way a kid's film, and as such I enjoyed it in a Super Friends kind of way (steeped in nostalgic reminiscing of what it felt like to be eight years old), and indeed there are several homages to the show in the visuals and sound effects. My son loved it (giving it nine and a half stars out of ten!), but adult viewers may find their patience a little tested over the 77-minute run time. The plot offers nothing really new for the older viewer that has seen these scenarios played out over and over again; but younger, less experienced viewers will be enchanted by the jokes and the action, not to mention the sight of so many costumed characters zipping around.
Incidentally, this movie introduces the New 52 costumes to the team and makes it all part of the story. It also utilizes the Hal Jordan Green Lantern, after going with Guy Gardner last time. There is even a type of "New 52" reference that will give comic fans a smile. We do get glimpses of Hawkman and Aquaman, but mostly the story concerns only six Leaguers.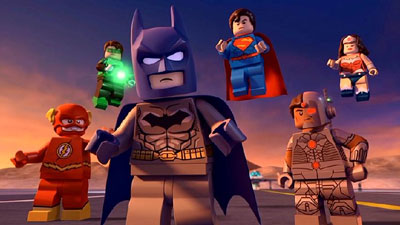 While Lego Justice League: Attack Of The Legion Of Doom does not strive for the same type of adult appeal that characterized The Lego Movie, this is pretty good family entertainment. My son wanted to watch it again the next morning, so it certainly gets the kid vote. So, when the sequel (set up nicely at the end of the movie) comes out, we shall be eager to watch it together.
Is This Thing Loaded?
Click, Zap, Boom! Creating The Sound Design (19:50) has producer/director Brandon Vietti and especially sound designer Rob McIntyre and foley artist Vincent Guisetti discussing the film's sound in surprising detail. One would expect only a cursory look at the subject on a disc such as this, but the ample run time shows that the subject is treated somewhat more seriously than one might think. It's nice to see the unsung heroes of filmmaking getting their due.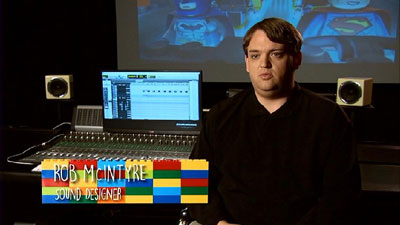 Each disc opens with ads for the Lego Dimensions game and Scooby-Doo Meets Kiss, while the DVD adds ones for Ninjago and Looney Tunes: Rabbits Run. From the menu, one can select additional Trailers for Justice League Vs. Bizarro League and Batman Unlimited: Monster Mayhem; the DVD adds one for Lego Jurassic World.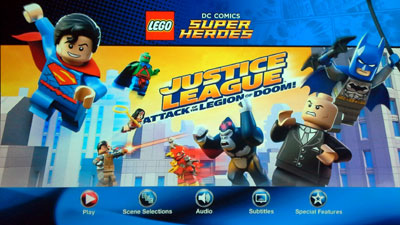 Case Study:
The Elite (eco) case holds a Blu-ray disc and a DVD on either side. There are three inserts, including Lego ads, but also including UltraViolet codes for not only this film, but even a bonus code for JLA Adventures: Trapped In Time. This release gets a non-embossed cover slip that mostly replicates the cover art, but adds extra emphasis to UltraViolet, though it makes no mention of the bonus code. There is a version of this set available that also includes a Trickster minifigure.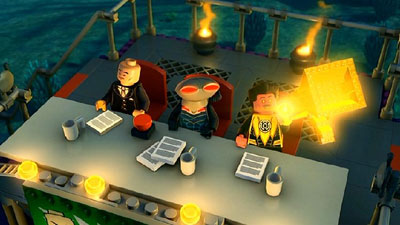 Ink And Paint:
As expected, the video quality is excellent, only limited slightly by the budget animation. Try as I might, I could barely detect macroblocking or banding, and for all intents this is a pretty ideal presentation. Edges are sharp, colors are bright, and blacks are as inky as one could hope.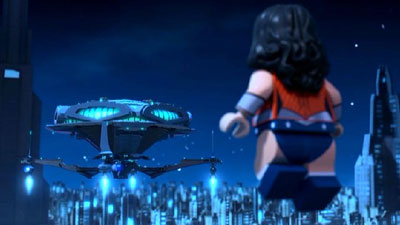 Scratch Tracks:
The audio is bright and fun, though limited to the front of the home theater, as rear surround effects and bass are scarce, but certainly not actually disappointing. I mean, it's Lego on a direct-to-video budget, so one can only expect so much. The sound effects, though, are really very well done, with both subtle and obvious Lego-inspired effects, plus aforementioned Super Friends sounds as well. The lively music is a constant presence, too, adding further dynamics to the action-filled story.
The Blu-ray has a virtual plethora of language options in terms of both audio (English, French, German, 2 forms of Spanish, Norwegian, Danish, Finnish, and Swedish) and subtitles (the same options, plus Thai and Icelandic). The DVD has audio in English, French, Thai, Spanish, Japanese, and Brazilian Portuguese; subtitles on the DVD include English, Chinese, French, Japanese, Korean, Portuguese, Spanish, and Thai.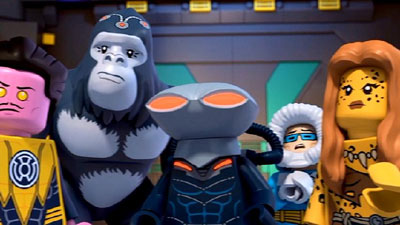 Final Cut:
The Lego franchise, teamed with DC Comics, delivers another hit. It's great to have an alternative to the grittier takes one often sees with superheroes these days, and the Lego movies are suitable for even the youngest viewers, depending on their tolerance for cartoon violence. The peril here is pretty light, though, and all in good, cheery fun. Collectors will even be happy with a substantial bonus feature about the film's sound, making this a solid family purchase.
Animated Classic or Back To The Drawing Board?