The production of the animated short Aria For A Cow is clearly off the grid, and for more than one reason.
In our two previous articles, we've been following the making of this film, and looking at the premise of this one-of-a-kind enterprise. Now we get into full production, with the team facing new challenges.
"I wanted this production to be fun and gather momentum that could transcend the lack of budget and studio support. The only way to get that forward motion is to surround yourself with people with something to prove.", said Disney animator Dan Lund, the mastermind behind the project.
So, the solution was to bring fresh blood to the "Global Barn," by opening the team to students from the San Francisco Academy Of Art University. Their talent and fresh artistic vision was to bring a unique touch to the project.
Dan kindly gave us exclusive pictures from the process and introduced us to some members of this unlikely team to better understand the specificities and advantages of the process.
Production Manager Siddhartha Maganti was born and raised in Hyderabad, India. He studied Engineering early on, then studied animation, visual effects, and production at Academy Of Art University in San Francisco. He started his career as a Digital Compositing artist during his grad studies. After a year of being a Digital Compositor he shifted his focus more towards production. Siddhartha was the Production Manager at Studio 400A, the collaboration class at The Academy Of Art University. In his role, he produced original live-action and animated shows. His work Borderlands 2, in association with 2K Studios, has been highlighted in Forbes and The Wall Street Journal.
Animation Lead Cory Walker maintained exceptional grades during his time at AAU, as well as being attached to several collaborative projects that went through the school. He was invited to be an animation lead on The Snake & The Fox due to his knowledge about animation principles, and background experience with 2D and 3D animation.
After receiving a portfolio grant scholarship at The Academy Of Art University, San Francisco, Rigger/Character TD Dharmin Doshi is currently majoring as a 3D Generalist in the school with a focus of Character Technical Director. His latest works include Borderlands 2, and a feature film with award-winning director, Jennifer Phang.
Ken Craig is a character animator currently pursuing his bachelor's degree in fine arts at The Academy Of Art University. He grew up in Washington making stop motion movies with his dad's video camera, countless flip book animations, and gained most of his drawing skills from drawing gory pictures during church to the unwavering disapproval of his mother…
Modeller Xi Wang was born and raised in China. After high school graduation, she moved to New York, and started her first college. She continued her journey at The Academy Of Art University to study 3D Modeling.
Together with all the other members of the crew, they give their full enthusiasm and talent for the project in order for it to become an unheard-of reality.
---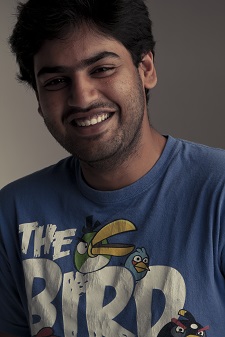 AnimatedViews: What led you to animation?
Siddharta Maganti (right): I started as a fan boy (Star Wars, and I am still one!) but as the days passed I understood what actually art means. In my words, it is the expression of myself. As my life progressed, I have turned myself into an austere visual maker. My college was coming to an end, and just four more months for my final. I was left pondering, is this different? When I meant different, I was referring to those innumerable finals I went through all my life. When I first took Compositing as my career path, I was sure. It's an interesting process to get to understand art and work. I was partially successful until I got carried away and got commercial. It wasn't 'til the Critique time, I realized the mistake I made. Then I felt that, no, this is not what I wanted to do, sitting in front of the computer all day long having no interaction with people. Then I decided to shift into production. I immensely need to thank my family, friends and my mentor who encouraged me a lot, though I faced problems in the early days of being a production assistant.
Xi Wang:I loved drawing and animation when I was very young. It's fantastic to see characters from still come to life. Animation always brings me inspiration and happiness. Then I made my decision: I want be the one of those amazing artists to create a dream world.
Dharmin Doshi: Drawing has always been my passion since I was 8 years-old— I won my first 1st place in an art competition when I was 12. Coming from a family of doctors and businessmen, I found myself as the first artist in the family and unique from everyone else. After graduating from high school, I received a portfolio grant scholarship from The Academy Of Art University and I knew that moment that my dreams were going to come true. I always wanted to bring joy and smiles to people's faces by bringing characters to life and bringing out their own individual characteristics.
Ken Craig: I've always been a fast learner when it came to art, and have enjoyed and excelled at drawing from when I was young, and I'm still improving my skills while continuing to enjoy doing it. My first animation was in the 2nd grade during a boring math lesson. I had taken one of my teachers sticky note pads from her desk and began to draw a stick man and had him do a front flip. I'm not sure where I got the idea from to make a flip book, but most likely from a television program. From that day on, after seeing my own drawings come to life I've always said that I want to be an animator, or a zookeeper (hahahaha). Yep, Ken the tiger trainer. Years down the line and many flipbooks later I started experimenting with stop motion animation. My friends and I would create stories and use our action figures and my dad's video camera to make these short films. The camera was quite unsophisticated, so to take one frame of animation I had to hold down the camera nice and still while I quickly pressed the record button on and then off. This technique worked well enough to drive into production many films and even a ongoing series called Ninja Jim And The Horrible Horrors. Eventually the record button wore out and my dad got me my own camera to help me to continue making animations. And now I'm here continuing my animation path.

Cory Walker: This started when I was in about 7th grade. My junior high school had a brand new auditorium. I lived in a town near L.A., a very small town, and a lot of Hollywood people, actors and actresses would move to this town to kind of get away from the city and have a nice and quiet area to be in. Having all this movie industry in this small town, we got to have a film festival actually go through our school. So, they started playing films and, you know, you're a kid like 11-12 years old and you're sitting there watching these cool short films, mostly live action films, and then you got to the category "animation films", and you're thinking "oh, these are gonna be cool, like Pixar films". So, I'm sitting there watching this about construction workers and that was alright. However, right after that, a short film called 9 came on. It was about this little knitted character that was extremely curious. So I watched this and I remember being so infatuated with what I was watching that it came to me that it wasn't just a company that could do 3D animation. It was some student in college, it was his graduate thesis project and he made this 9-minute short film by himself with a small team of people, and it made it much more realistic to me. You know, for a lot of students or people just fresh out of school, it was "Toy Story this" and "Toy Story that". For me, when I saw 9, animation captured me. It wasn't just a film you would see in a movie theater or rent on VHS. It was something I could do and I was interested in. From then, I worked in stop-motion with Legos and clay. I was so captivated by that. Later on, I found a program called Toon Boom. At the time it was a relatively smaller than now, and I started animating in 2D. Then, in the later years of high school, I started to find colleges throughout America that specialized in 3D animation and that's how I came to the Academy. I found that it was one of the top-ten rated schools. It was also in my favorite city in the US. So, what better reason? I applied and everything went from there…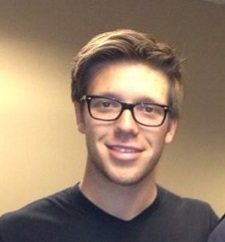 AV: How and why did you join the Aria project ?
CW (right): One day, a flyer started showing up around the school saying that Aria For A Cow is looking for 2D/3D animators, with animation directed by a Disney animator, Dan Lund. That was another captivating moment. So, I kept reading and I saw that the song from Aria was written by Howard Ashman, who had done a ton of movies and Broadways, and I was even more captivated. And it was a student film. I couldn't wait to work on that project. I sent my demo reel to Siddhartha. Unfortunately my demo reel at the time was only 2D work and I knew that Aria was gonna be a predominantly 3D short film even though it said "looking for 2D and 3D animators," but I was kind of nervous when I applied. I knew it was a big project and I'd love to be part of it. Right there, from word of mouth, and seeing my demo reel and talking about my experiences, he offered me a position as lead animator on Aria For A Cow. And I gladly accepted.
What I really liked about the project is: I got to see an animatic of scene 2 of the film. It was very full 2D animation and it was just beautiful. I was like –hearing the song with this animation, this is something I really want to be a part of.
SM: I had been to CTN last year. I met my cousin Nikki, who is the associate producer of the show, and we had a discussion about the industry. She told me everything about the (Aria) project, and about how Howard Ashman – who was responsible for so many great songs in the best classic Disney films – composed (the song), and also about the director who was a veteran effects animator at Disney. After hearing all this, it excited me to try to have the production manager position on the film.
XW: My first time to hear of the Aria project was from my friend. Then I met Dan and Amos in CTN last November. They showed an animatic and told me how everything works in the team. The most interesting part to me is the idea to use the animation to express the song. After watching the animatic, I closed my eyes and listening to the song, I could see the whole story. The feeling is amazing. I also loved the style of the character design very much.
DD: I am very close to Siddhartha Maganti, the production manger of the film and have worked with him on the Borderlands 2 short film. Siddhartha approached me about this gorgeous project one day and asked me if I would like to join the team. In that instant I said yes, because I could not get my eyes off the poster, it really got my attention. When I saw the animatics and its look develop, I really fell in love with the style and theme of this film, and treated it as my baby from there on.
KC: My friend and fellow classmate Corey Walker had somehow wrangled a position on the project and told me about it on the way home from class one day. He said how unique of a project it was and that the director was a current employee on the Disney studio team, and also that the song was done by the same person responsible for so many great songs in the best classic Disney films. After getting me all excited for his new lead animation position on the film, he told me I should make a demo reel and try to get on the project, so I did and here I am.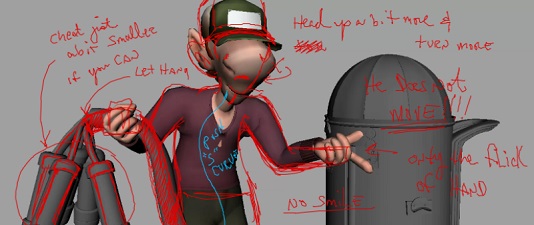 AV: How is it, for a student, to be part of a project like this one?
SM: It's all about passion and dedication towards animation. This project has given me a lot of experience and also contacts in the industry, which is a bonus. Being in college and working with students on Aria is a big challenge in time management, but other than that the big challenge for me was working with Dan and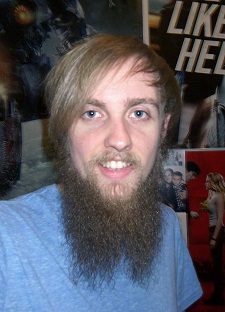 Connie. Their both being so experienced as an animator and producer scared me. Though we – me and the leads – were scared in the beginning to share if had any problems relating the rigs, as the production was progressing I was made comfortable working with them. I don't feel much different working with professionals and students, if you tune them the right way and treat them as equals everyone gives you the same result at the end.
KC (right):Being in college with other classes while doing this project is a big challenge in time management, but other than that the only big challenge for me was working with character rigs that were still being tested and refined. We skipped an entire phase of production that would have been for testing rigs and animation tests because of the fast approaching deadline goals. After a few rig updates we now have some pretty good rigs to animate with so I overcame that challenge with my award winning patience.
CW: Dealing with students and being a student myself, you know the work is not going to be quite what a feature film or even a short film from Disney or Pixar or DreamWorks would be because we all have classes. I'm taking six classes myself. So I couldn't focus 100% on Aria every single day like I would like to. That said, the students are doing a great job. Everyone is pushing themselves to their next potential. I know that for a fact that what we see in Aria is not your standard Academy Of Art student level work. It's actually one step further. And I think this comes from having this Disney director, Dan. You want to impress him. He's been in the industry for 25 years. So, you make sure that you put a little extra effort into it. It might not be as much as you want because we're still dealing with other classes, but it gives you a better idea to work in animation altogether. Long story short, the animation in Aria, I believe, has its ups and downs. You can tell when there's an animator with more time and when there's an animator who just wants a piece of it and wanted to be part of the project. But we get to have such a wide group of people and everyone heading towards the same goal that we come out with really nice animation that exceeded expectations.
KC: The animation on Aria is specific to mimicking mannerisms of certain persons (but I'm not sure whether I'm allowed to say whom!…)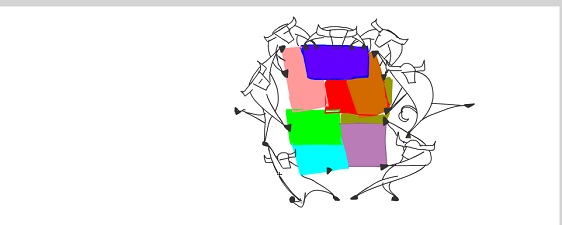 AV: How would you describe your role in the project and the challenges you faced?
SM: My position on the project is Production Manger. I am the boss of the show (smile). I develop production calendars, take meeting minutes, interact with clients and leads, and make sure the tasks are done on time. Seeing everything fall into place and watching the movie come together is a really good feeling after knowing all the hard work and problems that have been overcome.
CW: I am an animation lead. There are myself and two others, that were really leading the animation part of the project. However, getting more and more involved in Aria, I started getting more roles than just animation. As most movies and anything, there's hiccups and problems here and there, so I did my best to get everything around done as smoothly as possible. So I started becoming I guess a kind of a problem solver for any part of the pipeline whether it was texturing, modeling, rigging animation, lighting. I kind of had my foot in everything while still trying to maintain my own animation, and leading on the other hand my team of animators throughout the project as well.
KC:My position on the project is Lead Animator. The film is divided into four acts; I manage two acts (the first and the last one) on the project. As the lead on these acts I make sure the animators assigned to my acts know what they are doing and help them by giving critiques on their work.
XW: As a 3D modeller, most of my job on Aria is to build 3D props. I love to transform subjects and characters from 2D to 3D. Modeling is the basic job to bring 2D works into 3D, breathing life into objects and characters. I love those amazing concept designs. It made me excited to model them out and see each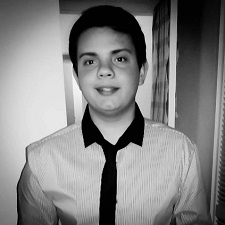 model works well in the scenes. I enjoyed the process of the modeling. The most challenging part of this project is how to make a better model not only matching the concept design, but also working flawlessly with riggers and animators. Teamwork is very important and helpful. The best way to fix the problems is everybody working together.
DD (right): My role in this film is a Rigger. I started off as a prop's rigger on this film where I started creating rigs for all props needed to be animated by animators. I worked closely with the animators and the director to create the rig and its controls that meet the shot's requirements. After a month, I became a lead rigger where I mainly troubleshooted the lead character rigs and helped animators approach the pose they are willing to have. I was always around during the classes and Sunday animation parties to help animators with their rig issues and get it fixed. I am also working closely with the lighters to make sure they can GEO cache the rigs with textures without any issues.
The biggest challenges we faced in this project was transferring new UVs to the rigged lead characters. UVs are usually done before rigging occurs, this way riggers and texture artists can both work together and at the same time. It took some tests as we did not want to break the rig or change anything in the rig as animators were already animating and some shots were already final. We achieved this problem by importing new UVs and transferring them to the model without it crashing or breaking. History was deleted on the mesh and joints were detached and attached on top of it after transferring the UVs.
AV: Would you share some anecdote on the production?
SM: Before going into the story I would like to give it a name: When Curry Meets Cream! The reason I titled it as When Curry Meets Cream is because the production was a bumpy ride and at certain situations it was hot as a curry and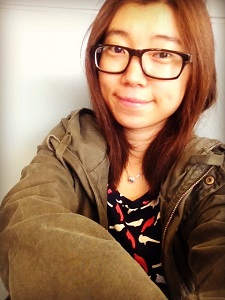 other times it was smooth like cream. I was a bridge between the artists and the core team. When any animator or any technical problem was raised, Cory and me were the first ones responsible to make sure it was solved and to make sure the production schedule didn't get messed up.
But end of the day "I LOVE THE FAT COW!" She has been my love from day 1 and it will remain so for the rest of the production.
XW (right): We have a great team. Everyone in Aria is working with due diligence. We always have meetings on Google hangout to track project progress and talk about everyone's question face to face. This way it's good and fast to solve the problems together. In the meantime, we can also learn more from each other.
DD: It's my first time that I have rigged so many props and nothing makes me happier than seeing them come to life by the hands of animators. Seeing how animators approached things with my rigs and went beyond my imagination was really a treat. I am very honored to work with Dan Lund and Amos Sussigan and can't thank them and Siddhartha Maganti enough for letting me part of the barn. Moooo!!
KC:I just want to say that if you get the chance to work on a musical, do it. Having that musical timing really helps with animating.
CW: The one story I wanna share is when the class all met Dan. I had been talking with him for almost 50-60 days, before the class got to meet him, as I was setting up layouts, doing pre-production work before he got to the class. So, watching the reaction of the class, being super-nervous about meeting this Disney animator, it was very cool to see them come from very shy to now bouncing ideas off of him, seeing him on a more comfortable level enough that they didn't have to be worried about what they said. Seeing that change would probably be my favorite story of working on Aria.
---
---
---
---
With our thanks to Dan Lund and Siddhartha Maganti, and to Cory Walker, Dharmin Doshi, Ken Craig and Xi Wang. Exclusive material from Aria For A Cow, all rights reserved.