It's San Diego Comic-Con time again, and Lord Akiyama from the Animated Views Forum has compiled some highlights from the schedule for our readers.
WEDNESDAY
Preview Night will feature the full pilot screenings of forthcoming Warner Bros. shows The Flash, Constantine, and iZombie along with the premiere of a new episode of Teen Titans Go!
THURSDAY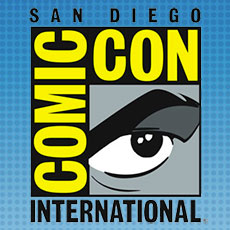 Jack is back! With 24 back on the air with Live Another Day, Kiefer Sutherland will drop by to discuss the return of the hit drama.
Betty White will be at Comic Con, participating in a panel celebrating legends of TV. The panel will also be screening a preview of an animated episode of White's show Hot in Cleveland.
Apollo and Apollo reunite as Richard Hatch and Jamie Bamber team up for a look at what's coming up in the Battlestar Galactica universe, including the latest of the proposed film version.
Steve Purcell is directing the next Toy Story special, Toy Story That Time Forgot, and will be screening the first look at Comic Con along with a look at how it is developed and made.
As noted on the front, DreamWorks will be bringing in Benedict Cumberbatch to help promote Penguins of Madagascar. But will he be doing more than that?
Sony will be presenting two films. For the first, Jack Black is returning to talk about playing author R.L. Stine in the upcoming film version of Goosebumps. Then, there will be a presentation on the upcoming Adam Sandler film Pixels with a chance for an attendee to be a part of the film.
John DiMaggio hosts a panel looking at what scenes from his documentary I Know That Voice didn't make it in. He will be joined by veteran voice director Andrea Romano and superstar voice actors Fred Tatasciore, Rob Paulsen, and Dee Bradley Baker.
Jeff Bridges is back in town for a look at this new sci-fi thriller The Giver.
Director Don Hall will be providing attendees a look at the development of the next Disney Animated Feature in Big Hero 6. Look for exclusive footage to be screened.
Batman will be a major theme this year as the character celebrates 75 years. One of the many special panels will see creative forces Neal Adams, Greg Capullo, Geoff Johns, Jim Lee, Frank Miller, Grant Morrison, Denny O'Neil, and Scott Snyder brought together in one place to discuss shaping the Dark Knight.
The internet sensation Bee and PuppyCat is coming to Comic Con. Meet the cast and crew as they explain what's coming up with the hit new animated series.
Batman: The Complete TV Series is coming to Blu-ray. So who better to discuss what fans can expect from the big box set than Adam West, Burt Ward, and Julie Newmar!
Cast members Freddie Prinze, Jr., Vanessa Marshall, Steve Blum, Tiya Sircar, and Taylor Gray will provide an exclusive first look at the upcoming Disney DX series Star Wars Rebels.
FRIDAY
Evangeline Lilly returns to talk about her children's book she brought last year, The Squickerwonkers.
Joe Johnston will be on hand to help introduce the forthcoming book publication of the storyboards to the original Star Wars trilogy, which LucasFilm is releasing to the public for the first time.
Janet Varney, David Faustino, and P. J. Byrne are back to talk about what fans can expect in Book 3 of The Legend of Korra. They will be joined this time around by fellow cast-members Seychelle Gabriel and Mindy Sterling.
Gary Trousdale will screen the upcoming Rocky & Bullwinkle short that will appear on the Mr. Peaboy and Sherman Blu-ray/DVD release.
It may have been moved to Friday, but one can fully expected the My Little Pony panel to be as jam packed as ever. Particularly when it includes a first look at the upcoming Equestria Girls Rainbow Rock movie.
Andrew Lincoln, Norman Reedus, Steven Yeun, Lauren Cohan, Danai Gurira, Melissa McBride, Chad Coleman, and Michael Cudlitz will be on hand to discuss what fans can expect in season 5 of The Walking Dead.
The pilot to the M. Night Shyamalan produced Wayward Pines will be held along with Q&A with cast-members Matt Dillon, Melissa Leo, Toby Jones, Carla Gugino, and Terrance Howard.
Can't have a Comic Con without a panel on Game of Thrones, can you? Gwendoline Christie, Nikolaj Coster-Waldau, Natalie Dormer, Kit Harington, Rose Leslie, Rory McCann, Pedro Pascal, Sophie Turner, and Maisie Williams will be on hand for the latest of the super popular HBO series.
Mike Tyson is coming to Comic Con. He will be promoting his forthcoming adult swim animated series Mike Tyson Mysteries!
Edward James Olmos return to discuss the upcoming Mexican animated feature he is producing El Americano 3D.
Daniel Radcliffe is finally coming to Comic Con. Just not to talk about Harry Potter (unless fan questions have anything to do with it). He'll be in town to promote his forthcoming film Horns. His panel will also feature Salma Hayek taking about her next feature Everly.
Audiences will get their first look at Atari: Game Over, the Xbox Originals documentary on the digging up of the buried E.T. Atari games buried in the desert.
Kevin Smith has been moved to Friday, but he's bringing with him a first look at his new film Tusk!
Metallica's Kirk Hammett and Robert Trujillo return to screen their animated special 'Tallica Parking Lot.
This year's Warner Bros. Animation premiere screening will be of Batman: Assault on Arkham, set within the Batman: Arkham video game series.
SATURDAY
This year's Phineas and Ferb panel will include a sneak peek at the much anticipated Star Wars crossover.
Warner Bros. Pictures will be be providing early looks at Jupiter Ascending, Mad Max: Fury Road, and The Hobbit: The Battle of the Five Armies.
The Once Upon a Time panel looks to be the most packed as fans will surely expect to know what will happen when Elsa arrives in Storybrooke.
The cast of the hit Nickelodeon animated series Teenage Mutant Ninja Turtles will be on hand: Sean Astin, Rob Paulsen, Greg Cipes, Mae Whitman, Kelly Hu, Josh Peck, and… Seth Green replacing Jason Biggs as Leonardo? In addition to a look at the third season, perhaps folks will find out more about what prompted the cast change.
The Quick Draw this year will see Disney legend Floyd Norman return to join Sergio Aragonés and Scott Shaw! for another round of improvised illustration hilarity.
Sailor Moon is coming to Blu-ray! VIZ Media will provide a look into their release of the original 200 episodes, which will feature a brand new uncut and uncensored English dub.
The first Cartoon Voices panel of the year will feature Jim Cummings, Josh Keaton, Sherry Lynn, Arif S. Kinchen, David Sobolov, and Colleen O'Shaugnessy.
The Boxtrolls will be featured and they're bringing along stars Ben Kingsley, Isaac Hempstead Wright, and Elle Fanning.
Robert Rodriguez and Frank Miller will preview the long anticipated Sin City: A Dame to Kill For.
Twin Peaks is coming to Blu-ray at the end of the month. A preview of the highly anticipated 80+ minutes of deleted scenes will be teased along with the presence of Lucy Moran herself Kimmy Robertson.
"Weird Al" Yankovic is landing at the San Diego Comic Con. He'll be on hand to discuss his newly released album Mandatory Fun.
Greg Weisman will return to celebrate the 20th anniversary of one of the greatest animated shows on TV, Gargoyles.
At 5:30pm in Hall H, the Marvel Studios panel will begin. Who knows what they're going to do this time around? A look at Age of Ultron? Information on what's going on with Ant-Man? The reveal of Dr. Strange?
SUNDAY
Warner Bros. Animation will screen in full the new Scooby-Doo feature, Frankencreepy.
Disney will be hosting a panel teaching some techniques on Life Drawing for Animation.
Quentin Tarantino returns to Comic Con and he's in town to talk about a forthcoming Django/Zorro crossover comic from Dynamite Entertainment.
Warner Bros. Animation will have another full new feature to screen, this time Tom and Jerry: The Lost Dragon.