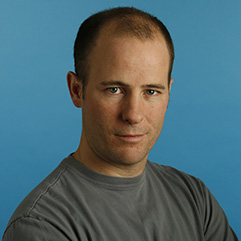 Cloudy With A Chance Of Meatballs 2 picks up where Sony Pictures Animation's mouth-watering comedy left off. Inventor Flint Lockwood thought he saved the world when he destroyed his most infamous invention – a machine that turned water into food, causing cheeseburger rain and spaghetti tornadoes.
But Flint soon learns that his invention survived and is now creating food-animals – 'foodimals!' Flint and his friends embark on a dangerously delicious mission to battle hungry tacodiles, shrimpanzees, hippotatomuses, cheespiders and other foodimals to save the world – again!
Peter Nash, animation director of Cloudy 2, has previous credits including Arthur Christmas, Cloudy With A Chance Of Meatballs and Surf's Up. Prior to joining Imageworks, Nash worked for Blue Sky Studios on the 20th Century Fox production of Robots. Nash launched his career as an animator at Pixar, working on such classics as Finding Nemo, Monsters, Inc., Toy Story 2 and A Bug's Life.
He kindly talked exclusively to Animated Views about his experience on the sequel of the 2009 hit.
---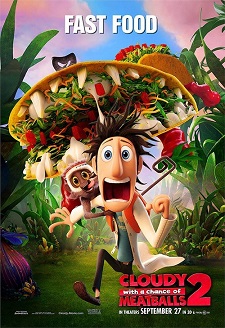 Animated Views:
How much fun did you have working on
Cloudy 2
?
Pete Nash: At the end of the day, I'm an animator at heart and I love working and collaborating with animators to make shots and the overall film better.
AV: The design of the Cloudy franchise is very creative, and even more in this second opus, which introduces the foodimals. As an animator, did you consider it a challenge or a source of inspiration?
PN: Variety is always a challenge as an animator, as you are seeking differing ways to give each and every character their own unique traits. It was an enjoyable yet huge undertaking on Cloudy 2, and we were lucky to have such a talented crew who provided much of those unique traits. Working with the designers was great. We invented animation styles based off the designs we were given. For the large foodimals we treated them like a VFX monster movie and gave them weight to made them menacing to offset their silly design. When it came to the rigs they were always need-driven. If, say, the script called for one of the characters to appear squishy then we would request that from the rigging department.
AV: For the first movie, you talked about the influence of UPA. Is it the same on Cloudy 2?
PN: It certainly was a large influence on the first movie, and of course that carries through to any sequel that doesn't depart stylistically from its predecessor. I believe we stayed true to Cloudy 1 and may have pushed things even further. What we learned from UPA is that concept drives everything, and we hold to that philosophy on the second movie, especially with Chester V.
AV: Cloudy 2 picks up where Cloudy With A Chance Of Meatballs left off, as all the main characters have just completed their journey and have changed. As a result, in Cloudy 2, there's more conflict in Flint. How did you express that enriched and more complex personality?
PN: Film is a visual medium and therefore we have to show internal conflict through external expression. Much of the writing does that for us, of course. You can see how it plays out in his relationship with his father and with Sam and his friends, and how it pits him against his own ambitions to be a great scientist and inventor at LiveCorp. Whenever Flint was being jerky with his friends, we tried very hard to make it come from a place of good intent, although ill-advised.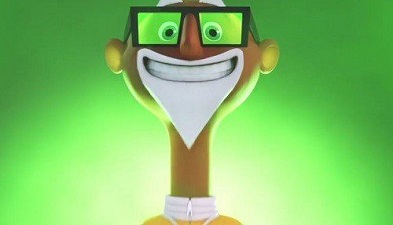 AV: How did you treat the twisted personality of Chester V?
PN: Chester, simply put, is what we all think of when it comes to a nefarious CEO of a mega-corporation. Adding things like him saying "Namaste" and striking yoga poses allowed the perceived peaceful, love generation personality to be juxtaposed against his criminal ambitions, and thus increased the complexity of the character and the evilness of his plan. To exaggerate his master manipulation, we made every phrase he spoke be an orchestration designed on winning over people hearts and minds – like a new age interpretive dancer.
AV: What about the "foodimals?" Can you tell me more specifically about Barry the Strawberry, that's so irresistible, and the Cheespider?
PN: Barry is the ambassador of the new world created by Flints machine. All he wants to do is show them this beautiful world. He is a beacon of positivity and innocence. He has all the traits of a cute and lovable character from a design perspective: big eyes and a cute voice and bouncy, fun movement. What's not to love? I think the Cheespider starts out like a scary and relentless force of nature but it is really just a big sloppy lovable dog.
AV: Before coming to Sony, you were an animator at Pixar and then at Blue Sky. What would you consider the different artistic identities of those studios?
PN: As an artist you are the sum total of your experiences and of what you've learned over the years. I have great memories of Pixar and really learned my craft there as a young animator. Back then, they had a firm but fair way of pushing you to do your best. I was always inspired by all the amazing artists around me, but definitely felt the pressure to keep up. My stint at Blue Sky was very short, but a good learning experience in itself as those guys were mind bendingly fast and hard to keep up with! Sony provides me with some great opportunities to be creative and push things. The slate is so versatile and every new film has its own brand new code to be cracked. I love having a brand new challenge every time. I don't think films like Surf's Up, Cloudy 1, 2 or Hotel Transylvania would be so well received and allowed to be what they are at another studio.
---
---
---
---
Our tastiest thanks to Pete Nash and Olivier Mouroux!