We often get emails from independent, outside the establishment, and other under the radar animators asking us to help promote their film or project. A lot of the stuff is really good, but for various reasons (not least of which is a lack of time and resources to cover everything out there) we've always decided to stick with the more mainstream offerings. Until now. We still don't have the ability to completely cover what's out there but we can at least try to help out these hard working animators in a way that we're able.
In this "Outside the Lines" blog (previously titled "Indie Updates") we'll highlight animation projects from people and companies you may not have heard of before. Keep in mind that in order to be able to do this with the limited staff we have the stories will usually be based on promotional material provided by the people involved in the projects. In other words, not Animated View's impartial take as seen in our reviews or our own research as occasionally found in the news section. That said, we think you'll find some gems in these labors of love from outside the studio system.
This week we have a solo stop-motion effort from Adam Ciolfi and a behind the scenes look at the work of a studio called Three Blind Mice.
The Lady of Names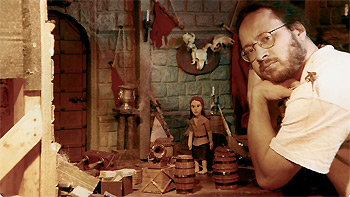 The Lady of Names is the feature film debut of director Adam Ciolfi and the culmination of 15 years of labor. Filmed using the timeless process of stop motion animation, The Lady of Names was essentially a solo effort. Adam was responsible for the construction of every model and set, the animating of every shot, the editing of both picture and sound, and he also composed and performed the film's score.
Since it began screening at festivals in September 2011, the film has won numerous awards (listed below) and continues to entertain audiences around the world. The story behind the making of this production has been a source of inspiration to many film makers who recognize and appreciate the dedication it takes to complete a film in today's industry.
Best Animated Feature:
Toronto Independent Film Festival 2011
Philadelphia International Film and Animation Festival 2011
Eugene International Film Festival 2011
Garden State Film Festival 2012
Special Jury Prize:
Canada International Film Festival
For the complete story on the making of the film visit: http://www.theladyofnames.com. Two trailers are available on YouTube (1 & 2).
A client's guide to making an Animatic
Three Blind Mice is a pre-viz studio based in London, who specialize in creating high-quality testing material (Concept Work / Storyboarding / Animatics / 3D / Mood Films) to help creative ideas get from the pitch and research stages right through to production.
The Three Blind Mice house team have crafted a short animation to help explain, particularly to those who may not completely understand the process of creating an animatic, how it works. It's a quirky behind the scenes look from script to finished edit.
More about the studio can be found on their website: http://www.three-blind-mice.co.uk. The original video is on Vimeo.