LAIKA / Focus Features (August 17 2012), Universal Home Entertainment (November 27 2012), Blu-ray and DVD discs, 92 mins plus supplements, 1080p high-definition 2.40:1 widescreen, DTS-HD Master Audio 5.1, Rated PG, Retail: $34.98
Storyboard:
A young boy, who can "see dead people", attempts to solve why these souls have not moved on to the next plain…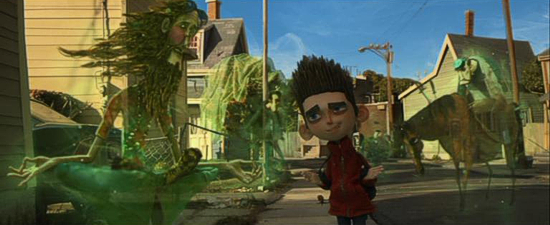 The Sweatbox Review:
Despite struggling to really work as the comedy-horror it was sold as in theaters, Universal's speciality division Focus Features' ParaNorman does actually score rather well as a straight supernatural thriller. From the earliest days of the medium, animation has been used to do what live-action couldn't, bringing to life inanimate objects – often including the dead! – and other spine-chilling or unpleasant elements, from Winsor McKay's How A Mosquito Operates, through Walt Disney's first Silly Symphony, The Skeleton Dance, which raised some pretty funky bones from the graveyard and inspired many films over the next decade, to many of Max and Dave Fleischer's strange excursions into the surreal in their Betty Boop cartoons.
Out of all the animated methods, stop-motion seems to have found a natural bonding with such subject matter over the years, especially in recent times. George Pal's Puppetoon series in the 1930s often featured a terrified character called Jasper, who got himself into many a jam, while the holiday specials from the Rankin/Bass studio have become synonymous with establishing a link between stop-motion and often melancholic stories. They remain known best for their Christmas programs, but check out some of their other work and it's not always all snow and jingle bells, and remember they made the original Halloween musical feature Mad Monster Party in the 1960s.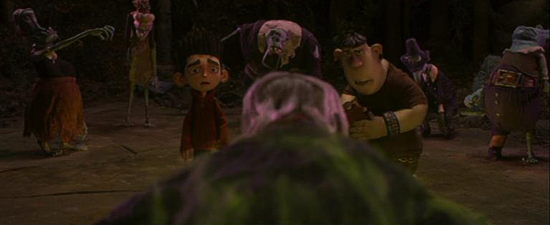 Stop-motion faded from theatrical screens for a long while, its lone advocate being the legendary Ray Harryhausen, who brought the impossible to life through visual effects for a long-line of imaginative and entertaining motion pictures throughout the 1950s, 60s and into the 70s. Many of the children who saw those films grew up to be inspired stop-motion creators themselves, but the form was seemingly best suited to television, where the likes of Britain's Aardman animators learnt their trade and alternative methods such as claymation became hugely attractive to advertisers eager to engage their audiences through animated characters. However, there's something about stop-motion that especially seems to work in tandem well with projects of a spooky nature…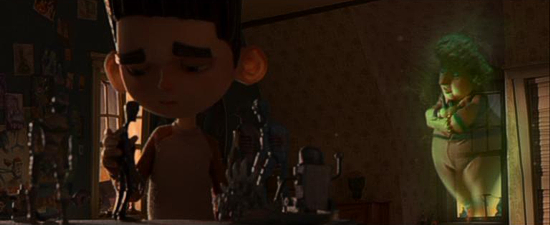 In the early 1980s, two young Disney animators, Tim Burton and Henry Selick, had grown dissatisfied with their day jobs animating cute foxes for The Fox And The Hound; Selick left the Studio to persist with stop-motion, creating various idents and programs for the fledgling MTV, while Burton imagined up Vincent, a black and white stop-motion short that Disney didn't know what to do with. After eventually leaving the Studio too, Burton would return, of course, to produce a project he had initiated at Disney's: the now near-legendary and certainly classic The Nightmare Before Christmas, directed by Selick. Created entirely with the stop-motion process and released in 1993, Nightmare was something totally new to audiences that were only vaguely familiar with the method and hadn't yet been exposed to CGI movies (Toy Story was still two years away).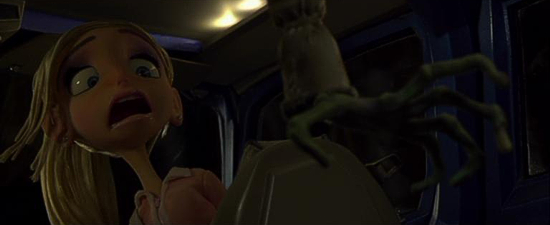 Burton's Nightmare wasn't a huge hit on original release but, like his Edward Scissorhands, it drew a large cult following and is now rightly regarded as a classic, airing on TV each Halloween and Christmas. Burton and Selick maintained the stop-motion momentum with James And The Giant Peach, a largely undervalued feature that proved there was something about stop-motion that suited material of a more quirky nature but it was a film that ultimately failed to find much of an audience. The team disbanded again, with Selick and his team now in demand to create other stop-motion work, sequences for Wes Anderson's The Life Aquatic and the brilliantly insane MonkeyBone among them.
By now, Nightmare had become an underground phenomenon, on its way to becoming a fully fledged franchise now welcomed by Disney, and of course other Studios wanted a piece of that action. Warners got as close to a repeat as they could with Burton's The Corpse Bride, which pretty much cemented the combination of stop-motion and spooky Halloween atmospheres as blood brothers, and even when Britain's Aardman Animation finally transferred Wallace & Gromit to the screen it was in a jokey homage to B-movies, The Curse Of The Were-Rabbit. Actually, Aardman have done their best to swerve stop-motion away from being just suited to supernatural material, but in America it seems it's more of a staple.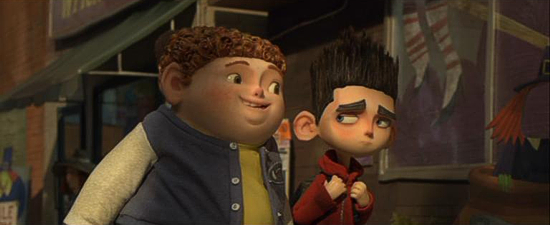 More recently, Selick became head of LAIKA, an independent animation house that struck a deal with the then-so far animation-lite Universal Studios, a company with a spotty animation history and one that has never really taken the plunge wholeheartedly. With their deal with LAIKA and another with Despicable Me's Illumination, Universal have created more of an animated portfolio of late, although even here it seems careful to split the broad commercial fare and its more offbeat films – for that read stop-motion – between its main releasing banner and its speciality "independent" unit Focus Features, which made a huge splash with their early film Lost In Translation.
First from Focus was Selick's Coraline, which took viewers into another dimension, both literally and figuratively, following the adventures of a young girl and the alternate reality she discovers in her house. It was a solid and markedly intentional return to the Nightmare universe, with Selick's fingerprints all over the end result in the perfect animation, and struck a chord with the Nightmare crowd. Again not a huge smash, Coraline repeated the success of its predecessors in being a sizable hit, again creating enough interest to warrant, in Hollywood studio mentality, "more of the same".
That itself has come, mostly, in the form of ParaNorman, which swaps out the adventures of a young girl for the adventures of a young boy of roughly the same age. Selick, having left LAIKA to direct a feature back at Disney's, isn't involved this time around, and perhaps the project could have used his slightly better tuned sense of the absurd. Under directors Chris Butler and Sam Fell, ParaNorman feels every so slightly undercooked, as if a stronger humor element is missing. It's very much exactly the kind of film one would expect from Focus Features, being extremely "independent" in tone, if one can just use that phrase quickly to suggest a studio genre rather than a distribution outlet.
The detail is amazing…with "locations" larger than I think we've seen in most animated films until recently, such as Aardman's epic The Pirates! Band Of Misfits / In An Adventure With Scientists, with sets that must have taken up huge amounts of table-tops. Within them, ParaNorman's animated figures are beautifully realised and manipulated, with a smoothness that beats even Corpse Bride's natural movement and presents LAIKA as a creative team at the top of their game. From the B-movie opening to the final forest confrontation with ParaNorman's chief antagonist, the lighting of those sets and the mood it achieves is notable in being how appropriate it all is, from realistic day and night-time to the realms of a fantasy that still feels grounded in the real world.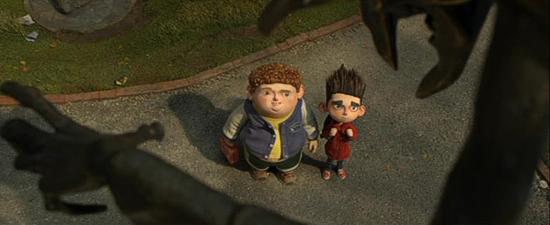 So technical triumphs in check, it's really the nature of ParaNorman's story and execution that left me wanting a little more. It's not that the movie isn't enjoyable or well made – ParaNorman is a hit on both counts – but that the sum of its parts just don't feel original enough. In its tale of a young boy who has the ability to see and converse with the dead that haven't yet made their way to their final destinations, there's an obvious call-back to The Sixth Sense, even though the switches between our normal, brightly lit world and Norman's darker, spooky-green-hued version are done extremely well. But we've also had many "different" characters that don't fit in at home life or at school over the years that Norman doesn't actually come over as anything particularly special despite the paranormal (see what they did with the title there?) aspects.
Indeed, that title suggests something a little more flippant or more accessible: Coraline's genius was in injecting a little humor (however sometimes random and bizarre it may have been) here and there, and ParaNorman, from its knowing and overly dramatic poster art and trailer campaign, was largely sold as a horror comedy of Beetlejuice style proportions. Our hero is likable enough, but his world might otherwise be the standard Hollywood misfit high-school setting that a Napoleon Dynamite or John Hughes character would be going to. This is naturally unique to be seen in animation – the last time I really remember seeing a contemporary American school in a theatrical feature cartoon was A Goofy Movie and its direct to video sequel – and there's no doubting the lifelike attention to detail in these regards, but there is some doubting bringing anything new to that equation.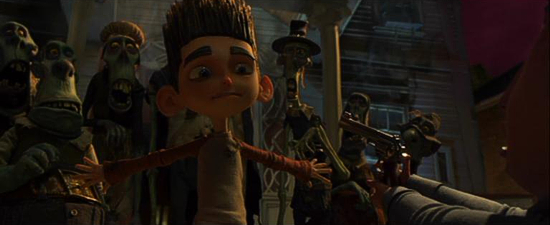 Perhaps the filmmakers thought having a bunch of zombies, monsters and ghosts floating around the place would be enough to give it a fresh dimension? I suspect the intent was exactly to make it seem like a boring, mundane and everyday world just so those creatures did pop out a little more; unfortunately that wasn't quite enough for me, and I think a couple of opportunities were lost in poking more fun at some of these otherwise well-worn cinematic conventions. The depictions of the not-quite-dead are nicely designed and realised, but the rest of the characters are cardboard cut-outs, being one dimensional stereotypes such as the fat kid who bullies Norman at school and his jock-obsessed cheerleader sister, all of whom, wouldn'tcha-know, turn out to be nice and supportive when the ectoplasm hits the fan.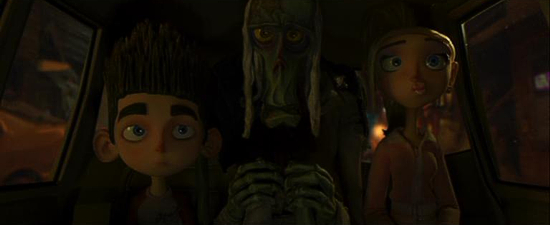 ParaNorman isn't exactly mediocre in terms of its plot, but it struggles to balance the elements of horror and comedy, and family animation filmmaking. As a straight animated scary movie it's almost there, which may please some that feel animation should be more than just about singing princesses, even if the PG rating means the scares are never too scary. It reminded me most of Monster House, itself a film concerned with hauntings and the like, with a stop-motion aesthetic to the characters and design even if it was motion-captured, perhaps crossed with Anderson's Fantastic Mr Fox character sensibilities (particularly recognizable in Norman's friend Neil). It's good that attempts are being sought to mix things around a bit, but maybe stop-motion finally needs to break away from being too connected to stories all-too ready to line up and be released at Halloween?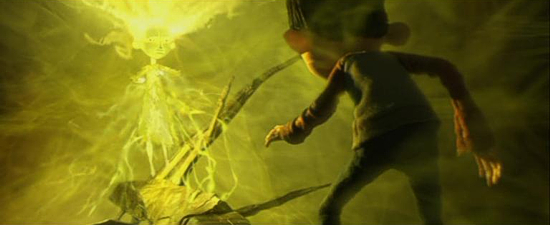 Ironically, ParaNorman didn't enjoy being released at this time of year, coming to theaters two months earlier and to home video a month after so as to miss competition with the similarly themed Hotel Transylvania and especially the return to stop-motion from Burton, Frankenweenie. It could have been the black and white, but that film's expected sure-thing's underperformance at the box-office perhaps proved audiences are ready to see something new, even if the CG Hotel's success now apparently warrants a sequel. There are a lot of very cool things to like about ParaNorman (the sets, animation and voice cast all being remarkable and worthy of praise), even if the overall film itself felt, to me, to be a little, well…lifeless.
Is This Thing Loaded?
Where ParaNorman scores big time on its Blu-ray Disc debut is in its plentiful extras package. There's a teeny, tiny coda on the end of the movie itself where a time-lapse camera captures just how much work goes into one shot of Normal strolling down the street, but that's simply a fraction of a fraction of a taster as to what goes into these productions, so be prepared to almost live through the making of the movie with Universal's excellent HD supplements.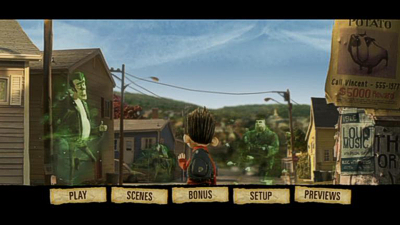 Heading the list is a nine-minute series of Preliminary Animatic Sequences with optional commentary from directors Butler and Fell, essentially running through three extended scenes (the Walking With Ghosts opening, Bromance and Missing Ghosts) from the movie in animated storyboard form. The number of composited images always astounds me as to how much work goes into a film like this before it even enters the actual animation phase, and here the drawings stack up as to be almost animated themselves. These sequences are interesting enough, but the directors' comments add another layer of context.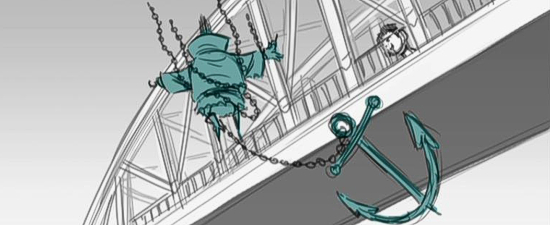 Peering Through The Veil: Behind The Scenes of ParaNorman features a lot more material that just one subject heading suggests, being a 40 minute documentary exploration of the entire production process, split up into nine chapter-style featurette markers. That's ParaNorman is basically an introduction to the documentary, making it clear this is intended to run as one selection from a handy Play All option, while Creating A World naturally peeks at the creation of the sets, from scouting the real New England locations to the film's design, also offering up plenty of chances to pause on some wonderful concept art.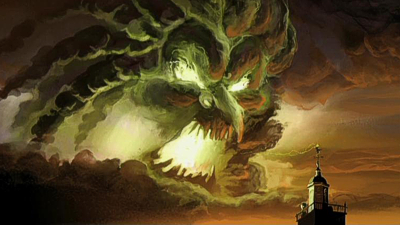 Voicing ParaNorman is pretty self explanatory, taking us behind the mics to see the cast in action (and it's somewhat surreal to see how much like their characters the actors appear to look, especially Kodi Smit-McPhee's Norman), and Building Characters brings us to the natural next step of actually fabricating the figures that will ultimately deliver those recorded lines. Once again the many unique intricacies are almost impossible to comprehend and they are only compounded by Making Faces, tracking the developments from Coraline's face replacement system employed to give ultimate expression to ParaNorman's puppet cast. It's an extremely interesting and fascinatingly insane way to create animation. It's also phenomenally good.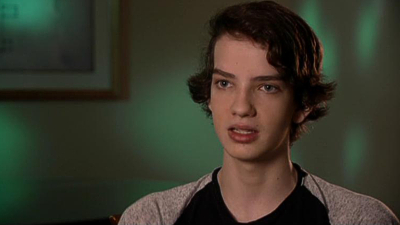 The rigging of the characters is explored in Rigging The Game, and Bringing The Undead To Life reveals the truly painstaking way the figures are animated by hand, frame at a time, while Angry Aggie focuses on the film's eventual villain and the combination of stop-motion and computer animated visual effects that give her such an impact in the film's climax, with Weird And Wonderful offering a last word to the crew. As if that documentary didn't cover enough ground, a further series of seven stand-alone ParaNorman Featurettes that run to over 14 minutes when selected by the Play All option.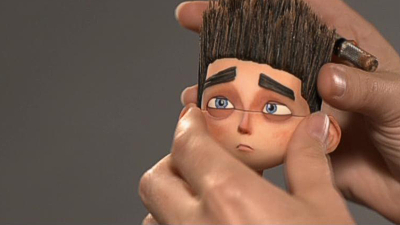 Ranging from just over a minute to almost three minutes each, these mini-docs explore various facets of ParaNorman's crew and production, produced originally as promotional clips ahead of the film's release but not at all being fluffy puff pieces. You Don't Become A Hero By Being Normal, A Norman Childhood and Playing As A Profession highlights the artists and directors behind the movie, and Making Norman is the brilliant, specially animated piece glimpsed at after the movie's credits, during which the Norman puppet is fabricated and comes to life before our very eyes.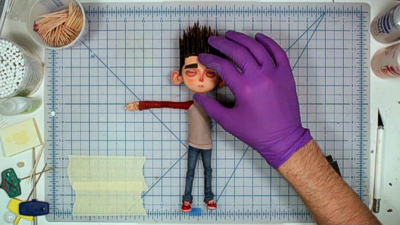 This Little Light expands on what goes into the simplest prop, while Have You Ever Seen A Ghost asks cast and crew members the crucial question, while The Zombies Of ParaNorman is the most promo-centric of the clips, making it more than suitable as a closer to this section. Rounding out the extras is a Feature Commentary with writer/director Chris Butler and co-director Sam Fell, which although would normally come higher in the list of supplements actually feels more suited to coming toward the end, the pair speaking as they do at the end of production and with a retrospective tone.
Remarkably not overlapping with the documentary featurettes we've seen so far, the pair discuss the thought-process behind each scene, shot, character and prop, demonstrating how they're the perfect team to have created a movie like this and providing a lot of information and obvious enthusiasm for their film. Stop-motion has always been one of the most labor-intensive but rewarding forms of animation, but what's predominantly clear from these supplements is the sheer amount of work that has gone into ParaNorman particularly, making me feel somewhat guilty in being tough on the final result due to what it takes even to create just one frame of film.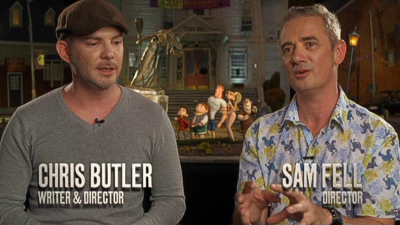 I would have liked to have seen more on the computer-assisted post-production nature of modern stop-frame, since it's clear this tool is used extensively as a way to remove rigs and, in particular, smooth out the creases between the characters' various facial replacement sections, so more on that would have been appreciated. A bonus on the Blu-ray (and totally unmentioned on the packaging) is an alternate Picture-In-Picture track, which plays a huge assortment of additional interviews with cast and crew, b-roll production footage, storyboards and vocal booth recordings synced up to the correct moments in the movie, selected from the U-Control option. Even if you didn't warm to the movie, this is essential viewing, taking a different approach and again not really overlapping the other extras.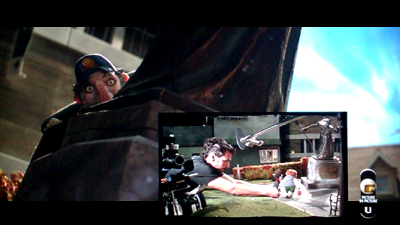 This being a Universal disc, you'll also find a couple of extra links that most other studios have given up on already, such as additional BD-Live functionality, My Scenes and their Pocket Blu app, but there's also a D-BOX Motion Code for those with the fancy home theater seats that throw you into the action, although I do personally feel they can pull you out of a movie more often than not. On the enclosed DVD, almost all of the extras are pleasingly replicated, except for the picture-in-picture commentary (the regular audio commentary remains intact) and both discs also carry previews for The Lorax, ET The Extra-Terrestrial, Bring It On: The Broadway Musical, the DVD for other family Universal titles.
Case Study:
Also available in a 3D combo pack, both releases ostensibly use the same sleeve artwork with the exception of the regular, non-D version we're reviewing here simply not having a "3D" under the title. The sleeve uses the film's original poster nicely, promoting the movie as more of a "thrill ride" this time out. Inside, the DVD and Blu-ray Disc are sat either side of the two-disc case, with an insert included for the advertised UltraViolet and Digital Copy code. An embossed slipcover adds a level of substance to the release, although it's a basic reproduction of the same artwork on the sleeve with only a few additional image alterations.
Ink And Paint:
Although I wasn't wowed too much by ParaNorman the movie, I was wowed by ParaNorman's visual approach as mentioned above. This really is a good-looking film, and all the more so in knowing each and every element is real, handcrafted with amazing care and attention to detail. The super-smooth animation is one of the things that would draw me back to another viewing in future, and this Blu-ray edition does great things in giving that animation all the detail it needs, and then some!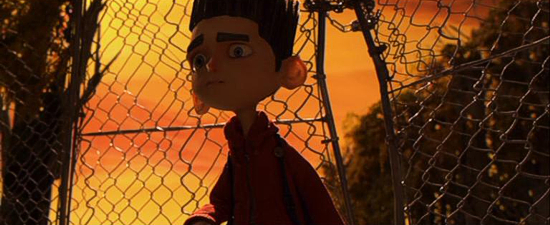 Shot on digital SLR cameras with a precise rig that could shift the lens to provide the left and right eye exposure, ParaNorman was created in true 3D, and it would be very interesting to compare that look against the post-conversion of The Nightmare Before Christmas or even the recent Frankenweenie. However, the sharpness of even regular Blu-ray hi-def on a good screen has the effect of providing great depth and even this regular edition offers a phenomenally lifelike image, with solid coloring and no issues to speak of. Excellent.
Scratch Tracks:
ParaNorman, despite its independent Focus Features credentials, is a fully-supported Universal Studios picture all the way and so benefits enormously from an enveloping soundtrack that can really kick in when it wants to. I found the drab indie nature of Norman's real-world to be more than a little wearisome, but the DTS 5.1 mix has some fun when the zombies arrive and the film's climax could have you shaking in your chair even without a D-Box seat! English, Spanish and French dubs and subs are all optional.
Final Cut:
I wasn't particularly mesmerized by ParaNorman's ironic but slight lack of life, and the film arrived too early in theaters and late on disc to take full advantage of a Halloween tie-in release, but it still makes its marks in other respects, especially in the wonderful environments and character animation. Universal's disc presentation is fantastic, offering up a huge amount of extras that could make one hungry for another viewing sooner than later. With a lot of more-rounded entertainment out there towards the end of the year, it's tough to recommend ParaNorman as an outright purchase when it could be suited to more acquired tastes, but it is unique and a rental is easily suggested: you may find the film livelier than I did and it's certainly worth a watch.
Animated Classic or Back To The Drawing Board?